Carrot Cake with Cream Cheese Frosting-this is the BEST carrot cake recipe and it's easy to make too!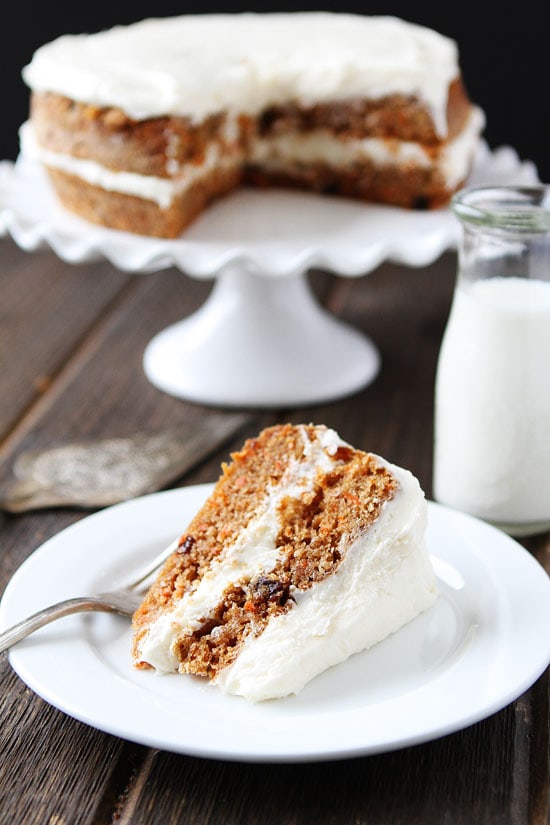 You guys, I made a cake…like a real, layered cake! Are you surprised? I rarely bake layered cakes because they scare me. I am fine when it comes to coffee cakes, bundt cakes, sheet cakes, etc. but layered cakes make me nervous. I know they aren't much different, you just bake them in different pans, but then you have to layer them, frost them, and make them pretty. That is the part that stresses me out.
Well, I made a layered Carrot Cake with Cream Cheese Frosting and I am quite proud of myself. It is the best carrot cake I have tasted and it actually looks pretty good too:)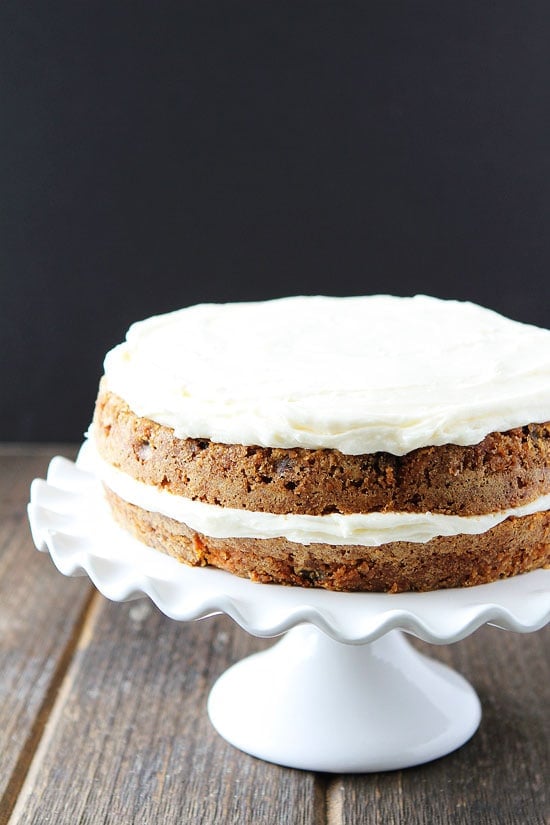 The carrot cake is actually really easy to make. If I can do it, you can do it:) The hardest part is grating the carrots, but you can cheat and use a food processor. If you want the extra workout, a grate them by hand. It really doesn't take that long.
The carrot cake is incredibly moist, perfectly spiced, and dotted with raisins. Yes, I just said raisins. I know there are a lot of raisin haters out there, but I love raisins and I think they are a must in carrot cake. If you are a hater, you can leave them out. We can still be friends. And I personally don't like nuts in my carrot cake, but if you want to add chopped pecans or walnuts, you can. I will still love you:)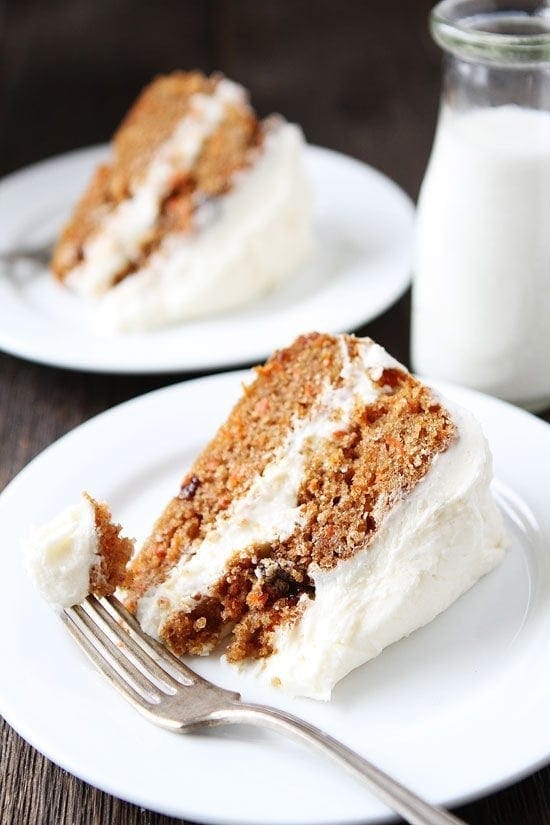 The cream cheese frosting is not an option though, every good carrot cakes needs to end with lots of cream cheese frosting! I decided to keep the cake "rustic" by adding a layer of frosting between the layers and on top. If you want to go all out and frost the sides, go for it! I just kept my cake simple because I am still a little scared when it comes to frosting layered cakes:) And I like the rustic look! It turned out super cute and SUPER tasty!
I ate one piece of carrot cake and loved every bite. I told Josh we had to get it out of the house ASAP or I was going to eat the entire cake. Our friends were happy to take the cake off of our hands. Yay for sharing!
Now, that I am feeling confident in my carrot cake baking, I am going to make this Carrot Cake with Cream Cheese Frosting for Easter dessert. It is a classic Easter dessert and I know the Easter bunny will love it! You should add it to your Easter menu too!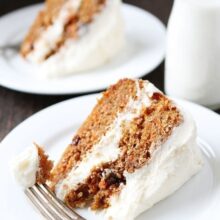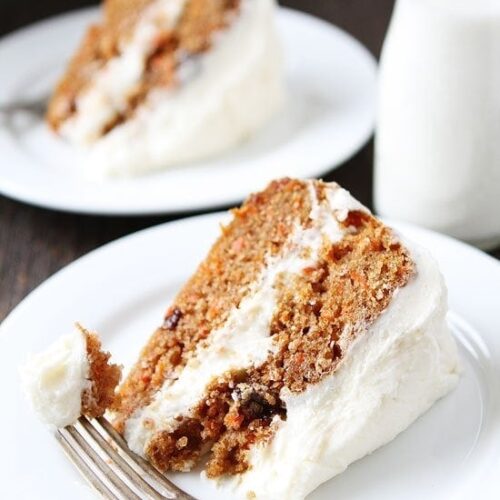 Carrot Cake
The BEST carrot cake recipe with cream cheese frosting! This cake is perfect for Easter dessert or any day!
Ingredients
For the Cream Cheese Frosting:
Instructions
Preheat oven to 350 degrees. Butter two 9-inch round, 2-inch deep cake pans. Dust with flour, tapping out excess. Set pans aside.

In a medium bowl, whisk together flour, baking soda, baking powder, salt, cinnamon, and nutmeg. Set aside.

In the bowl of a stand mixer, beat the eggs until combined. Add the sugar and beat on medium speed well combined, about 2 minutes. Add in the vanilla. With the mixer on low, add the oil in a thin steady stream and continue to beat until fully incorporated.

Add the flour mixture and mix until just combined. Don't overmix. Stir in the grated carrots and raisins.

Scrape batter into prepared pans, dividing evenly. Bake until golden brown and a toothpick inserted into centers comes out clean, about 30-35 minutes. Let cool in pans on a wire rack for 15 minutes. Run a knife around edges of cakes to loosen, and turn out cakes onto rack. Turn right side up, and let cool completely.

While the cakes are cooling, make the frosting. In the bowl of a stand mixer fitted with the paddle attachment, combine the butter and cream cheese and beat until smooth. Gradually add the powdered sugar. Add the lemon juice and vanilla, and beat until light and fluffy, about 2 minutes.

Using a serrated knife, carefully trim rounded top of cakes. Place one cake, cut side up, on a plate or cake stand. Spread half of the frosting over cake. Invert the remaining cake on top of the frosted bottom layer so that the flat side (the bottom) is on top. Spread remaining frosting over top.

Note: The cakes can be made in advanced. Wrap cooled cakes in a double layer of plastic wrap and refrigerate for up to 2 days, or freeze for up to 1 month. Store the frosted cake in an airtight cake dome, at cool room temperature, or in the fridge, for 2 to 3 days. You can also make this recipe in a 9x13 cake pan. You can add in chopped pecans or walnuts, if you wish. If you are raisin hater, you can leave them out, but we love them:)
Have you tried this recipe?
Leave a comment below and share a photo on Instagram. Tag @twopeasandpod and hashtag it with #twopeasandtheirpod
Follow twopeasandpod on Instagram and show us what recipes you are making from our blog! Use the hashtag #twopeasandtheirpod! We want to see what you are making in your kitchen!