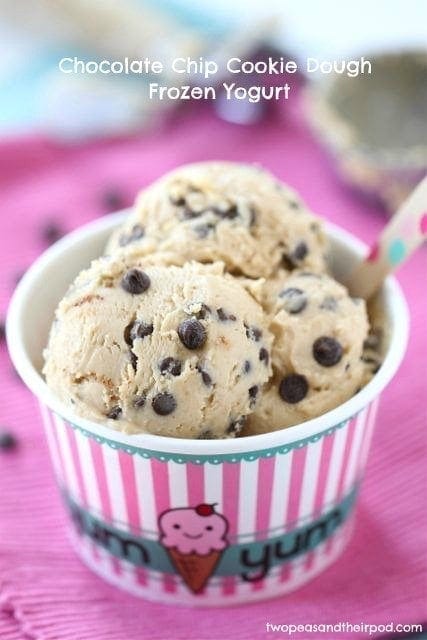 It's August, it's hot, and you need a sweet cool down treat! So today I give you Chocolate Chip Cookie Dough Frozen Yogurt. I could live off of frozen yogurt in the summer time. It always hits the spot. And if you are thinking you don't have time to make homemade frozen yogurt, think again! This recipe is super easy. You don't even need an ice cream maker! How cool is that? Literally, it is very cool:)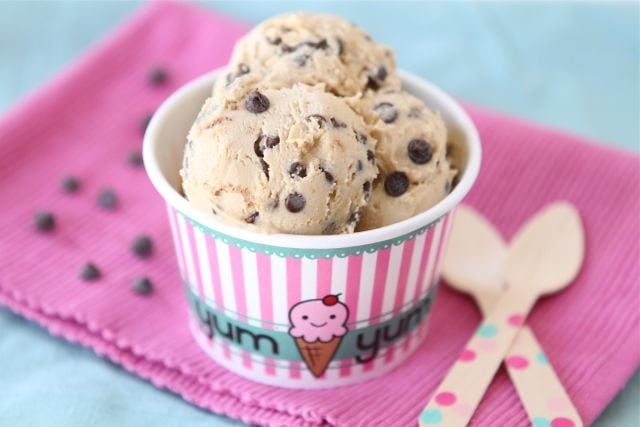 To make the frozen yogurt, you whip up a little eggless chocolate chip cookie dough and stir in yogurt. I used Chobani 0% vanilla yogurt. You let the frozen yogurt hangout in the freezer until frozen and that is it! The results are a creamy and dreamy frozen yogurt that tastes just like chocolate chip cookie dough.
I still can't believe I didn't have to use our ice cream maker to make this recipe-it is so smooth and creamy! I am telling you this is the good stuff! I am a little worried this recipe is too easy to make. I can easily see myself making this weekly or daily and eating it by the gallon:)
Cool off with a big scoop of Chocolate Chip Cookie Dough Frozen Yogurt. And if you go back for a second scoop, I completely understand:) For the recipe and step-by-step photos, visit Tasty Kitchen. Thanks Anna for sharing your fabulous recipe!
If you like this Chocolate Chip Cookie Dough Frozen Yogurt, you might also like: