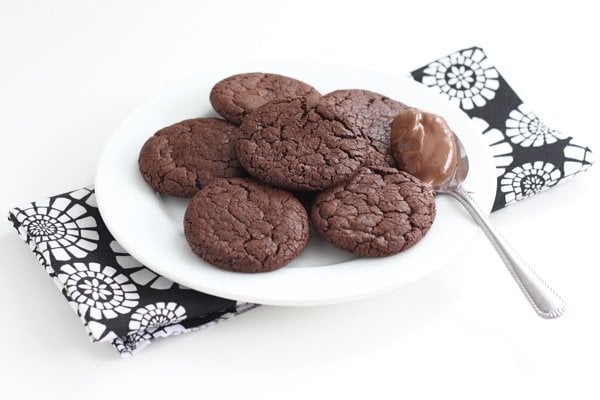 Tomorrow is a big day! It is my 29th birthday and World Nutella Day. I feel very special that they chose my birthday to honor one of my favorite treats…ha! I believe in celebrating birthdays all weekend long, so let's get this party started! We are kicking off the celebration with Chocolate Nutella Cookies.
These chocolate cookies might look plain and simple, but I promise they are very special. I added Nutella to the dough and I think that was the best decision I have ever made. (Marrying Josh really was the best decision I have ever made, but this is a close second.) These cookies are soft, fudgy, and irresistible. I told myself I was only going to have a taste to make sure they were good enough to post, but that didn't work out so well. Four cookies later I was positive these were post worthy.
Celebrate World Nutella Day and bake a batch of Chocolate Nutella Cookies. If you are a Nutella and chocolate lover these cookies are going to become a delicious addiction. Enjoy!
A few Nutella favorites: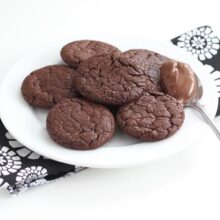 Chocolate Nutella Cookies
Instructions
1. Whisk together flour, salt, baking powder, and cocoa, set aside. In the bowl of a stand mixer, add the butter and sugars. Beat on medium speed until smooth and creamy, about two minutes. Add the vanilla and hazelnut extract and beat until extracts disappear. Add the Nutella and mix until batter is smooth.

2. Add the flour mixture in 2 batches, alternately with the milk in one batch, mixing well. Chill dough for at least 15 minutes before baking. You can make the dough a few days in advance, just wrap it in plastic wrap and store in the refrigerator.

3. When you are ready to bake the cookies, preheat the oven to 325 degrees F. Line two baking sheets with a silicone baking mat or parchment paper. Take a tablespoon of cookie dough and roll it into a ball. Place on lined baking sheets and gently press down on the dough ball. Continue making dough balls until the cookie sheets are filled-leave two inches in between cookies.

4. Bake cookies for 10-11 minutes or until soft, but starting to set. Remove cookies from the oven and let cool on baking sheets for 2 minutes. Transfer to a cooling rack and let cool completely.
Have you tried this recipe?
Leave a comment below and share a photo on Instagram. Tag @twopeasandpod and hashtag it with #twopeasandtheirpod