Chocolate Peanut Butter Banana Bread-moist chocolate banana bread with a peanut butter swirl and peanut butter chips on top! This quick and easy banana bread recipe is a family favorite!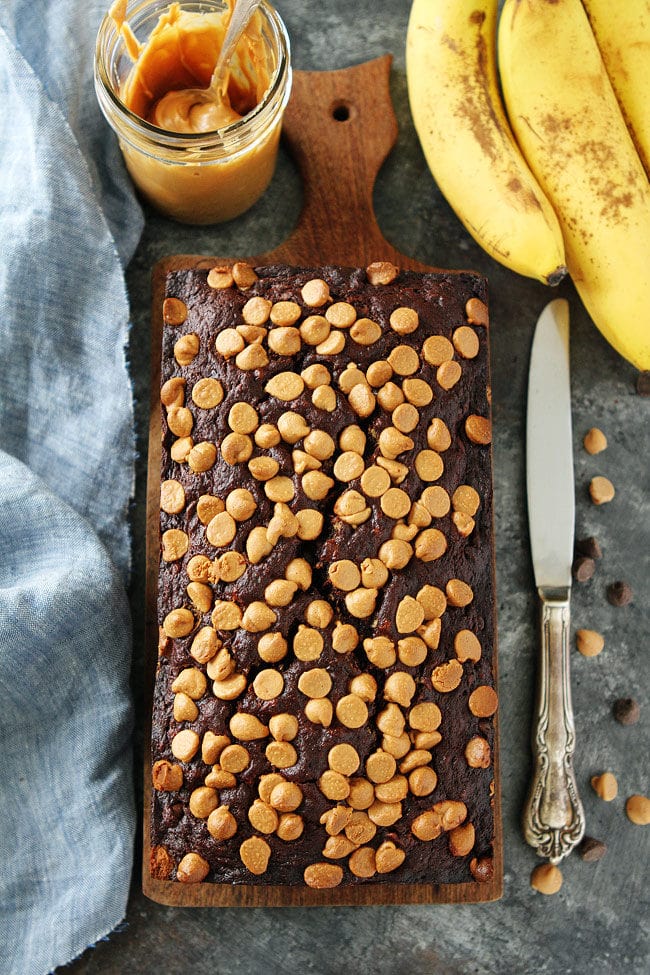 Oops, I did it again! I made more chocolate banana bread. I am obsessed with my chocolate banana bread recipe, it is seriously the BEST! I buy extra bananas at the store just so I can make banana bread. I watch the bananas, waiting for them to turn brown. I think they actually take longer to turn brown if you watch them, kind of like watching a pot of water to boil. They seem to take forever to turn brown when you really want to make banana bread.
This time, I used my brown bananas to make chocolate banana bread, but I mixed things up. I added peanut butter to the mix and made Chocolate Peanut Butter Banana Bread. Yep, this chocolate banana bread recipe has a peanut butter swirl inside and peanut butter chips on top! It is a chocolate peanut butter lover's DREAM banana bread!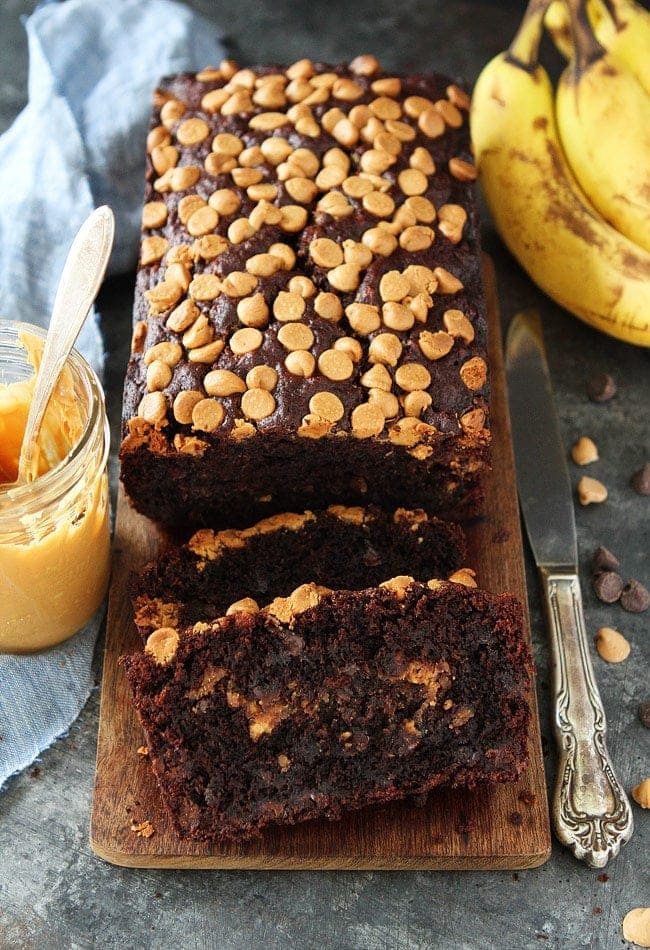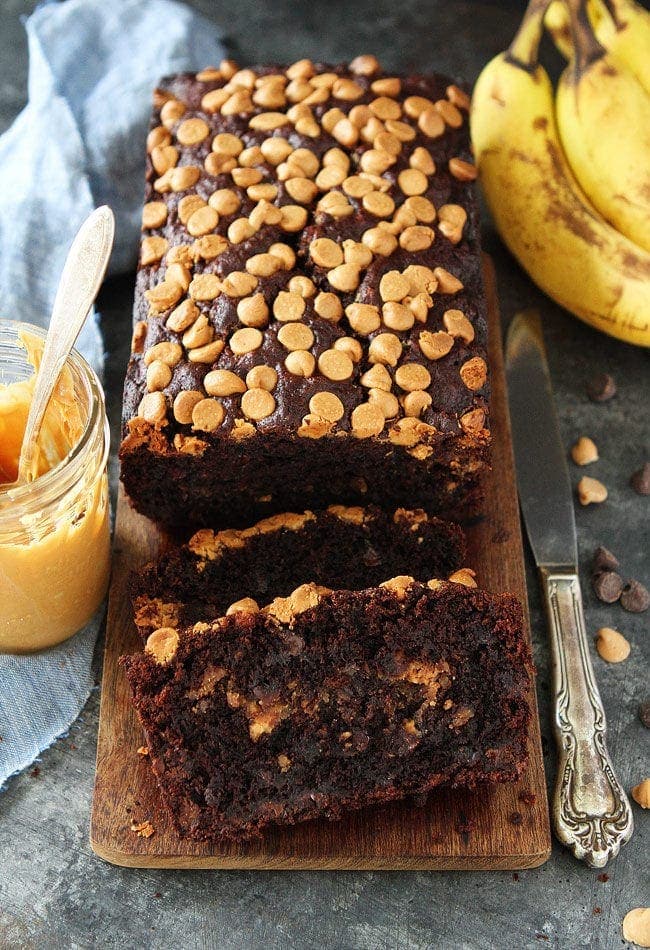 I was super excited to invite peanut butter to the chocolate banana bread party because chocolate and peanut butter are a match made in heaven. I knew the peanut butter addition would be good, but I didn't know it would be eat the whole loaf good. You think I am joking, but I really went to town on this loaf of banana bread. The boys helped me a little, but I kept eating slice after slice until it was gone.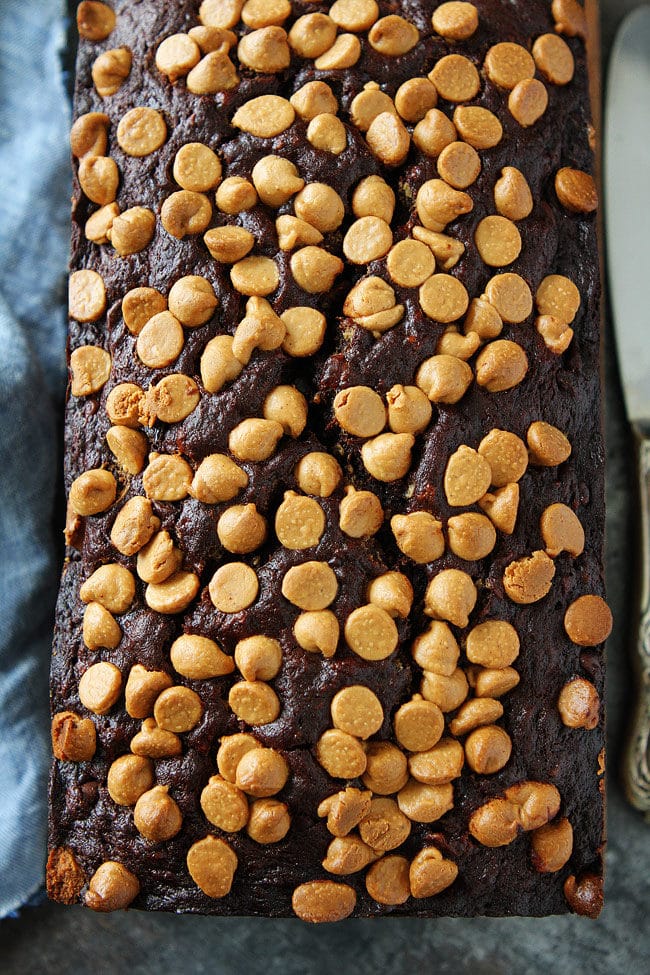 The chocolate banana bread alone is absolute perfection, but when you add in a swirl of creamy peanut butter and peanut butter chips on top, talk about trouble. I couldn't stop myself!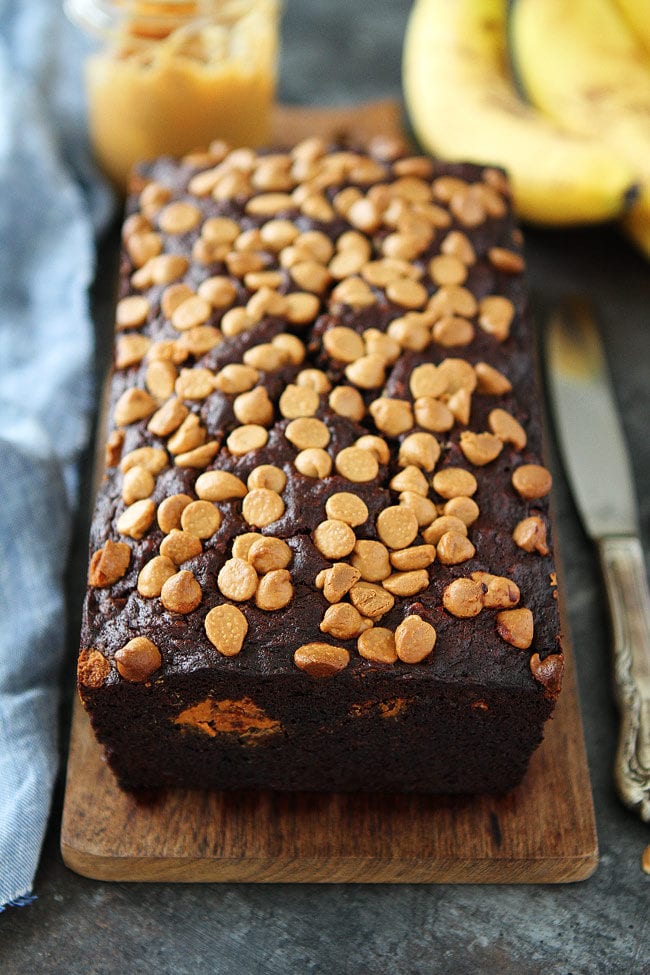 Now, this is technically banana bread, but I will warn you, it tastes more like chocolate cake. I promise, that is a VERY good thing. And since it is bread, you can eat it for breakfast and not feel guilty. It has peanut butter so you will get a nice boost of protein. Oh, and the bananas, so there is fruit too, totally acceptable breakfast food:)
I like to go the extra mile and slather peanut butter on my slice. Mmmmm, so good!
So, I've made Chocolate Banana Bread, Gluten-Free Vegan Chocolate Banana Bread, and now Chocolate Peanut Butter Banana Bread. I think I need an intervention. The next time I bake a loaf of chocolate banana bread, please come help me eat it! And which recipe is my favorite? I know you are going to ask…whatever banana bread I am eating at the time. They are ALL so so good!
I am going to watch my bananas now. I need them to turn brown so I can bake another loaf. And make sure you check out How to Make the Best Banana Bread, if you want a classic recipe! It's a winner!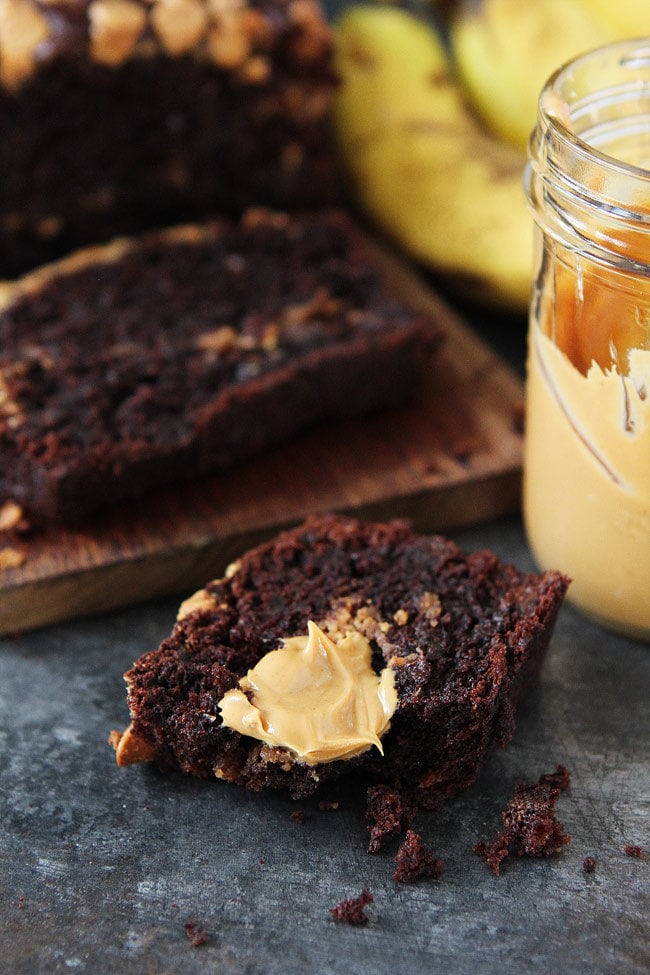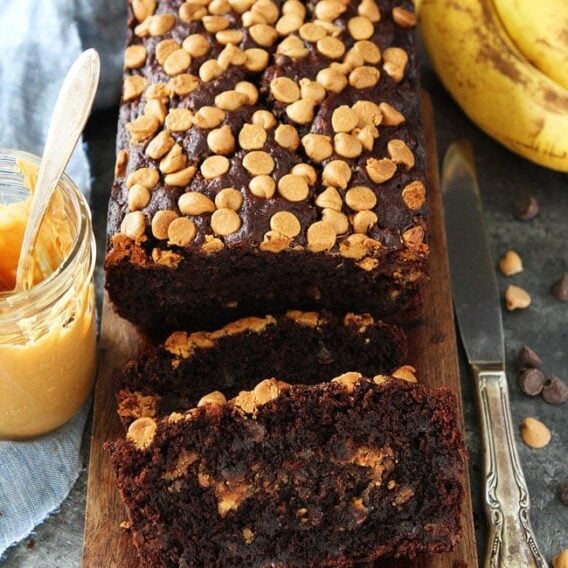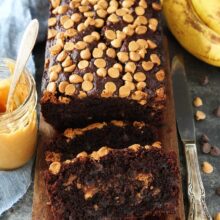 Chocolate Peanut Butter Banana Bread
Moist chocolate banana bread with a creamy peanut butter swirl and peanut butter chips on top. Slice and serve with a cold glass of milk!
Instructions
Heat your oven to 350°F. Grease a 9-by-5-inch loaf pan with nonstick cooking spray and set aside.

In a medium bowl, whisk together the flour, cocoa powder, baking soda, and salt. Set aside.

In a large bowl, mash the ripe bananas with a fork. Add the melted butter and oil and stir until combined. Stir in the brown sugar, egg, and vanilla extract. Stir until smooth.

Stir the dry ingredients into the wet ingredients, don't overmix. Gently fold in the chocolate chips.

Pour half of the batter into the prepared loaf pan. Drop spoonfuls of the peanut butter on top of the batter. Swirl the peanut butter into the chocolate batter with a butter knife. Top with remaining chocolate batter. Sprinkle the peanut butter chips over the top of the bread. Bake for 60-65 minutes, or until a toothpick inserted into the center of the bread comes out mostly clean, you might have some melted chocolate chips or peanut butter on the toothpick and that is fine. You just don't want a lot of gooey batter.

Remove the pan from the oven and set on a wire cooling rack. Let the bread cool in the pan for 15 minutes. Run a knife around the edges of the bread and carefully remove from the pan. Let the bread cool on the wire cooling rack until slightly warm. Cut into slices and serve.

Note-the bread will keep on the counter, wrapped in plastic wrap, for up to 4 days. This bread also freezes well. To freeze, cool the bread completely and wrap in plastic wrap and aluminum foil. Freeze for up to 1 month. Defrost before slicing.
Have you tried this recipe?
Leave a comment below and share a photo on Instagram. Tag @twopeasandpod and hashtag it with #twopeasandtheirpod