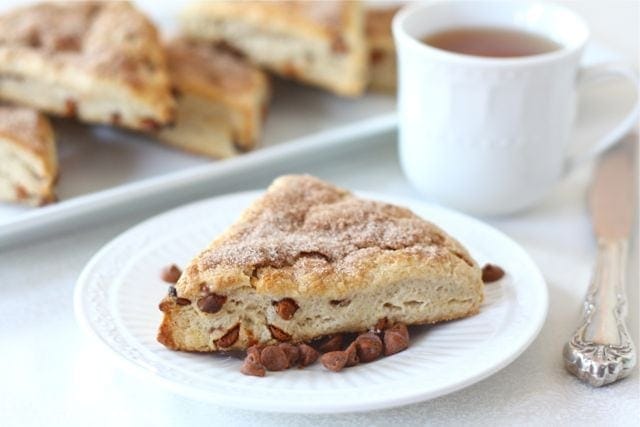 I am an organized person, but not when it comes to my photos. They are a disaster. iPhoto is overloaded with photos because I never organize them. I take way too many photos of food and Caleb and never delete or organize them. They are all backed up on a hard drive and I save the photos that go on the blog in folders, but I never delete the photos from iPhoto. So yesterday, I opened up iPhoto and was determined to sort through the madness and try to get organized. Instead, I spent hours looking at old photos and not organizing. I was having too much fun reminiscing:) I am glad I looked at my old photos, because I found photos of these Cinnamon Scones I made about a month ago and never shared the recipe. The photos got lost in the madness. I am so sorry because these Cinnamon Scones are incredibly delicious. You all need the recipe!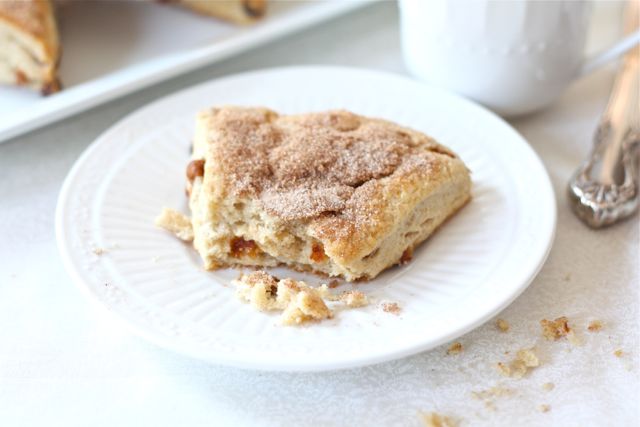 The scones are made with heavy cream, cinnamon, and cinnamon chips. I use Hershey's Cinnamon Chips, I know they are hard to find sometimes, so if you can't find them in a store near you, you can order them online on Amazon. You can also leave them out, but I really like the extra burst of cinnamon they add. I also brushed the tops of the scones with heavy cream and sprinkled them with cinnamon sugar. These scones remind me of a decadent version of cinnamon toast. They are soft, tender, sweet, and loaded with cinnamon goodness.
Start your weekend off right by making a batch of these Cinnamon Scones for breakfast. They are the perfect weekend breakfast treat. And sorry it took me so long to share the recipe. I am going to try and organize my photos over the weekend. I promise, I will do it this time:) Do any of you have any photo organizing tips to share? Thanks!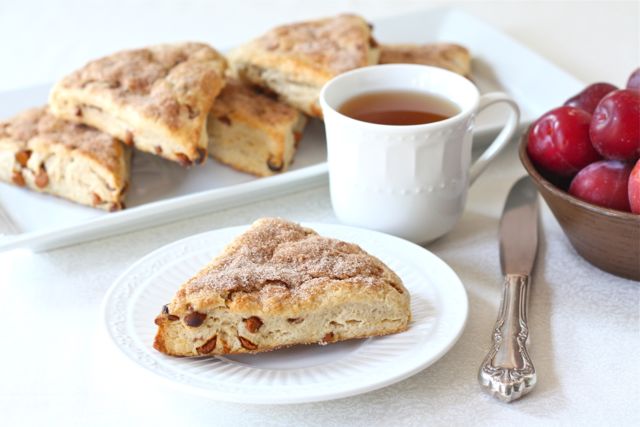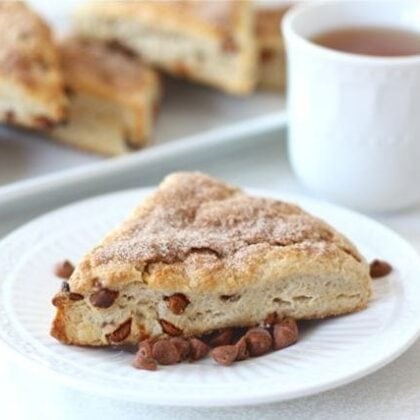 Cinnamon Scones
These Cinnamon Scones will remind you of a decadent version of cinnamon toast. The scones are sweet, tender, and full of cinnamon goodness!
Instructions
1. Preheat oven to 425 degrees F. Line a large baking sheet with parchment paper or a Silpat and set aside.

2. In a large bowl, whisk together flour, baking powder, sugar, cinnamon, and salt. Quickly cut in the butter, using your hands, two knives, or a pastry blender. Mix until mixture resembles coarse meal, with a feel larger butter lumps. Stir in the cinnamon chips. Pour heavy cream over the ingredients and stir with a spatula until dough begins to form. Don't over mix.

3. Transfer dough to a floured countertop and knead dough by hand just until it forms a ball. Form scones by patting the dough into a 3/4-inch thick circle. Cut the scones into triangles or use a biscuit cutter. Press scraps back together and cut additional scones until dough is used up.

4. Place scones on prepared baking sheet. In a small bowl, combine sugar and cinnamon. Using a pastry brush, brush scones lightly with heavy cream. Sprinkle scones with cinnamon/sugar mixture. Bake scones for 12-15 minutes, or until scones are light brown. Cool scones on a wire cooling rack and serve.

Scones will keep in an air-tight container for up to 2 days, but they really are best eaten the day they are made.
Have you tried this recipe?
Leave a comment below and share a photo on Instagram. Tag @twopeasandpod and hashtag it with #twopeasandtheirpod
If you like these Cinnamon Scones, you might also like: