Millions of peaches, peaches for me! I feel like we have millions of peaches, thanks to our friend's tree and the farmer's market.  I have been eating at least one every day, sometimes two. I made a batch of peach salsa, but that still didn't make a dent in our peach supply. To use up a few more peaches, I baked peach scones for an afternoon snack.
I diced up a few peaches and gently folded them into a cream scone dough. I cut the scones with a biscuit cutter to create small, round scones-perfect for snacking. Before baking, I brushed each scone with heavy cream and dusted the tops with cinnamon and sugar. The orange peaches gave the scones a nice pop of color and a burst of peachy goodness.
These scones made the perfect afternoon snack. It was nice to sit down and enjoy a special sweet treat. Serve with tea, grab a good book, or just ponder the good things in life. These peach scones certainly made my day a little more "peachy." I hope they do the same for you.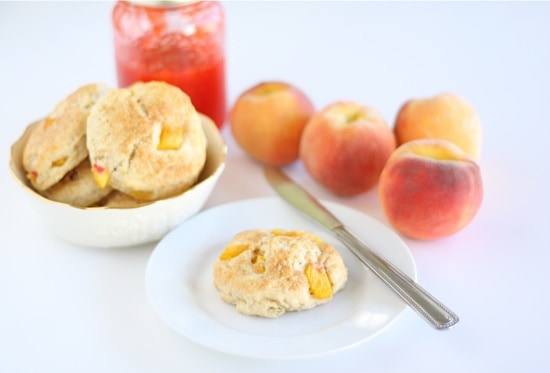 Peach Scones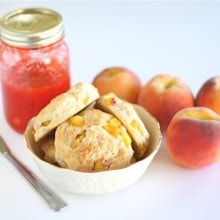 Ingredients
2

cups

all purpose flour

1

tablespoon

baking powder

4

tablespoons

sugar

1/2

teaspoon

salt

1/4

teaspoon

cinnamon

4

tablespoons

cold unsalted butter

cut into cubes

3/4

cup

heavy cream

1

large egg

1

teaspoon

vanilla extract

1/4

teaspoon

almond extract

1

cup

diced

peeled peaches

4

tablespoons

heavy cream

for brushing the tops of the scones

2

tablespoons

cinnamon sugar

for sprinkling on top
Instructions
1. Preheat the oven to 400 degrees F.

2. In a large bowl, whisk together the flour, baking powder, sugar, salt, and cinnamon. Drop the cubes of butter over the flour mixture. Cut in the butter using a pastry blender, or your hands. Work until the mixture resembles course meal.

3. In a small bowl or glass measuring cup, whisk together the heavy cream, egg, vanilla, and almond extract. Pour over the flour and butter mixture. Mix with a spatula or wooden smooth just until the dough comes together. Do not over mix. Carefully fold in the chopped peaches.

4. Transfer the dough to a flour surface and gently form into a ball. Flatten the dough into a round disk, about 3/4 inches high. Using a biscuit cutter, cut scones into circles and place on a baking sheet. You can cut scones into wedges.

5. Lightly brush scones with heavy cream and sprinkle generously with cinnamon and sugar. Bake for 15 minutes, or until golden brown. Let scones cool on a wire rack before serving.
If you like these peach scones, you might also like:
Lemon Glazed Berry Scones from Two Peas and Their Pod
Pumpkin White Chocolate Scones from Two Peas and Their Pod
Nectarine Hazelnut Scones from Cookin' Canuck
Cranberry Scones from What's Gaby Cooking?