Crispy and sweet Cinnamon Sugar Tortilla Bowls that are perfect for serving up your favorite ice cream! And the best part? You can eat the bowl too!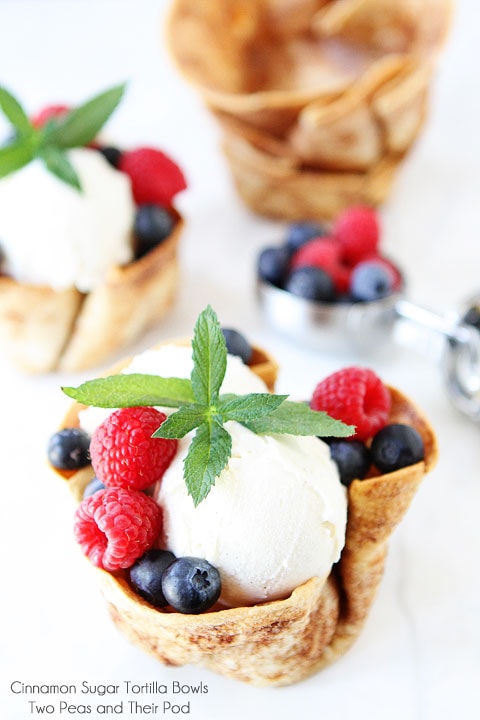 Did you know July is National Ice Cream Month? Well, it is and it's time to celebrate. I like ice cream however it is scooped up-in a cup, cone, straight out of the carton, or in a Cinnamon Sugar Tortilla Ice Cream Bowl. That's right, a Cinnamon Sugar Tortilla Bowl-an ice cream bowl that you can eat!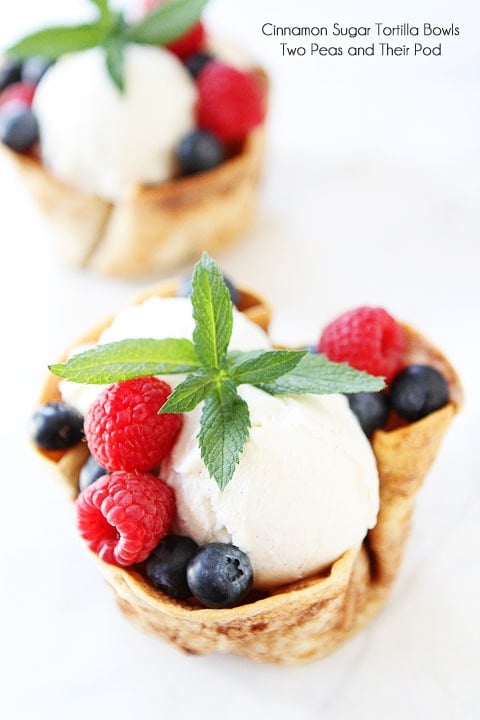 When my sister-in-law, Whitney, came to visit she made these for dessert one night and we've been making them ever since. Josh isn't even a big ice cream eater, but he has been asking for ice cream a lot lately…as long as it comes in a Cinnamon Sugar Tortilla Bowl.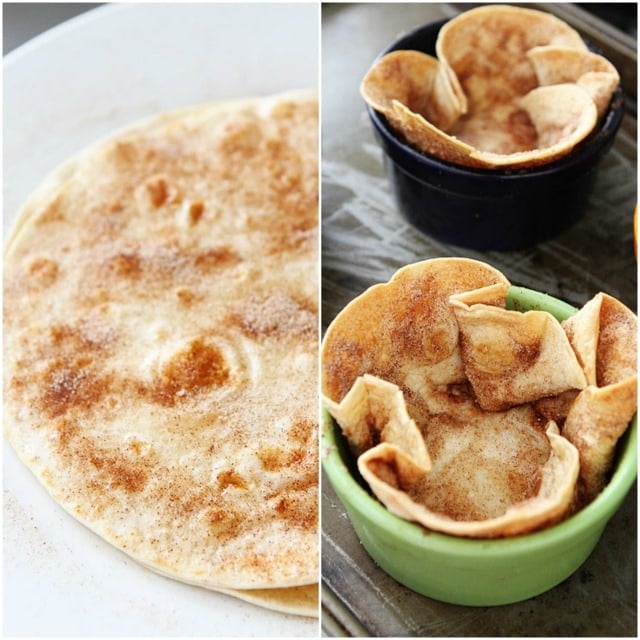 The bowls are easy to make, the only ingredients you need are: flour tortillas, butter, cinnamon, and sugar. I bet you have all of the ingredients in your kitchen right now.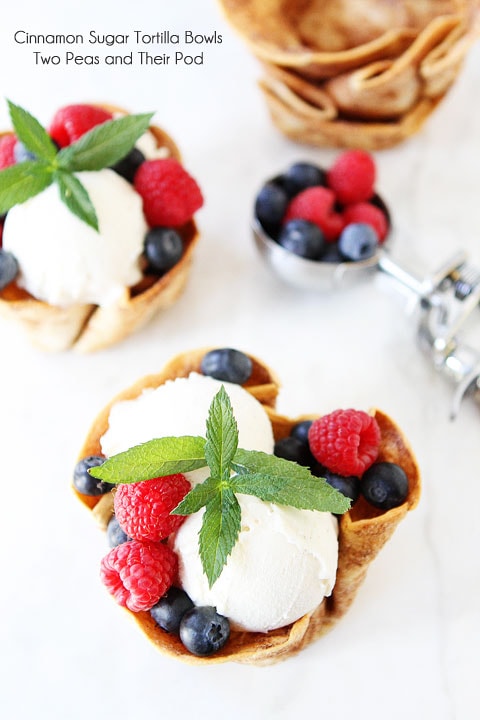 All you have to do is brush the tortillas with butter, sprinkle on the cinnamon and sugar, put them in ramekins or oven safe bowls and bake them until crispy!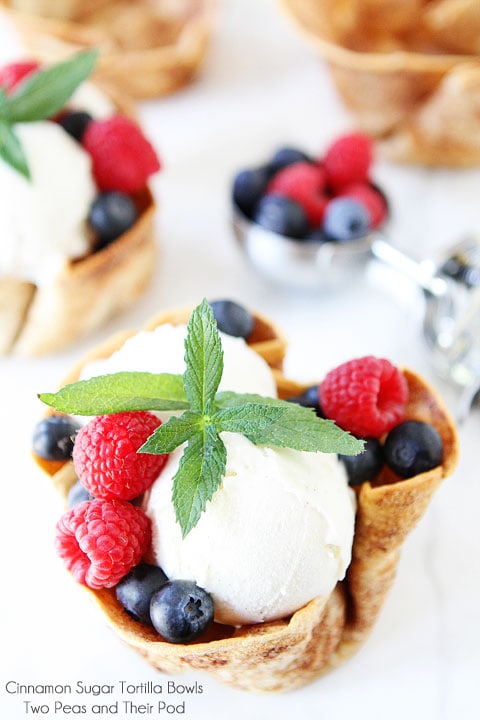 Let the bowls cool and fill them with your favorite ice cream. We like plain old vanilla ice cream or Coconut Raspberry Ice Cream, but you can fill them with whatever you like. Frozen yogurt, sorbet, and even plain yogurt are good options. We like to top the ice cream with fresh berries. Feel free to add hot fudge, salted caramel sauce, nuts, whipped cream, or any other toppings you can think of.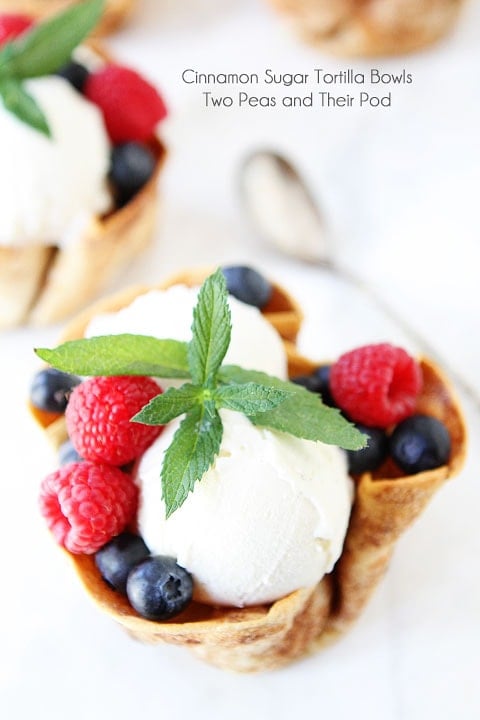 Josh said the Cinnamon Sugar Tortilla Bowls remind him of churros, but with ice cream…which makes them even better! The bowls can be made a few days in advance, which makes them perfect for entertaining. Everyone is always impressed by these pretty edible bowls! And the best part, they are soooo simple!
If you are looking for a fun and new way to serve up your ice cream this summer, make Cinnamon Sugar Tortilla Ice Cream Bowls.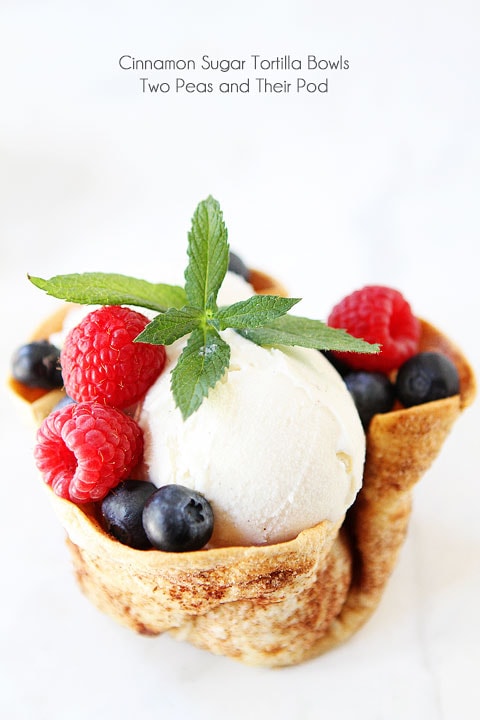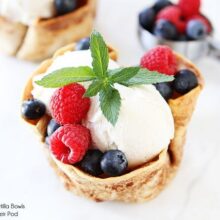 Cinnamon Sugar Tortilla Bowls
Fill these Cinnamon Sugar Tortilla Bowls with your favorite ice cream, yogurt, or sorbet! Top with fresh fruit or your favorite ice cream for a fun and delicious dessert!
Ingredients
6

flour tortillas

6

tablespoons

butter

softened

1 1/2

tablespoons

cinnamon

1/4

cup

granulated sugar

Ice cream and berries

for serving
Instructions
Preheat oven to 350 degrees F. Spray 6 (8 oz) ramekins with cooking spray and set aside.

In a small bowl, combine the cinnamon and sugar. Take a tortilla and spread a thin layer of butter on both sides. Sprinkle the cinnamon sugar mixture over both sides of the tortilla. Continue until you have completed all of your tortillas.

Carefully place the tortillas into the prepared ramekins. Press the tortillas down into the ramekins and press against the sides. The tortillas will fan up and out of the ramekins and that is ok. Just make sure there is an opening in the center.

Place the ramekins on a large baking sheet and bake for 17-20 minutes or until tortillas are golden brown and crisp. Let the tortilla bowls cool for 2 minutes in the ramekins and then remove. Place the tortilla bowls on a wire cooling rack and cool completely.

To serve, fill the bowls with ice cream and berries. Serve immediately.

Note-You can make these bowls 2 days in advance, just keep in an air tight container. If you don't have ramekins, you can use oven safe bowls. You can fill the tortilla bowls with your favorite ice cream, frozen yogurt, sorbet, or even yogurt. Top with your favorite fruit or ice cream toppings.
Have you tried this recipe?
Leave a comment below and share a photo on Instagram. Tag @twopeasandpod and hashtag it with #twopeasandtheirpod