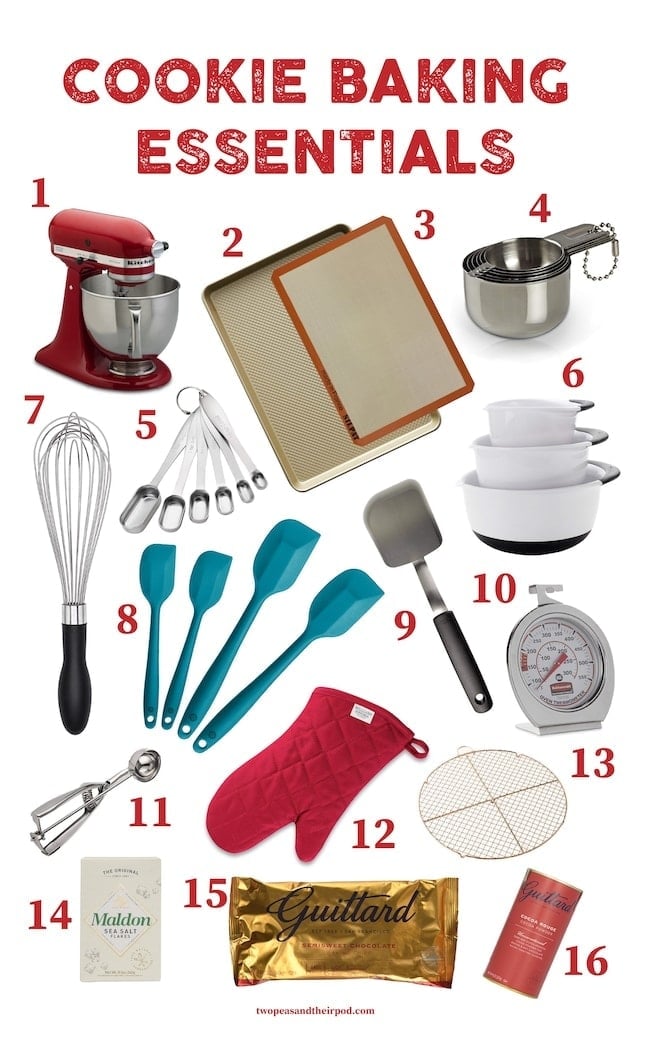 Cookies
You guys all know that I am the BIGGEST Cookie Monster! I LOVE cookies! I love creating cookie recipes, baking cookies, eating cookies, and sharing cookies! Cookies make the world a better place. FACT!
Some of my favorite cookie recipes include: chocolate chip, peanut butter, monster, snickerdoodles, peanut butter oatmeal, kitchen sink, triple chip chocolate, and MORE!
I always get asked what I use to bake cookies so today I am sharing my Cookie Baking Essentials! All of the items you need to make PERFECT cookies! These are my tried and true items that I use every time I bake cookies…which is almost every day:)
And if you are looking for cookie recipes, I've got you covered! You can find all of my favorite COOKIE RECIPES HERE! Happy cookie baking!
My Cookie Baking Essentials
KitchenAid Stand Mixer-I LOVE my KitchenAid Mixers! My favorite kitchen appliance!
Baking Sheets-I LOVE Williams Sonoma's Gold Touch Baking Sheets. The half sheet pans are my favorite! They are made with commercial-grade aluminized steel that distributes heat quickly and evenly for consistent baking results. Never use dark pans or your cookies will burn!
Silpat Baking Mat-I always use Silpat baking mats! Easy clean up and the mats help the cookies bake evenly and they prevent spreading. They are reusable and I use them A LOT:)
Measuring Cups-love these stainless steel measuring cups. Comes in all the sizes you need!
Measuring Spoons-love this stainless steel set!
Mixing Bowls-I use mixing bowls for whisking dry ingredients together. I love this set.
Whisk-I use a whisk to whisk my dry ingredients together.
Spatulas-love the different sizes in this set. Great for scraping down the mixing bowl! I also love these spatulas because they are for a great cause and so fun!
Silicone Cookie Spatula-perfect for lifting cookies off of the baking sheet.
Oven Thermometer-It's always good to check the temperature of your oven because they are usually off. This little thermometer goes right inside the oven and is accurate.
Cookie Scoop– This is a good one. Lots of sizes.
Oven Mitt-Everyone needs a good oven mitt!
Cooling Rack-I like this cooling rack because it has 3 tiers and doesn't take up a lot of space.
Maldon Sea Salt Flakes-my favorite sea salt for sprinkling on my cookies. The salt brings out the best flavor!
Guittard Chocolate Chips-My favorite brand of chocolate chips! I like semi-sweet chocolate chips in my cookies, but if you are a milk chocolate fan, their milk chocolate chips are good too!
Dutch Process Cocoa-I like to use Dutch Process Cocoa. The flavor is so rich and chocolaty!
Adding my favorite glass containers for flour, oats, and sugar!