jump to recipe
Creamy Polenta with Roasted Mushrooms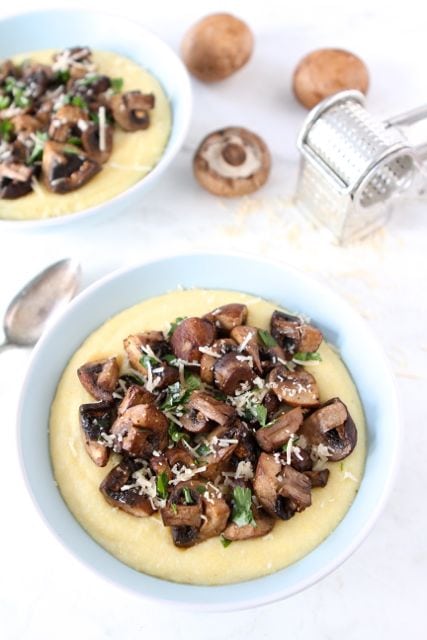 I have a hard time choosing a favorite meal. I have too many favorites and it depends on my mood. Creamy Polenta with Roasted Mushrooms is probably in my top 10 favorite meals. I am always in the mood for rich and creamy polenta. I could eat an entire pan if no one was watching me. I love the stuff!
The creamy polenta is good by itself, but the roasted mushrooms make this recipe extra special. They are the "icing on the cake." And it's always a good idea to add more veggies into your diet, right?

OTHER RECIPES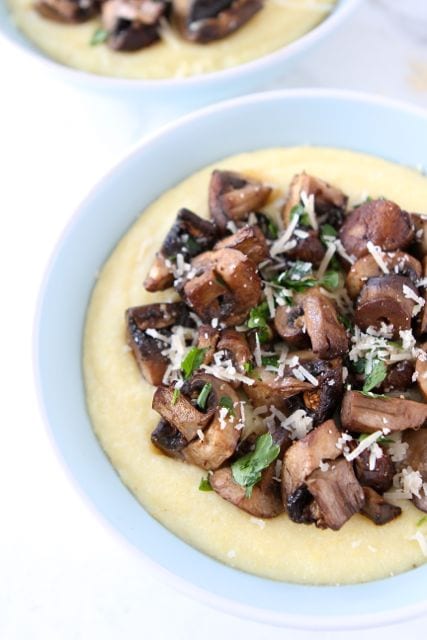 Another reason this recipe is an all-time favorite, because it is so easy to make! I toss the mushrooms in olive oil, balsamic vinegar, and a little garlic and let them roast away.
The hardest part is whisking the polenta, but a little arm workout won't hurt you. And it really isn't hard. You just have to whisk it every few minutes, so don't go far. Turn on some tunes and sing away while your mushrooms are roasting and your polenta is cooking. I won't tell anyone if you use your whisk as a microphone:)
We teamed up with the Utah Dairy Council this year to create recipes that incorporate more dairy. I like to make the polenta with milk for an extra creamy texture. Plus, I love the boost of calcium, Vitamin D, and protein it adds. Milk does the body good!  I also stir in a little butter and Parmesan cheese. Mmmm, butter and cheese!
To serve, divide the creamy polenta into bowls and top with the roasted mushrooms. Try to savor every bite, but I won't judge if you frantically shove spoonfuls into your mouth. This Creamy Polenta with Roasted Mushrooms is a winner! An all-time favorite for sure!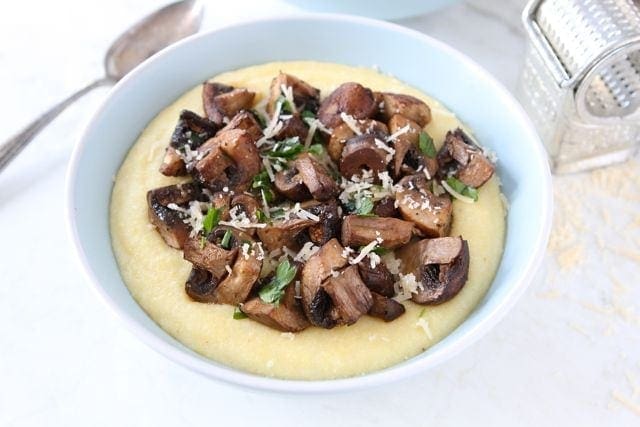 Creamy Polenta with Roasted Mushrooms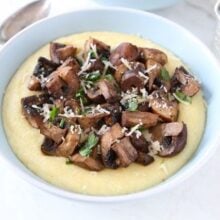 Creamy polenta with roasted mushrooms-an easy and comforting meal.
Yield: Serves 4 (makes about 3 cups polenta)
Ingredients:
For the Roasted Mushrooms:
1 lb. Baby Bella mushrooms, stems removed and cut in half

2 tablespoons olive oil

1 tablespoon balsamic vinegar

1 tablespoon minced garlic

Salt and black pepper, to taste

1/4 cup chopped flat leaf Italian parsley
For the Creamy Polenta:
2 cups milk

1 1/2 cups water

1/2 teaspoon kosher salt

3/4 cup stoneground polenta (not instant)

2 tablespoons butter

3/4 cup freshly grated Parmesan cheese

Extra Parmesan cheese for serving, optional
Directions:
1. Preheat the oven to 400 degrees F. Place mushrooms in a medium bowl and drizzle with olive oil and balsamic vinegar. Add in garlic and toss. Season with salt and pepper. Spread mushrooms evenly onto a large greased baking sheet. Roast for 15-20 minutes or until mushrooms are tender, stirring once. Remove from the oven and stir in parsley.
2. While the mushrooms are roasting, make the polenta. In a medium saucepan, combine milk, water, and salt over medium-high heat and bring to a simmer. When it simmers, slowly pour in the polenta and whisk to combine. Reduce heat to low and partially cover the pan with a lid and cook, whisking vigorously every 5 minutes. Make sure you scrape the sides of the pan. Cook until liquid is absorbed and polenta is creamy, about 30 minutes total. Remove from heat and stir in the butter and Parmesan cheese.
3. Divide the polenta into four bowls. Top with roasted mushrooms and garnish with Parmesan cheese, if desired. Serve immediately.
All images and text ©
.
Follow twopeasandpod on Instagram and show us what recipes you are making from our blog! Use the hashtag #twopeasandtheirpod! We want to see what you are making in your kitchen!
If you like this Creamy Polenta with Roasted Mushrooms, you might also like:
Disclosure: This post is in partnership with the Dairy Council of Utah, but all of our opinions are our own. "For more dairy & nutrition information visit: www.dairyutnv.com and to get to know more about your local dairy farmers visit www.thecowlocale.com." And thanks to the Dairy Council of Utah for sponsoring me to attend Alt Summit. If you see me at the conference today, maybe we can grab a glass of milk:)