Deer Valley Resort not only offers first-class skiing, lodging, and amenities, but they also feature award-winning cuisine. Deer Valley provides casual, family-friendly cafés and grills and elegantly rustic restaurants. If you want a quick lunch on the slopes or a lavish dinner in the evening, you will find it at Deer Valley. Deer Valley uses quality ingredients with an emphasis on locally sourced products. We enjoyed every single meal at Deer Valley.
The first day, we ate lunch at the Royal Street Cafe, which is located mid-mountain at Silver Lake Lodge. I ordered the Mozzarella Heirloom Tomato Panino on Focaccia Bread. It came with a side of Garlic Herb Parmesan Shoestring Fries. The sandwich was fresh and flavorful. The fries were too too good. I couldn't stop eating them!
Josh had the House Smoked Pulled Pork Sandwich. He obviously loved it because there is no picture. He inhaled it before I had a chance to snap a photo!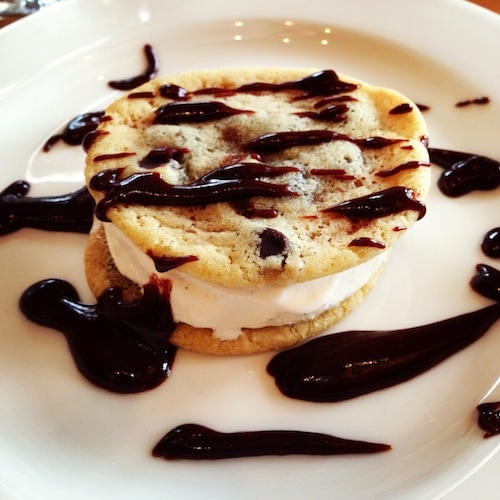 I usually don't eat dessert after lunch, but when I saw the Chocolate Chip Cookie Ice Cream Sandwich on the menu, I had to splurge. And yes, it came with hot fudge. My kind of dessert!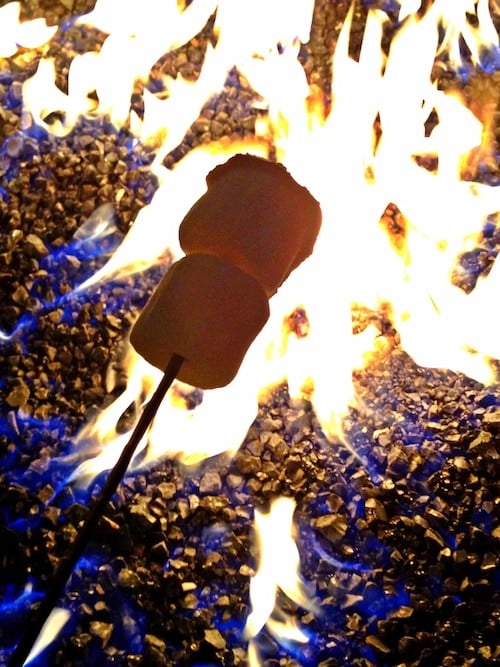 We fixed dinner in our condo our first night at Deer Valley. We didn't have to do much work because Deer Valley spoiled us with freezer meals from Deer Valley Grocery Cafe. I usually don't like store bought freezer meals, but Deer Valley Grocery Cafe knows how to do it. We had vegetarian lasagna, meatballs with marinara, and chicken with mushrooms and polenta. We enjoyed a gourmet meal without going grocery shopping, cooking, or cleaning up! The freezer meals from Deer Valley Grocery Cafe are a great option if you want to eat in, but aren't in the mood to cook.
For dessert, we toasted up S'mores! We couldn't be up in the mountains without having S'mores!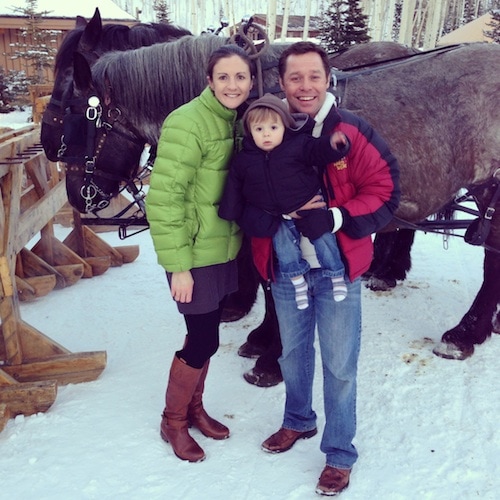 Our second night, we ate at Fireside Dining at Empire Canyon Lodge. Before our meal, we took a carriage ride around the restaurant. Caleb loves horses and was super excited to go on a ride in the snow.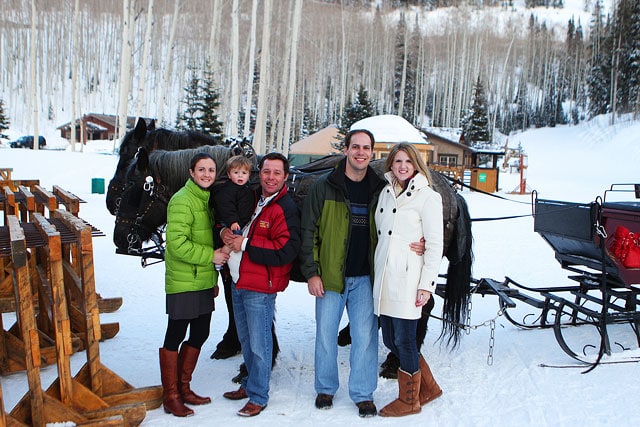 (photo via Amanda)
It was cold, but we all snuggled in for a ride around the mountain. Giddy up!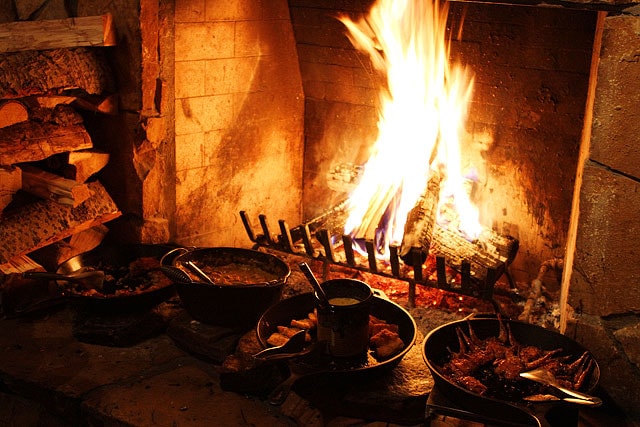 Fireside Dining features four courses served from five stone fireplaces. The menu includes Swiss raclette cheese, cured meats, salads, stews, potato rosti, fire-roasted leg of lamb, fresh baked breads and dessert fondues.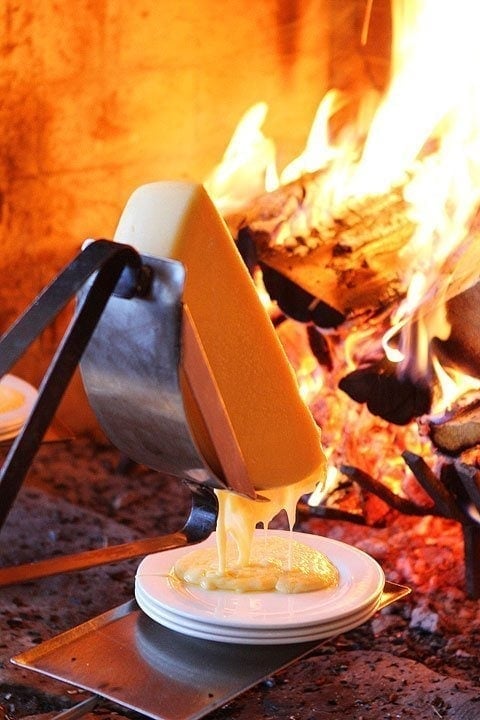 The Swiss Raclette was the highlight of the meal. Look at that melty cheese! If you go, make sure you put the cheese on a baguette slice with the strawberry chutney. It's life changing!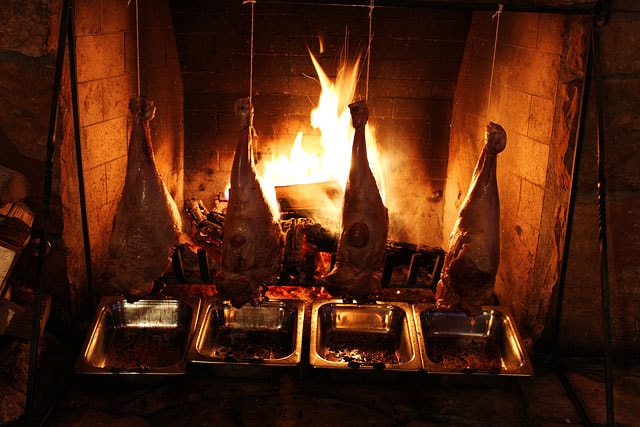 Every fireplace had a different course. The atmosphere was unique and perfect for a cold winter's night in the mountains.
The dessert table was filled with all of my favorite things-fruit, cookies, cake, and cobbler.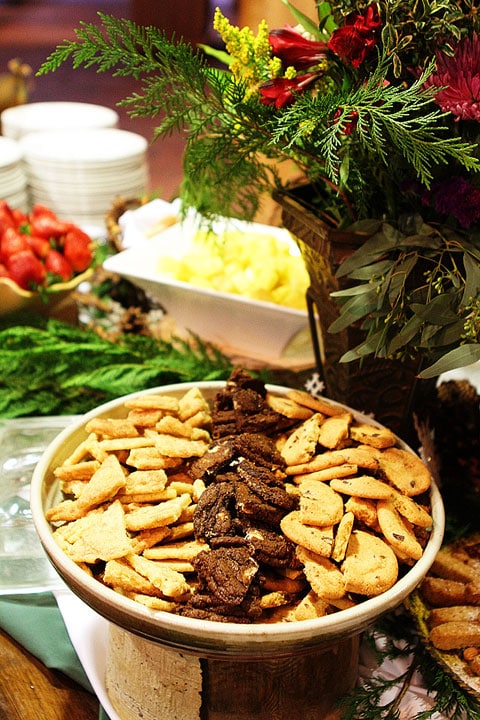 A huge plate with an assortment of cookies. I think they made them just for me..ha!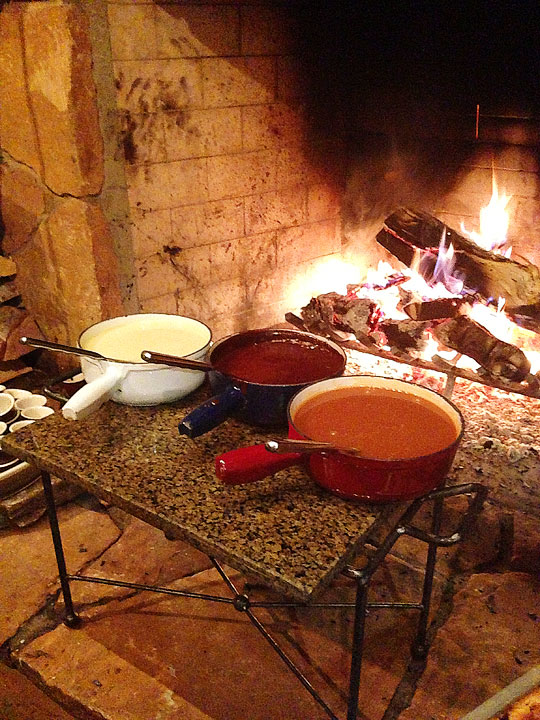 White chocolate, chocolate, and homemade caramel fondue!
Dunking time! I loved the snickerdoodles with caramel, a match made in heaven. Caleb devoured the strawberries and bananas. The cinnamon pound cake was also a favorite. Fireside Dining was such a fun experience. You have to go! Make your reservations right now:)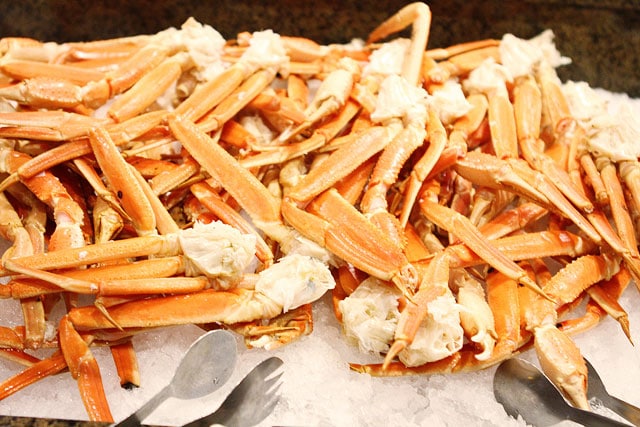 For our last night at Deer Valley, we ate at the famous Seafood Buffet. We usually aren't buffet fans, but Deer Valley's Seafood Buffet is not your typical buffet. The deluxe buffet features fresh crab legs, shrimp, oysters, sushi, seared ahi tuna, salads, breads, fine cheese, fruit, specialty entrées including prime rib and house-made desserts.
Josh ate his weight in crab legs. He kept going back for more and more crab!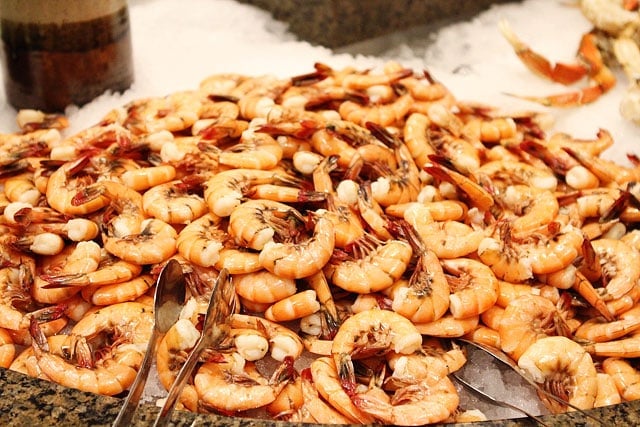 The seafood was fresh and in abundance!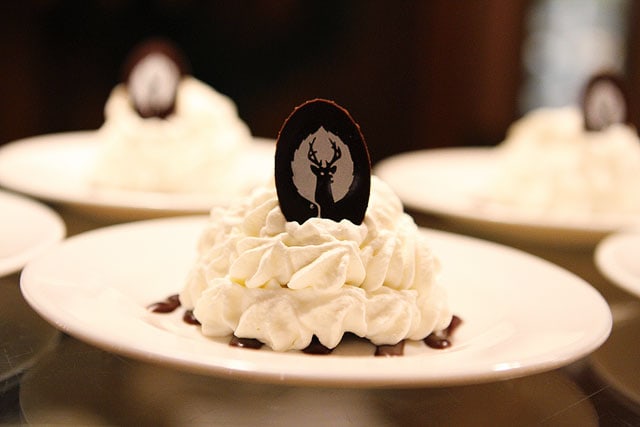 The dessert station was my favorite. Are you surprised? I finally got to try Deer Valley's famous Chocolate Snowball, a rich chocolate cake with whipped cream frosting. It looks like a snowball, which makes it perfect for Deer Valley's signature dessert. And I loved the chocolate deer on top. So fitting. If anyone wants to get in Chocolate Snowball fight, I am up for the challenge. Please aim them right into my mouth:)
It was Valentine's Day, so Deer Valley put out a few special desserts to celebrate the day of love. We had to try the chocolate covered strawberries!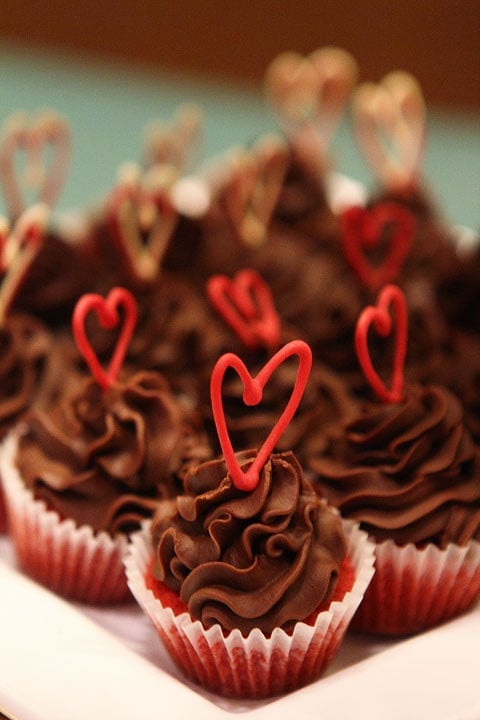 And how cute are the red velvet cupcakes with chocolate frosting?
The Seafood Buffet was the perfect meal for Valentine's Day…and the perfect meal after a full day on the slopes. You burn a lot of calories skiing, right? Please say yes, because I might have eaten one too many desserts. Oh well, they were all worth it!
A huge thank you to Deer Valley for hosting us! We had an amazing time from start to finish. We give the accommodations, service, skiing, food, scenery, Children's Center, etc. five beaming stars! We loved our ski vacation and can't wait to come back.
Make sure you follow Deer Valley Resort on Facebook and Twitter for updates!
You can check out our other Deer Valley posts here: