Easy Chocolate Mousse
This chocolate mousse recipe is easy to make and delicious.  Rich, silky, and smooth, this chocolate mousse is pretty to serve, and a treat to eat.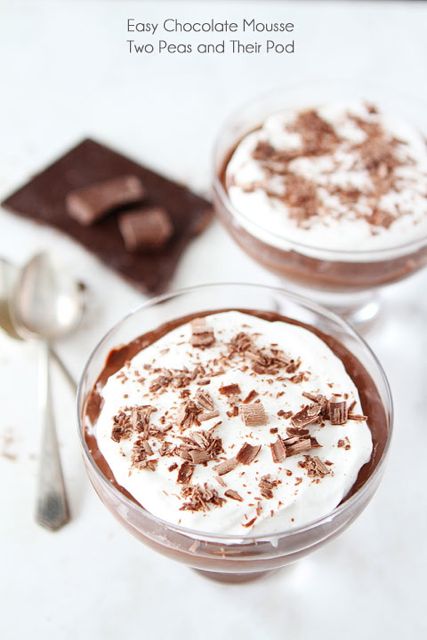 Easy Chocolate Mousse
Chocolate Mousse! Mousse au chocolaté! However you want to say it, it's divine. I used to be afraid to make it. I don't know why it scared me, it just seemed like a dessert you only should eat in Paris or at fine parties, not a dessert you make at home.
Well, I decided to be brave and give it a try and guess what? It's not scary at all! This chocolate mousse recipe is actually really easy, almost too easy! Now, I know I can make chocolate mousse at home. This could be dangerous. 

OTHER RECIPES

Date Night or Any Night Chocolate Mousse
I made this dessert for date night and we both loved it! You can get all romantic and share a mousse, but I wanted my own. I didn't want to share..ha!
The chocolate mousse is rich, silky, and smooth. I topped it off with whipped cream and chocolate shavings. It is pretty to serve and a treat to eat!
You can't go wrong with this classic French dessert…and chocolate is always a good idea!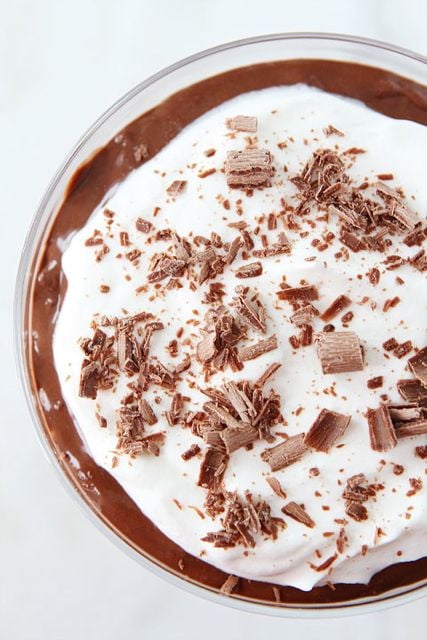 Get date night on your calendar! And I promise, you don't want to miss out on this Easy Chocolate Mousse…and yes, it really is easy!
Easy Chocolate Mousse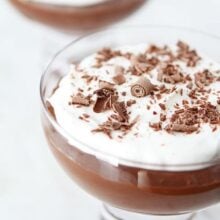 Yield: Serves 4
Prep Time: 15 minutes
Total Time: 3 hours 15 minutes (mostly chilling time)
Ingredients:
7 oz bittersweet or semisweet chocolate, finely chopped
3 tablespoons water
4 large eggs, at room temperature, separated
Pinch of coarse salt
Directions:
Combine the chocolate and water in a heatproof bowl set over a pan of barely simmering water. Heat until the chocolate is almost completely melted, stirring occasionally. Remove the bowl from the heat and stir until the mixture is smooth. Set aside and let cool to near room temperature.
In a clean, dry bowl of a stand mixer fitted with the whisk attachment, combine the egg whites and the salt. Whip on medium-high speed until stiff peaks form. They should be thick and smooth.
Stir the egg yolks into the cooled chocolate mixture. Add one third of the whipped egg whites to the bowl with the chocolate and fold gently to lighten up the mixture. Fold in the remaining egg whites gently with a spatula just until no visible streaks are left.
Portion the mixture into 4 individual serving dishes (or 2 larger serving dishes, for a romantic, share-friendly dessert). Cover with plastic wrap and refrigerate at least 3 hours. Serve with freshly whipped cream, if desired.
Recipe from The Sweet Life in Paris by David Lebovitz
All images and text © .
Follow twopeasandpod on Instagram and show us what recipes you are making from our blog! Use the hashtag #twopeasandtheirpod! We want to see what you are making in your kitchen!