Flourless Chocolate Cookies
Flourless Chocolate Cookies – the BEST chocolate cookies and they are gluten-free! Chocolate lovers will go crazy for these cookies! They are the ultimate chocolate cookie!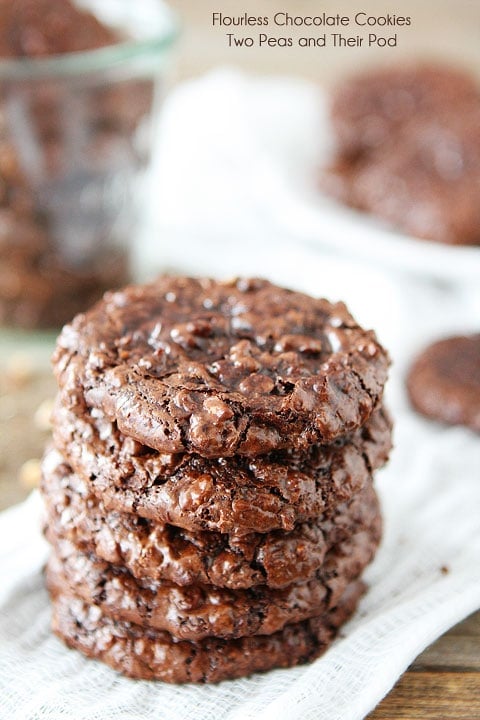 Divine Chocolate Cookies
When we went to Jackson Hole this summer I not only fell in love with Jackson Hole but with Persephone Bakery. I love everything about that little bakery-the style, atmosphere, friendly staff, and the sweets. I sampled several items from the darling bakery, but my favorite was the Flourless Chocolate Cookie. I enjoyed every morsel of that cookie and haven't stopped thinking about it since our trip.
I wish I could drive to Jackson Hole every week to get my cookie fix, but since I hate driving in the snow, I decided to create my own Flourless Chocolate Cookie. I played around last week and ended up with the most divine chocolate cookie I have ever tasted. Don't tell Persephone Bakery, but I think my cookie is even better:) You are going to love these gluten-free cookies…and you really won't know they are gluten-free because they are SO good!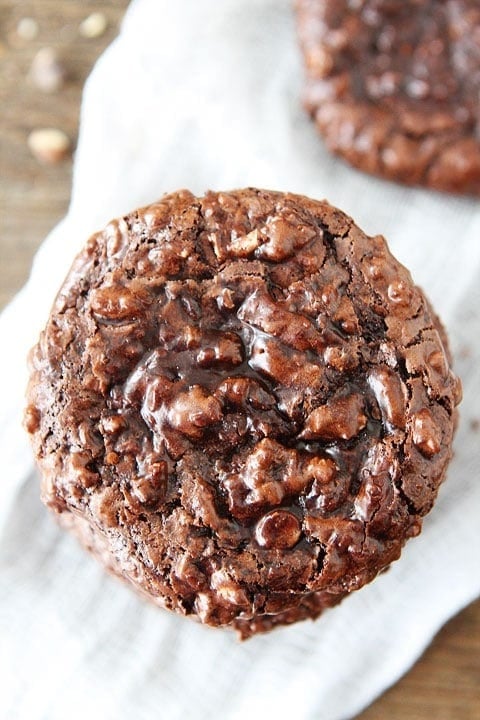 How to Make Flourless Chocolate Cookies
There is no flour in these cookies so these are gluten free chocolate cookies. Don't worry, you won't miss the flour because there is LOTS of chocolate instead! These cookies are so rich and divine.
Persephone Bakery uses chopped walnuts in their cookie, but I used my favorite Dark Chocolate Almonds for my chocolate cookies. I am seriously obsessed with these almonds. They are heavenly and super addicting. I thought they would be perfect in my chocolate cookies…and I was right. The extra dose of chocolate took these chocolate cookies to a whole new level of goodness.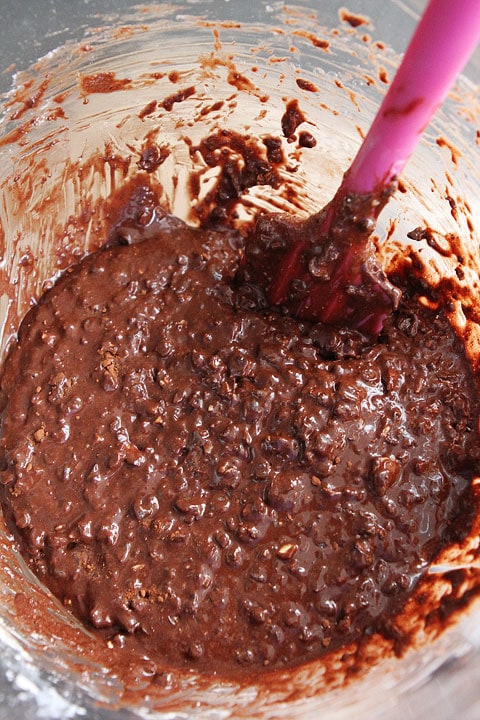 Look at the cookie batter? Don't you want to dive right in? The chocolate cookie batter is very thick and similar to brownie batter.
CHOCOLATE, Chocolate Cookies
So, I added in mini chocolate chips because if you are going to have a chocolate cookie, have a chocolate cookie! No scrimping! These cookies have cocoa, Dark Cocoa Almonds, AND mini chocolate chips. Pure chocolate bliss! The cookies are super rich and fudgy! You will need a big glass of milk to wash these babies down!
Note: If you can't find cocoa almonds, you can use regular almonds, pecans, or walnuts. They all work well with these flourless cookies. And if you normally don't like nuts in your cookies, don't be afraid, these are SO good. I am normally not a nut in cookie gal, but these are chocolate cookies are divine!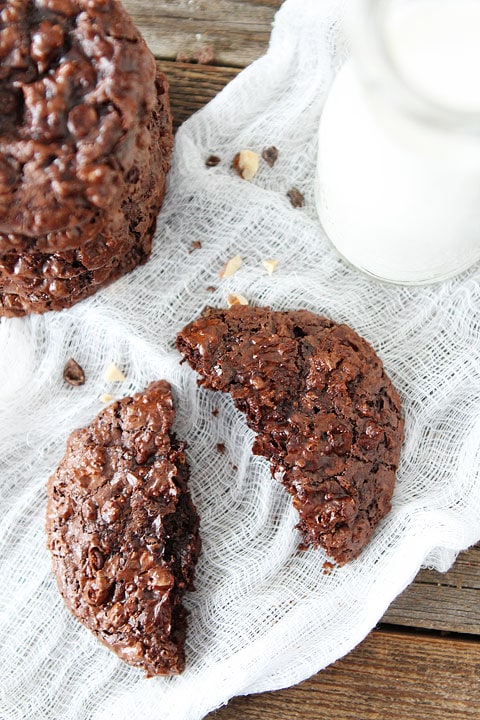 Best Chocolate Cookies, Really.
These flourless cookies are super dense, rich and fudgy! You will need a big glass of milk to wash these babies down!
One cookie cured my chocolate craving for the day! I was blown away by the intense chocolate flavor! I packaged the rest of the cookies up and shared them with our neighbors and friends. Ok, I saved a few for myself. I couldn't part with them all. They are too good:) You are going to love these gluten free chocolate cookies!
Chocolate Cookies are perfect for Valentine's Day because everyone NEEDS chocolate on Valentine's Day and these flourless cookies are the VERY best chocolate cookies.
If you like these Flourless Chocolate Cookies, check out: