Fettuccine Alfredo – you only need four ingredients to make this creamy, buttery, and cheesy pasta dish. Fettuccine Alfredo is a classic everyone (including kids) loves, and it takes less than 30 minutes to make!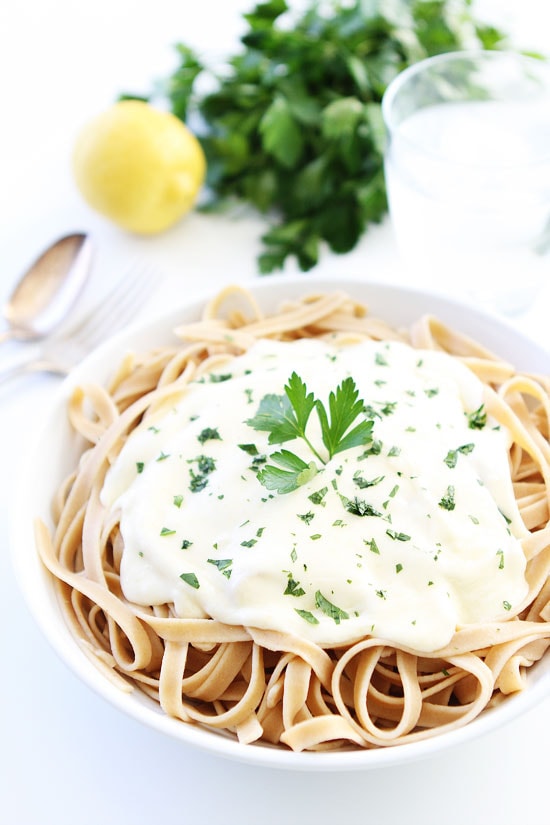 Leftover Heavy Cream? Think Fettuccine Alfredo
I bought a big carton of heavy cream to make scones. The boys helped me make them and we had a good time in the kitchen. The scones didn't last long and I was going to make another batch the following day, but it was dinnertime and I needed something savory to put on the table. I decided to make Fettuccine Alfredo.
When I told Josh we were having Fettuccine Alfredo for dinner, he didn't believe me at first. I am all about heavy cream and butter when it comes to baking and desserts, but I try to keep our meals on the healthy side. When I make pasta, I usually make my favorite Easy Marinara Sauce or Spinach Basil Pesto with loads of veggies.
I told Josh I had heavy cream to use up and didn't want to serve scones for dinner, although the thought did cross my mind, so I decided to make Fettuccine Alfredo. He was ok with that. He loves alfredo sauce!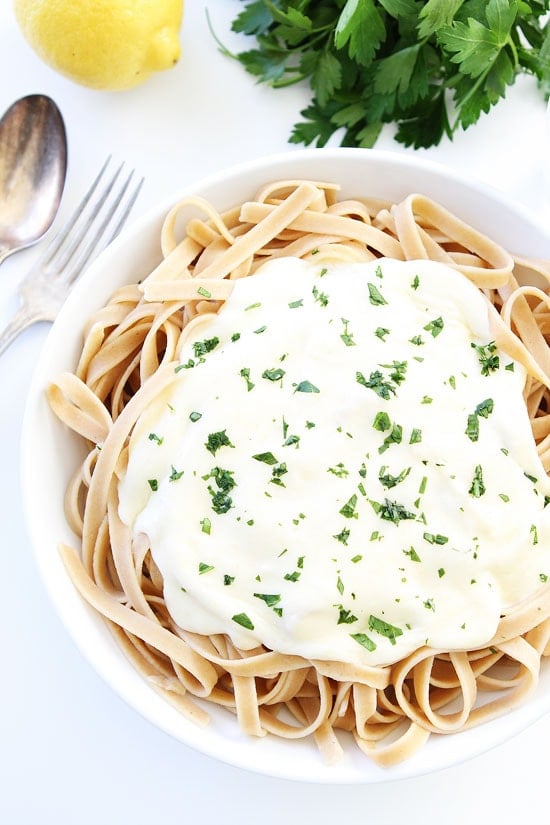 Easy Fettuccine Alfredo – Just 4 Ingredients
I have a love/hate relationship with Fettuccine Alfredo. It is so wrong, but SO right. People who wonder how to make Fettuccine Alfredo don't realize how easy it is. You only need FOUR ingredients:
Heavy cream
Butter
Parmesan cheese
Pasta
Four heavenly ingredients are all you need to make this rich and creamy pasta dish! I want to hate it, but I can't. It is too easy to make and too good!
Since you are only uses four ingredients, make sure those ingredients are high quality. Splurge and buy good butter and cheese. You for sure don't want Parmesan cheese from the can:)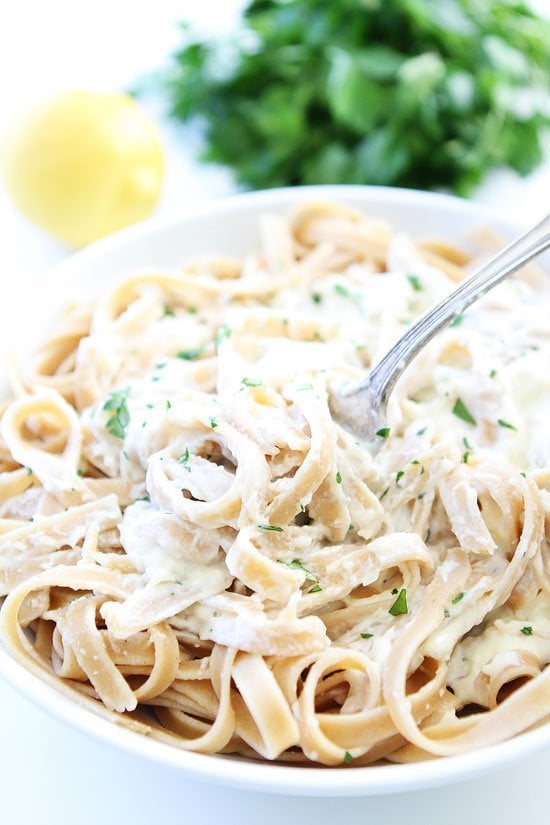 How to Make Fettuccine Alfredo Pop
I did use whole wheat fettuccine to go with the decadent alfredo sauce. So this pasta dish is somewhat healthy! It's all about balance:) Feel free to use your favorite pasta. Fettuccine is the classic pasta to use for this dish, but you can use other pasta noodles.
I like to add a little lemon juice to the alfredo sauce. It gives it a refreshing kick. I also like to top the pasta dish with fresh parsley for a pop of color. The lemon and parsley are optional, but a nice touch! If you use them, the pasta dish will have six ingredients and not four, but who is really counting? This buttery, creamy, cheesy pasta dish is delish!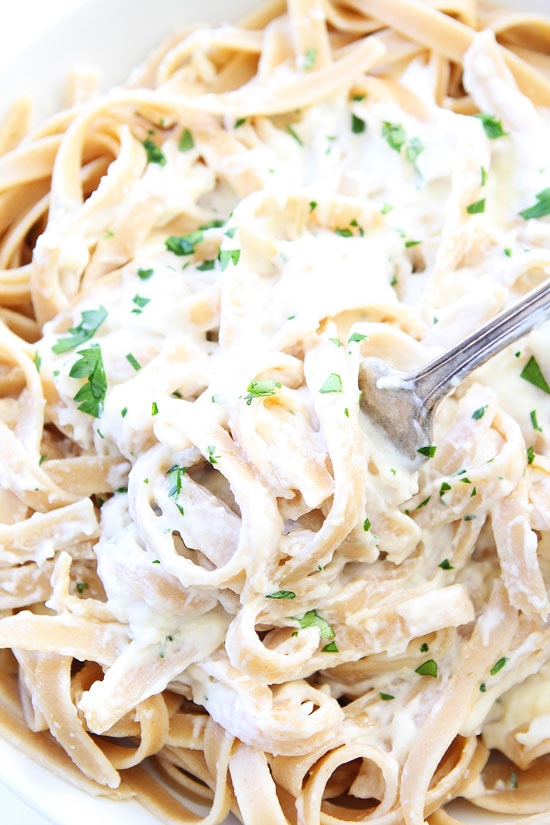 If you want to make a simple, satisfying and comforting pasta dish for dinner, go with Fettuccine Alfredo. It is a classic! You can't go wrong! My boys loved it and so did I. It is nice to splurge every once in awhile. Enjoy!
If you like this Fettuccine Alfredo recipe, you might also like:
Fettuccine Alfredo
This classic pasta dish is satisfying, comforting, and simple to make. It is always a dinner favorite!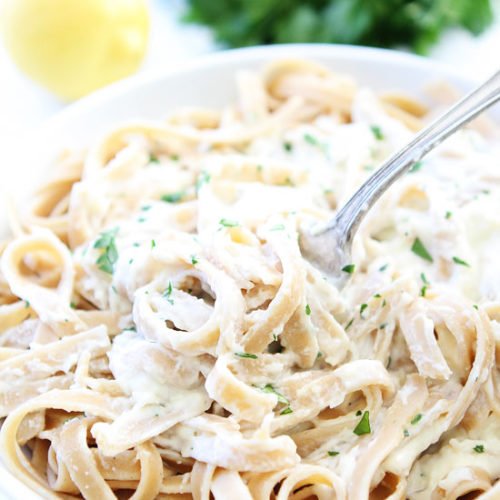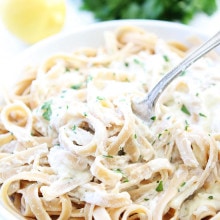 Prep Time

10

minutes
Cook Time

15

minutes
Total Time

25

minutes
Ingredients
1

pound

fettuccine pasta

1/2

cup

unsalted butter

1

cup

heavy cream

1

cup

grated Parmesan cheese

2

teaspoons

fresh lemon juice

optional

Salt and pepper

to taste

Chopped fresh parsley

for garnish, optional
Instructions
Bring a large pot of water to a boil and add salt. Cook pasta until al dente, stirring occasionally. Drain, reserving 1/4 cup of the pasta water. Set aside.

Meanwhile, in a large skillet, heat the butter over medium heat until it melts, stirring occasionally. Whisk in the heavy cream and bring to a boil. Cook until sauce thickens, about 5 minutes. Stir in Parmesan cheese until it melts. Remove from heat and stir in lemon juice, if using. Season with salt and pepper, to taste.

Return the pasta to the pot on the stove, with the stove on medium heat. Add the reserved pasta water and gently toss. Add the alfredo sauce and toss until pasta is well coated. Season with salt and pepper, to taste. Transfer pasta to a large serving bowl and garnish with parsley, if using. Serve immediately.