Focaccia Bread
This homemade Focaccia Bread is loaded with fresh herbs, olive oil, and has a nice salty kick. This focaccia recipe makes a big pan and it is great with soup, salad, or any Italian meal!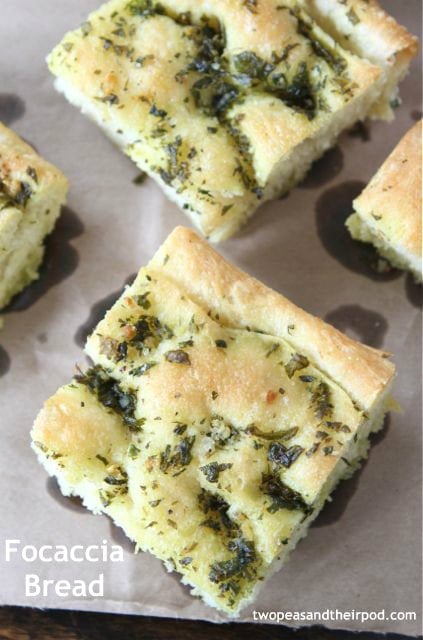 Homemade Focaccia Recipe
My dad came to visit last week and we spent most of our time playing with Caleb, but of course we found some time to bake. My dad taught me how to bake when I was a wee one and I still love baking with him today. His cinnamon rolls are famous and he can bake up a mean loaf of Artisan bread.
I gave my dad The Bread Baker's Apprentice Book years ago and I think he has made almost every recipe in the book. It's a good one! We've made a few of the recipes together-Cinnamon Raisin Bread, French Baguettes, and Lavash Crackers. We've loved every recipe. This time we baked up Focaccia Bread. My dad has made the recipe several times, but it was a first for me. Trust me, it won't be the last. This Focaccia Bread is amazing!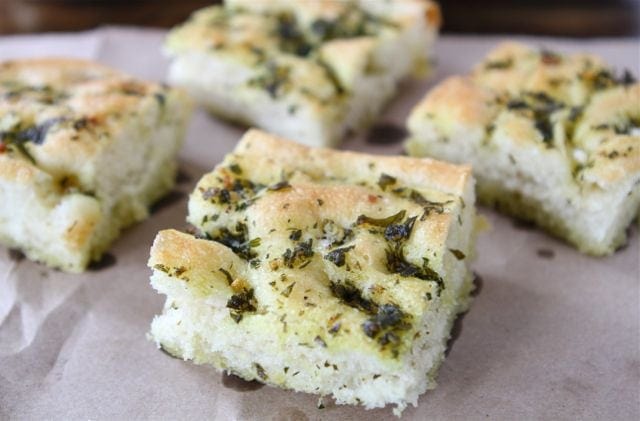 What is Focaccia?
Focaccia bread is an Italian bread that is dimpled all over and flavored with olive oil and herbs. The bread takes two days to make, but don't be intimidated. There is a lot of inactive time-the dough has to rise in the refrigerator overnight. So there isn't a ton of work involved, just time:) I promise patience pays off with this bread because the end result is SO worth the wait!
The focaccia bread is crusty on the outside and chewy on the inside. The olive oil, herbs, garlic, and salt perfectly season the bread. This recipe makes a huge pan loaf, so be prepared to share. Or if you are like us, just keep walking by the pan and eating a piece here and there. It is so hard to resist!
This bread does take some time to make but it is SO worth it! And it isn't hard, I promise. The bread is loaded with olive oil and TONS of fresh herbs. You will love the salty kick too! Homemade focaccia is the BEST! And it is great for serving a large crowd because it makes a big pan of bread.
This Focaccia Bread goes well with salad, soup, lasagna, or any Italian meal. It also makes great sandwiches or panini. I am going to make this Focaccia Bread all summer long. It is a great recipe for using up those fresh garden herbs! Thanks Dad for baking with me!
You can serve focaccia bread with: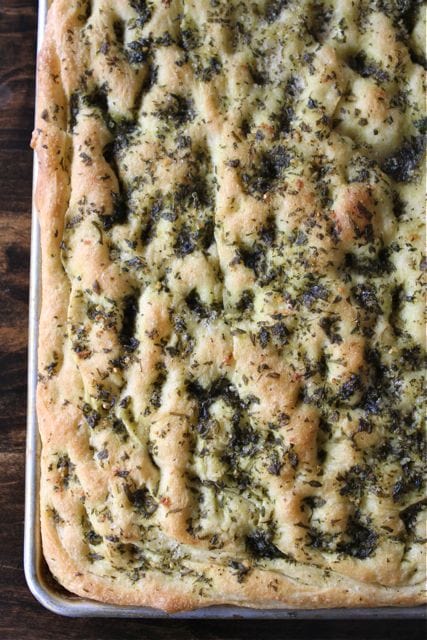 Focaccia Bread Recipe
Dimpled Italian focaccia bread flavored with olive oil and herbs.
Yield: One 12x17-inch loaf
Prep Time: 1 hour of active prep time and 11 hours of inactive prep time
Cook Time: 20 minutes
Ingredients:
For the Bread:
5 cups bread flour
2 teaspoons salt
2 teaspoons instant yeast
6 tablespoons olive oil
2 cups water, at room temperature
Extra olive oil, for greasing the pan
Herb olive oil (recipe below)
For the Herb Oil:
2 cups olive oil
1 cup chopped fresh herbs (any combination of basil, parsley, oregano, tarragon, rosemary, thyme, cilantro, savory, and sage) – OR – 1/3 cup dried herbs or a blend such as herbes de Provence (we used basil, parsley, oregano, thyme, and rosemary)
1 tablespoon coarse kosher salt
1 teaspoon ground black pepper
5 garlic cloves, minced
Directions:
1. To Make the Herb Oil: Heat 2 cups of olive oil to about 100 degrees F. Add 1 cup of chopped fresh herbs or 1/3 cup dried herbs. We used a mixture of fresh basil, rosemary, thyme, oregano, and parsley. Add the salt, pepper, and garlic. Stir together and allow to steep while you prepare the dough.
2. Stir together the flour, salt, and yeast in a large mixing bowl. Add the olive oil and water and mix on low speed with the paddle attachment until all the ingredients form a sticky ball. Switch to the dough hook and mix on medium speed for about 5 to 7 minutes, or until the dough is soft and sticky. The dough should clear the sides of the bowl but stick to the bottom of the bowl.
3. Sprinkle enough flour on the counter to make a bed about 6 inches square. Using a scraper or spatula dipped in water, transfer the sticky dough to the bed of flour and dust liberally with flour, patting the dough into a rectangle. Let the dough relax for 5 minutes.
4. Coat your hands with flour and stretch the dough from each end to twice its size. Fold it, letter style, over itself to return it to a rectangular shape. Mist the top of the dough with spray oil, again dust with flour, and loosely cover with plastic wrap.
5. Let rest for 30 minutes. Stretch and fold the dough again; mist with spray oil, dust with flour, and cover. After 30 minutes, repeat this one more time.
6. Allow the covered dough to ferment on the counter for 1 hour. It should rise but not double in size.
7. Line a 17 by 12-inch sheet pan with baking parchment paper and drizzle olive oil over the paper. Spread the oil with your hands or a brush to cover the entire surface. Lightly oil your hands and, using a plastic or metal pastry scraper, lift the dough off the counter and transfer it to the sheet pan, maintaining the rectangular shape as much as possible.
8. Spoon half of the herb oil over the dough. Use your fingertips to dimple the dough and spread it to fill the pan simultaneously. Only use your fingertips to avoid tearing or ripping the dough. Try to keep the thickness as uniform as possible across the surface. Dimpling allows you to degas only part of the dough while preserving gas in the non-dimpled sections. If the dough becomes too springy, let it rest for about 15 minutes and then continue dimpling. Don't worry if you are unable to fill the pan 100 perfect, especially the corners. As the dough relaxes and proofs, it will spread out and fill the pan. Use more herb oil as needed to ensure that the entire surface is coated with oil.
9. Loosely cover the pan with plastic wrap. Refrigerate the dough overnight (or for up to 3 days).
10.Remove the pan from the refrigerator 3 hours before baking. Drizzle additional herb oil over the surface and dimple it in. This should allow you to fill the pan completely with the dough to a thickness of about 1/2-inch. Cover the pan with plastic and proof the dough at room temperature for 3 hours, or until the dough doubles in size, rising to a thickness of nearly 1 inch.
11. Preheat the oven to 500 degrees F. Place the pan in the oven. Lower the oven setting to 450 degrees F and bake for 10 minutes. Rotate the pan 180 degrees and continue baking the focaccia bread for 5 to 10 minutes, or until it is lightly golden brown. The internal temperature of the dough should register above 200 degrees F (measured in the center of the loaf).
12. Remove the pan from the oven and immediately transfer the focaccia out of the pan onto a cooling rack. Allow the focaccia to cool for at least 20 minutes before cutting and serving.
Recipe from The Bread Baker's Apprentice
All images and text ©
Two Peas & Their Pod
.
Follow twopeasandpod on Instagram and show us what recipes you are making from our blog! Use the hashtag #twopeasandtheirpod! We want to see what you are making in your kitchen!