Funfetti Cake-white layer cake with colorful sprinkles and vanilla buttercream frosting. This is the perfect cake for any celebration!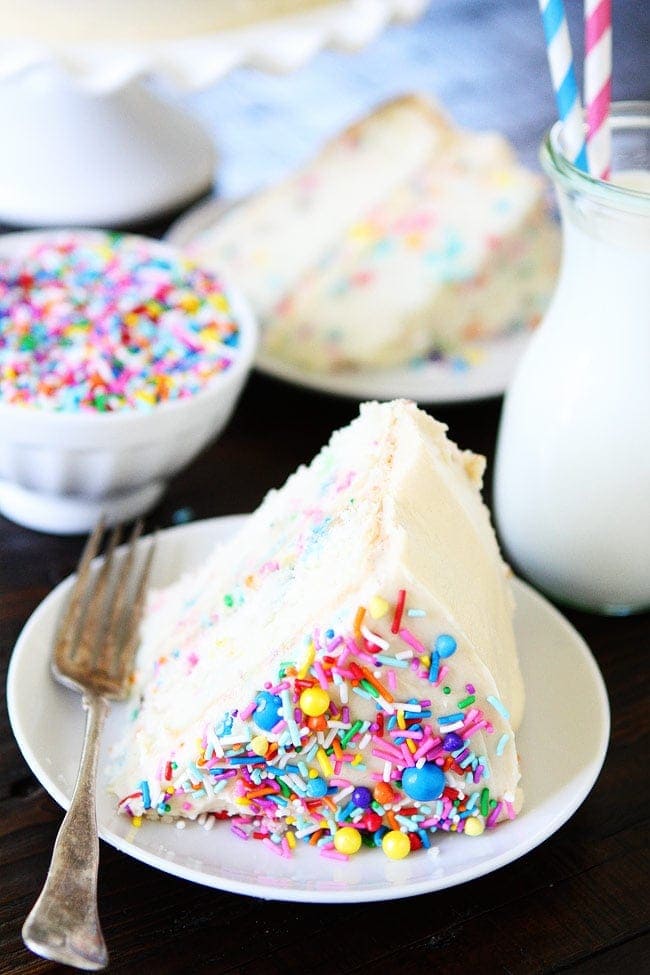 Birthday Funfetti
Tomorrow is Caleb's fifth birthday! How did that happen? I can't believe we are going to have a five year old. I am trying not to think about it. In my eyes, he is still my little baby. He was so little! I love his baby pictures and remember that day like it was yesterday.
We are celebrating today with Funfetti Cake. I let Caleb pick his birthday treat and he insisted on having a white cake with lots and lots of sprinkles. He said no chocolate. WHAT? Who's kid is this? ☺
I granted Caleb his birthday wish and made him a Funfetti Layer Cake with lots of sprinkles. We celebrated early with cake and tomorrow we are having a fun popsicle party with friends. Again, Caleb's choice, this kid picks all of the fun treats.
How To Make "Confetti" Cake
I love this white cake because it is easy to make and is a good white cake recipe to have in your back pocket. It has a nice crumb, is moist, sturdy, and is good plain or jazzed up. I added sprinkles to make the birthday boy happy, but a plain white cake would be good too! I also used a simple white buttercream to frost the cake, but you could use chocolate frosting, lemon frosting, cookies and cream frosting, strawberry frosting, or whatever frosting your heart desires.
I added sprinkles to the batter, in the center of the cake, and on top of the cake because it is a FUNfetti cake. This cake is all about the fun! I used Sweetopolita's sprinkles because they are the BEST! All of the sprinkles make me so happy! I want them all.
If you are looking for a fun cake to make, give this Funfetti Cake a whirl. It is the perfect party cake and is great for any celebration, especially birthdays. Caleb loved his special cake. He said it was the best birthday cake ever. That is a pretty good compliment coming from a FIVE year old.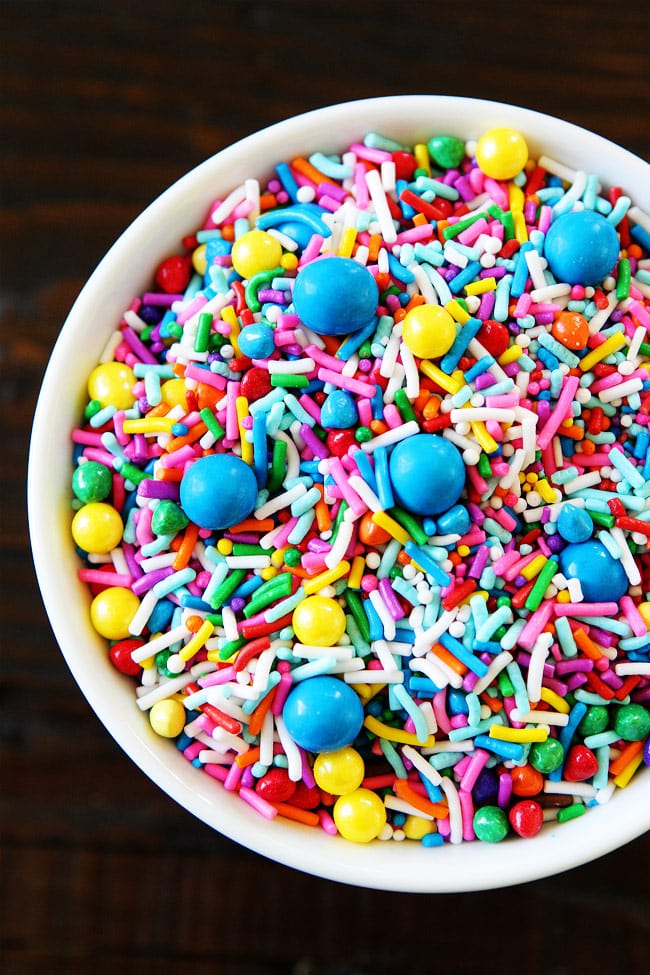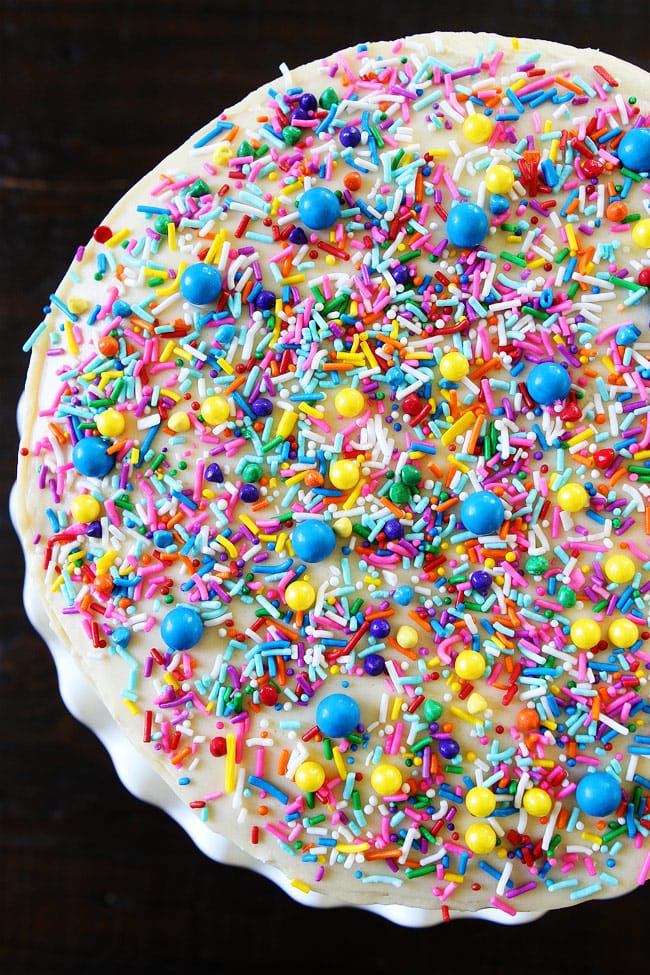 Happy birthday Caleb! We love you buddy!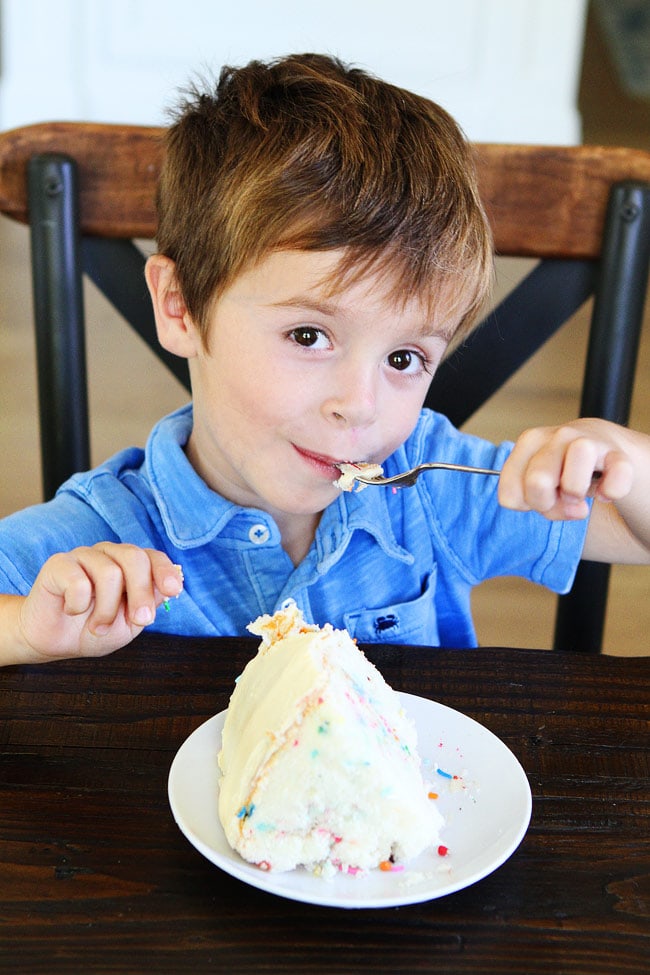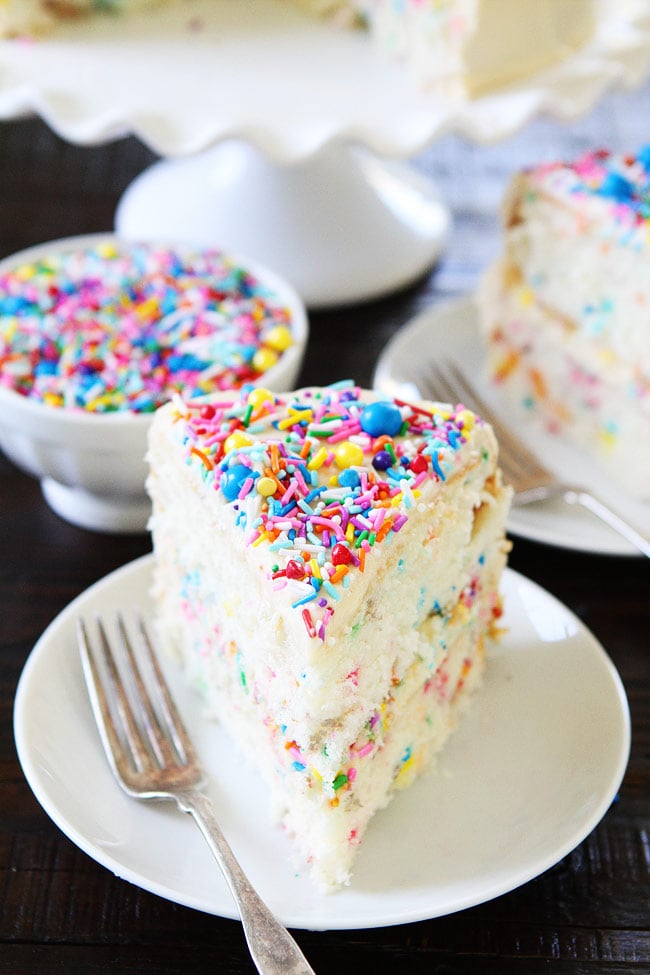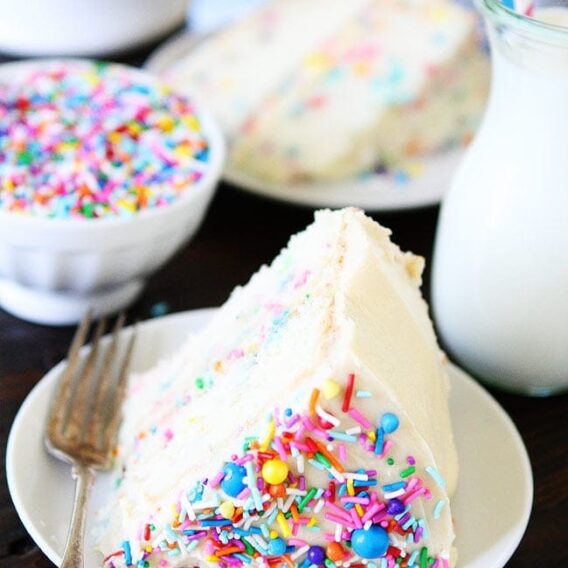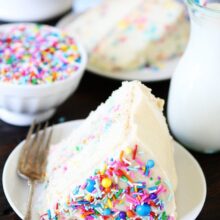 Funfetti Cake
White layer cake with colorful sprinkles and vanilla buttercream frosting. This is the perfect cake for any celebration!
Ingredients
For the Frosting:
1 1/2

cups

unsalted butter

 at room temperature

5 

cups

confectioners sugar

 sifted

1/4

teaspoon

salt

1

tablespoon

vanilla extract

3-4

tablespoons

milk or heavy cream

Sprinkles for decorating
Instructions
Heat oven to 350 degrees F. Spray two 9-inch round cake pans with nonstick cooking spray; line the bottoms with parchment or waxed paper rounds. Spray the paper rounds, dust the pans with flour, and invert pans and tap to remove excess flour. Set aside.

In a medium bowl, combine milk, egg whites, and vanilla. Whisk together until well blended.

In the bowl of a stand mixer, combine cake flour, sugar, baking powder, and salt. Mix on low with the beater blade. Add the butter and continue beating at slow speed until mixture resembles moist crumbs. Add all but ½ cup of milk mixture to crumbs and beat at medium speed 1 ½ minutes. Add remaining ½ cup of milk mixture and beat 30 seconds more. Stop mixer and scrape sides of bowl. Return mixer to medium speed and beat 20 seconds longer. Fold in the sprinkles.

Divide batter evenly between the two prepared cake pans. Smooth the tops with a rubber spatula. Place the pans in the preheated oven on the middle rack. Bake for 23-25 minutes or until a toothpick inserted in the center comes out clean. Let cakes rest in pans for 3-5 minutes. Loosen the cake from the sides of the pans with a knife and invert onto wire cooling racks. Let cakes cool completely.

While the cakes are cooling, make the frosting. In the bowl of a stand mixer, add the softened butter. With the beater blade, cream the butter until smooth, using the beater blade. This will take about 3 minutes on medium speed. Add confectioner's sugar, ½ a cup at a time. Add vanilla and a pinch of salt and combine until well-incorporated. Add heavy cream or milk until the frosting has reached the preferred consistency. For a thicker frosting, you can add more confectioner's sugar, a ¼ cup at a time. For a thinner frosting, you can add more heavy cream or milk, 1 tablespoon at time.

Using a serrated knife, trim a very thin layer from the top of each cake, just enough to even out the surface; set scraps aside. Place one cake on a cake stand or plate. Evenly spread vanilla buttercream over the top of the cake. Decorate with sprinkles. Carefully place the second cake on top, cut-side down, so you have a really smooth, even surface to frost. Frost the top and sides of the cake with remaining vanilla buttercream, using an offset spatula or thin knife. Decorate the top with more sprinkles. Cut into pieces and serve!

Note-The cake layers can be made in advance. Bake, cool, and cover tightly with plastic wrap the day before. Store at room temperature. You can also make the frosting the day before. Store in an airtight container in the refrigerator. Let come to room temperature and beat again. Assemble the cake right before you are ready to serve. You can also keep the cake covered with plastic wrap on the counter for up to 2 days. It is best the day it is made though!
Have you tried this recipe?
Leave a comment below and share a photo on Instagram. Tag @twopeasandpod and hashtag it with #twopeasandtheirpod