Granola Cake-a soft and chewy cake made with granola, chocolate, and coconut! This simple cake is great for dessert, snack time, or even breakfast!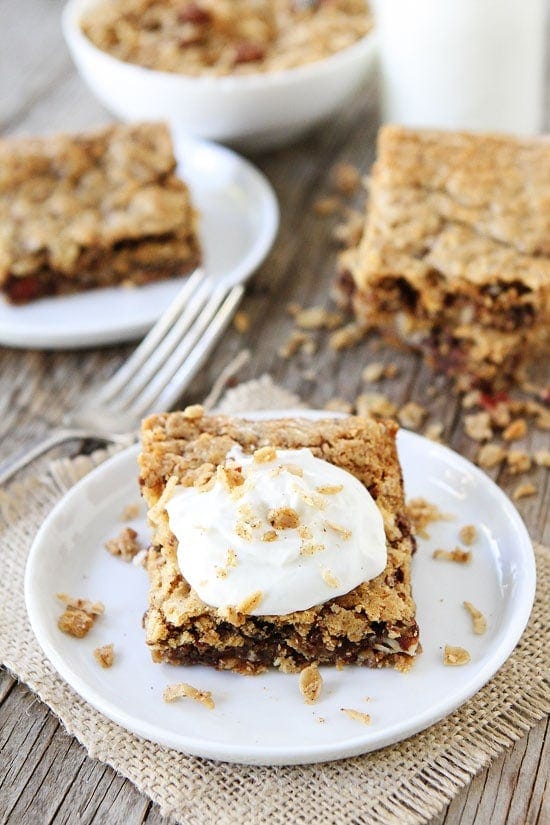 I am super excited about today's post because the recipe for this Granola Cake comes from my new favorite cookbook, Baking Chez Moi: Recipes from My Paris Home to Your Home Anywhere, by Dorie Greenspan. Dorie is my baking idol and I absolutely adore her and her recipes.
Dorie and I actually go way back. We started corresponding via email when I was in college. I didn't have a food blog back then, I probably didn't even know what one was. I just loved to bake and was honored that my baking idol would take the time to email me.
When Dorie came out with her cookbook, Baking: From My Home To Yours, I instantly fell in love. It is hands down my all-time favorite cookbook. I gave the book to all of my family members and everyone fell in love with Dorie:) When my brother got married, my dad and I made a million of Dorie's Lemon Cream Tartlets for his wedding reception. I sent Dorie a photo of my dad licking the lemon cream out of the blender because it is that good and Dorie got a kick out of the photo. You can read more about the story here and find the recipe for those tasty little tarts!
Anyways, after Josh and I got married…and made many of Dorie's recipes for our wedding reception, I started a food blog. I didn't know what would become of it, but I knew I loved cooking and baking and wanted to share our recipes. Dorie has always been so supportive and I don't think I would be blogging if it wasn't for Dorie. She is my inspiration!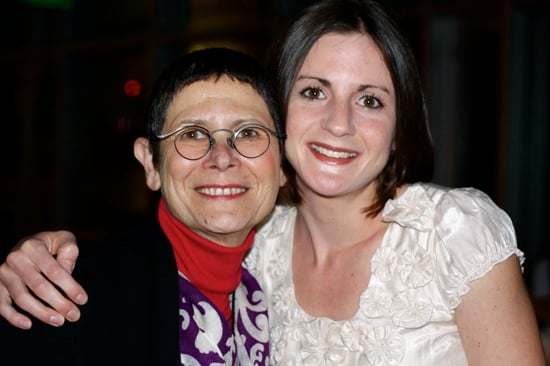 The first time I met Dorie! I was star struck:)
Over the years, I've had the opportunity to meet Dorie a few times and she is even sweeter than her desserts. She is one of my very favorite people! I am thrilled for her new cookbook because I can't wait to eat all of the delicious desserts, but also because I know how hard she has worked on this book. It is a labor of love and I am so proud of her! The cookbook is fabulous!
I had a hard time choosing which recipe to make first from Baking Chez Moi. I kept telling Josh I was going to make a recipe and then I would turn the page and would change my mind and want to make that one! All of the recipes sound amazing and I can't wait to to make them all, but I started with the Granola Cake because I LOVE granola. And granola in a cake? Even better! Dorie is a genius!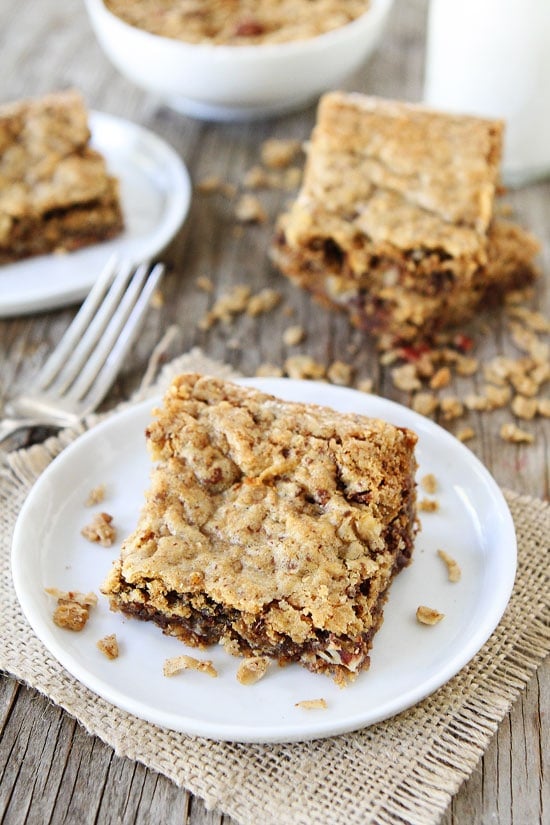 I used my Brown Butter Maple Granola for the cake and let me tell you, it is SO good inside of a cake. The granola softens and creates a chewy cake. The texture reminds me more of a cookie bar…so obviously I loved it. In fact, this recipe reminds me of Dorie's Chewy Chunky Blondies, one of my very favorite Dorie recipes!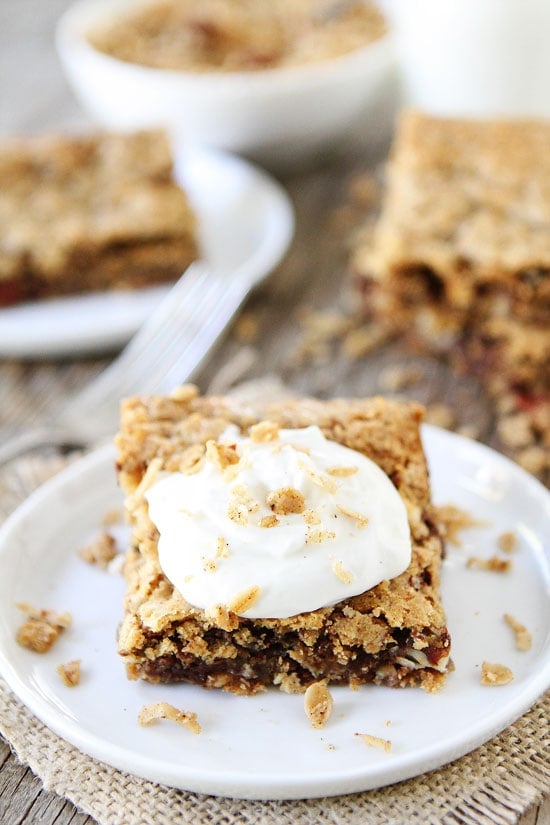 The cake also has chocolate and shredded coconut inside. The cake is sweet enough for dessert, but since it is a granola cake I am considering it A-OK to eat for breakfast! I topped my piece of cake with a dollop of vanilla Greek yogurt and it was delicious! A scoop of vanilla ice cream would be good too!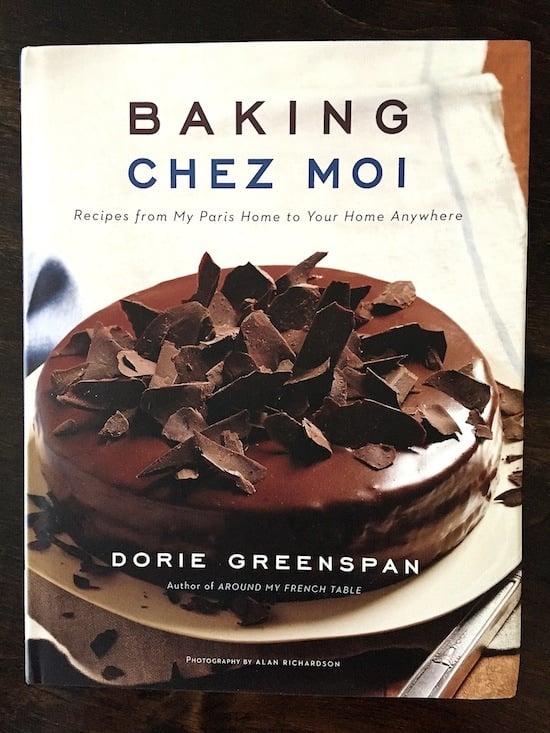 Make sure you check out Dorie's new cookbook, Baking Chez Moi! There are close to 200 hundred French desserts which means I have a lot of baking to do! And don't worry, the desserts are not complicated, you don't have to be a pastry chef or professional baker to make these recipes. They are simple enough to make at home…but you will feel like a pastry chef when you are done! 🙂 Dorie's recipes always turn out! She never lets me down:)
And I really think you should start with this Granola Cake. I am so glad I did. It is already a favorite at our house! I will be making this cake again and again!
Congratulations Dorie! Thanks for bringing the sweet side of France to our home!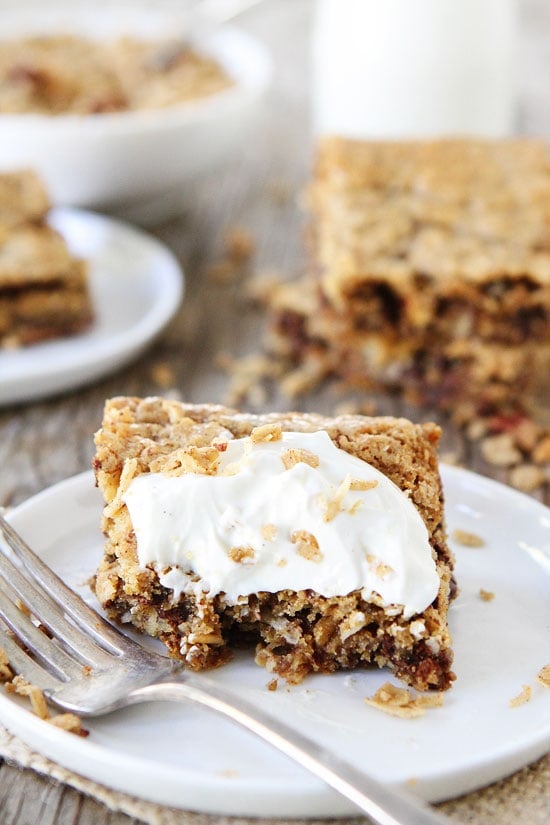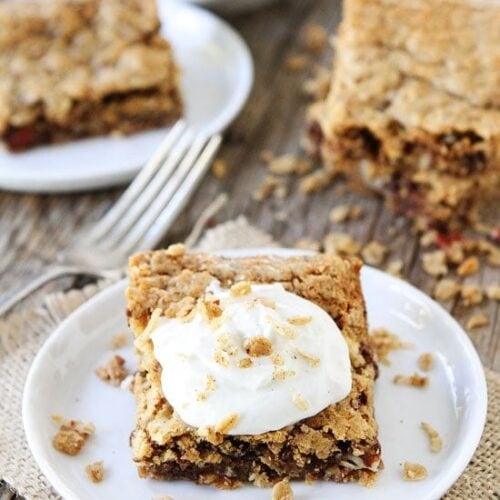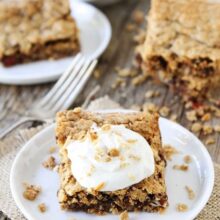 Granola Cake
This simple chewy cake is easy to whip up and will be a favorite! It is at our house!
Ingredients
1

cup

136 grams all-purpose Gold Medal flour

¼

teaspoon

baking powder

¼

teaspoon

baking soda

¼

teaspoon

ground cinnamon

Pinch

of freshly grated nutmeg

1

cup

120 grams granola, I used Brown Butter Maple Granola (I left out the dried fruit)

4

ounces

113 grams bittersweet, milk or white chocolate, finely chopped

½

cup

60 grams shredded coconut ( I used sweetened)

1

stick

8 tablespoons; 4 ounces; 113 grams unsalted butter, at room temperature

1/2

cup

100 grams packed light brown sugar

1/4

cup

50 grams granulated sugar

1

large egg

at room temperature

1 1/2

teaspoons

pure vanilla extract

1/4

teaspoon

fine sea salt
Instructions
1. Center a rack in the oven and preheat the oven to 325 degrees F. Butter an 8-inch square baking pan and line the bottom with parchment or wax paper.

2. Whisk together the flour, baking powder, baking soda and cinnamon and nutmeg, if you're using them, in a small bowl. Toss together the granola, chocolate and coconut in another bowl.

3. Working in a stand mixer fitted with the paddle attachment, or in a large bowl with a hand mixer, beat the butter at low-medium speed for 2 to 3 minutes, or until soft and creamy. Add both sugars and beat for 2 minutes. Add the egg and beat until the mixture is smooth, about 2 minutes more. Beat in the vanilla and salt. Reduce the speed to low and add the flour mixture, mixing only until it disappears into the batter. Add the granola mixture, again mixing just until incorporated. Scrape the batter into the prepared pan, smooth the top and jiggle the pan a little to make sure that the batter gets into the corners.

4. Bake the cake for 35 to 40 minutes, until the top is honey brown and sugar- crackly; a skewer inserted into the center should come out clean. Transfer the pan to a rack and let rest for 10 minutes, then run a table knife around the edges of the cake and unmold it onto the rack; invert and cool to room temperature onto the racks.

Note-The cake is very moist and will keep, wrapped in plastic, at room temperature for about 4 days. You can also wrap it airtight and freeze it for up to 2 months; defrost it still wrapped. It is good served with vanilla yogurt or ice cream!
Have you tried this recipe?
Leave a comment below and share a photo on Instagram. Tag @twopeasandpod and hashtag it with #twopeasandtheirpod