35 Zucchini Recipes
Wondering what to do with all of that garden zucchini? We are coming to your rescue by sharing 35 zucchini recipes from around the web, plus 15 of our latest and greatest zucchini recipes! That is 50 AMAZING zucchini recipes for you!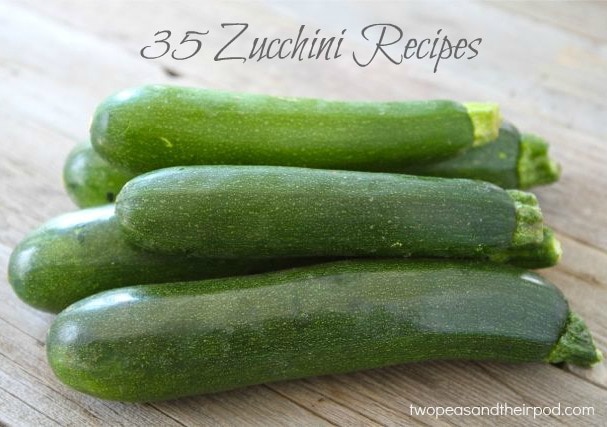 From breakfast to dessert, we have a zucchini recipe for you! And if for some odd reason zucchini isn't taking over your life, then go knock on your neighbor's door. I'm sure they would love to share:) You need to try these fantastic zucchini recipes!

OTHER RECIPES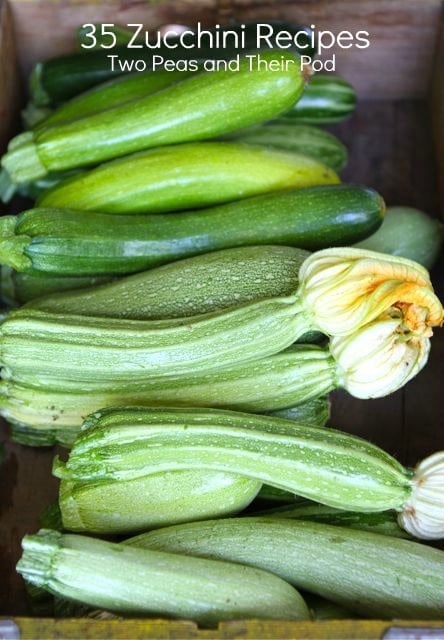 1. Zucchini Muffins from Simply Recipes
2. Sweet Zucchini Pancakes from Pinch of Yum
3. Zucchini Waffles from The Perfect Pantry
4. Spicy Zucchini Fritatta from Shutterbean
5. Baked Zucchini Fries from Two Peas and Their Pod
6. Zucchini Fritters from Smitten Kitchen
7. Zucchini and Goat Cheese Stuffed Mushrooms from Pink Parsley
8. Zucchini Toasts from Sprouted Kitchen
9. Fried Zucchini Chips from Bev Cooks
10. Cheese Stuffed Zucchini Flowers from Aggie's Kitchen
11. Zucchini Cornbread from Brown Eyed Baker
12. Zucchini, Arugula, & White Bean Soup from Gimme Some Oven
13. Chilled Curry Zucchini Soup from Heather Christo Cooks
14. Zucchini Ribbon Salad with Sweet Corn & Avocado from Two Peas and Their Pod
15. Fresh Corn, Zucchini, and Tomato Salad from Recipe Girl
16. Zucchini Carpaccio Salad from Love and Lemons
17. Zucchini Noodle Salad with Spicy Peanut Sauce from Vintage Mixer
18. Zucchini Feta Cheese Chopped Salad from Family Fresh Cooking
19. Lemony Zucchini and Bean Pasta Salad from Foodie Crush
20. Grilled Zucchini, Goat Cheese, & Pesto Panini from Running to the Kitchen
21. Layered Zucchini Parmesan from Handle the Heat
22. Zucchini, Squash, & Ricotta Galette from Eat Yourself Skinny
23. Grilled Zucchini and Eggplant Parmesan from Cookin' Canuck
24. Grilled Zucchini Pizza Slices from Kalyn's Kitchen
25. Zucchini Ribbon Pizza from A Cozy Kitchen
26. Sausage Stuffed Zucchini Boats from Skinny Taste
27. Grilled Zucchini Tacos from Spoon Fork Bacon
28. Chocolate Zucchini Cupcakes from Two Peas and Their Pod
29. Zucchini Cobbler Bars from Taste and Tell
30. Zucchini Sweet Potato Bread from Joy the Baker
31. Chocolate Chip Zucchini Brownies from Two Peas and Their Pod
32. Zucchini Coconut Bread from Two Peas and Their Pod
33. Zucchini Cookies with Chocolate Chips & Dried Cranberries from Two Peas and Their Pod
34. Zucchini Pound Cake from i am baker
35. Zucchini Sandwich Cookies from Mountain Mama Cooks
Plus a few new zucchini recipes from Two Peas and Their Pod! These are our very favorite!
Happy zucchini eating! Make sure you share these zucchini recipes with your friends and family!