Guacamole Grilled Cheese Sandwich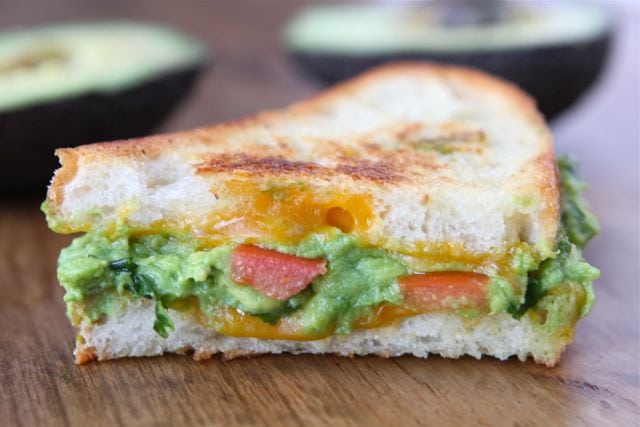 Josh's brother is visiting us from California and we are having a great time. Caleb sure loves having his uncle around and I love having another person to feed:)  The other day the guys wanted a snack so I whipped up a bowl of guacamole and made homemade baked tortilla chips. The guys were still hungry so I offered to make grilled cheese sandwiches. There was still some guacamole left so I asked them if they wanted a Guacamole Grilled Cheese Sandwich. I don't know if they were crazy about the idea, but agreed to try it. Guacamole Grilled Cheese Sandwiches sounded good to me:)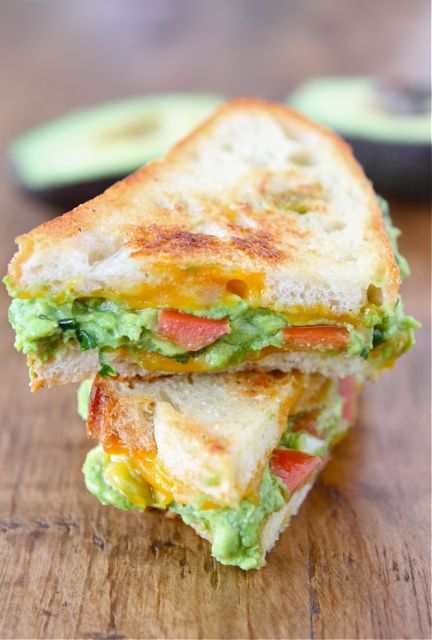 I used crusty white bread to make the sandwiches. I spread a thick layer of guacamole on each slice of bread and topped it with cheddar cheese. I buttered the outside of the bread and grilled the sandwiches to perfection. The guys loved the sandwiches and so did I-Josh shared his sandwich with me:)  I mean, really, what is not to love-bread, melted cheese, and creamy guacamole? The best grilled cheese sandwich I have ever had. Once you try a Guacamole Grilled Cheese Sandwich, your life will be changed forever. So get going and make yourself a sandwich, you all need to experience the best grilled cheese on the planet.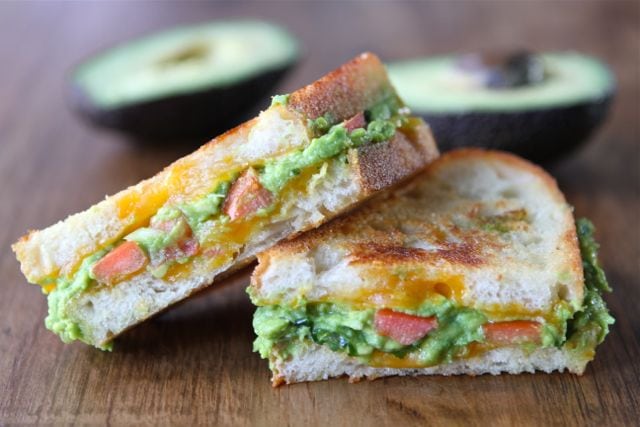 Guacamole Grilled Cheese Sandwich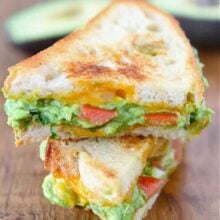 The guacamole takes this grilled cheese sandwich to a whole new level of goodness.
Yield: 2 sandwiches
Prep Time: 5 minutes
Cook Time: 5-7 minutes
Ingredients:
To make the Guacamole:
2 ripe avocados
1/2 small onion, minced
1 clove garlic, minced
1 small jalapeño, stems and seeds removed, minced
2 tablespoons cilantro leaves, finely chopped
1 tablespoon of fresh lime juice
1/2 teaspoon coarse salt
A dash of freshly grated black pepper
1 Roma tomato, chopped
For the Grilled Cheese:
4 slices crusty white bread
4 slices Cheddar cheese
Butter, for buttering bread
Directions:
To make the guacamole-cut avocados in half. Remove seed. Scoop out avacado from the peel, put in a large bowl. Using a fork, mash the avocado. Add the onion, garlic, jalapeño, cilantro, lime juice, salt and pepper. Stir until well combined. Add the chopped tomato and stir.
Heat a pan or griddle to medium-high heat. Spread desired amount of guacamole on both slices of bread then top with cheese. Butter outer slices of bread and grill on one side for about 2 minutes or until golden and crispy. Flip the sandwich and grill until golden brown. Make the other sandwich the same way and serve warm.
All images and text ©
Two Peas & Their Pod
.
Follow twopeasandpod on Instagram and show us what recipes you are making from our blog! Use the hashtag #twopeasandtheirpod! We want to see what you are making in your kitchen!
If you like this Guacamole Grilled Cheese, you might also like: