Only one week until Christmas! Are you on sugar overload yet? Today I am calming it down and sharing a healthy holiday treat-homemade granola.
At my office, we have a healthy food policy. We are not supposed to bring in unhealthy food items to share and when we serve food at meetings we have to provide healthy options. It is nice that we don't have donuts, candy, cookies, etc. around every corner. They actually put puzzles out so there's no room for goodies on the tables.
Of course, some people sneak in treats, but I wanted to support the policy. Instead of bringing in my cookies, I made homemade granola for my co-workers. I love making granola-it is easy and there are so many tasty variations. I love eating it with our homemade yogurt too.
This time I kept it pretty basic. I used rolled oats, wheat germ, cinnamon, and coconut as the base. I whisked together honey, brown sugar, canola oil, and vanilla and poured it over the oat mixture. I got down and dirty and mixed everything together with my hands-kids would love to help with this part, just make sure they have clean hands:)
I baked the granola on two large baking sheet pans. I stirred the granola frequently. When it was done baking, I added dried cranberries and chopped up cinnamon roasted almonds. It smelled fantabulous!
After the granola cooled, I packaged it into cute little bags with ribbons. If you are looking for a healthy holiday gift, try my homemade granola. I am sure your loved ones will appreciate a break from all of the sweets:)
Looking for more homemade gift ideas? Here are a few of my favorites:
Homemade S'mores
Cinnamon Roasted Almonds
Caramel Corn
White Chocolate Holiday Bark
Oreo Truffles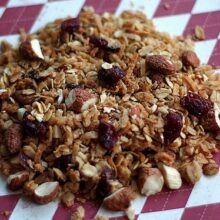 Homemade Granola with Coconut, Dried Cranberries, and Almonds
Instructions
Preheat the oven to 325 degrees F. Line 2 baking sheets with parchment paper or Silpats.

In a large bowl, mix the oats, coconut, wheat germ, salt, and cinnamon together. Set aside.

In a medium bowl, whisk together the oil, honey, brown sugar, and vanilla. The honey and brown sugar will make the mixture thick, but that is ok. Just whisk it really well.

Pour half of the honey mixture over the oats mixture, in the large bowl. Use your hands to combine them, yes it will be sticky and messy, but oh well, it is fun! When it is well mixed, pour the other half of the honey mixture, and mix with your hands again. Make sure all of the oats are covered.

Pour the mixture onto the prepared baking sheets. Spread it out evenly. If you like "clumps" in your granola, squeeze together some of the oats. Put the pans in the oven and bake for 10 minutes. (I had one sheet on the top rack and one on the bottom rack). Take the baking sheets out and stir the granola.

Put the pans back in the oven and bake for 10 more minutes. I switched the pans around so they were getting even top and bottom time:)

After the ten minutes, take the pans out again and stir. Rotate the pans and bake for 5-7 more minutes.

Stir in the dried cranberries and almonds. Let the granola cool completely on the baking sheets. Once cooled, package it up or store in an air tight container for about a week.
Have you tried this recipe?
Leave a comment below and share a photo on Instagram. Tag @twopeasandpod and hashtag it with #twopeasandtheirpod
If you like this granola, you might also like:
Honey Cinnamon Granola from Two Peas and Their Pod
Mix-n-Match Applesauce Granola from Baking Bites
Blueberry Granola from Andrea's Recipes
Honey Maple Granola from SugarLaws