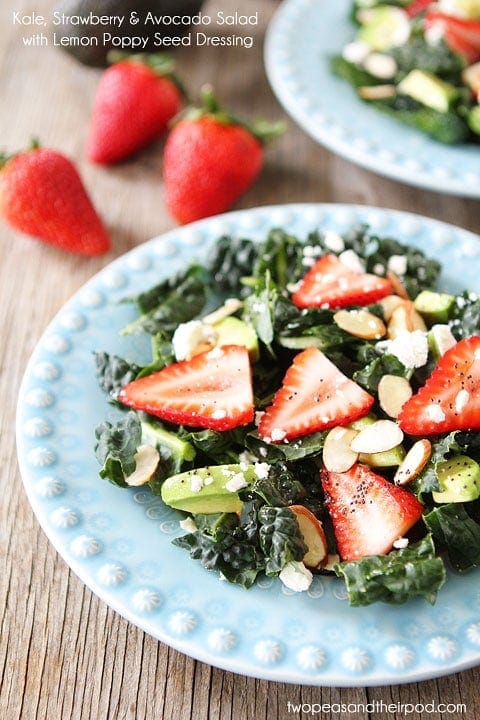 Easter is on Sunday and I am very hoppy about that. I know, hardy har har:) My sister, niece, and nephew are coming over tomorrow to dye eggs. We are also going to do a little egg hunt. Caleb thinks eggs are balls so he should dominate the egg hunt:) He is getting raisins and pretzels in his eggs, no candy yet! Sorry kiddo!
On Sunday, we are keeping things low key. We will go to church and cook up something tasty. I am still deciding on our menu. I know ham will not be on the menu. Josh loves ham, but since I am in charge this Easter…and almost every day, I am vetoing it. I know it's tradition for some, but I am going to start a new tradition. I need to hurry up and decided what that tradition is:)
I do know that we will be having this Kale, Strawberry & Avocado Salad with Lemon Poppy Seed Dressing. It is one of my favorite salads and will be a great addition to our Easter meal…whatever that meal ends up being:)
Kale salads are trendy right now. All of the cool kids are eating them. I am not a trendy person, especially when fashion is involved, but I am going to consider myself trendy now because I love kale salads. And this kale salad is the incredible hulk of salads!
I top the kale with all kinds of goodies. Strawberries and avocados are making their way back into the grocery stores. I guess they are always there, but now is their season to shine! I am so happy about that because I love them both! They are so good in this salad too. Not only do they make the salad pretty, but they are tasty! I also add almonds and feta cheese.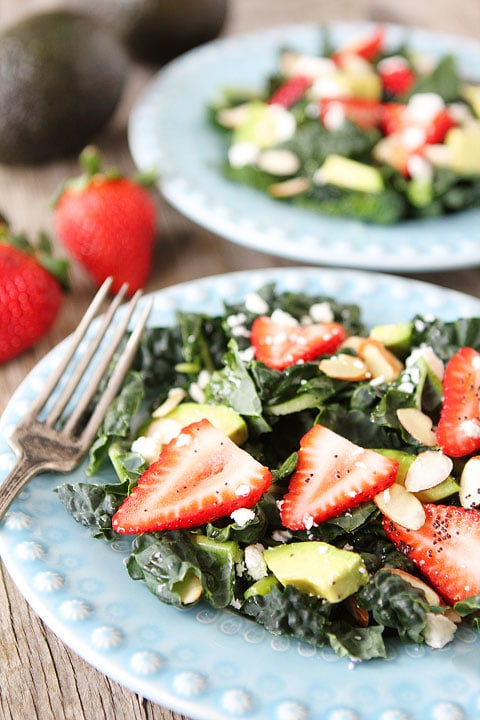 I drizzle a simple Lemon Poppy Seed dressing over the salad before serving. And when I say simple, I mean simple. I put all of the ingredients in jar and shake like crazy. The dressing takes about five seconds to make. No need to buy dressing. The dressing is light, refreshing, and I love the pop of poppy seeds!
If you haven't tried a kale salad, join the club and make this Kale, Strawberry & Avocado Salad with Lemon Poppy Seed Dressing. It's easy and soooo good. You will feel trendy after eating it. Move over Kardashians, Bieber, and whoever else is trendy right now. I don't even know. Remember, I am not trendy:) We are taking over the world with this kale salad!
Happy Easter weekend! Don't forget to enter our Calphalon Easter Giveaway!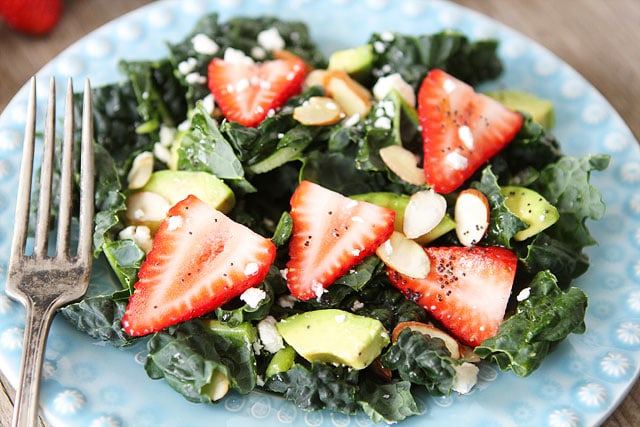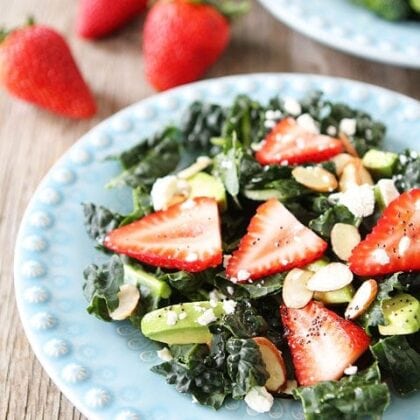 Kale, Strawberry & Avocado Salad with Lemon Poppy Seed Dressing
Kale salad with strawberries, avocado, almonds, feta, and a light lemon poppy seed dressing.
Ingredients
For the salad:
4

cups

chopped kale

stems removed

Pinch

of sea salt

1

cup

sliced strawberries

1

avocado

chopped

1/3

cup

sliced almonds

1/4

cup

feta cheese
For the Lemon Poppy Seed Dressing:
Instructions
Put the kale in a large bowl. Sprinkle a pinch of sea salt over the kale and massage the leaves with your hands until the leaves are darker in color and tender.

Add the strawberries, avocado, almonds, and feta cheese. Toss gently.

In a small jar, combine the olive oil, lemon juice, honey, poppy seeds, salt, and pepper. Shake until mixed well.

Pour the dressing over the salad and toss to coat. Serve.
Have you tried this recipe?
Leave a comment below and share a photo on Instagram. Tag @twopeasandpod and hashtag it with #twopeasandtheirpod
If you like this Kale, Strawberry & Avocado Salad, you might also like: