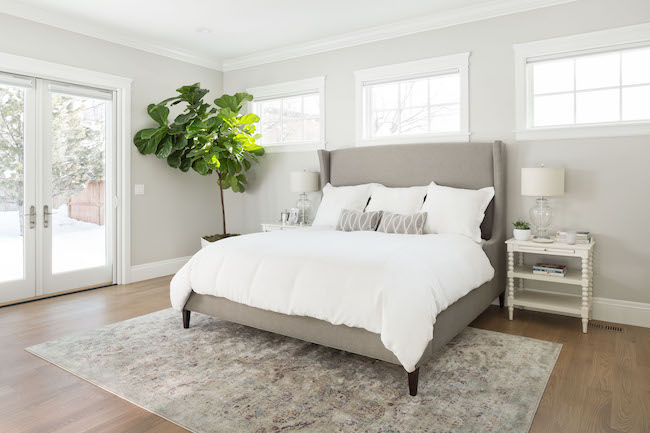 We finally have another house update for you. Sorry it has taken us so long, but the holidays happened and we got a little behind. Today, we are going to take you on a little tour of the master bedroom and bathroom. This is our private space, no kids allowed. Ha! Yeah right, the boys love climbing in our big bed every morning to snuggle and watch shows with us. That is fine by us because we will take all of the snuggles we can get!
Rug from Wayfair, Bed from Denton Home, Bedding from Restoration Hardware, Pillows from Hayneedle, Nightstands from Wayfair, Lamps from Wayfair, Tree from Cactus & Tropicals
We've never had a "real" master bedroom. In our last house, I had to climb over Josh to get to my side of the bed because our room fit our king bed and that was about it. We couldn't even walk around our bed. I told Josh I finally feel like a grown up because I have a nightstand and a lamp:)
The walls are Repose Gray at 75% by Sherwin-Williams. We tested A LOT of paint and this gray was our favorite. It is neutral and goes well with all of the white.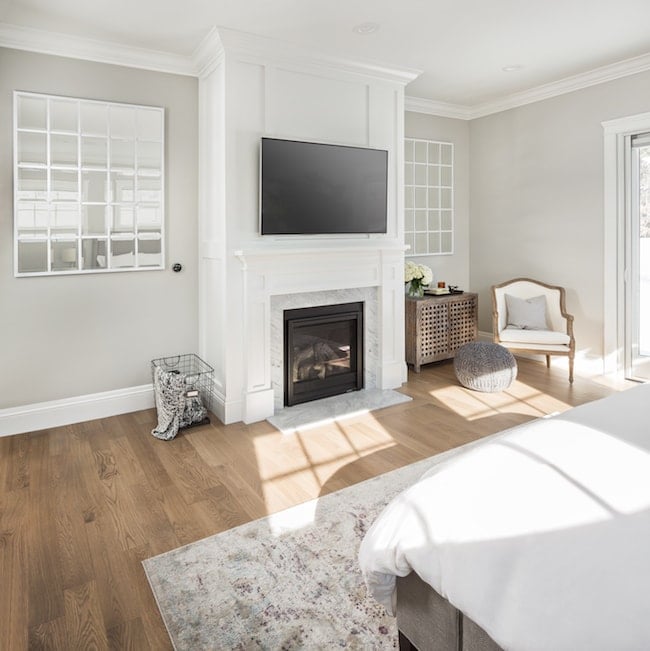 Mirrors from Pottery Barn, Wire Basket from Wayfair, Throw from World Market, Cabinet from Wayfair, Chair from Wayfair (similar), Pouf from World Market, Pillow from Hayneedle
The gas fireplace makes the room extra cozy. I love turning it on in the morning and before bed.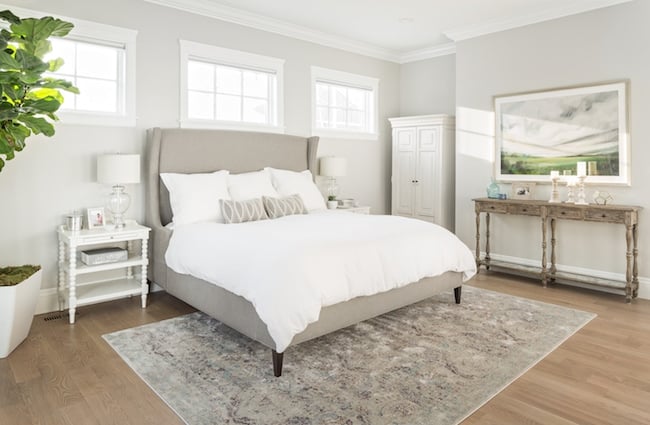 Armoire from Joss & Main, Console Table from Wayfair (similar), Wall Art from Minted, Candle holders from World Market
We can see the Wasatch mountains from our bedroom and the view is incredible!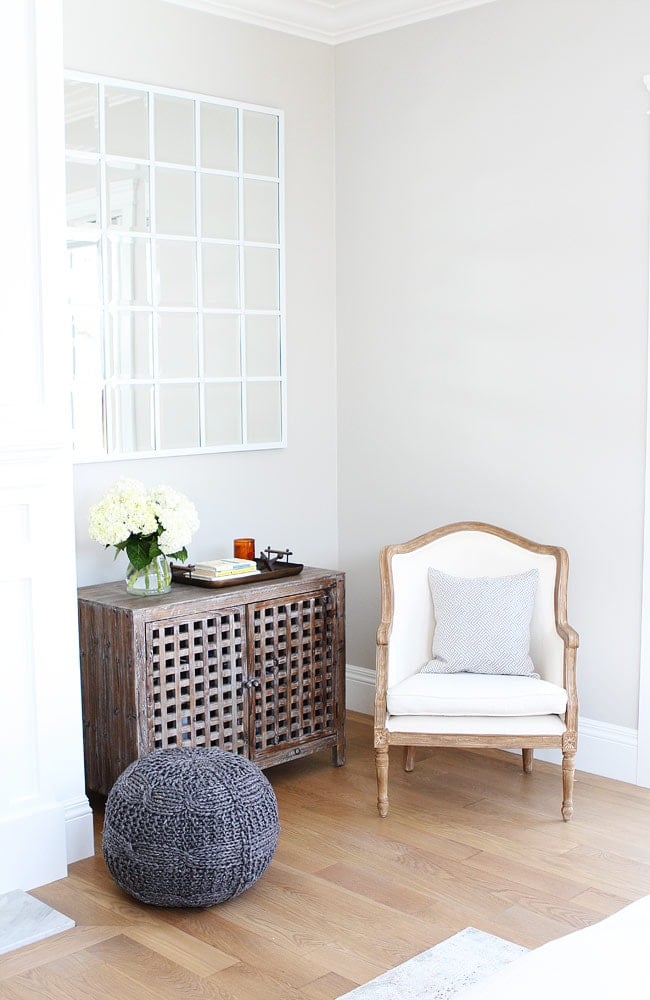 I love this little sitting area for reading. It is extra nice when the fireplace is turned on!
The floors are white oak stained in weathered oak.
I love, love, love my Fiddle Leaf Fig Tree from Cactus and Tropicals. The green tree fills up the corner space and brightens up the room. It loves the light from the windows. I think it is very happy in our room:)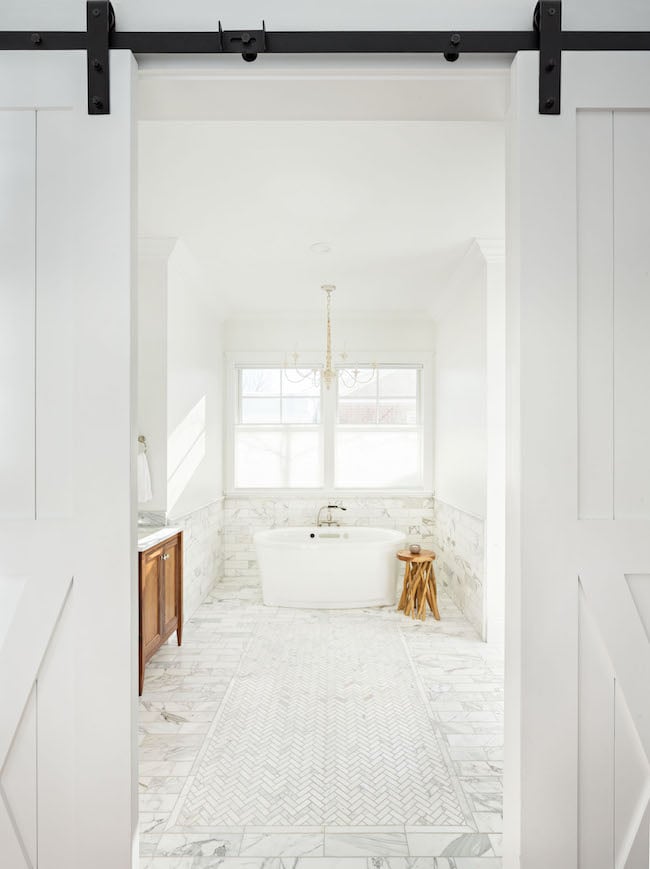 Our master bathroom is connected to the bedroom. We have barn doors in the entrance.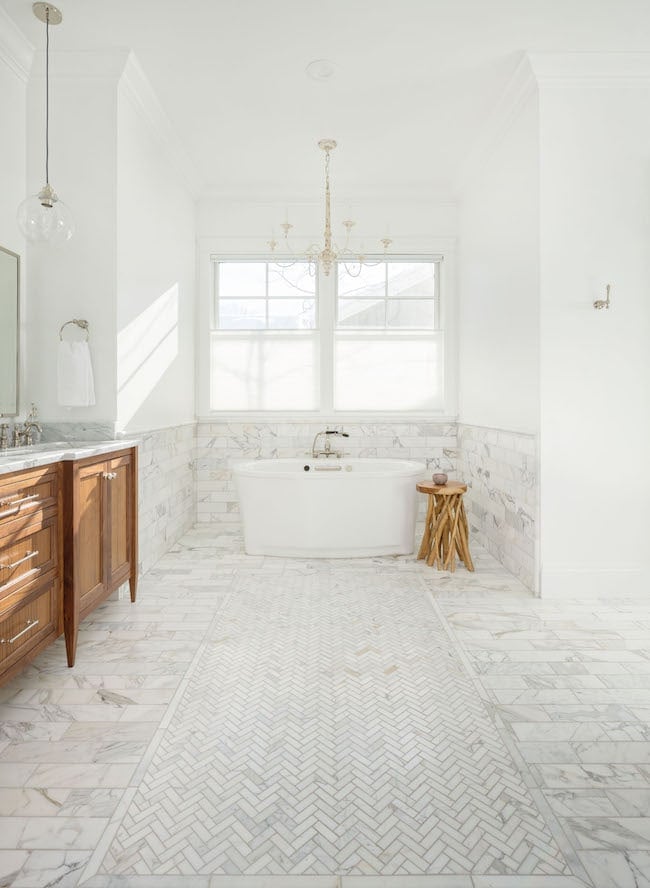 Tub from Kohler, Wood stool from Wayfair, Chandelier from Visual Comfort
I have a freestanding bath tub and it is pretty dreamy. I have never been a bath person until now:)
The marble tile design was our builder's idea and I LOVE it. The tile floors are heated and my toes have never been happier:)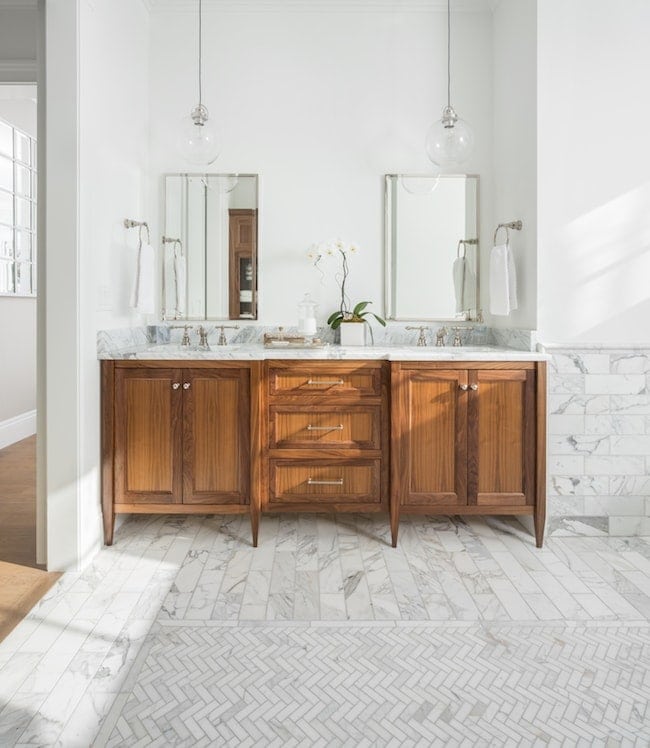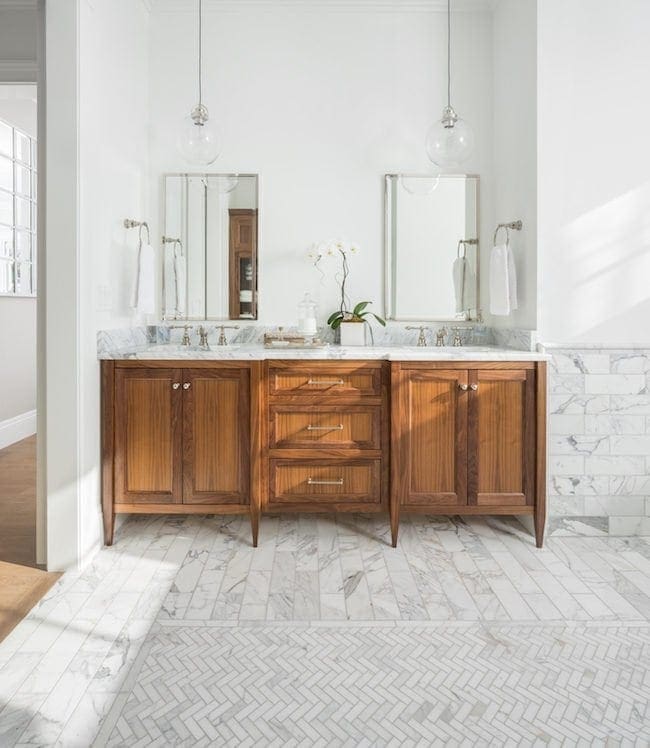 Lights from Lighting Design, Mirrors from Restoration Hardware, Cabinetry by Benjamin Blackwelder, Tile is Calacatta Marble, Orchid from Cactus and Tropicals
We wanted to break up the white with light walnut cabinetry and polished nickel finishes.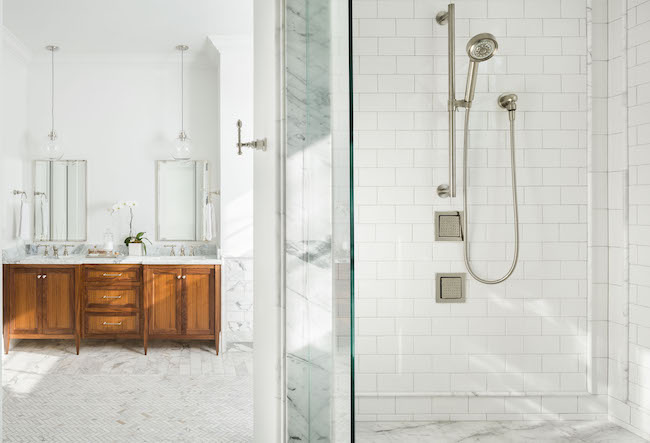 Shower by Kohler
Our shower is a steam shower made with marble and white subway tile.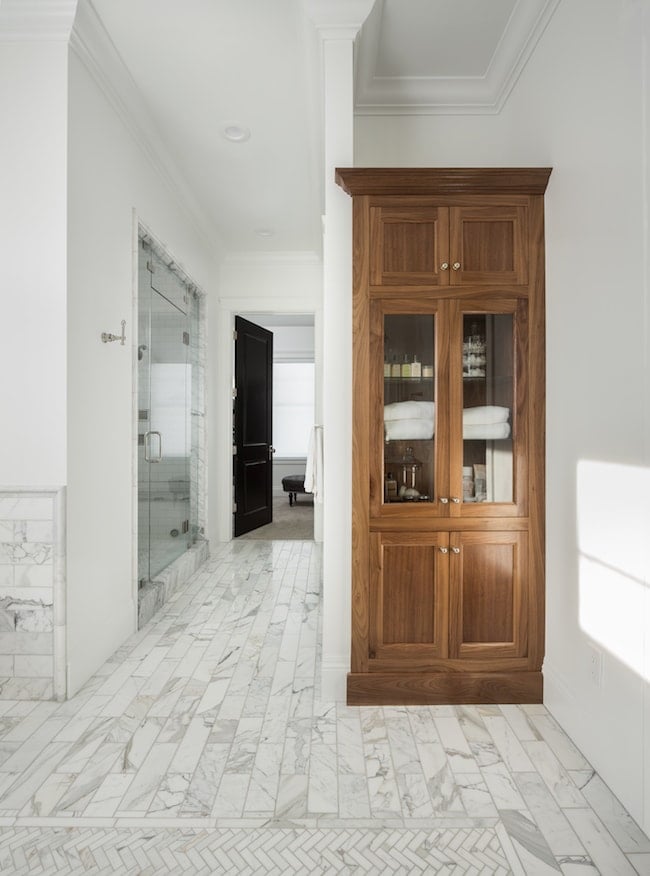 We have a small toilet room next to the shower and our master closet is located at the end of the bathroom. The black door is Tricorn Black by Sherwin-Williams.
Thanks for going on our tour! You can view more of our home posts here.
Have a great weekend! We will be back with more recipes on Monday!
Thank you to the brands that partnered with us on our home: Sherwin-Williams, Wayfair, Denton Home, Joss & Main, World Market, and Kohler. Some links are affiliate links.