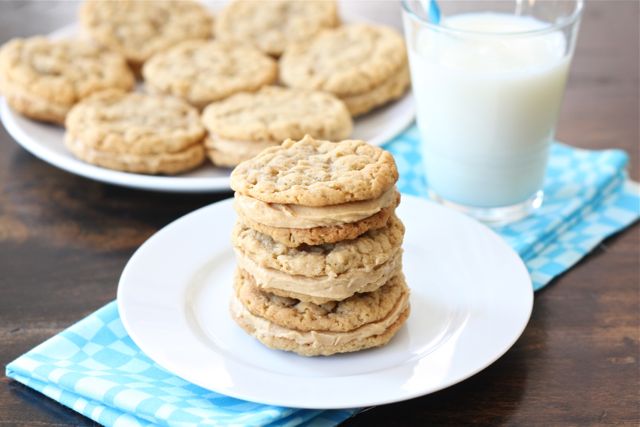 First of all, I want to thank everyone for your sweet comments on the announcement of our first cookbook, Cookie Cravings. We really appreciate your support and are glad you are excited about Cookie Cravings. Make sure you sign up for the email list to stay up to date on all of the cookbook information.
I created and baked A LOT of cookies for the cookbook. I made 40 different cookie recipes in 2 weeks. Our kitchen was overflowing with cookies. Everywhere I turned there was a cookie. Talk about temptation. Luckily, I couldn't eat them all because Heidi had to take pictures of them:) After the photo shoots were finished, we shared the cookies with friends and neighbors. They loved being our taste testers:) You think I would have gotten sick of cookies, but it didn't happen. I just don't think that is possible. I did take 2 weeks off from baking cookies, but my cookie cravings didn't go away, so I made Peanut Butter Oatmeal Sandwich Cookies. They always cure my cookie cravings!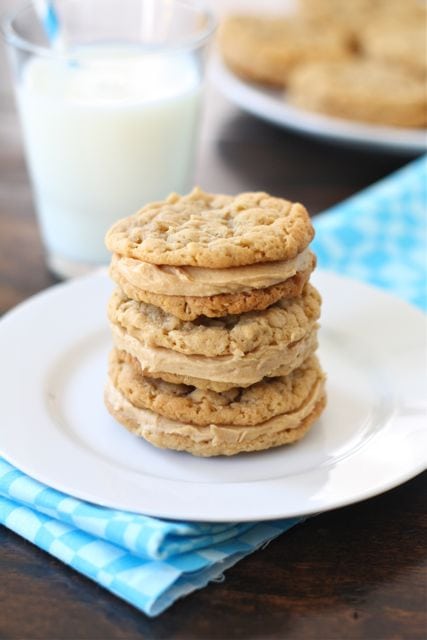 Peanut butter cookies always hit the spot and these are a deluxe version because you get two cookies with a creamy peanut butter filling in the middle. I love sandwich cookies because they force you to eat two cookies:) The cookies are soft and chewy with a creamy peanut butter filling in the middle. Watch out, that peanut butter filling is dangerous. I don't know what it is with me and peanut butter fillings, glazes, and frostings. I can never keep my finger out of the bowl. I love the stuff!
These cookies remind me of Nutter Butters or Girl Scout Do-si-dos, but of course they are a million times better because they are homemade…and homemade is always best! You can't beat a fresh cookie. The double dose of peanut butter has you begging for a swig of milk, so make sure you have a glass of cold milk nearby.
Peanut butter fans, get out the peanut butter and get baking. These Peanut Butter Oatmeal Sandwich cookies do not disappoint!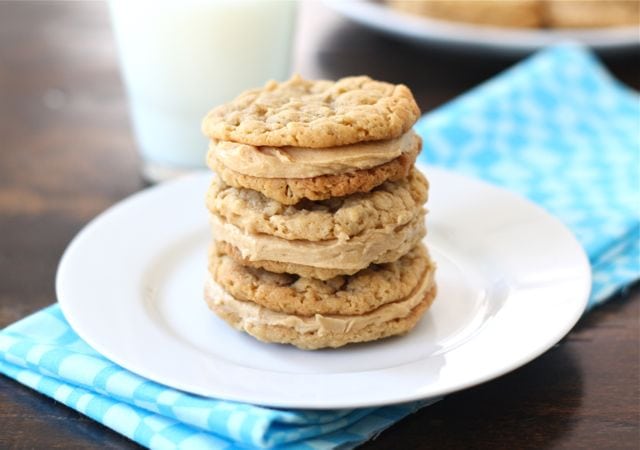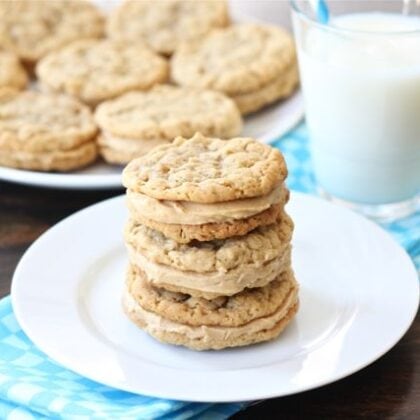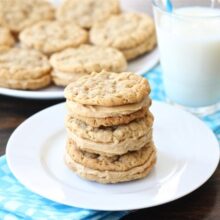 Peanut Butter Oatmeal Sandwich Cookies
Soft and chewy peanut butter cookies with a creamy peanut butter filling.
Instructions
Preheat oven to 350 degrees F. Line a large baking sheet with parchment paper or a Silpat and set aside.

In a small bowl, whisk together the flour, baking soda, baking powder, and salt. In the bowl of a stand mixer fitted with the paddle attachment, beat the butter, peanut butter and both sugars on medium speed until light and fluffy, about 3 minutes. Add the egg and vanilla extract. Mix until combined. With the mixer on low speed, slowly add the dry ingredients, mixing just until combined. Finally, add the oats and mix until just combined.

Take about 1 tablespoon of dough and roll into a cookie ball. Place on prepared baking sheet, leaving about 2 inches between the cookies. Bake for 10-12 minutes, or until the cookies are slightly golden and the edges are set. Let the cookies cool on the baking sheet for 5 minutes then transfer them to a wire rack to cool completely.

While the cookies are cooling, make the filling. Combine the butter, peanut butter and powdered sugar in the bowl of a stand mixer fitted with the paddle attachment. Beat until smooth. Add the heavy cream and beat until light and fluffy. Using a knife, spread peanut butter filling onto the flat side of a cookie. Find a cookie the same size and sandwich the cookies together, pressing the filling to the edges.
Have you tried this recipe?
Leave a comment below and share a photo on Instagram. Tag @twopeasandpod and hashtag it with #twopeasandtheirpod
If you like these Peanut Butter Oatmeal Sandwich Cookies, you might also like: