Red Velvet Cookies with a surprise cheesecake filling inside and a delicious drizzle of white chocolate. These Red Velvet Cheesecake Cookies are a great dessert for Valentine's Day, Christmas, or any occasion.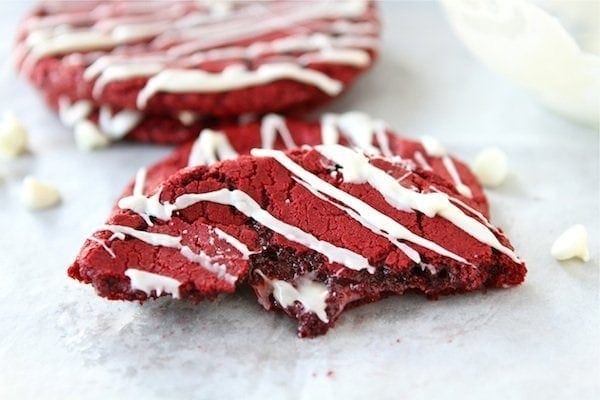 Perfect Holiday Cookies
Red velvet cake is so pretty and perfect for the holiday season. We all know my heart belongs to cookies, not cake, so I decided it was time for me to create a red velvet cookie…and not just any red velvet cookie, but a Red Velvet Cheesecake Cookie. This cookie is the cookie of all cookies. If you think your holiday baking list is set, think again. You have to make these cookies! They will wow everyone who takes a bite!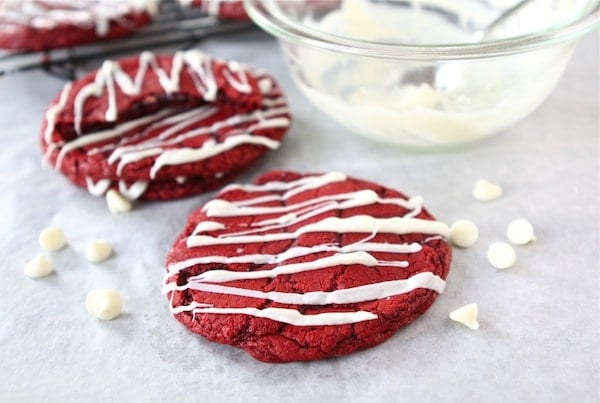 Red Velvet Cheesecake Cookies
I normally don't bake with boxed mixes, but I cheated and used a red velvet cake mix to make these cookies. I know, gasp! I think you will forgive me when you taste the cookies:) I did doctor the cookies up by adding a creamy cheesecake filling and a white chocolate drizzle. No one will ever know these are cake mix cookies. It is our little secret:)
You do need to chill the dough and filling before you bake these red velvet cookies, so make sure you plan ahead. I promise the cookies are worth the wait.
The cookies are almost too pretty to eat, but when you get to that surprise cheesecake filling, you will forget all about the beautiful cookie. You will want to eat another one and another one!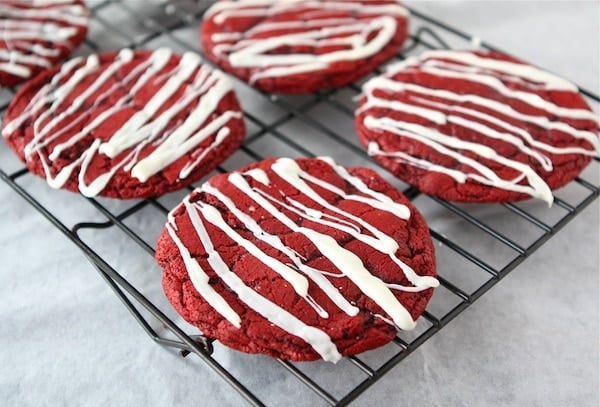 Red Velvet & Cheesecake…Mmmmm
If you are a Cheesecake Factory fan, chances are you have had their Red Velvet Cheesecake. These cookies remind me of that cheesecake, but of course they are better because they are cookies:) I made the cookies giant size because it's the holiday season and indulging is A-OK in my book:) I am going to leave a plate of these cookies out for Santa. I know he will leave me everything on my wish list after he takes one bite of these Red Velvet Cheesecake Cookies. They are the best holiday cookie ever! Promise me you will make them!
If you like these Red Velvet Cookies, you might also like: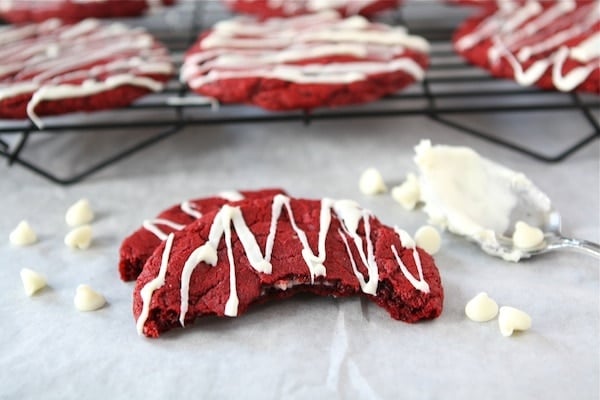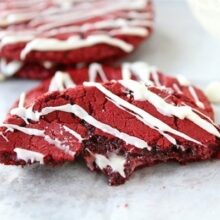 Red Velvet Cheesecake Cookie Recipe
Red velvet cookies with a creamy cheesecake filling and a drizzle of white chocolate. These bright red cookies are perfect for Christmas or Valentine's Day.
Ingredients
For the cheesecake filling:
For the white chocolate drizzle:
1 1/2

cups

white chocolate chips

melted
Instructions
To make cookies, in a large bowl combine cake mix and flour. Whisk until clumps disappear. In the bowl of a stand mixer, mix together cake mix, flour, eggs, oil and vanilla extract. Mix until smooth. Wrap the dough in plastic wrap. The dough will be oily. Refrigerate for at least two hours.

To make the cheesecake filling, using a mixer, combine cream cheese, powdered sugar, and vanilla extract. Mix until smooth. Using a teaspoon, scoop out cheesecake filling and place on a plate. Continue scooping out cheesecake filling into teaspoon balls until you have 10. Place plate in the freezer and freeze for at least two hours.

Preheat oven to 350 degrees F. Line a large baking sheet with parchment paper or a silicone baking mat. To assemble the cookies, take about ¼ cup of red velvet cookie dough and flatten in your hands. Place a teaspoon of cheesecake filling in the center and wrap the cookie dough around the filling. Gently roll into a ball and place on prepared baking sheet. Scoop onto lightly greased or parchment lined baking sheets. Only bake 3 cookies at a time. The cookies are large and will spread. Bake for 11-13 minutes or until the cookies begin to crackle. Let the cookies cool on the baking sheet for 5 minutes. Remove from baking sheet to a wire cooling rack and cool completely.

Melt the white chocolate chips in a microwave safe bowl or over a double-boiler. Drizzle the white chocolate over the cooled cookies. Let the cookies set until the chocolate hardens. Serve and enjoy!

Note: if you are going to store the cookies for more than a day, you may want to keep them in the refrigerator. You can make the cookies smaller. Just use less dough and filling. You want to make sure you completely wrap the cookie dough around the filling before baking-so it doesn't leak. Enjoy!
Have you tried this recipe?
Leave a comment below and share a photo on Instagram. Tag @twopeasandpod and hashtag it with #twopeasandtheirpod