Roasted Broccoli Quinoa Salad
Roasted Broccoli Quinoa Salad-quinoa with roasted broccoli, spinach, pistachios, green onion, lemon, and feta cheese. This healthy salad is great as a side dish or main dish.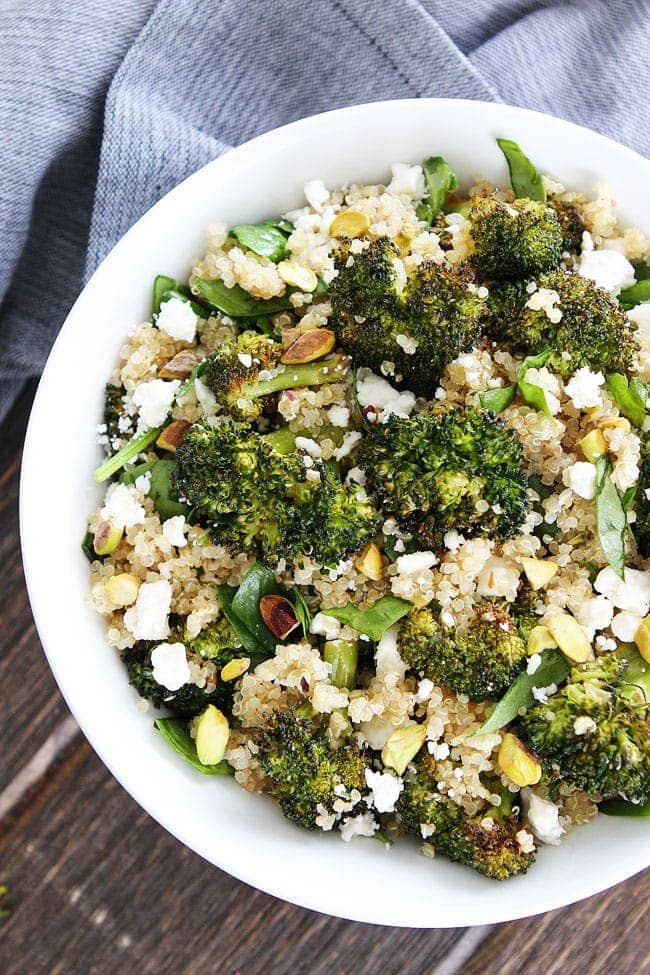 Oven Roasted Broccoli
If you haven't tried my favorite Roasted Broccoli recipe, what are you waiting for? It is the BEST way to eat broccoli. I have been making it every day for about a week, you know to start the new year off right. I love eating roasted broccoli plain or along side any meal, it goes great with anything. This time, I decided to mix things up by making a salad with my roasted broccoli. I am so glad I did because this Roasted Broccoli Quinoa Salad is my new favorite salad. You have to try it!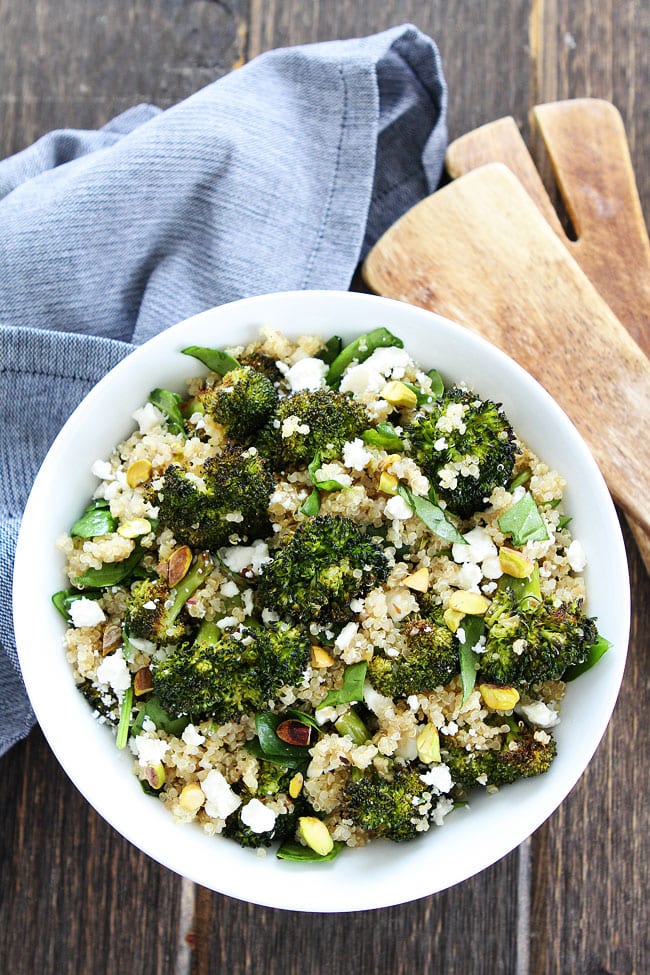 Tips for Cooking Quinoa
The base of the salad is quinoa. I love using quinoa because it is healthy, hearty, and a good source of protein. I don't do wimpy salads. I don't want to walk away from my salad feeling hungry and I promise this salad will leave you satisfied.
Quinoa is easy to make and here are my tips for cooking perfect quinoa every single time!
Place the quinoa in a fine-mesh strainer and rinse under cold water.Rinsing removes quinoa's natural coating, called saponin, which can make it taste soapy or bitter. Drain.
For one cup of quinoa, you need 2 cups of liquid, water or broth. Cooking the quinoa in broth will add more flavor, but water is fine too.
In a medium saucepan, combine water or broth, the rinsed quinoa, and salt. Bring to a boil. Reduce heat to low and cover with a lid. Cook for 15 minutes.
Remove from heat and let stand for 5 minutes, covered. Remove the lid and fluff the quinoa with a fork. Serve!
Roasted Broccoli Quinoa Salad
Once the quinoa is cooked your broccoli is roasted, you can build the most amazing salad.
Place the quinoa in a large bowl and add the roasted broccoli, spinach, green onion, a drizzle of olive oil, squeeze of fresh lemon juice, chopped pistachios, and feta cheese. Season with salt and pepper and that is it! The salad is done and ready to be eaten…my favorite part:) If you need the salad to be vegan, you can leave off the feta cheese, it will still have plenty of flavor.
Enjoy this salad for a healthy lunch or dinner! It reheats well, so make sure you save the leftovers. And I even ate it cold the next day and it was still good! This salad is a winner all-around!
Make healthy eating easy this year and make this Roasted Broccoli Quinoa Salad. It is so good you will forget that it is good for you! You will want to eat it every day…at least I do! Enjoy!
More Quinoa Salad Recipes: