Mediterranean Three Bean Quinoa Salad
Mediterranean Three Bean Quinoa Salad – this protein-packed Mediterranean salad is full of flavor and great served as a main dish or side dish.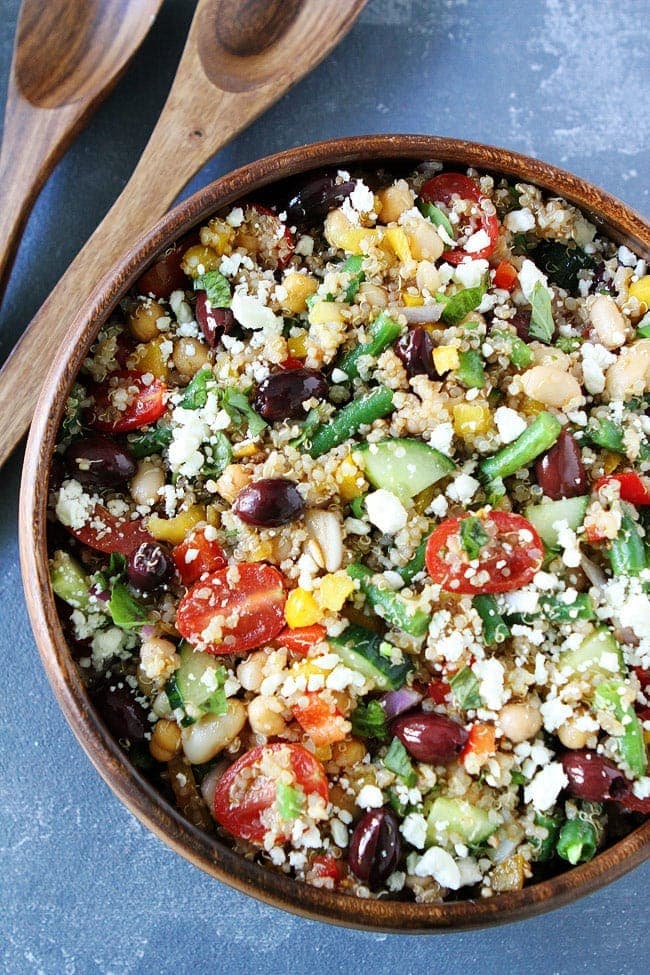 Perfect Mediterranean Salad
I hibernate during the cold winter months. I leave my house to go to the gym, grocery store, church, and that's about it unless something special comes up. I hide under my covers and wait for the snow to melt. We got a ton of snow over the holidays and I don't think it is going anywhere anytime soon, so I am trying to find ways to survive inside.
Last week, I made my favorite Mediterranean Three Bean Quinoa Salad. Mediterranean recipes always make me happy. I usually make this Mediterranean salad in the summer, but I needed a little pick me up to help me beat the winter blues and this salad did the trick. It is light, refreshing, and reminds me of summertime. It is a great salad for anytime of the year!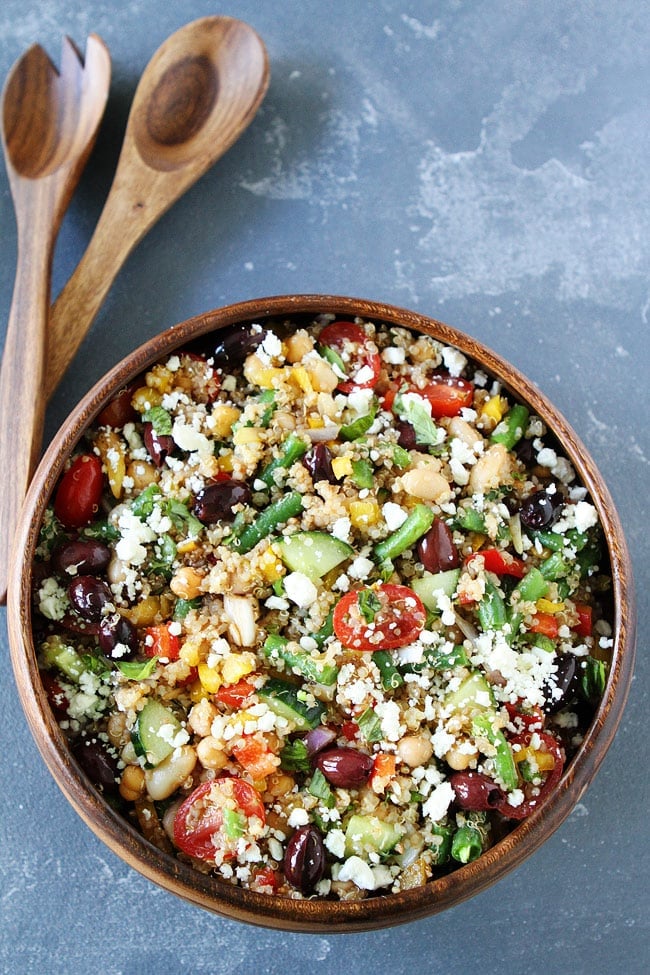 Mediterranean Salad for Healthy Eating
Mediterranean recipes are generally healthy, and this one is actually perfect for the new year because it is loaded with protein and veggies. This Mediterranean salad has three types of beans-green beans, garbanzo beans, and white cannellini beans, along with the quinoa. It also has cucumbers, tomatoes, bell peppers, red onion, kalamata olives, feta cheese, and fresh basil. You will love all of the color and flavors.
Oh, and you can cook the quinoa on the stove, but I tried cooking the quinoa in our new Instant Pot and it came out perfectly in just minutes. So if you have an Instant Pot, try it out! It is great for cooking up quinoa. So easy!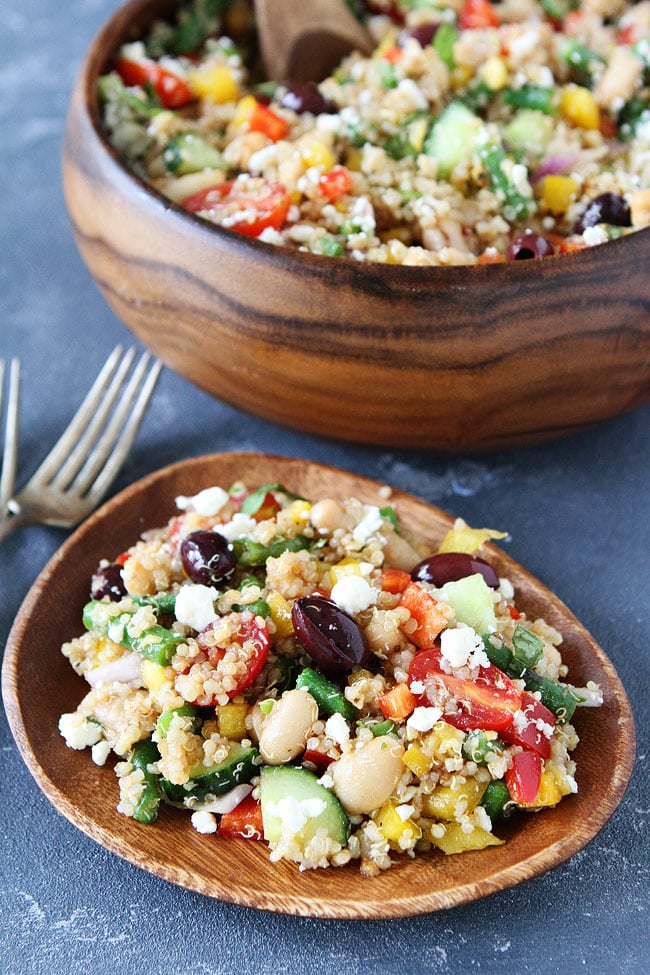 Mediterranean Salad Tips
Before serving, I dress the salad with a simple balsamic dressing.
This salad is great served as a main dish for lunch or dinner or you can serve it alongside chicken or fish.
This salad will keep in the refrigerator for a few days. I love the leftovers and I have even pulled this salad out for breakfast. Starting the day with veggies and protein is always a good idea. You could even scramble up some eggs to go on the side.
This salad is perfect for potlucks, parties, picnics, and barbecues.
This Mediterranean Three Bean Quinoa Salad is good any time of the day and is perfect for sharing. Make it and take it to your next potluck. It is always a hit!
If you like this Mediterranean Salad, you might also like: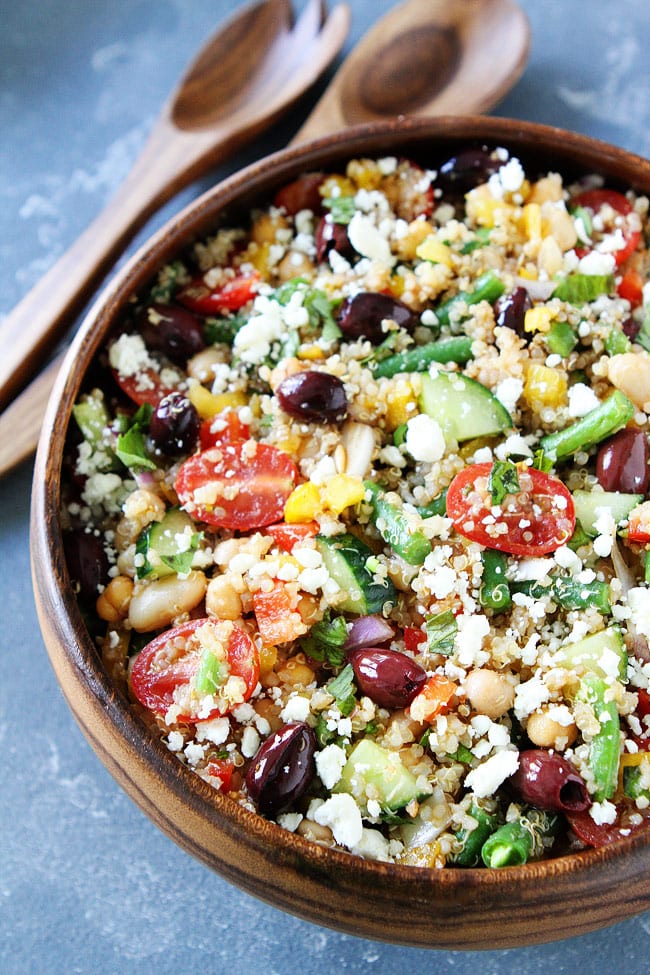 How to Make Mediterranean Quinoa Salad