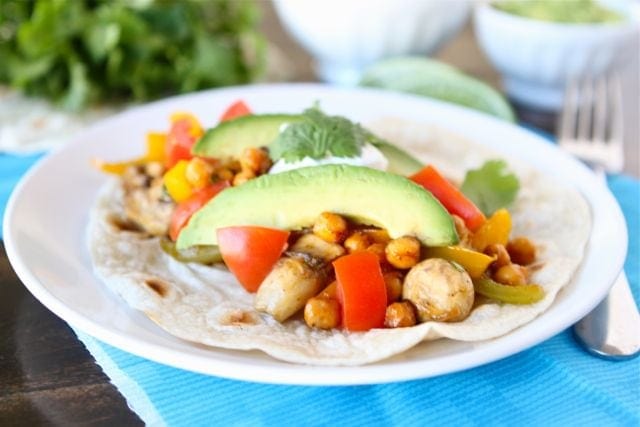 I don't make New Year's Resolutions, but healthy eating is always a goal of mine. I figure if I eat healthy most of the time and exercise daily then I can eat as many cookies as I want..ha! Just kidding-sort of:) I did go a little cookie crazy during December, so I am trying to refocus. I am excited to share with you one of my new favorite healthy recipes-Roasted Chickpea Fajitas. I love snacking on roasted chickpeas, so I knew I would love them in fajitas.
I seasoned the chickpeas with lime juice and fajita spices and roasted them in the oven for 30 minutes. I wanted to crisp them up before adding them to the onion, peppers, and mushrooms. When the chickpeas were done roasting, I stirred them into the sizzling vegetables and added fresh cilantro. When Josh got home from work he asked what was cooking-our house smelled amazing thanks to me:) I told him chickpea fajitas. He thought I said chicken and asked if I was going to start eating meat in 2012. I said no meat for me, we are having CHICKPEA fajitas. He looked intrigued.
I set the table and put out some toppings to garnish the fajitas-diced tomatoes, avocado slices, plain Greek yogurt, and lime wedges. You can also add salsa, cheese, or sour cream. Use whatever toppings you like. We filled our flour tortillas with the roasted chickpea and vegetable mixture and added on our toppings. I waited to take a bite because I wanted to watch Josh's reaction as he tasted the fajitas. He loved it! Honestly, I don't know how he even tasted the fajita because he ate it so fast:) He made another one before I even had a bite of mine. Guys:)
I am so glad Josh liked my Roasted Chickpea Fajitas. They will be making a regular appearance at our dinner table. The fajitas are fresh, full of flavor, and good for you too. The roasted chickpeas add a nice crunch to the spicy vegetables. These vegetarian fajitas are one of my new favorite meals. Give them a try-I think you will like them too:)
If you are looking for more healthy recipes, check out our 50 Healthy Recipes to Kick Off 2012 post.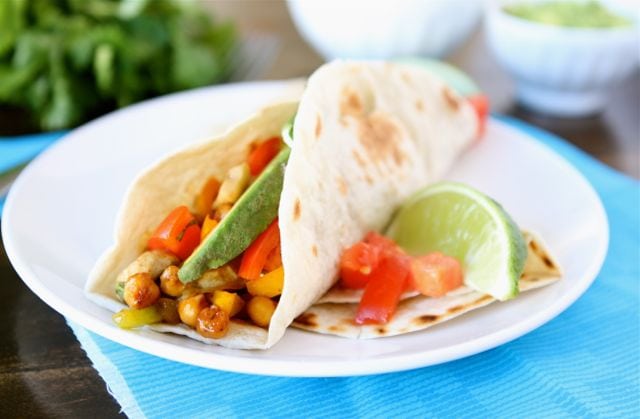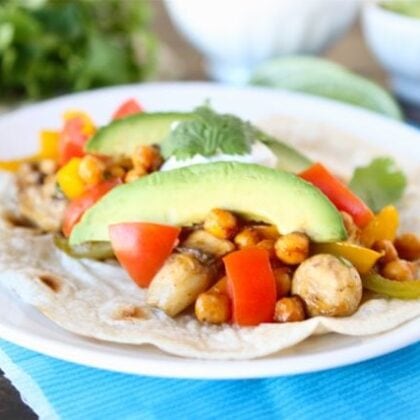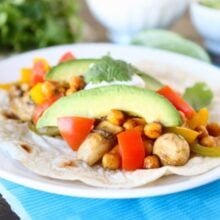 Roasted Chickpea Fajitas
Onion, peppers, and mushrooms are sautéed and served with spicy roasted chickpeas to create these healthy and delicious vegetarian fajitas. Garnish with diced tomatoes, avocado slices, and a dollop of Greek yogurt, if desired.
Ingredients
To make the Roasted Chickpeas:

2

teaspoons

chili powder

1/4

teaspoon

garlic powder

1/4

teaspoon

onion powder

1 1/2

teaspoon

ground cumin

1

teaspoon

sea salt

1

tablespoon

fresh lime juice

2

tablespoons

water

1

15 oz. can of chickpeas, drained and rinsed

For the Fajitas:

1

tablespoon

olive oil

1

onion

sliced

1

clove

garlic

minced

3

bell peppers

any color, sliced (I used yellow, green, and orange)

8

ounces

sliced mushrooms

1

tablespoon

chili powder

1

teaspoon

ground cumin

1/2

teaspoon

oregano

Salt and pepper

to taste

Juice of 1 large lime

1/3

cup

chopped cilantro

For serving:

Flour tortillas

Diced tomatoes

Avocado slices

Plain Greek yogurt

I used Chobani or sour cream

Lime wedges
Instructions
1. To roast the chickpeas: preheat oven to 400 degrees. In a medium bowl, combine chili powder, garlic powder, onion powder, cumin, salt, lime juice and water. Stir in chickpeas. Place seasoned chickpeas on a baking sheet that has been sprayed with cooking spray. Bake for 25-30 minutes, stirring once during cooking, until chickpeas are slightly crispy.

2. While the chickpeas are roasting, in a large skillet, heat oil over medium high heat. Add onions, garlic, peppers, and mushrooms. Cook for 5 minutes.

3. In a small bowl, combine chili powder, cumin, oregano, salt, pepper, and lime juice. Pour mixture over vegetables and cook for another 5 minutes, or until vegetables are tender. Stir in the roasted chickpeas and fresh cilantro.

4. Spoon roasted chickpea and vegetable mixture evenly down the centers of warm tortillas, and garnish with tomatoes, avocado slices, and Greek yogurt. Roll up tortillas, and serve immediately.
Have you tried this recipe?
Leave a comment below and share a photo on Instagram. Tag @twopeasandpod and hashtag it with #twopeasandtheirpod