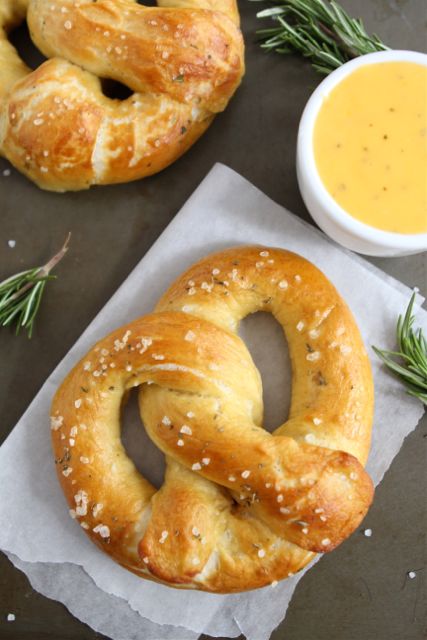 Happy National Pretzel Day! Yes, there is a special day dedicated to pretzels. I am A-Ok with that because I love pretzels. I've always been a fan. In grade school, I always brought a brown bag lunch to school. I always asked my dad for a peanut butter, banana, & honey sandwich, an apple, and pretzel sticks…and of course a cookie for dessert:) I love salty pretzels in any shape or form. My new favorite pretzels are these homemade soft Rosemary Sea Salt Pretzels. They are fantastic!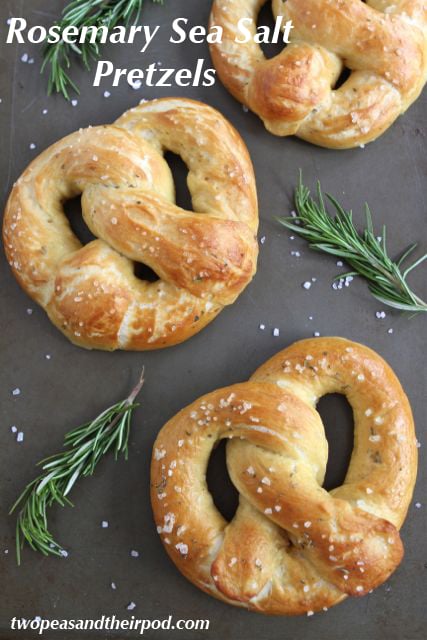 Josh is the pretzel master at our house. He always makes them and I eat them. It's a rough job but somebody has to do it:) This time he added fresh rosemary and sea salt to the dough. The combination is awesome! They are good plain, but he made a rosemary cheese sauce that knocked my socks off. I loved dunking my pretzel into the cheese sauce.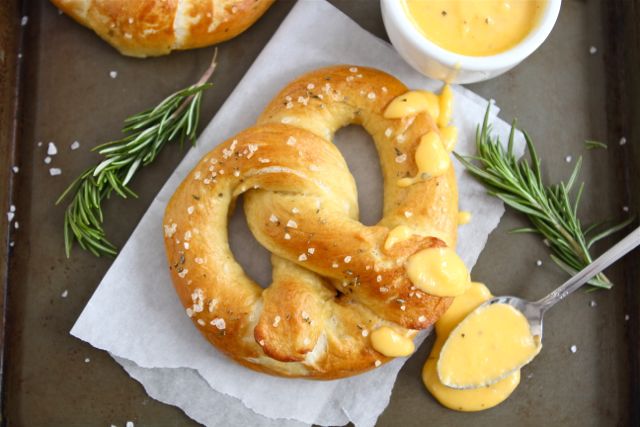 The pretzels are really easy to make. I promise. Don't let the yeast and twisting the dough scare you. They are fun to make and eat! Celebrate National Pretzel Day with these Rosemary Sea Salt Pretzels. They make a great snack!
Here are a few other pretzel recipes to help you celebrate National Pretzel Day! Enjoy!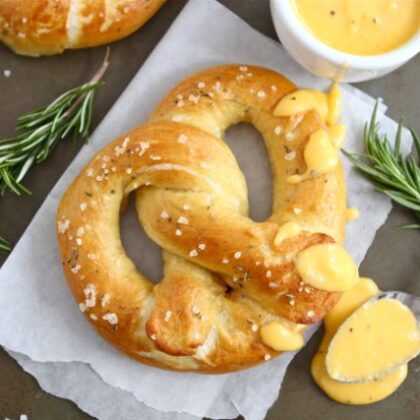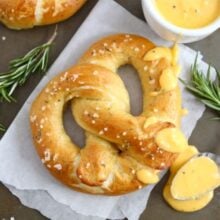 Rosemary Sea Salt Pretzels with Rosemary Cheddar Cheese Sauce
Soft homemade pretzels with fresh rosemary and sea salt. Dip them into a rosemary cheese sauce for a great snack!
Ingredients
For the Rosemary Cheese Sauce:
Instructions
To make the pretzels: combine the water, sugar, yeast, and butter in the bowl of a stand mixer and mix with the dough hook until combined. Let sit for 5 minutes.

Add the salt, flour, and rosemary to the mixture and mix on low speed until combined. Increase the speed to medium and continue kneading until the dough is smooth and begins to pull away from the side of the bowl, about 3 to 4 minutes. If the dough appears too wet, add additional flour, 1 tablespoon at a time. Remove the dough from the bowl, place on a flat surface and knead into a ball with your hands.

Coat a large bowl with canola oil, add the dough and turn to coat with the oil. Cover with a clean towel or plastic wrap and place in a warm spot until the dough doubles in size. This will take about 1 hour.

Preheat the oven to 425 degrees F. Bring the water to a boil in a large pot.

Remove the dough from the bowl and place on a flat surface. Divide the dough into 8 equal pieces. Roll each piece into a long rope. To shape into pretzels, take the right side and cross over to the left. Cross right to left again and flip up. Slowly add the baking soda to the boiling water. Boil the pretzels in the water solution, 2 at a time for 30 seconds, splashing the tops with the warmed water using a spoon. Remove with a large flat slotted spatula or a spider. Place 4 pretzels on each baking sheet, brush the tops with the egg wash and season liberally with sea salt. Bake for 15 to 18 minutes or until pretzels are golden brown.

Remove pretzels from oven and let cool on a wire baking rack.

To make the Rosemary Cheese Sauce: In a medium saucepan over medium heat, melt butter and whisk in flour. Pour in the milk and whisk until the mixture thickens. Stir in shredded cheese, stir until cheese is melted and smooth. Stir in fresh rosemary and season with salt and pepper, to taste. Serve with pretzels.
Have you tried this recipe?
Leave a comment below and share a photo on Instagram. Tag @twopeasandpod and hashtag it with #twopeasandtheirpod