Toffee Ice Cream Brownie Bars-one of the best desserts I've ever made! It can be made in advance and feeds a crowd! A MUST make for summer!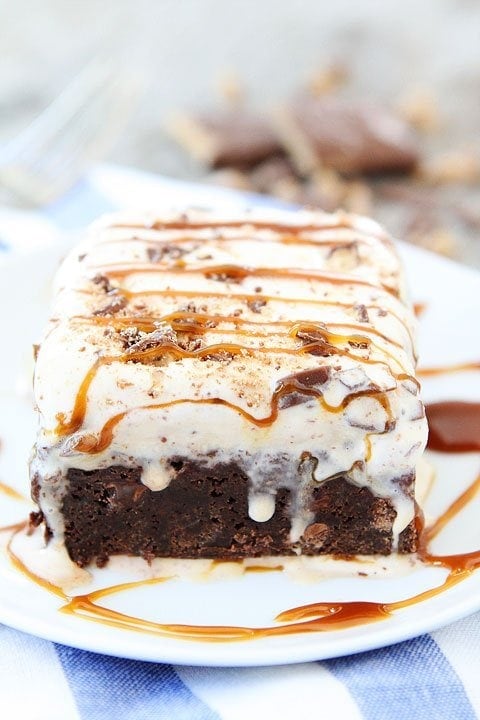 I have a special treat for you today, Toffee Ice Cream Brownie Bars. I made this dessert a few weeks ago for a dinner party and it is my new favorite dessert. Hands down the best dessert I've made this summer. You can't go wrong with brownies, ice cream, and toffee. All of my favorites! And the best part? You can make this in advance so it is perfect for summer entertaining. I think I need to keep a pan in our freezer at ALL times!
I know ice cream cakes are popular, but I am really not a cake fan so I decided to try the "cake" idea with brownies. I am a huge brownie and ice cream fan. If a restaurant has a brownie and ice cream dessert on the menu, you better believe I am ordering dessert!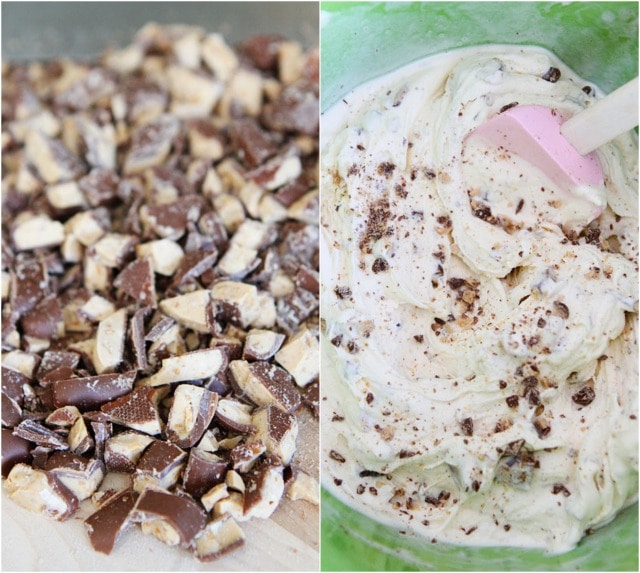 So instead of making a cake, I made a pan of my favorite fudgy brownies. I let the brownies cool and then worked on the ice cream "frosting." I let a carton of vanilla ice cream soften on the counter and then I stirred in Heath chunks, my favorite candy bar. I frosted the brownies with the toffee ice cream. Ice cream frosting is a good thing. Trust me on this one!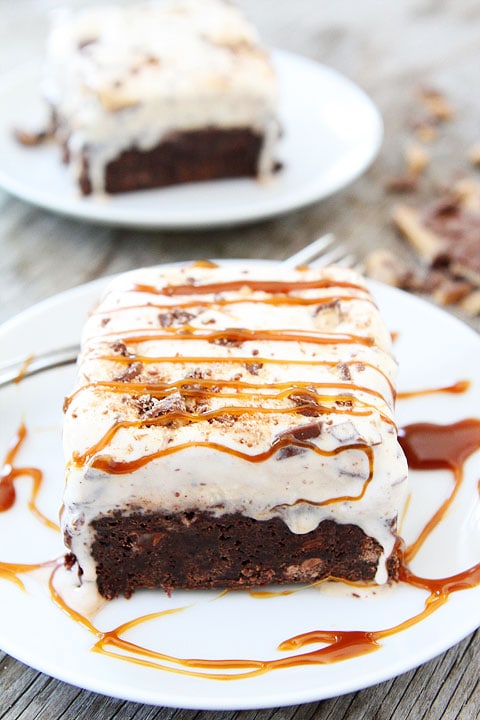 I let the Toffee Ice Cream Brownie Bars hangout in the freezer until our dinner party the next day. When it was dessert time, I cut the dessert into squares and drizzled a little Salted Caramel Sauce on top because why not?
I will warn you, the bars are a beast to cut. Make sure you run a sharp knife under hot water in between each cut. I got a workout cutting the bars and was wondering if all of the work to get them out of the pan was even worth it, but after one bite, I was in dessert heaven. The bars maybe hard to cut and a little messy to eat, but they are DIVINE! I can't even describe the goodness! Everyone at the dinner party licked their plates clean. It made doing the dishes super easy:)
Toffee Ice Cream Brownie Bars are a MUST make this summer. And June is National Dairy Month which means you can eat ice cream all day, every day! I know I am going to get more than my fair share of dairy this month thanks to this decadent ice cream dessert! It is dangerous that I can keep a pan in my freezer at all times because every time I walk by I want to enjoy a little…or a lot of dessert! I am living in the danger zone! You should too!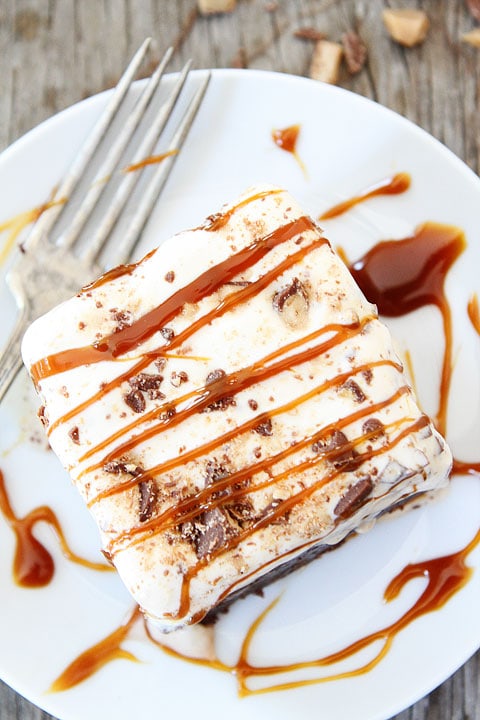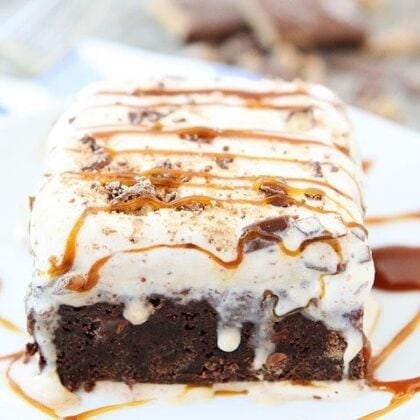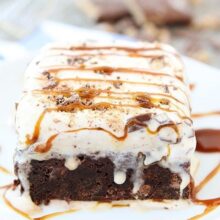 Toffee Ice Cream Brownie Bars
Fudgy brownies topped with toffee ice cream and frozen for an extra special dessert. This brownie ice cream cake is one of my all-time favorite desserts!
Ingredients
For the Ice Cream Layer:
1.5

quart

of vanilla ice cream

softened

2

cups

chopped Heath candy bars

divided

Salted Caramel Sauce

for serving, if desired
Instructions
Preheat the oven to 350°F. Grease a 9″ x 13″ pan and set aside.

In a medium saucepan set over low heat, melt the butter, then add the sugar and stir to combine. Return the mixture to the heat, just until it's hot, but not bubbling. The mixture will become shiny looking as you stir it.

Transfer the sugar mixture to a medium-sized mixing bowl. Stir in the cocoa, baking powder, salt, and vanilla. Whisk in the eggs, stirring until smooth.

Slowly add the flour and chocolate chips. Stir until smooth.

Spoon the batter into prepared pan. Bake the brownies for about 30 minutes, until a cake tester inserted into the center comes out clean, or with just a few moist crumbs clinging to it. The brownies should feel set on the edges, and the center should look very moist, but not uncooked. Remove them from the oven and cool completely.

When the brownies are completely cool, put the softened ice cream into a medium bowl. Stir in 1 ½ cups chopped Heath candy bars. Evenly spread the ice cream over the cooled brownies. Garnish with the additional Heath candy bar chunks.

Cover the ice cream brownie bars and place in the freezer. Freeze until ice cream hardens, at least 2 hours. This dessert can be made in advance.

When ready to serve, remove the pan from the freezer. Run a sharp knife under hot water and cut the bars into squares. The bars will be hard to cut so make sure you get the knife super hot in between each cut. Drizzle the bars with salted caramel sauce, if desired. Serve.

Note-To soften the ice cream, let the ice cream out on a countertop for 30 minutes before using. You want it soft enough to spread over brownies but still slightly frozen. The brownies will be hard to eat with a fork if you eat them straight from the freezer. You can let them sit for a bit or you can pick them up and eat them. They are a little messy to eat, but I promise it is worth the mess!
Have you tried this recipe?
Leave a comment below and share a photo on Instagram. Tag @twopeasandpod and hashtag it with #twopeasandtheirpod