Last week we hosted a barbeque for our good family friends. I couldn't decide what dessert to make, so I made three:) I wanted to make sure there was something for everyone to enjoy, plus, you all know I love an excuse to bake:) I decided to make brownies, because brownies are always a hit at parties. I didn't want to make plain chocolate brownies so I jazzed them up with Twix candy bars and caramel. I think that was the best decision I have made in a long time! These Twix Caramel Brownies take brownies to a whole new level of deliciousness.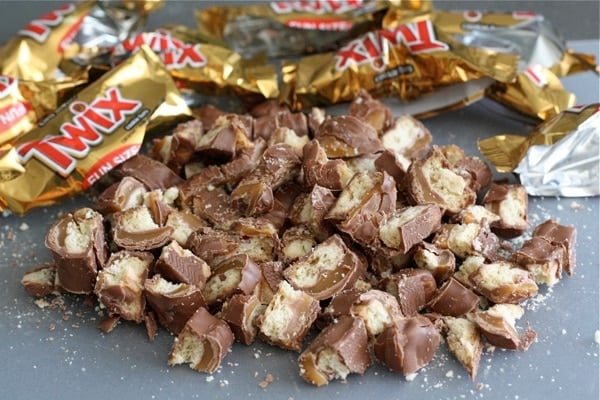 Josh and I both love Twix candy bars. Crispy crunchy cookie, smooth creamy chocolate, and chewy caramel-what's not to love? We don't buy or eat candy bars very often, but I had to splurge for these brownies. I chopped up the candy bars into chunks. It was hard not to eat them right then and there, but I knew the brownies would be worth the wait:)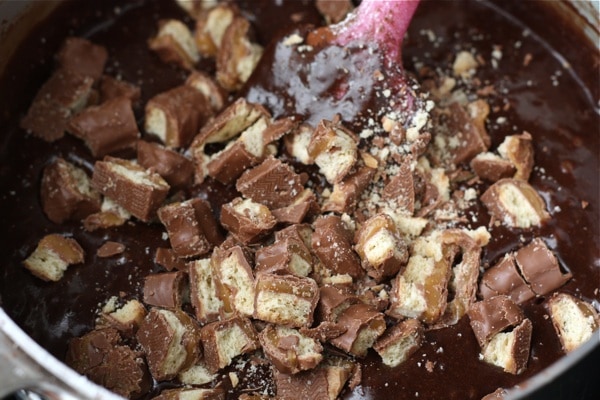 I stirred the Twix candy bar chunks into the rich, chocolaty brownie batter. Again, I wanted to just eat the brownie batter and Twix chunks with a big spoon, but I refrained. It sure was hard though!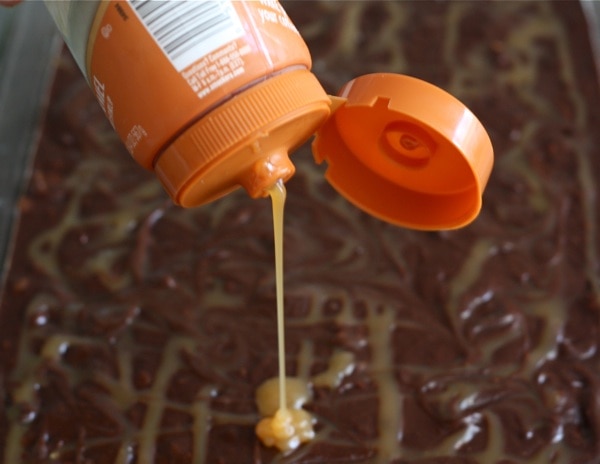 I poured the batter into the pan and drizzled caramel sauce evenly over the brownies. If you want, you can use my homemade salted caramel sauce. It is SO good!
Next, I took a toothpick and swirled the caramel into the brownie batter. The brownies baked for about 40 minutes and that was the longest 40 minutes of my life. I love the smell of brownies baking and my chocolate craving was through the roof at this point. I couldn't wait to get my hands on one of these decadent brownies.
After I impatiently let the brownies cool, I cut them into squares and placed them on a platter for the barbeque. I was going to wait until the guests arrived to try one, but temptation got the best of me. I grabbed a brownie from the platter and enjoyed every single bite. The brownies are divine. The Twix candy bar chunks add a pleasant crunch to the fudgy brownies and the caramel creates tunnels of sweet, ooey, gooey, goodness. The brownies are very rich so I was satisfied with just one…for awhile. I had to have another one at the party. I didn't want our guests to think the brownies were unsafe to eat. I had to set a good example:)
If you are looking for a simple and fun way to jazz up the traditional brownie, try this Twix Caramel Brownie recipe.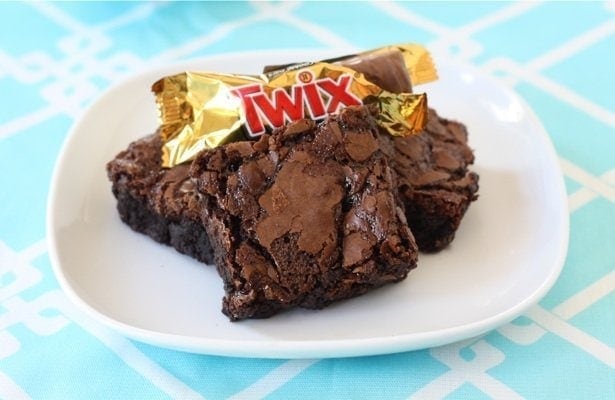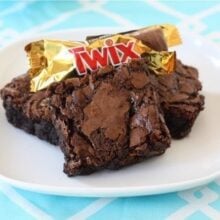 Twix Caramel Brownies
Fudgy brownies with caramel sauce and chopped up Twix candy bars. These brownies are divine!
Instructions
Heat oven to 350°F. Grease a 9 x 13 pan with cooking spray. Set aside.

Place butter in medium saucepan on the stove. Heat over medium heat until butter is melted. Remove from heat and stir in sugar and vanilla extract. Add eggs, one at a time, beating well with spoon after each addition. Add cocoa; stir until well blended. Add flour, baking powder and salt; stir until combined. Stir in Twix candy bar chunks. Pour batter into prepared pan.

Drizzle caramel evenly over the brownies. Using a toothpick, swirl caramel into brownies. Bake for 35-40 minutes or until brownies begin to pull away from sides of pan and a toothpick inserted in the middle comes out clean. Cool brownies completely in pan on a wire rack. Once cool, cut into squares and serve.
Have you tried this recipe?
Leave a comment below and share a photo on Instagram. Tag @twopeasandpod and hashtag it with #twopeasandtheirpod
If you like these Twix Caramel Brownies, you might also like: