Vegan Pumpkin Breakfast Cookies-these healthy breakfast cookies are good any time of the day, but you have my permission to eat them for breakfast! They are the perfect grab and go breakfast!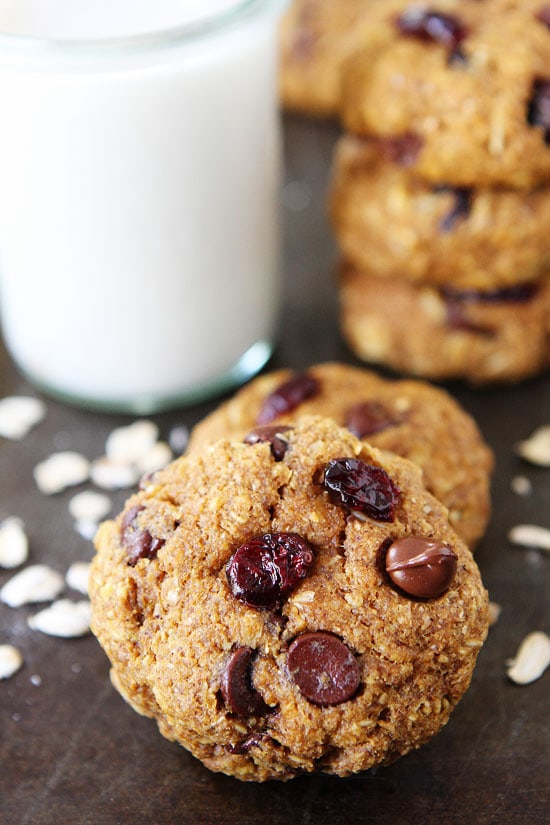 I have been on a pumpkin kick! I've made a lot of decadent treats like Pumpkin Chocolate Chip Streusel Cake, Brown Butter Pumpkin Streusel Muffins with Brown Butter Glaze, and Pumpkin Cinnamon Cookies. I love all of these pumpkin treats, but today we are lightening things up with Vegan Pumpkin Breakfast Cookies.
That's right, I am giving you permission to eat cookies for breakfast! Put your cereal or smoothie aside and bake up a batch of Vegan Pumpkin Breakfast Cookies!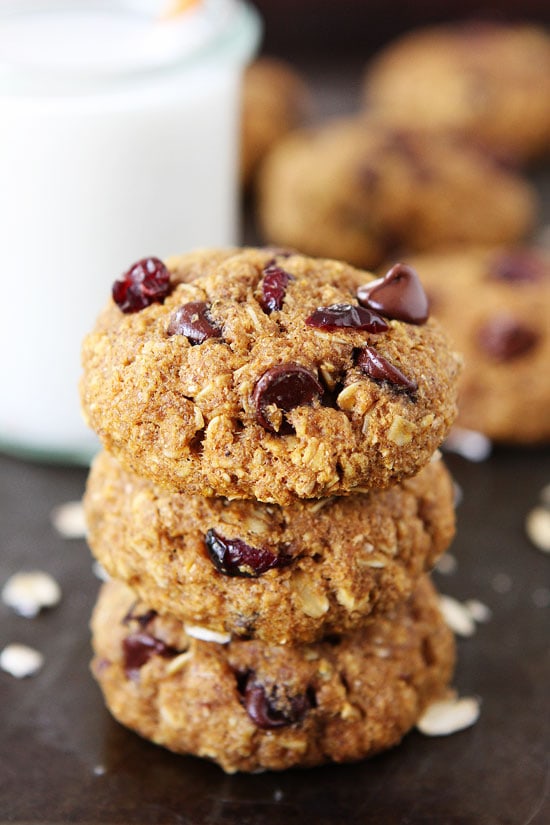 These cookies are full of good for you ingredients like whole wheat flour, oats, pumpkin, coconut oil, and dried cranberries. So I am sure your mom would give you permission to eat them for breakfast too:)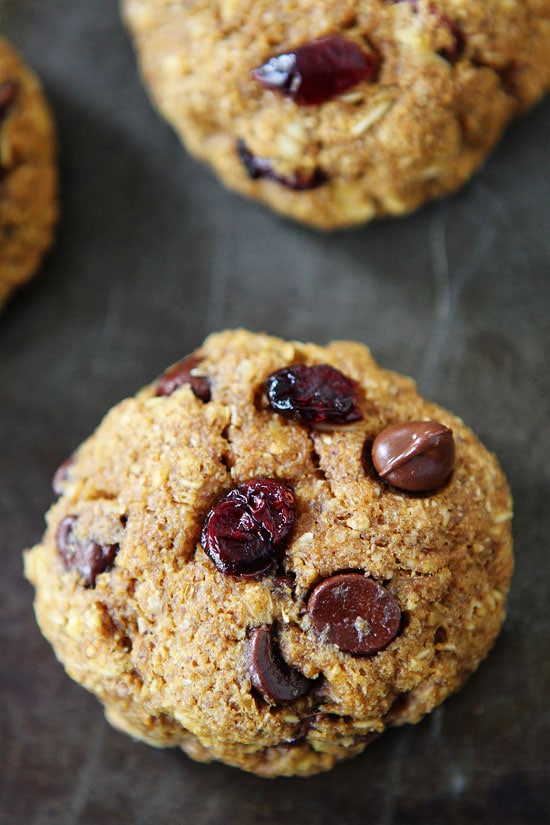 I didn't use any eggs because the pumpkin and almond milk keep the cookies plenty moist. The cookie dough holds together just fine without any eggs. These cookies are vegan, dairy free, and SO good!
I sweetened the cookies with brown sugar and a little maple syrup. I also threw in a handful of vegan chocolate chips because they are cookies:) You can leave out the chocolate chips if you aren't a chocolate for breakfast kind of person, but I say go for it. Live on the edge a little:)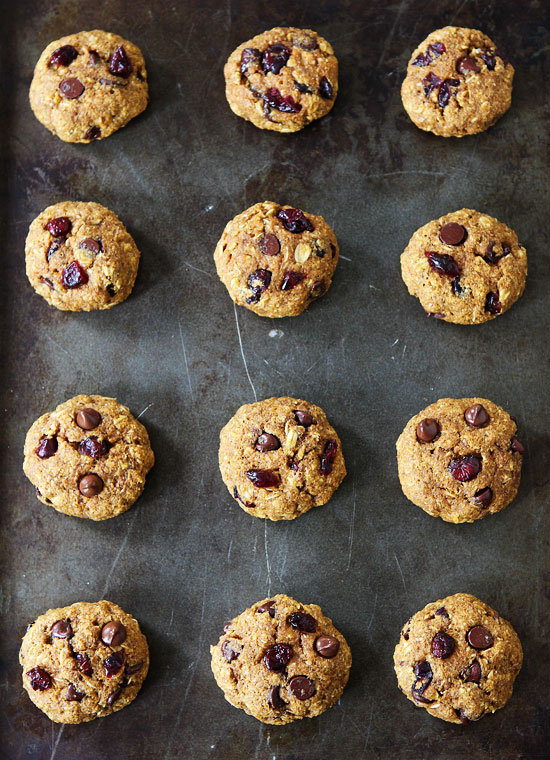 These cookies are healthy enough to eat for breakfast, but they are good any time of the day! They make a great healthy snack or dessert too! I like to keep a batch in the freezer so I can enjoy a cookie any time or the day. They are the perfect grab and go breakfast or treat!
I crave cookies all of the time and these cure my cookie cravings without all of the guilt. Although, let's be honest, I never feel guilty for eating cookies because life is too short to NOT enjoy cookies:)
Go ahead and have a Vegan Pumpkin Breakfast Cookie to start your day! They are great with a glass of milk or cup of coffee or tea! You know it's going to be a good day when you have cookies for breakfast. Enjoy!
Looking for more pumpkin recipes? Check out 50 Pumpkin Recipes for Fall!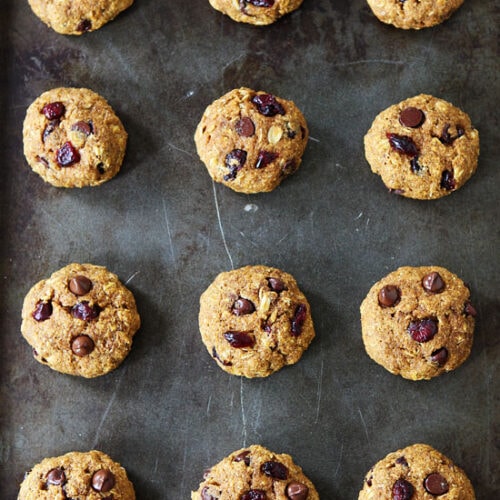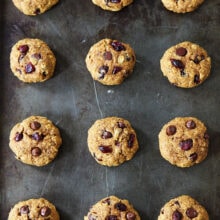 Vegan Pumpkin Breakfast Cookies
Cookies you can eat for breakfast! They are also great for a healthy snack or dessert!
Instructions
Preheat oven to 350 degrees F. Line a large baking sheet with a Silpat baking mat or parchment paper and set aside.

In a medium bowl, whisk together flour, baking soda, baking powder, salt, cinnamon, nutmeg, ginger, and cloves. Set aside.

In the bowl of a stand mixer, beat the pumpkin, coconut oil, brown sugar, maple syrup, almond milk, and vanilla extract together until smooth. With the mixer on low, slowly add in the dry ingredients. Mix until just combined. Stir in the oats, dried cranberries, and chocolate chips.

Form cookie dough into 2 tablespoon sized cookie dough balls. Place on prepared baking sheets, about 2 inches apart and gently press down with the palm of your hand or the back of a spatula to slightly flatten the cookies.

Bake cookies for 10-12 minutes or until set and slightly golden around the edges. Remove from oven and let cookies cool on the baking sheet for 2-3 minutes. Transfer to a wire cooking rack and cool completely. Store in an airtight container for 2-3 days.

Note-make sure you use vegan chocolate chips if you need the cookies to be vegan. If you don't need the cookies to be vegan, you can use regular milk and regular chocolate chips. You can also use raisins instead of dried cranberries or toss in some chopped pecans or walnuts!
Have you tried this recipe?
Leave a comment below and share a photo on Instagram. Tag @twopeasandpod and hashtag it with #twopeasandtheirpod