Josh was out of town last week on business. I was lonely-this was the longest we have been apart since we started dating. I tried to keep busy with work, the gym, the blog, etc. but I just missed my hubs. Luckily, one of my best buds came to the rescue. She always knows how to cheer me up. We enjoyed an evening of good food, conversation, and laughs. It was just what I needed.
Before we were both married, we were roomies and used to cook together all of the time. We've created a lot of tasty dishes, but vegetable spring rolls with peanut sauce are our favorite.
For the spring rolls, we used carrots, green and red peppers, cucumber, lettuce, and cilantro. I've used Thai basil and mint before-instead of the cilantro, they are all excellent. We used round rice paper sheets for the base of the rolls and Asian rice vermicelli noodles for the filling. Most stores have an Asian section, if you can't find these items there, check your area to see if there is an Asian market nearby. I love visiting our local Asian market-great prices and fun finds.
The spring rolls are good, but the peanut dipping sauce is the BEST! I can't even describe how good it is, there are no words. I could drink it by the gallon. Peanut butter, lemon grass, ginger, garlic, hoison sauce-all of these flavors work so well together. Try this sauce and let me know what you think. I am confident it will be your new "go to" peanut sauce. I have never tasted better.
We had a great time recreating one of our favorite recipes together. The spring rolls are a great appetizer, healthy snack, or light meal. Serve these up at your Super Bowl Party for something fresh and healthy. Your guests will love them.
If Josh wasn't allergic to peanut butter, I would probably eat these every day. He is home now (yea!) and I made sure to leave no evidence of peanut sauce, but that wasn't hard:)
For tips on how to roll fresh spring rolls visit The White on Rice Couple's blog. They have a great tutorial post. You can add chicken, pork, or shrimp, but the veggies are good enough for me!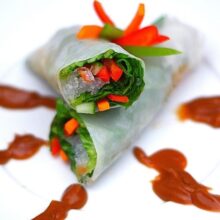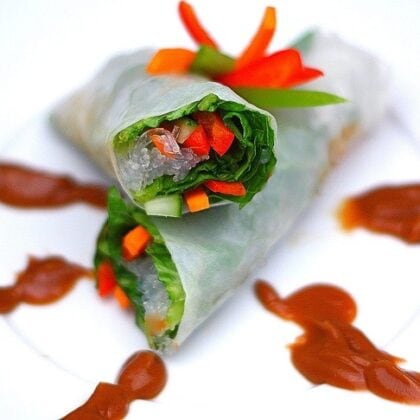 Vegetable Spring Rolls with Peanut Dipping Sauce
Ingredients
For the spring rolls:
1

carrot

peeled and cut into long matchsticks

1

green pepper

cut into long matchsticks

1

red pepper

cut into long matchsticks

1

cucumber

cut into long matchsticks

Romaine lettuce leaves

6

ounces

Asian rice vermicelli noodles

Round rice sheets

Sprigs of cilantro and/or Thai basil

mint
For Peanut Dipping Sauce:
1

small piece of lemon grass

chopped

Freshly grated ginger-to taste

1

cup

water

½

cup

hoisin sauce

3

tablespoons

smooth peanut butter

1½

tablespoons

sugar
Instructions
1. Chop all of the veggies and set aside.

2. Boil and drain noodles per package instructions. Cool under water. Set aside.

3. One at a time, soak rice sheets into warm water to soften. Use a shallow dish or pie plate for this step. Lay a rice sheet on a towel covered work surface. Working quickly, place some noodles, vegetables, lettuce, and a few herb leaves on the near side of the rice round. Roll mixture forward (in egg roll fashion) one revolution then add additional vegetables. Tuck ends inward and finish the roll. Continue making rolls until ingredients are exhausted.
To make the peanut dipping sauce:
In a small sauce pan, simmer lemon grass in the water for 5 minutes, strain out the lemongrass and add the remaining ingredients to the water. Whisk well and simmer an additional 5 minutes. If the sauce doesn't thicken, whisk for one minute over medium heat. Pour into individual serving cups and serve with spring rolls.
Have you tried this recipe?
Leave a comment below and share a photo on Instagram. Tag @twopeasandpod and hashtag it with #twopeasandtheirpod
If you like these spring rolls, you might also like:
Curry Tofu and Basil Spring Rolls from White on Rice Couple
Grilled Pork Spring Rolls from ChezUs
Spring Roll Salad from 101 Cookbooks