31 Meatless Meals
31 Meatless Meals – a month of delicious meatless meals! Vegetarians and meat lovers alike will love these amazing meatless recipes!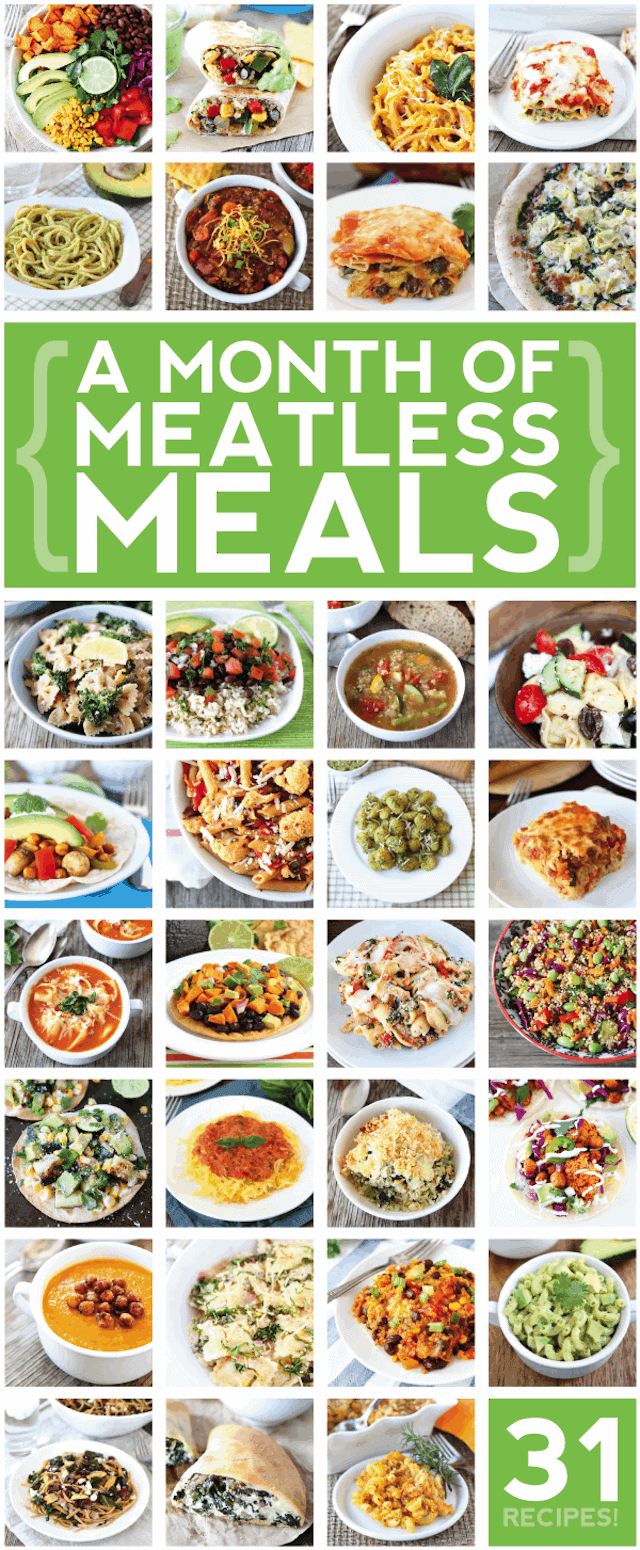 Meatless Meals: 31 Easy Vegetarian Recipes
Today we are sharing 31 Meatless Meals that are sure to be a hit at your dinner table. We shared these easy vegetarian recipes in our September newsletter and received lots of requests for these meatless meals to appear on the blog so you could pin and bookmark the recipes. Well, here you go!  Now, you can easily find a month of meatless meals! We love all of these easy vegetarian recipes and hope you enjoy them too!
And if you aren't signed up for our free monthly email newsletter, you really should sign up because we share cool stuff every month…like recipes, our favorite things, kitchen tips, what cookbooks we are reading, and more! Sign up here for FREE!
Now, go add these meatless recipes to your menu plan! And if you don't have a menu plan, let this be your menu plan:) Glad we could make life a little easier for you:) Enjoy!
first row: Sweet Potato & Black Bean Mexican Salad | Crispy Black Bean Quinoa Burritos Creamy Butternut Squash Pasta | Spinach Artichoke Lasagna Roll Ups
second row: Creamy Avocado Pasta | Vegetarian Quinoa Chili | Stacked Roasted Vegetable Enchiladas |  Spinach Artichoke Pesto Pizza
third row: Goat Cheese Lemon Pasta with Kale | Mexican Rice Bowl | Vegetable Quinoa Soup | Greek Tortellini Salad
fourth row: Roasted Chickpea Fajitas | Penne Pasta with Roasted Cauliflower & Lemon Caper Vinaigrette | Crispy Gnocchi with Basil Pesto | Baked Polenta Pie
fifth row: Creamy Tomato Tortellini Soup | Black Bean & Sweet Potato Tostadas | Baked Pasta with Spinach & Ricotta | Asian Quinoa Salad
sixth row: Grilled Zucchini & Corn Tostadas | Baked Spaghetti Squash with Creamy Roasted Red Pepper Sauce | Spinach & Artichoke Quinoa Bake | Roasted Cauliflower & Chickpea Tacos
seventh row: Slow Cooker Butternut Squash Soup with Maple Roasted Chickpeas |Cheese Ravioli with Lemon Basil Butter Sauce | Black Bean & Quinoa Enchilada Bake |Avocado Mac & Cheese
eighth row: Pasta with Kale, Kalamata Olives, Dried Cranberries, Toasted Garlic & Feta | Kale, Mushroom & Ricotta Calzones | Butternut Squash Mac & Cheese
And a few new favorites:
Happy Meatless Meals to you! Go get cooking!