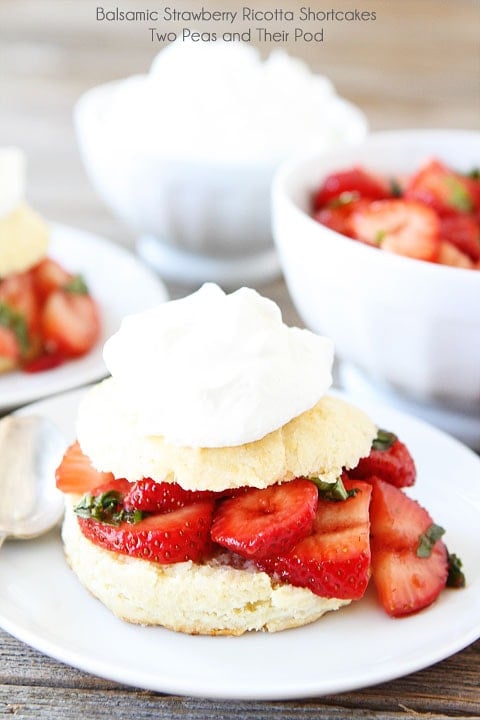 Mother's Day is on Sunday and we don't have any special plans, but I really don't need special plans. My guys spoil me every day. I am one lucky mama and wife. Ok, maybe I will ask for a day off from changing diapers or folding laundry, but I really don't need to be showered with gifts. A hug and a smooch from Caleb is the best gift…and I will take a kiss from Josh too:)
Josh did ask me if he could make dinner on Mother's Day and I told him to go right ahead. He asked if I had any special requests, but I told him to decide. I trust him. I did put in a request for dessert, Balsamic Strawberry Ricotta Shortcakes. We made these heavenly shortcakes a few weeks ago and I can't get them out of my mind! I want them again and there is no better day than Mother's Day to enjoy a delicious dessert!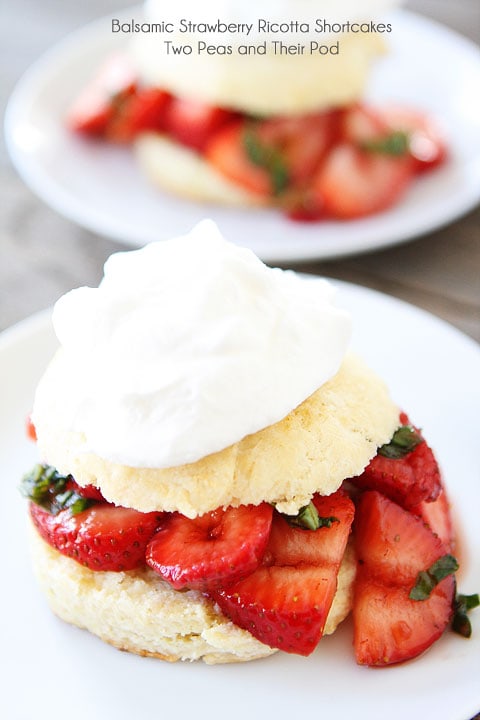 Today we are teaming up with our friends at KitchenAid to "Cook for Mom" and to spread awareness about the Cook for the Cure program. This recipe is not complicated, so all of you dads and kids out there can make these shortcakes for mom. I don't want to hear any excuses:) Let mom relax while you take over the kitchen. Mom deserves a day off. Mother's day is a day to "Cook for Mom." Josh and I made this dessert together the first time, but on Sunday I will be reading a book with my feet propped up:)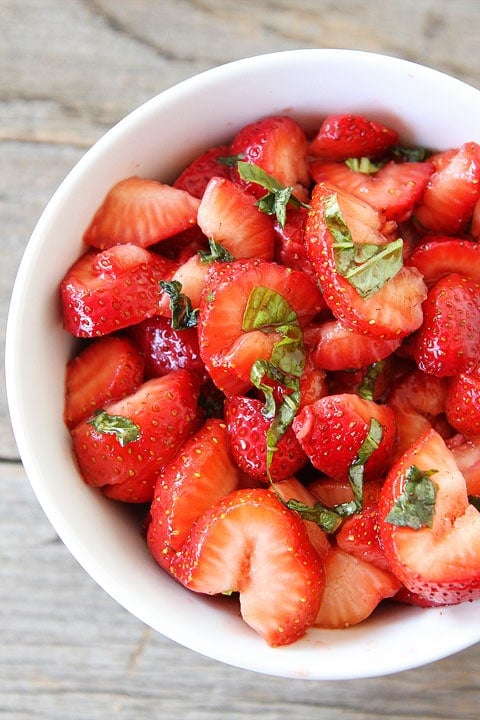 For this recipe, we jazzed up the strawberries by adding a little balsamic vinegar and fresh basil. I am telling you, this combination is a winner! You have to try it. Plus, the balsamic basil strawberries go so well with the ricotta shortcakes. I let the strawberries hangout with the balsamic and basil while I bake up the shortcakes. This allows them time to get all juicy and flavorful.
I am always looking for new ways to use up ricotta cheese. It is cheaper to buy the big tub, so I do, and then I am forced to make ricotta everything. I love making ricotta muffins, scones, pancakes, French toast, calzones, baked pasta, and cookies. This time I used up our ricotta to make shortcakes and I am always going to buy the big tub of ricotta so I HAVE to make ricotta shortcakes. These babies are light, tender, and melt in your mouth. SO good!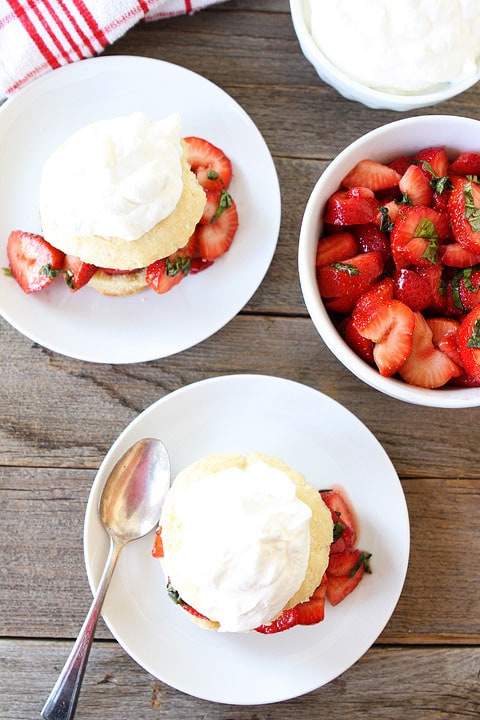 I cut the shortcakes in half and topped the bottom with a big spoonful of balsamic basil strawberries. I plopped the other half of the shortcake on top and added a glorious whipped cream.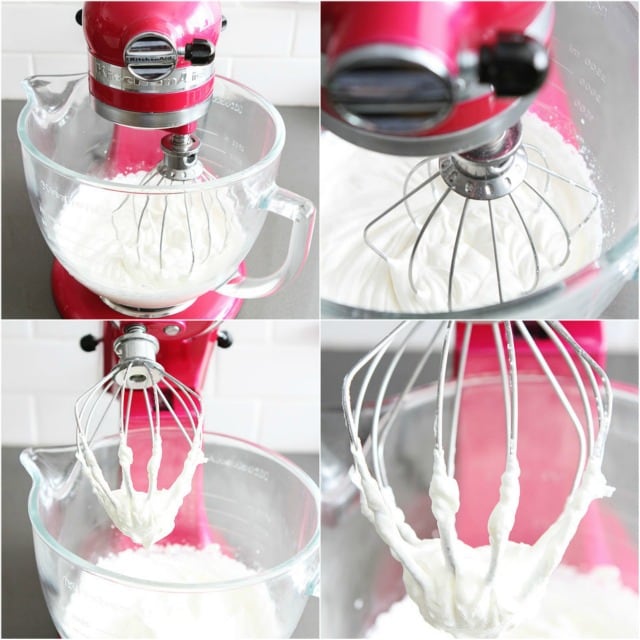 I whipped up the whipped cream in our shiny Raspberry Ice KitchenAid Stand Mixer. Isn't she gorgeous? And the best part, for every pink KitchenAid product purchased, a portion will go towards raising money to fight breast cancer. Mom, needs a pink KithchenAid Mixer, don't you think? We all do:) Check out KitchenAid's complete pink line of products. I love them all!
For more than a decade after introducing its first pink product to help raise funds and awareness for the fight against breast cancer, KitchenAid is celebrating a huge milestone, more than $9 million raised to date through its Cook for the Cure® program benefiting Susan G. Komen for the Cure. AND in 2013, KitchenAid will donate $450,000 or more to Susan G. Komen® through the Cook for the Cure® program to support the fight against breast cancer. That makes me love KitchenAid even more. For more information about the Cook for the Cure program, visit KitchenAid's website. It is such a great program!
"Cook for Mom" this year by surprising her with a special dessert, Balsamic Strawberry Ricotta Shortcakes. She will be impressed that you made her such an elegant and beautiful dessert! Happy Mother's Day!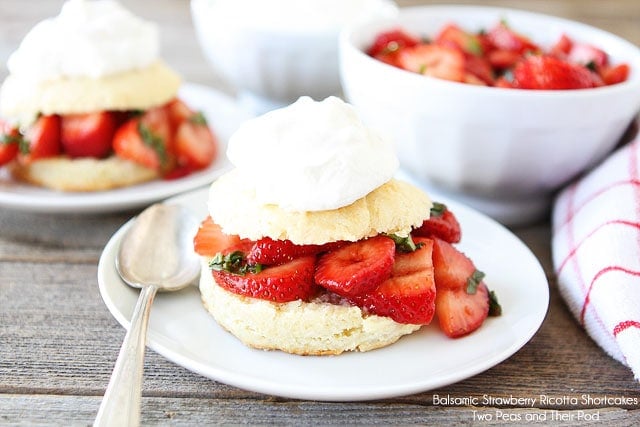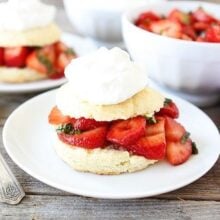 Balsamic Strawberry Ricotta Shortcakes
Light and tender ricotta shortcakes with balsamic basil strawberries and a dollop of whipped cream!
Ingredients
For the Balsamic Basil Strawberries:
For the Ricotta Shortcakes:
Instructions
Preheat the oven to 400°F. Line a large baking sheet with parchment paper or a Silpat baking mat and set aside.

In a medium bowl, combine the strawberries, sugar, balsamic vinegar, and basil. Stir until well combined. Set aside while you make the shortcakes.

In a large bowl, whisk together the flour, baking powder, baking soda, salt, and sugar. Add the butter pieces to the flour mixture and toss with a fork just until the butter is coated with flour. Using a pastry cutter, fork, or your hands, cut the butter into the flour until you have a mixture of pea-sized or slightly larger clumps of butter and flour.

In a small bowl, combine the egg, buttermilk, vanilla, and ricotta cheese. Stir until well combined.

Pour the liquid ingredients over the dry ingredients and stir with a spatula until just combined. Don't overmix the dough. Turn out the dough onto a well floured space and gently and shortly knead the dough. If the dough is too sticky, you can add a little bit of flour as you knead. Pat the dough down into a disk, about ½ inch thick. Cut the dough into 8 rounds, using a biscuit or cookie cutter.

Transfer the shortcakes to the prepared baking sheet and brush with milk or heavy cream. Bake for about 12-15 mins, or until the scones are light golden brown. Let cool on a wire cooling rack.

While the shortcakes are cooling, make the whipped cream. Using a mixer, beat the heavy cream, sugar, and vanilla until soft peaks form, about 1 ½ to 2 minutes.

Cut the shortcakes in half. Spoon the balsamic strawberries over the bottom half of the shortcake. Place the top of the shortcake over the strawberries. Top the shortcakes with whipped cream and serve immediately.
Have you tried this recipe?
Leave a comment below and share a photo on Instagram. Tag @twopeasandpod and hashtag it with #twopeasandtheirpod