Blueberry Pie with Crumble Topping is a favorite summer dessert! Serve with a scoop of vanilla ice cream or A dollop of whipped cream for the ultimate pie experience!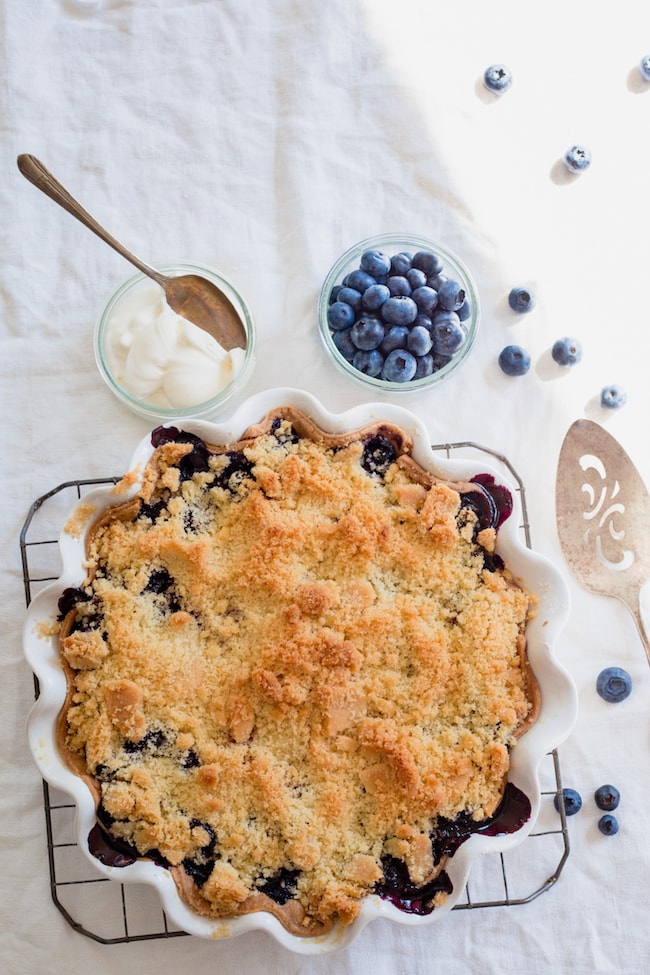 Blueberry Pie Recipe
I had a ton of blueberries to use up and wanted to make a blueberry pie. If you know me, you know that is strange because I don't usually like to make pies. I just thought the blueberries belonged in a pie and I wanted to make them happy…and blueberry pie did sound pretty tasty. So I asked around for the BEST blueberry pie recipe and my friend Danielle came to the rescue.
I met Danielle at a Kroger event this year and we were instant BFFs. She is the most hilarious person ever, if you follow her on Instagram stories, you know what I am talking about. If you don't follow her, you need to ASAP! She is also a culinary genius and an entertaining extraordinaire! I remember her telling me that she loves to make pies so I messaged her and asked her if she had an amazing blueberry pie recipe and she responded with a big fat YES! And luckily, she was willing to share the recipe with me…and all of you! You guys are going to go crazy for this Blueberry Pie recipe. It is perfection!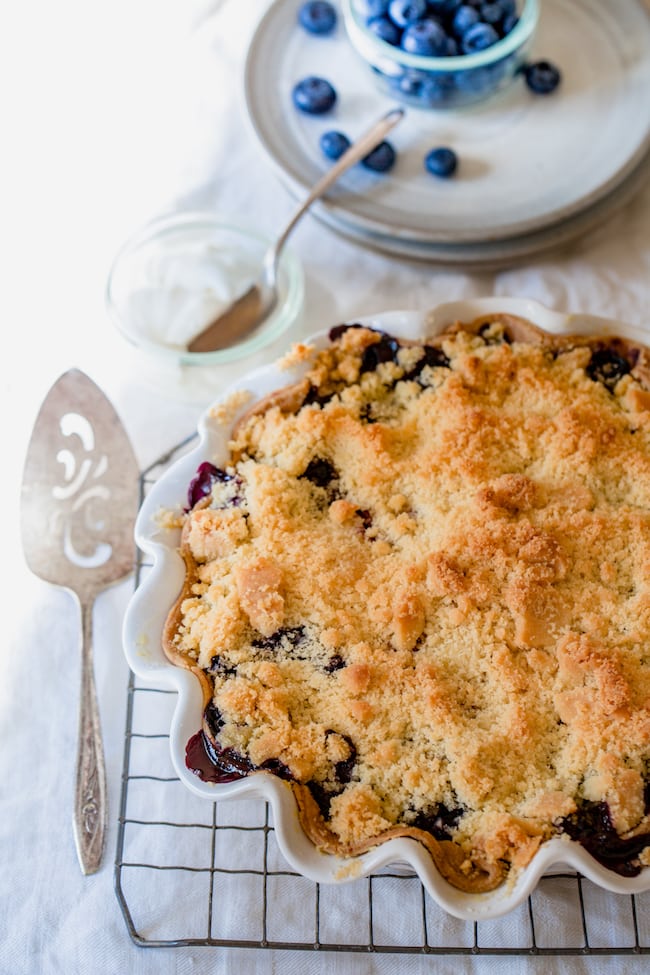 Pie Crust
You can use your favorite pie crust recipe for this pie. I like this pie crust recipe, but it makes enough for two pies so just freeze the other half to make pie another day. You can also keep the pie dough in the fridge for up to 3 days, which you might want to do because I bet you will want to make another blueberry pie after you take one bite. I guarantee it won't last long.
If you don't have time to make homemade pie crust, you can use store bought crust. You need a 9-inch pie crust.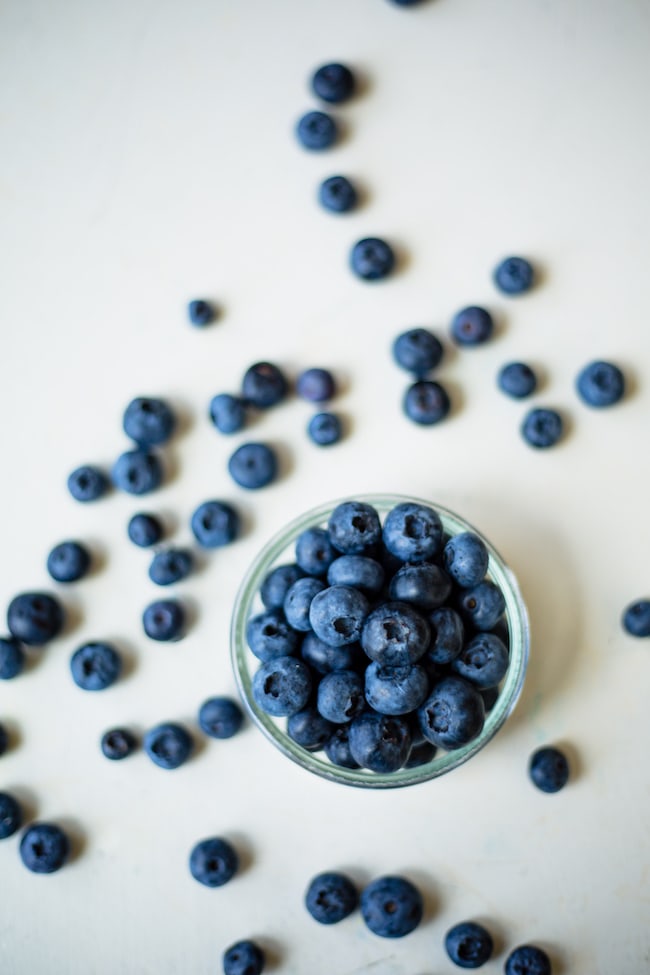 Blueberry Pie Filling
The blueberries are the star of this pie. Use the best blueberries you can find! You want plump and juicy blueberries. This pie is especially good in the summer when blueberries are in season. The amount of sugar you add will depend on the sweetness of the blueberries so taste a couple first before adding in the sugar. There is also a little fresh lemon juice in the filling which really makes the blueberry flavor pop! Don't skip it!
Crumble Topping
Yes, this blueberry pie has a crumble topping and it really makes the pie! You are in for a real treat! To make the crumble topping, combine the butter, flour, sugar, and baking powder. Use a fork to mix until it begins to clump up into pea-size crumbles. A fork works wonders here! Top the pie with the crumble topping and bake until bubbly and golden brown. Your house will smell amazing while it is baking. It is worth turning on the oven during the summertime.
Blueberry Pie Tips
This pie is best with fresh blueberries. You will need 4 cups of fruit.
Bake long enough for the fruit to break down and begin to bubble.
If the pie begins to brown to quickly, place foil loosely over the top.
The crumble topping calls for salted butter, which really makes a tasty pie! If you don't have salted butter, add some salt to the crumble topping mixture.
Allow the pie to cool for at least 4-6 hours before slicing if you want clean pie slices. I know, this step is SO hard, but this pie is worth the wait, I promise! And if you don't care if your pie is a little messy, dig right in. I won't tell anyone:)
Serve vanilla ice cream or whipped cream on the side for an extra dreamy dessert!
Turn your blueberries into an AMAZING Blueberry Crumble Pie. It is the perfect summer dessert! Thanks Danielle for sharing your perfect pie recipe! Make sure you follow Danielle's blog, Rustic Joyful Food, for lots of delicious recipes and beautiful photography. You guys are going to love her!
If you like this Blueberry Pie Recipe, you might also like: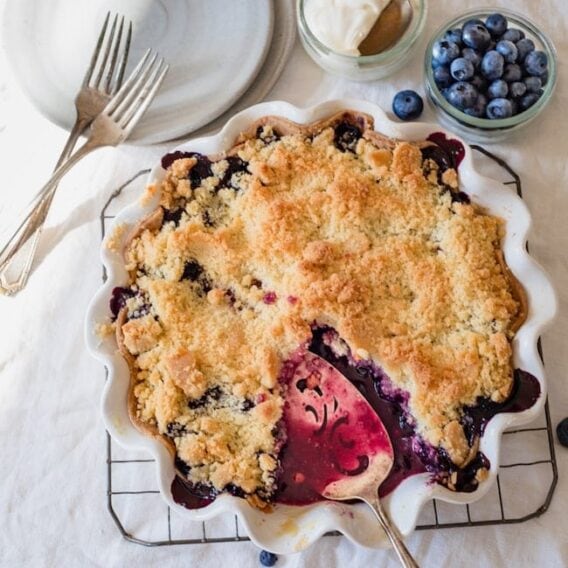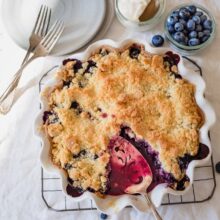 Blueberry Crumble Pie
The most perfect blueberry pie recipe! Serve with a scoop of vanilla ice cream or a dollop of whipped cream!
Ingredients
For the pie:
1

9-inch prepared pie crust

4

cups

blueberries

1/4

cup

all-purpose flour

1/4

cup

to ⅓ cup granulated sugar

depending on the sweetness of your fruit

Juice of 1 lemon

about 2 tablespoons

Pinch

of sea salt
Instructions
Preheat oven to 350 degrees F.

Gently roll your pie dough to fit a 9-inch pie dish. Press or crimp the edge of the crust.

In a large mixing bowl, combine the blueberries, flour, sugar, lemon juice, and salt. Gently stir. Make sure the berries begin to break down and the sugar has melted with the lemon juice to create a slurry-like mixture with the blueberries. Pour the blueberry mixture into the pie crust.

To make the crumble, combine the butter, flour, sugar, and baking powder. Use a fork to mix until it begins to clump up into pea-size crumbles. Pour the crumble evenly over the blueberry mixture in the pie.

Place the pie on a baking sheet (to catch any juicy bubble-over) and bake for 45-60 minutes or until the blueberries are bubbling through the crumble topping. Remove from the oven and let cool before cutting.
Have you tried this recipe?
Leave a comment below and share a photo on Instagram. Tag @twopeasandpod and hashtag it with #twopeasandtheirpod