jump to recipe
Key Lime Pie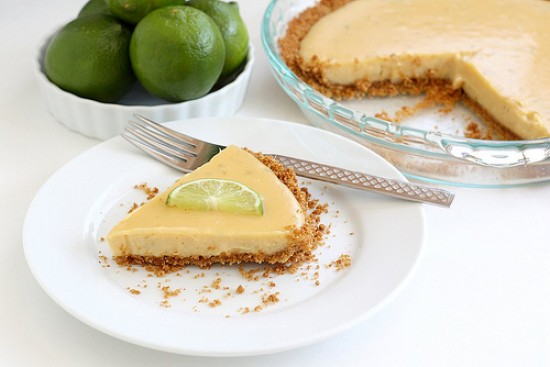 Yesterday was Josh's birthday. We celebrated with key lime pie. That is the one thing Josh asked for. I love birthdays though, so we actually celebrated all weekend long. On Friday, we saw Iron Man 2-great movie, go see it:) We also went out to dinner.
Saturday morning I took Josh to get donuts at his favorite donut shop in Salt Lake City-Banbury Cross. I don't do donuts, but rumor has it they are the BEST-Josh seems to think so. He loved his surprise breakfast treat.
On Sunday, we started Josh's special day with a birthday breakfast. I made Josh whole wheat pancakes with strawberry rhubarb compote-recipe is coming-it's a good one:) We also had friends over for dinner that night. Josh chose the menu which consisted of: grilled pork tenderloin, roasted red potatoes, salad, and key lime pie for dessert.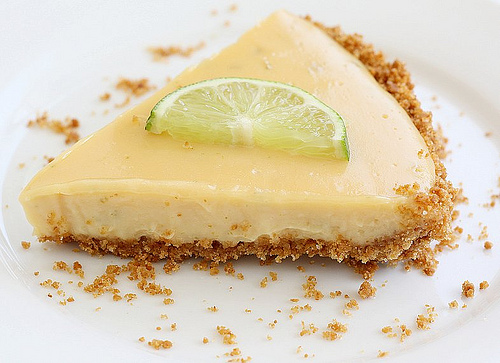 OTHER RECIPES
The star of the dinner was the key lime pie. Josh loves lime, but  I have never made him a key lime pie. I've made him lime bars, cake, cookies, but never a pie. Odd, huh? So this birthday I was not going to let him down. I used a recipe I found on Epicurious, but of course I made some changes. Josh loves his lime treats very tart. I was worried this recipe wouldn't be tart enough, so I added in lime zest to kick the lime flavor up a notch.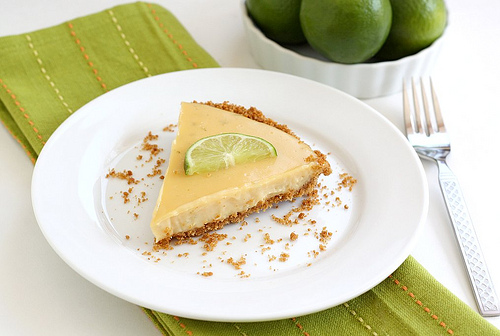 The pie has a graham cracker crust and a rich lime filling that is made with-lime zest, lime juice, egg yolks, and sweetened condensed milk. I used regular limes, so I guess this technically isn't a key lime pie, but don't tell Josh that. He loved it. The filling was tart, creamy, and smooth. The graham cracker crust added a nice little crunch. The pie was a birthday hit!
Josh is already requesting this for his next birthday, but because I love him dearly, I will be making this pie for him on a regular basis.
Key Lime Pie
This easy key lime pie is a family favorite dessert!
Yield: Serves 8-10
Prep Time: 15 minutes
Cook Time: 15 minutes
Total Time: 1 hour 30 minutes
Ingredients:
For the crust:
1 1/4 cups graham cracker crumbs
3 tablespoons sugar
5 tablespoons unsalted butter, melted
For the Filling:
1 (14-ounce) can sweetened condensed milk
4 large egg yolks
Zest of 1 large lime
1/2 cup lime juice, from 5 limes
Directions:
Preheat the oven to 350 degrees F. In a medium bowl, stir together the graham cracker crumbs, sugar, and melted butter with a fork. Mix until graham cracker crumbs are moist. Press mixture into a 9 inch pie plate or dish. Pat down the bottom and sides. Bake for 12 minutes or until golden brown.
While the crust is baking, prepare filling. In a medium bowl, whisk together the sweetened condensed milk and egg yolks. Whisk until well combined. Add in the lime zest, and lime juice. Whisk well. Set mixture aside. It will thicken up as it sits.
When the pie crust has cooled to slightly warm or room temperature, pour the lime filling over the pie crust. Bake for 15-17 minutes. Remove from oven and cool on a cooling rack. When cool, chill the pie in the refrigerator. The filling will set up as it cools. Chill for at least one hour before serving.
 Serve cold.
Adapted from Epicurious (Gourmet)
All images and text © .
Follow twopeasandpod on Instagram and show us what recipes you are making from our blog! Use the hashtag #twopeasandtheirpod! We want to see what you are making in your kitchen!
If you like this key lime pie, you might also like:
Lime Bars from Two Peas and Their Pod
Lime Meringue Tart from David Lebovitz
Key Lime Pie Bars from My Baking Addiction
Mojito Key Lime Pie from Baking Bites