Peach Pie – Learn how to make a peach pie from start to finish! From the beautiful lattice pie crust to the peach pie filling with cinnamon, nutmeg, and vanilla, this is one perfect peach pie!
A Peach Pie Professional
I don't bake pies, I bake cookies. Ok, I've baked a few pies in my lifetime, but I am really not skilled in the pie area. Baking a perfect pie crust is on my bucket list, so I invited my friend, Annalise, over. She is the pie professional. She knows pies, and she agreed to show me how to make a perfect pie crust and bake up a beautiful pie. Lucky me!
I chose to make a peach pie because of our never-ending supply of peaches. It just felt like the right thing to do. So we spent the day baking a peach pie. We had a few timeouts to take care of our babies, but luckily our boys were on their best behavior so we could play in the kitchen and perfect my peach pie. Caleb and John were the perfect pie assistants:)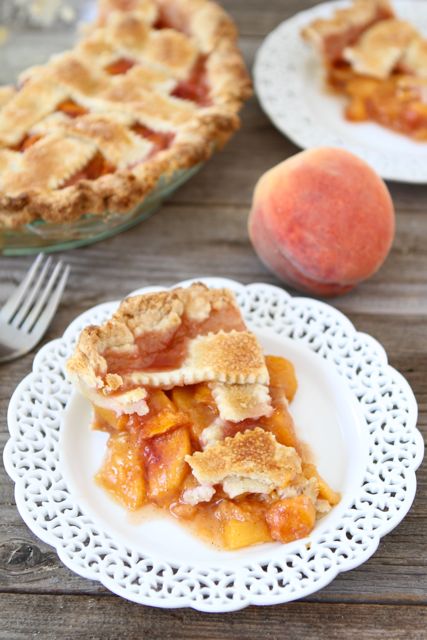 How to Make Peach Pie
Annalise taught me how to make a perfect pie, from start to finish. It really isn't hard at all. The secret ingredient in this pie crust is buttermilk. It makes the pie super flaky and delicious. You also need to make sure your butter is super cold and don't over work the pie crust. You want to see little chunks of butter and you want the pie crust to be flaky! Over working the dough will result in a big mess.
Slowly add water if the pie dough is too dry, a little goes a long way so add little by little.
Chill the dough for at least an hour before rolling it out. You can make the pie dough days in advance or keep it in the freezer.
This pie crust recipe makes enough for two pies or one pie that has two crusts, like this one.
The pie crust recipe is below, but if you want detailed step-by-step instructions on how to make a perfect pie crust, visit Annalise's blog for a great pie tutorial.
The most important part of this pie, besides the perfect pie crust, the PEACHES! Use ripe, fresh peaches for best results. I love making this pie in the summertime when peaches are at their peak!
For the peach pie filling, I added cinnamon, a hint of nutmeg, and a splash of vanilla extract. The flavors complimented the peaches nicely.
We did a lattice topping on the pie, but you could cover the top with pie dough to make a double crusted pie. Both ways are delicious! And if you aren't a skilled pie maker, that is ok, the rustic look is in! I promise it will still taste good.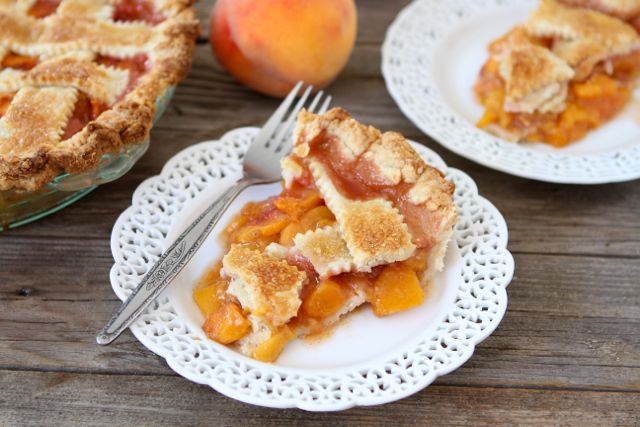 Peach Pie Wo-Man!
I was very pleased when I pulled my peach pie out of the oven. Look at that gorgeous lattice top! Amazing! I didn't want to cut into my peach pie because it was so pretty…but when Josh came home, I knew my masterpiece wouldn't stand a chance. He wanted a piece of peach pie for dessert! And I'm not going to lie, I was also anxious to have a taste of the finished peach pie filling.
My peach pie was perfect and so good with a scoop of vanilla ice cream or a dollop of whipped cream. Now, it is your turn-go bake a peach pie! Happy pie baking!
If you like this Peach Pie recipe, you might also like: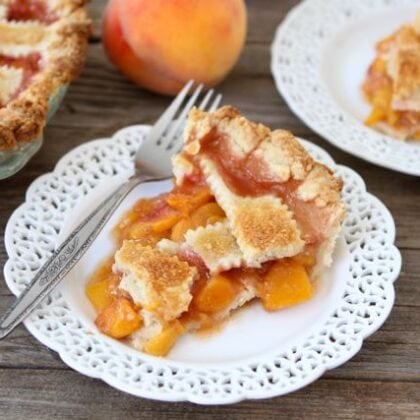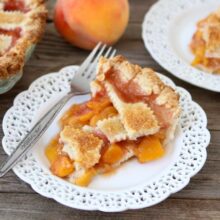 Peach Pie
You can't beat a slice of homemade peach pie. Go all out and add a scoop of vanilla ice cream-dessert perfection!
Ingredients
For the pie crust:
2 1/2

cups

all-purpose flour

1

tablespoon

sugar

1

teaspoon

salt

1

cup

unsalted butter

cold and cut into cubes

1/2

cup

buttermilk

cold

1-2

tablespoons

water

cold

1

large egg

beaten, for the egg wash

Turbinado sugar

for sprinkling on top of pie
Instructions
Combine the flour, sugar, and salt in a bowl. Add the cubed butter and toss to coat. Dump the mixture out onto a clean surface and use a rolling pin to roll the butter into thin sheets, combining it with the flour. Use a bench scraper to scrape the rolling pin and to bring the mixture back into a pile as necessary. Continue until all of the butter is incorporated into the flour. Mixture will be very flaky. Return mixture to the bowl and place in the freezer for 15 minutes to chill the butter.

Remove from freezer and add the buttermilk. Use a spoon and then your hands to stir the mixture until it comes together into a ball. If mixture is too dry, add the water a tablespoon at a time. Divide the dough in two and flatten into disks. Wrap each disk in plastic wrap and chill in the fridge for at least 1 hour and up to 3 days.

While the dough is chilling, make the peach pie filling. In a large bowl, combine peaches, sugar, cinnamon, nutmeg, cornstarch, and vanilla extract. Gently stir until mixed well.

When ready to roll out, let the dough rest at room temperature for five minutes. On a lightly floured surface, use a rolling pin to roll out the dough into a rough 13 inch circle. Dough should be about ¼ inch thick. Transfer dough to pie dish. Fill pie with peach filling. Repeat with the second disk of dough. Cut dough and make a lattice over the filling. You can also leave the circle intact and cover the filling completely, cutting a few vents with a sharp knife, but I went with a lattice top for my peach pie.

Fold the edges of the top and bottom crusts together and use your index fingers and thumb to pinch into a pattern. Brush with egg wash and sprinkle with turbinado sugar.

Bake in a 400 degrees F oven for 45 minutes or until the pie is bubbling and the crust is golden brown. Let the pie cool completely on a wire cooling rack before cutting.

Note-you can use this same pie crust to make apple pie, berry pie, strawberry rhubarb pie, etc. Use your favorite filling!
Have you tried this recipe?
Leave a comment below and share a photo on Instagram. Tag @twopeasandpod and hashtag it with #twopeasandtheirpod