Buttermilk Oven "Fried" Chicken
Buttermilk Oven "Fried" Chicken-this lighter version of fried chicken tastes just like the real deal! It gets the same crispy texture from "frying" in the oven!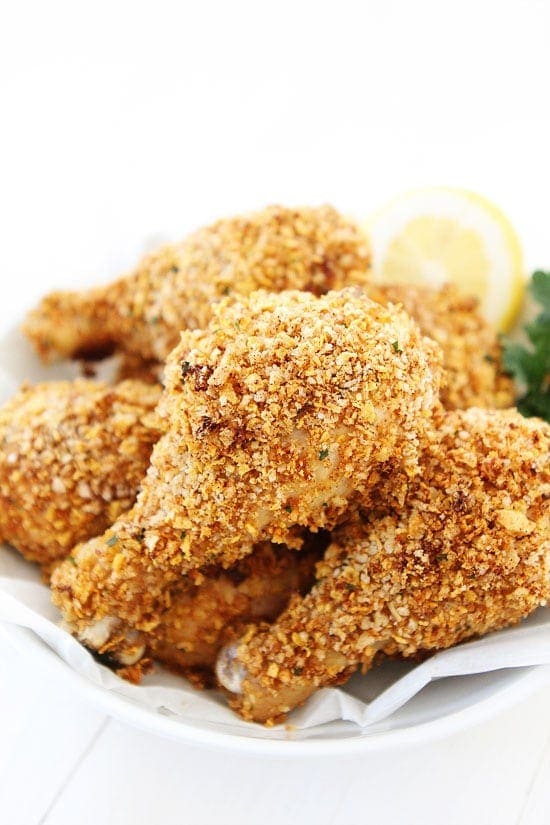 Today we are celebrating our good friend Gina's new cookbook, The Skinnytaste Cookbook! We love Gina and are so excited about her first cookbook! I have been a big fan of her blog for years and I am so glad her recipes are now in a book!
The Skinnytaste Cookbook features recipes that are light on calories, but big on flavor. Gina knows how to make healthy taste amazing! I couldn't decide what recipe to make for our post because I wanted to make them all so I let Josh pick. He was flipping through the book and when he saw the Buttermilk "Oven" Fried Chicken recipe he exclaimed, "Winner, winner, chicken dinner!" He said we HAD to make the "fried" chicken. Caleb ran over to see what we were talking about said he wanted chicken for dinner too! The decision was made:)

OTHER RECIPES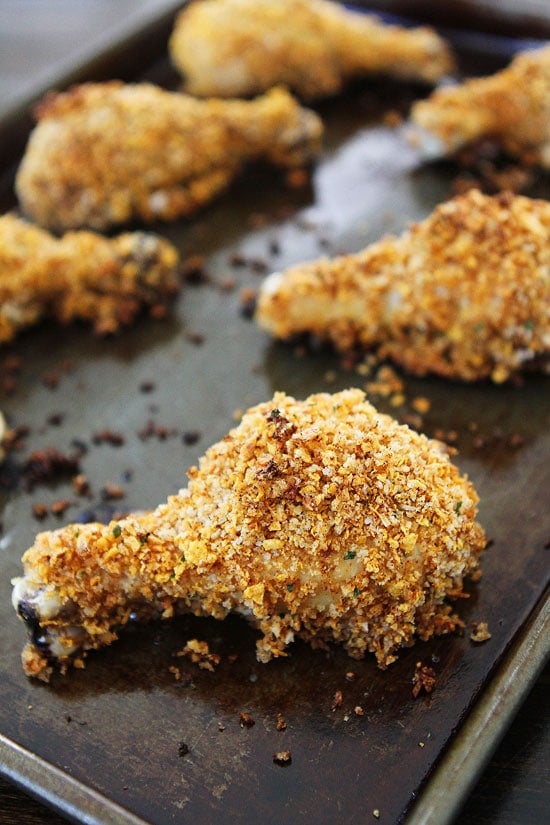 We eat mostly vegetarian at our house since I am a vegetarian, but Josh likes a good piece of meat or chicken every now and then. One of his favorites is fried chicken, but I rarely let him make it because I don't like the fried smell and it is so messy. Yeah, I am the boss in our kitchen:)
Well, Gina just made Josh's life because there is no frying involved with her recipe! You bake the chicken in the oven so there is no greasy mess to clean up and no fried smells that linger for days. Now, Josh can make "fried" chicken whenever he wants!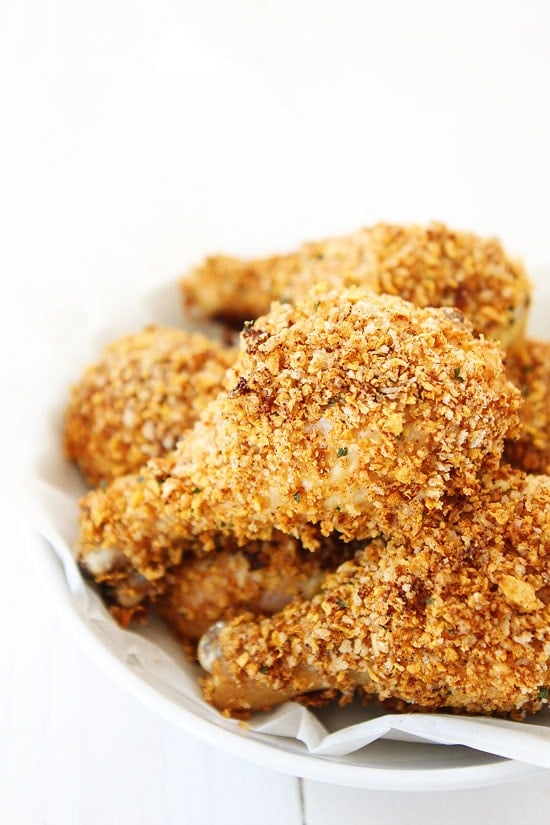 Gina's lighter version of fried chicken is perfect! The chicken has the same crispy, golden texture as the real deal, but without all of the fat and calories. The recipe is easy to make too! The chicken gets soaked in a buttermilk bath overnight which keeps the chicken moist and juicy! Roll the chicken in the crunchy coating and bake until crispy!
Josh was impressed with the "fried" chicken. He loved it! He warned me that Buttermilk Oven "Fried" Chicken is going to be a regular recipe at our house. Fine by me! I didn't have to clean up a mess and my boys were very happy! Caleb loved eating the drumsticks. He had fun playing the drums while he ate his dinner:)
If you are a fried chicken fan, you have to make Buttermilk Oven "Fried" Chicken. You won't miss the deep fryer and it is a great recipe for easy weeknight dinners or entertaining!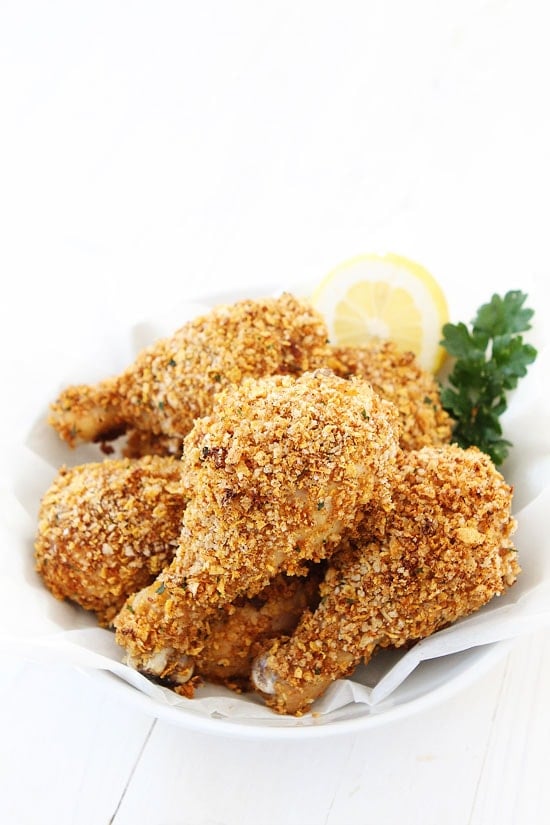 Buttermilk Oven "Fried" Chicken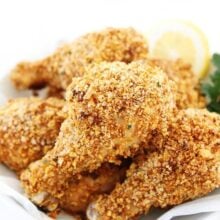 This lighter version of fried chicken tastes just like the real deal! You won't miss the deep fryer, we promise!
Yield: Serves 4
Cook Time: 40-45 minutes
Ingredients:
For the Chicken:
8 chicken drumsticks (about 3 1/2 ounces each), skinned
1/2 teaspoon kosher salt
1/2 teaspoon sweet paprika
1/2 teaspoon poultry seasoning
1/4 teaspoon garlic powder
1/8 teaspoon freshly ground black pepper
1 cup buttermilk
Juice of 1/2 lemon
Cooking spray
For the Coating:
2/3 cup panko bread crumbs
1/2 cup crushed cornflake crumbs
2 tablespoons grated Parmesan cheese
1 1/2 teaspoons kosher salt
1 teaspoon dried parsley
1 1/2 teaspoons sweet paprika
1/2 teaspoon onion powder
1/2 teaspoon garlic powder
1/4 teaspoon chili powder
Directions:
For the chicken: In a medium bowl, season the chicken with the salt, paprika, poultry seasoning, garlic powder, and black pepper. Pour the buttermilk and lemon juice over the chicken and refrigerate for 6 to 8 hours, preferably overnight.
Preheat the oven to 400 degrees F. Place a rack on a baking sheet and lightly spray with oil.
For the coating: In a shallow bowl, combine the panko, cornflake crumbs, Parmesan, salt, parsley, paprika, onion powder, garlic powder, and chili powder.
Remove the chicken from the buttermilk and dredge each piece in the crumb mixture. Put the chicken pieces onto the prepared baking sheet. Spray the tops of the chicken with cooking spray.
Bake chicken until golden brown and cooked through, 40-45 minutes.
Recipe from Skinnytaste by Gina Homolka
All images and text © .
Follow twopeasandpod on Instagram and show us what recipes you are making from our blog! Use the hashtag #twopeasandtheirpod! We want to see what you are making in your kitchen!