If you are looking for an extra special breakfast treat, try these easy chocolate chip muffins. Forget buying them at the store, these homemade chocolate chip muffins out of the oven is where it's at!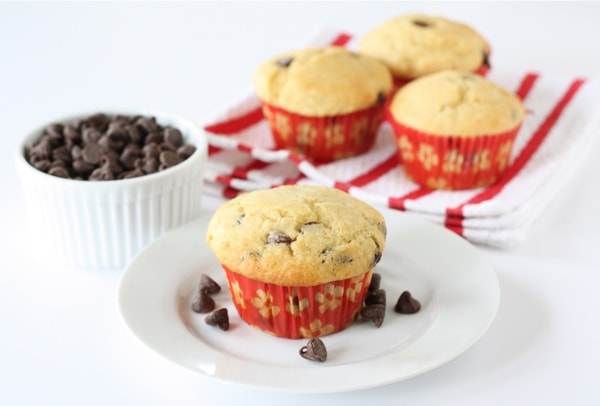 Trying Chocolate Chip Muffins
One of my friends sent me a tweet on Twitter last week asking me if I had a good recipe for chocolate chip muffins. I checked the blog and realized I have never made chocolate chip muffins. I didn't want to let her down, so I went into the kitchen and made a batch of homemade chocolate chip muffins. Muffins with chocolate chips are a great way to start any day! And they are muffins so they are totally acceptable for breakfast.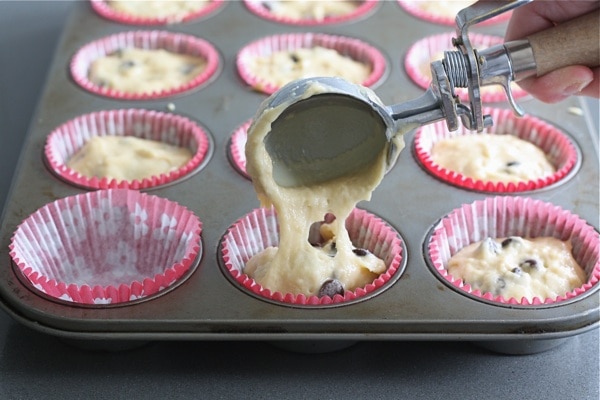 How to make Chocolate Chip Muffins
I love making muffins because they don't take long to mix up or bake. They are a great breakfast on the go!
The vanilla muffin batter is made with melted butter and buttermilk. The batter is thick, but the muffins are moist and tender. Don't over mix the batter or your muffins will be tough and not fluffy.
Stir in chocolate chips. I used semi-sweet chocolate chips, but milk chocolate chips would also work well.
Make sure you fill the muffin cups ¾ full so your muffins rise higher in the oven. The muffins take about 20 minutes to bake. They are done when a toothpick inserted into the center comes out clean, or with a little chocolate. You might hit a chocolate chip and that is ok.
Josh smelled the chocolate aroma and thought I was baking cookies again. The vanilla scented muffins are dense and dotted with the chocolate chips. He was surprised when a pulled out a dozen beautiful chocolate chip muffins and not cookies.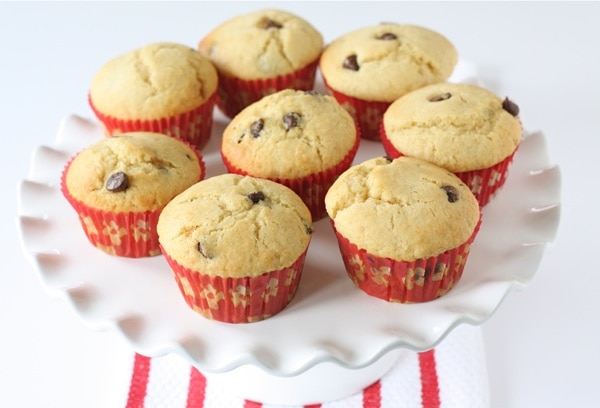 Breakfast or Treat?
We usually don't eat chocolate for breakfast, but these are muffins so why not? Everyone deserves a breakfast treat every once in awhile:) You could even make them with mini chocolate chips to cut down the chocolate, or simply make mini chocolate muffins. If you are looking for an extra special breakfast treat, try chocolate chip muffins. They also make a great snack or dessert.
The muffins are best the day they are made but you can keep them in an airtight container on the counter for up to 2 days. They also freeze well. Having a stash of chocolate chip muffins in the freezer is always a good idea!
If you like these easy chocolate chip muffins, you might also like: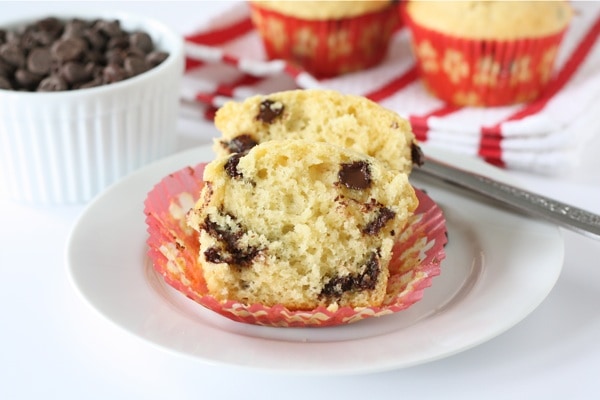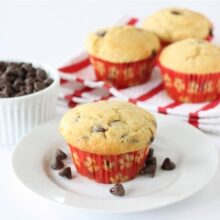 Homemade Chocolate Chip Muffin Recipe
You will love these easy muffins! They are sweet, tender, and filled with chocolate chips. A real breakfast treat!
Instructions
Preheat the oven to 375 degrees F. Line 12 muffin cups with paper liners. Set pan aside.

In a large bowl whisk together flour, sugars, baking powder, and salt.

In medium bowl stir together melted butter,  eggs, buttermilk, and vanilla extract until well blended. Make a well in the center of the dry ingredients. Pour the liquid mixture into the well and gently stir until combined. Stir in chocolate chips.

Spoon batter into muffins cups. Bake for 17-20 minutes or until a toothpick comes out clean. Remove muffins from the oven and allow to cool before serving.
Have you tried this recipe?
Leave a comment below and share a photo on Instagram. Tag @twopeasandpod and hashtag it with #twopeasandtheirpod