Wow, what a weekend, my head is still spinning. I was on the go the entire time. It all started with my Studio 5 appearance on Friday. I made my lemon drop cookies on live TV and promoted the bake sale. I had a lot of fun. Darin and Brooke are so nice and great to work with. If you want to watch the segment, click here.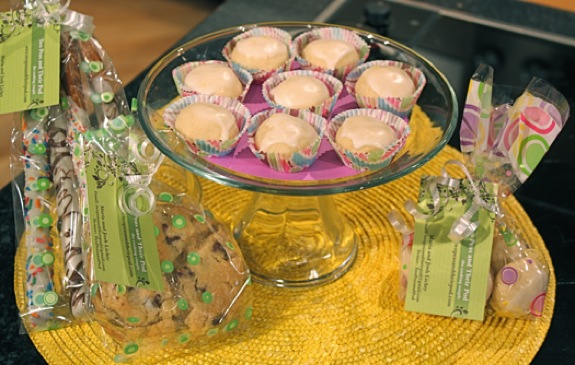 After my TV appearance, I did a food photo shoot for Salt Lake Magazine. I am the recipe contributor for their summer issue, so stay tuned for details. The photo shoot went really well. I loved working with Heidi Larsen, the Art Director, she is amazing. I can't wait for the magazine to come out.
I spent the rest of my Friday baking for the Food Bloggers Bake Sale. I baked a lot of lemon drop cookies and chocolate chip cookies. We also packaged our chocolate dipped pretzels. Everything looked super cute.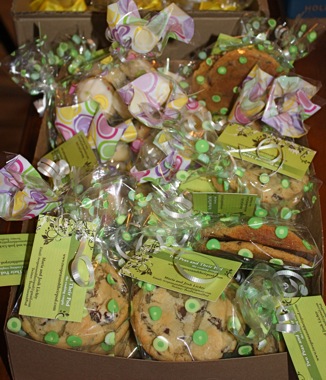 Saturday morning we woke up early and got ready for the Bake Sale to raise money for Share Our Strength. I couldn't sleep, I was too excited for the big event:) Our sale was at Dan's Market in Foothill Village-in Salt Lake City. Dan's went out of their way to make sure we had everything we needed. They were the perfect hosts for the sale. We were set up and ready to go in no time. They provided us with tables, table cloths, and even balloons.
Utah food bloggers started arriving with their treats soon after we were set up. It was so fun meeting everyone in person and I am still amazed at what everyone baked for the sale. We had a little bit of everything at our sale-breads, tarts, rolls, cookies, brownies, cupakes, cinnamon rolls, cakes, rice krispy treats, blondies, muffins, and dipped pretzels. Our shoppers had plenty to choose from!
Utah Food Bloggers-Me, Barbara from Barbara Bakes, Tiffany from Food Finery, and Cristie from The Table Runner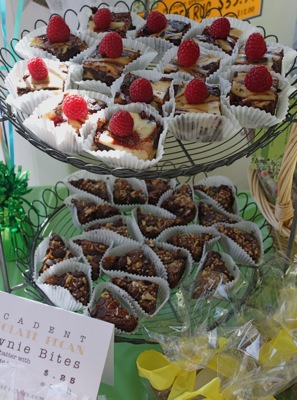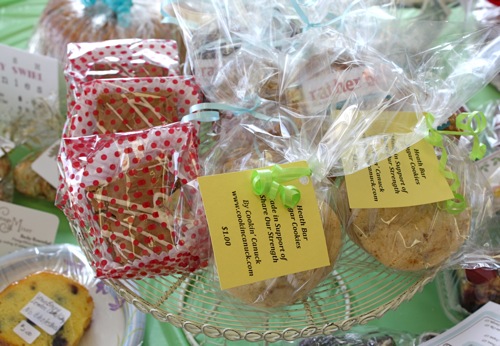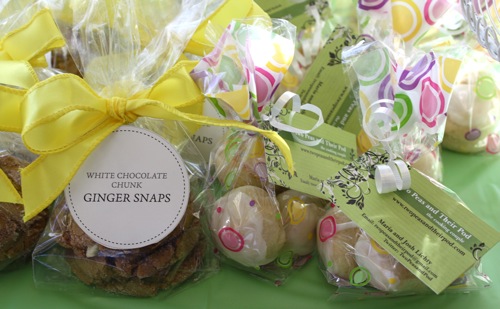 A little note-see those white chocolate gingersnap cookies-they are the BEST gingersnaps I have ever tasted. Thanks to Koo De Ker for donating them. I will try to get the recipe to share with everyone because they are the BEST!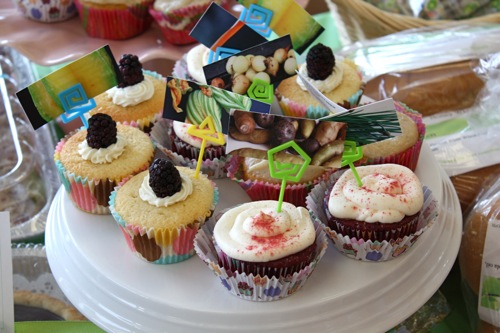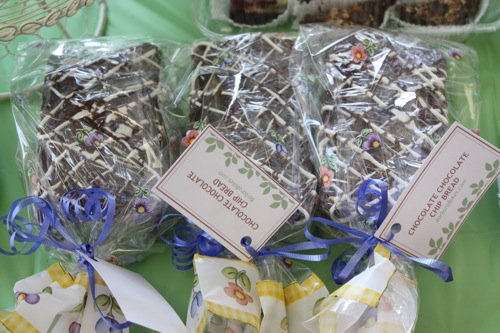 We had SO many treats-at first I was nervous we had too much, but we were busy the entire day and sold almost everything! I felt bad because so many people showed up to buy my lemon drop cookies and we ran out early in the day. If you want lemon drop cookies-let me know and we can arrange something:) You know where to find me:) It was so fun meeting some of our readers in person-thank you for coming to say hello!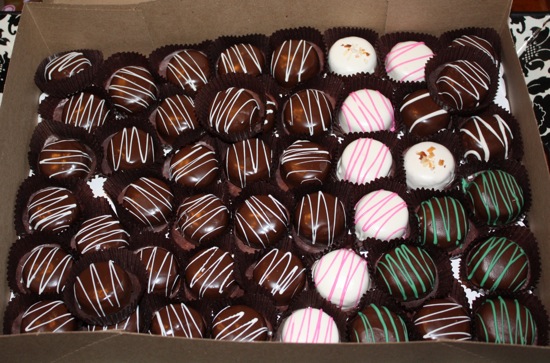 Sweet Tooth Fairy Bakery donated her famous cake bites to give away as samples. Everyone loved them! Winder Farms also donated milk to wash down the sweet treats. The kids really enjoyed the milk. Thank you for your support with our sale!
Our sale was a HUGE success. The Salt Lake City bake sale raised a little over $800 for Share Our Strength. The Orem location also had a successful day. They raised around $350. Thanks again to Becky from Utah Loves Cupcakes for organizing the Orem sale. She did a wonderful job! So the grande total for Utah was close to $1,200 for Share Our Strength! Yahoo! I am thrilled we raised so much money to help hungry children in the United States.
I can't thank everyone enough for your support. Thank you to the everyone who helped plan, advertise, bake, donate, came to the sale, etc. Props to the Utah food bloggers who helped bake-I really appreciate all of your hard work. Utah has a great group of food bloggers and I am honored to be associated with all of these fabulous ladies. Make sure you visit their blogs! See the list of bakers from the SLC sale below!
Tiffany from Food Finery
Barbara from Barbara Bakes
Dara from Cookin Canuck'
Becky from Vintage Mixer
Frieda from Lovin' From the Oven
Cristie from The Table Runner
Vanessa from She Craves
Gabi from The Feast Within
Alicia from the Kitchenista
Laura from Rather Be Baking
Connie from Connie's Cookies
Koo De Ker
Ginny-she doesn't have a blog, but made cakes for the sale.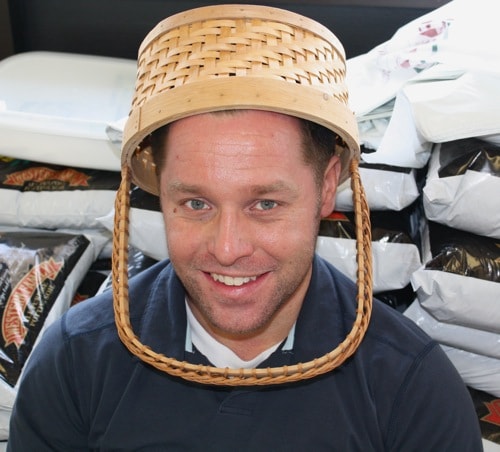 And a special thanks to my handsome husband, Josh. I couldn't of done this sale without him. He was super supportive through months of planning. He also made sure everyone had fun at the sale-as you can see in the photo-he is always the life of the party! Love him!
I am sharing the recipe for our chocolate dipped pretzels that were at the bake sale. They are easy and fun to give as gifts. They sold out quickly too, so if you missed them at the sale, now you can make them at home.
Sorry this post is so long, I just am overwhelmed with everyone's generosity, support, and kindness. I am so happy with the results of the Utah bake sales! Thank you for making a difference in the lives of so many children. If you missed the sale and would still like to donate, you can click here.
I am pretty exhausted, but it was a remarkable weekend. Thanks to Gaby, from What's Gaby Cooking, for organizing the National Food Bloggers Bake Sale! I hear all of the sales went really well. I think we will have to make this a yearly tradition:)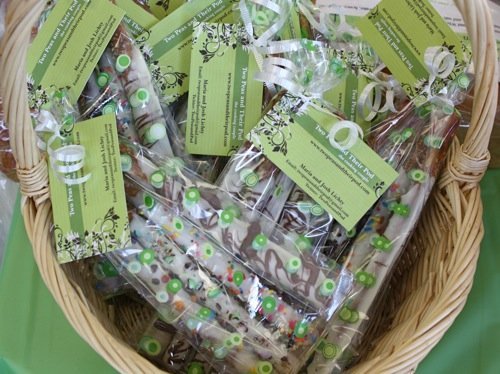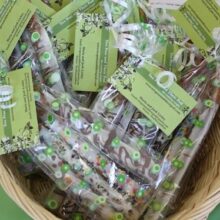 Chocolate Dipped Pretzels
Ingredients
16

ounces

chocolate-you can use white

milk, or dark

1

bag pretzel rods-about 24 rods

Toppings of your choice-candies

sprinkles, Oreos, nuts, etc.
Instructions
Line 2 baking sheet pans with parchment paper and set aside.

Prepare your toppings. We like to use crushed Oreos, M & M's, Heath bars, sprinkles, and chocolate to drizzle.

Bring a medium saucepan with 1 to 2-inches of water to a simmer. Set a metal or glass bowl with chocolate inside, on top of saucepan with water and stir until melted. This will take 3-4 minutes. When chocolate is melted, move bowl to work surface.

Working with one pretzel rod at a time, dip one end into chocolate and coat 2/3 of the way up. Working over the chocolate bowl, use a spoon to evenly coat pretzel rod and allow excess chocolate to fall back into the bowl. Hold pretzel rod over prepared sheet pan and sprinkle all sides with toppings of your choice. Transfer coated pretzel to second sheet pan to set up. If you want to drizzle pretzels with chocolate, melt a small amount of chocolate in the microwave and drizzle over dipped pretzel rods. If we are doing white pretzles, we drizzle with dark chocolate. If we are doing dark chocolate pretzels, we drizzle with white chocolate.

Continue with remaining pretzels. Let the pretzels set up on baking sheet until chocolate is dry and set up. Store in an air tight container or package them in bags for giving away. These make great gifts!
Have you tried this recipe?
Leave a comment below and share a photo on Instagram. Tag @twopeasandpod and hashtag it with #twopeasandtheirpod