jump to recipe
Cinnamon Streusel Baked French Toast Sticks
Cinnamon Streusel Baked French Toast Sticks-French toast sticks with a special cinnamon streusel topping! You are in for a real breakfast treat!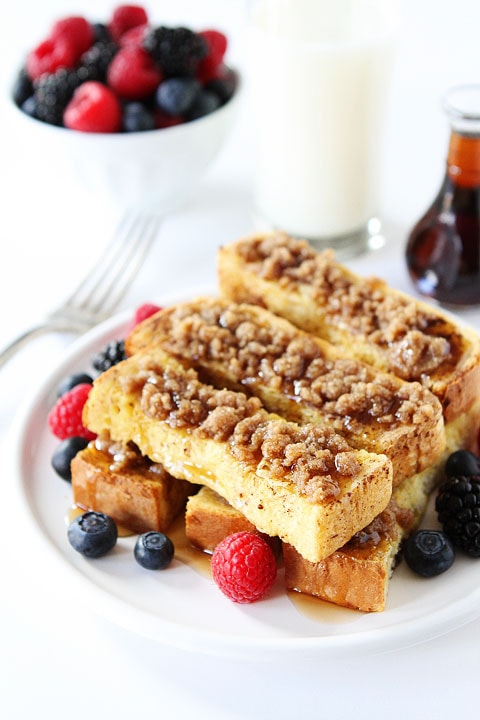 Our Cinnamon Streusel Pancakes are one of our all-time favorite breakfast treats. They are soooo good! I am normally a French toast kind of gal though. If we go out to eat for breakfast, I almost always order French toast. We don't make French toast a lot at home though. I don't know why…probably because Caleb always asks for pancakes and waffles.
I decided to switch things up last weekend and we made Cinnamon Streusel Baked French Toast Sticks. I combined our favorite pancakes with my favorite French toast. The result was epic!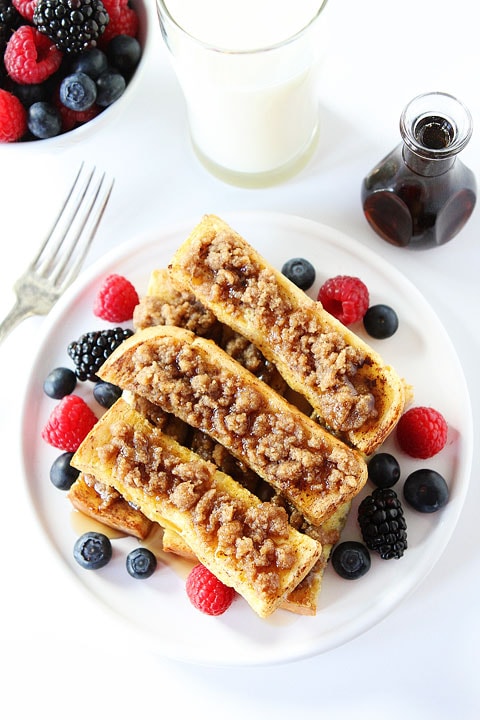 When I was in grade school, I remember our school cafeteria used to serve French toast sticks for lunch on occasion. I brought a brown bag lunch from home, but I was always jealous of my friends who had hot lunch on French toast stick day. Not only were they eating my favorite breakfast food, but in stick form. How cool!

OTHER RECIPES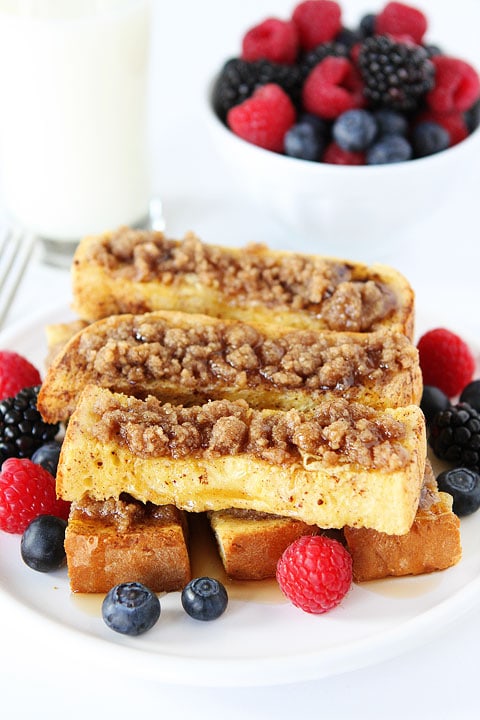 I am all grown up now, but I am not too grown up for French toast sticks. And I am sure my French toast sticks are WAY better than my school's cafeteria….especially with the cinnamon streusel topping.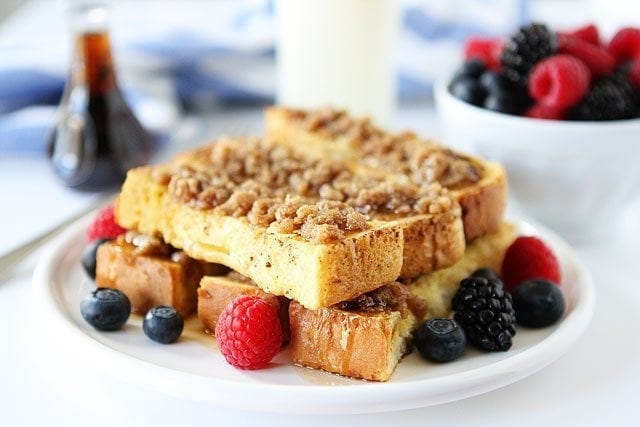 To make the French toast sticks, I cut Texas toast into three slices. You can use French bread or another thick bread, but I like using Texas toast for French toast sticks. I dipped the bread sticks into an egg/milk mixture that had a hint of vanilla and cinnamon.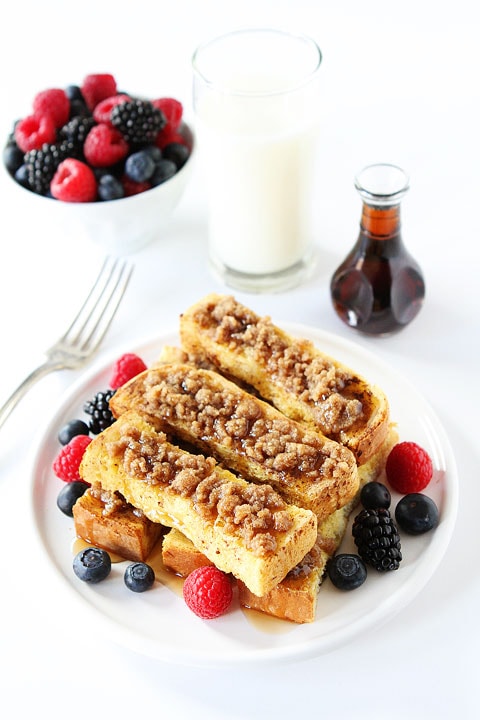 I put the French toast sticks on a baking sheet and baked them for 9 minutes. I took them out of the oven, flipped them over, and added the glorious cinnamon streusel topping. I put them back in the oven and baked them until they were golden brown and the cinnamon streusel topping was set. It sticks right to the top of the French toast sticks.
You can dunk the Cinnamon Streusel Baked French Toast Sticks in maple syrup if you are a kid at heart or you can drizzle them with maple syrup. Either way, they are delicious! And they are so sweet you really don't need maple syrup, but why not?
The next time you want to make a special breakfast treat, make Cinnamon Streusel Baked French Toast Sticks. They kind of taste similar to Baked French Toast, but you don't have to prepare them the night before. They are super simple to make!
I am sure we will be eating French toast more often at our house. I think Caleb will be requesting Cinnamon Streusel Baked French Toast sticks from now on! I am ok with that:)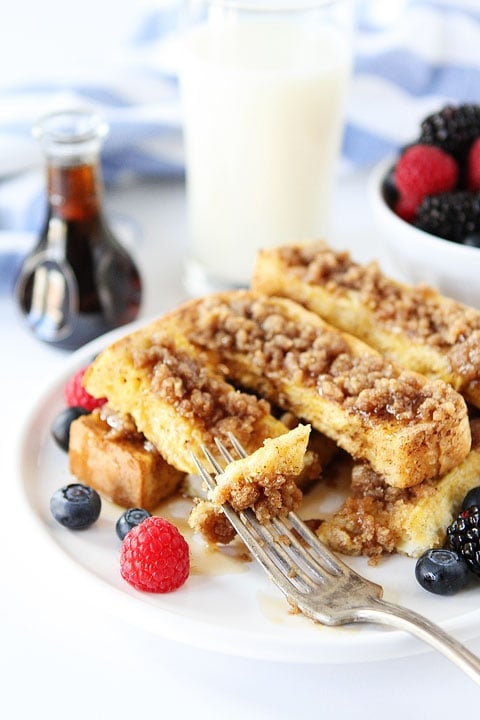 Cinnamon Streusel Baked French Toast Sticks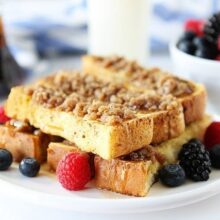 French toast sticks with a special cinnamon streusel topping! Kids and adults will love this breakfast treat!
Yield: 12 French Toast Sticks
Prep Time: 10 minutes
Cook Time: 20 minutes
Total Time: 30 minutes
Ingredients:
For the French Toast Sticks:
4 slices Texas Toast (or French bread)
3 large eggs
1/2 cup milk
1 teaspoon vanilla
1/2 teaspoon ground cinnamon
For the Cinnamon Streusel:
1/4 cup all-purpose flour
1/4 cup brown sugar, packed
1/2 teaspoon ground cinnamon
3 tablespoons cold unsalted butter, cut into chunks
Directions:
Preheat oven to 350 degrees F. Line a large baking sheet with a Silpat baking mat or spray with non-stick cooking spray. Set aside. Cut bread slices into thirds then set aside.
Cut the bread slices into 3 sticks. In a large shallow dish, whisk together eggs, milk, vanilla, and cinnamon. Dunk bread sticks into batter, let excess drip off, then place onto prepared baking sheet. Bake for 9 minutes.
While the French Toast Sticks are baking, make the cinnamon streusel. In a medium bowl, combine flour, brown sugar, cinnamon, and butter. Mix together with your hands or a fork, until you have a crumbly mixture.
Remove French Toast Sticks after the 9 minutes. Flip the sticks over and sprinkle the cinnamon streusel over the sticks. Place the pan back in the oven and bake for another 9-10 minutes, or until sticks are golden and streusel is set. Remove from the oven and serve warm, with syrup, if desired.
All images and text ©
.
Follow twopeasandpod on Instagram and show us what recipes you are making from our blog! Use the hashtag #twopeasandtheirpod! We want to see what you are making in your kitchen!