Quick Summary
Coconut Macaroons-chewy on the inside and slightly crisp on the outside, this macaroon recipe is perfection! The cookies are bursting with coconut flavor and SO good dipped in chocolate. Bonus, they are gluten-free too!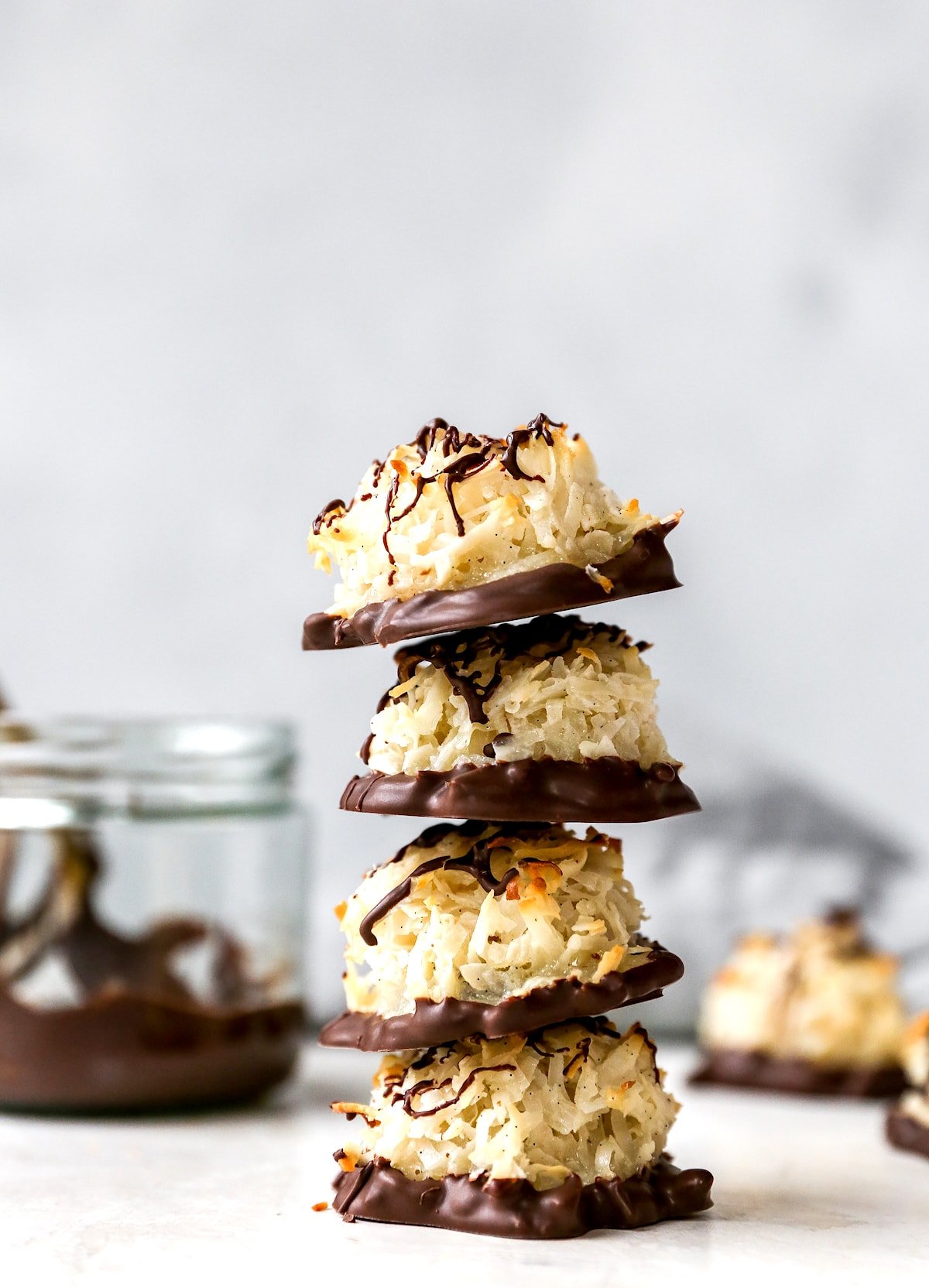 If you like coconut, you are in for a real treat! These Coconut Macaroons are the ultimate coconut dessert, a true classic! We love making these coconut cookies for Passover, Easter, Christmas…really anytime of the year.
The macaroons are soft and chewy on the inside and slightly crisp on the outside, just like a macaroon should be! They are good on their own, but I recommend adding a chocolate to the mix! Give them a little dunk in chocolate and a sweet drizzle and you will be in macaroon heaven!
You are going to love these classic cookies!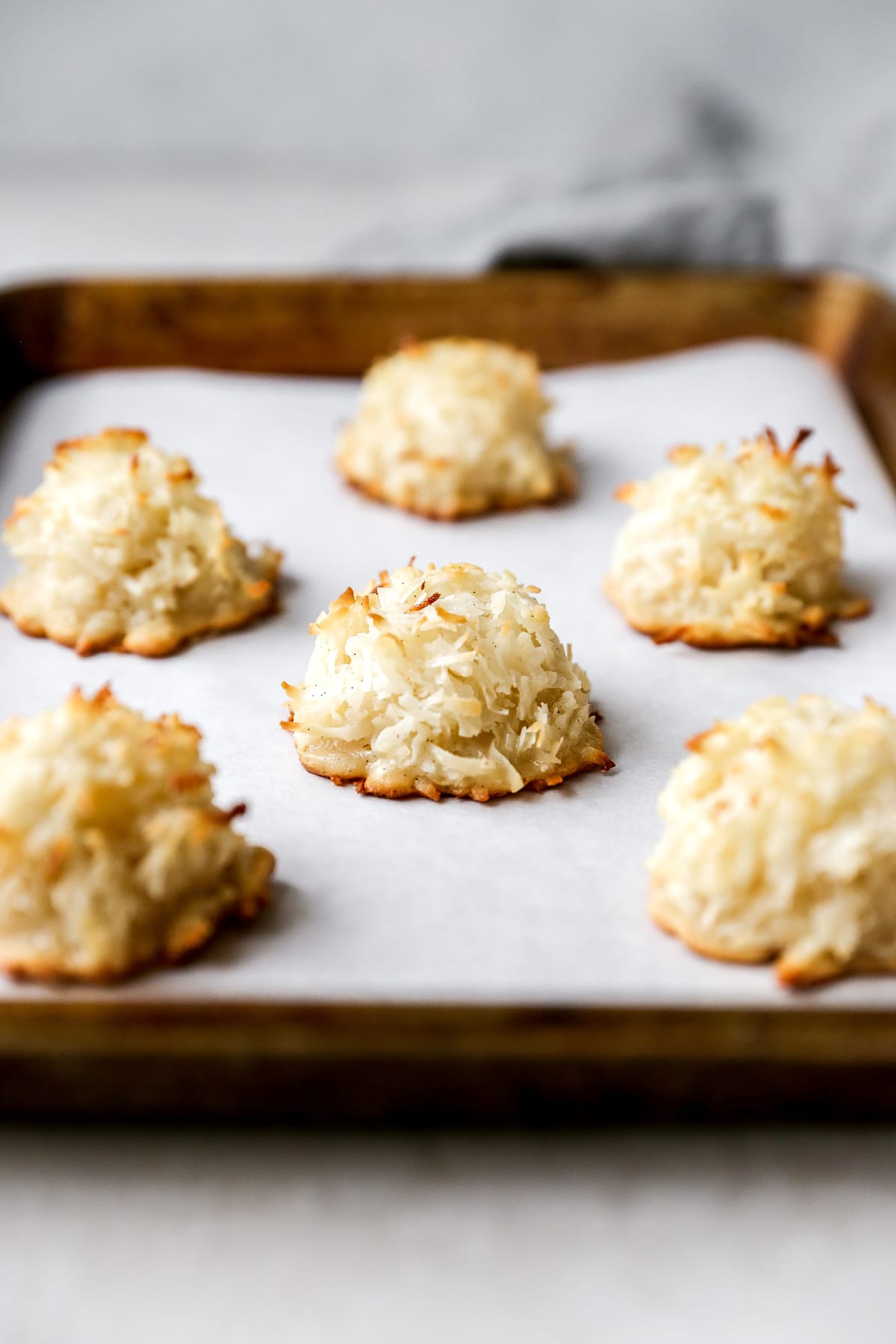 What is the difference between Macarons and Macaroons?
Macarons and Macaroons are very different treats! Yes, they are spelled almost the same, but that is the only thing they have in common.
MACARON: this is a meringue-based cookie. They're small, round, and come in different colors with a ganache or buttercream frosting. Macarons are pretty difficult to make and require lots of patience! It's pronounced mack-ah-ROHN, rhyming with prawn.
MACAROON: this is what we're making today! It's a coconut-based cookie that comes together in just a couple minutes. Anyone can make tasty macaroons! This one is pronounces mack-a-ROON, rhyming with spoon.
Gluten-Free Cookies
One of the many perks of these yummy coconut macaroons is that they're gluten-free. No fancy substitutions needed, that's just the way they're made! So if you know someone who's avoiding gluten, this is the recipe for them. And BONUS if they love coconut! They are also the perfect treat for Passover because their is no flour involved.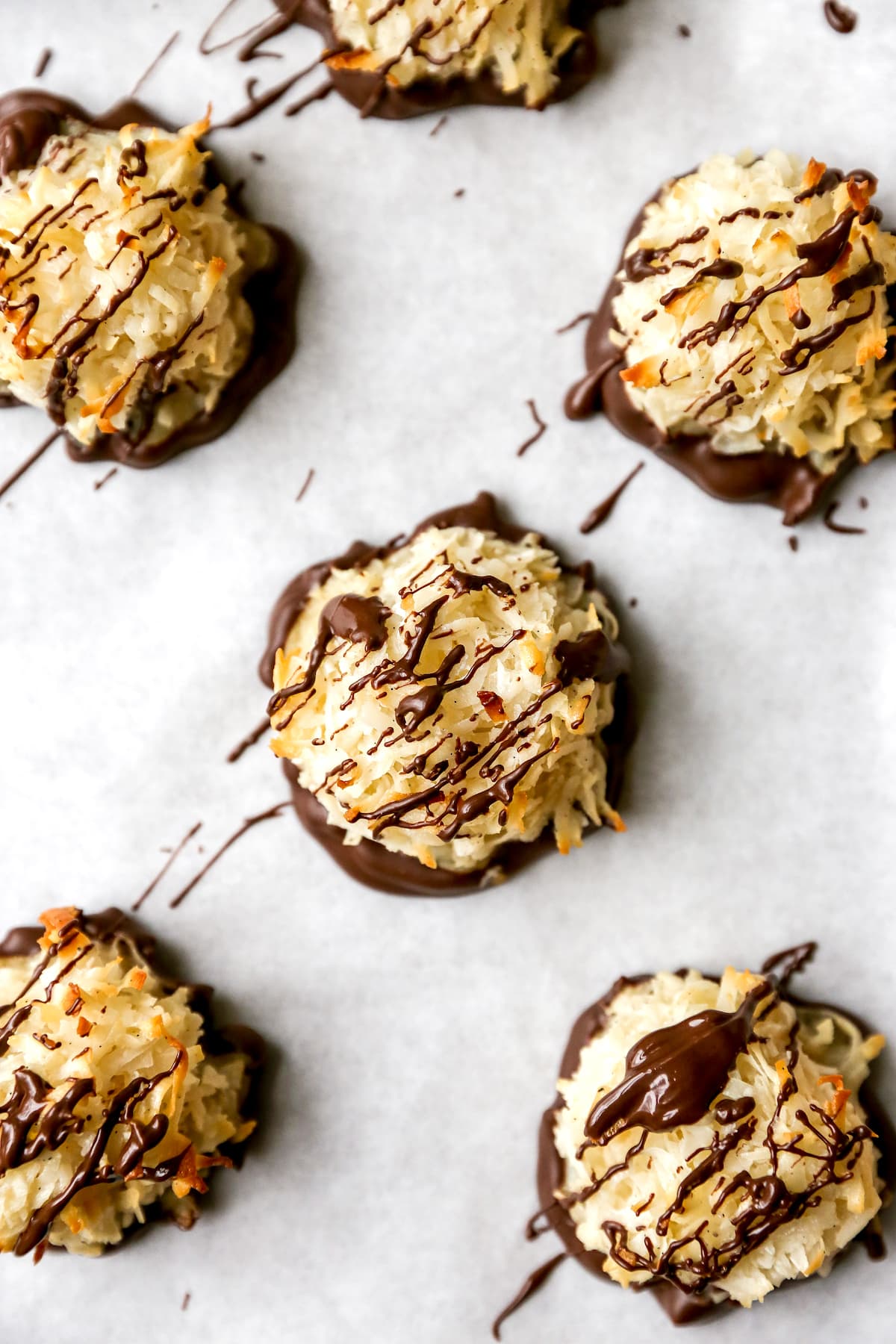 Ingredients
For such a tasty treat, this is a surprisingly short ingredient list! It's also mostly pantry staples. I love it when that happens!
Sweetened condensed milk– look for sweetened condensed milk in the baking aisle. It has a thick, rich, and creamy texture and is very sweet. It is NOT the same as evaporated milk.
Egg white– you don't need the yolk for this cookie recipe.
Vanilla extract– I always use pure vanilla extract.
Salt– to enhance the flavors.
Coconut flakes– I use sweetened shredded coconut.
Chocolate– I like to dip the macaroons in chocolate, but you can enjoy them plain. For dipping, use the highest quality chocolate you can–it makes a difference! We LOVE dark chocolate or semi-sweet chocolate with these macaroons.
How to Make Coconut Macaroons
These cookies are super easy to make! The dough is gooey, and not like your typical cookie dough though. Just a heads up:)
Get all prepped by preheating your oven (325 degrees F) and lining two baking sheets with a Silpat baking mat or parchment paper.
I like to use a large mixing bowl because this dough is so sticky, I don't want it spilling over! Combine the sweetened condensed milk, egg white, vanilla, and salt and give it a good mix. Add the coconut in last.
Start scooping out dough! You'll want each macaroon to have about 2 tablespoons of dough, and give them 2 inches in between one another on the pan.
Use your hands to form them into mounds with a peak at the top. This is sticky, sticky business. You may need to wash or rinse your hands in between forming cookies!
Bake the macaroons until they turn a golden brown. I love the smell of toasted coconut, so these are like heaven in my oven!
Let the cookies cool until they're firm and set on the baking sheet. This will only take about 5 minutes, and then you can move them onto a cooling rack.
Now the chocolate! Melt the chocolate chunks or chips in a microwave safe bowl, stirring every 20 seconds until it's smooth and melted. You could also do this using a double broiler on the stove.
Use a large sheet of parchment paper to keep things from sticking. Dip the cookies into the chocolate until just the bottoms are covered, then set them onto the parchment paper to dry.
If you have extra chocolate, drizzle it over the tops of the cookies!
How to Store
Place cooled coconut macaroons in an air tight container and store on the counter for up to 4 days. They will keep in the refrigerator for up to 2 weeks.
You can also freeze the cookies in a freezer container for up to 3 months. In an airtight container, layer the macaroons between pieces of parchment paper so they don't stick together. Thaw on the counter before serving.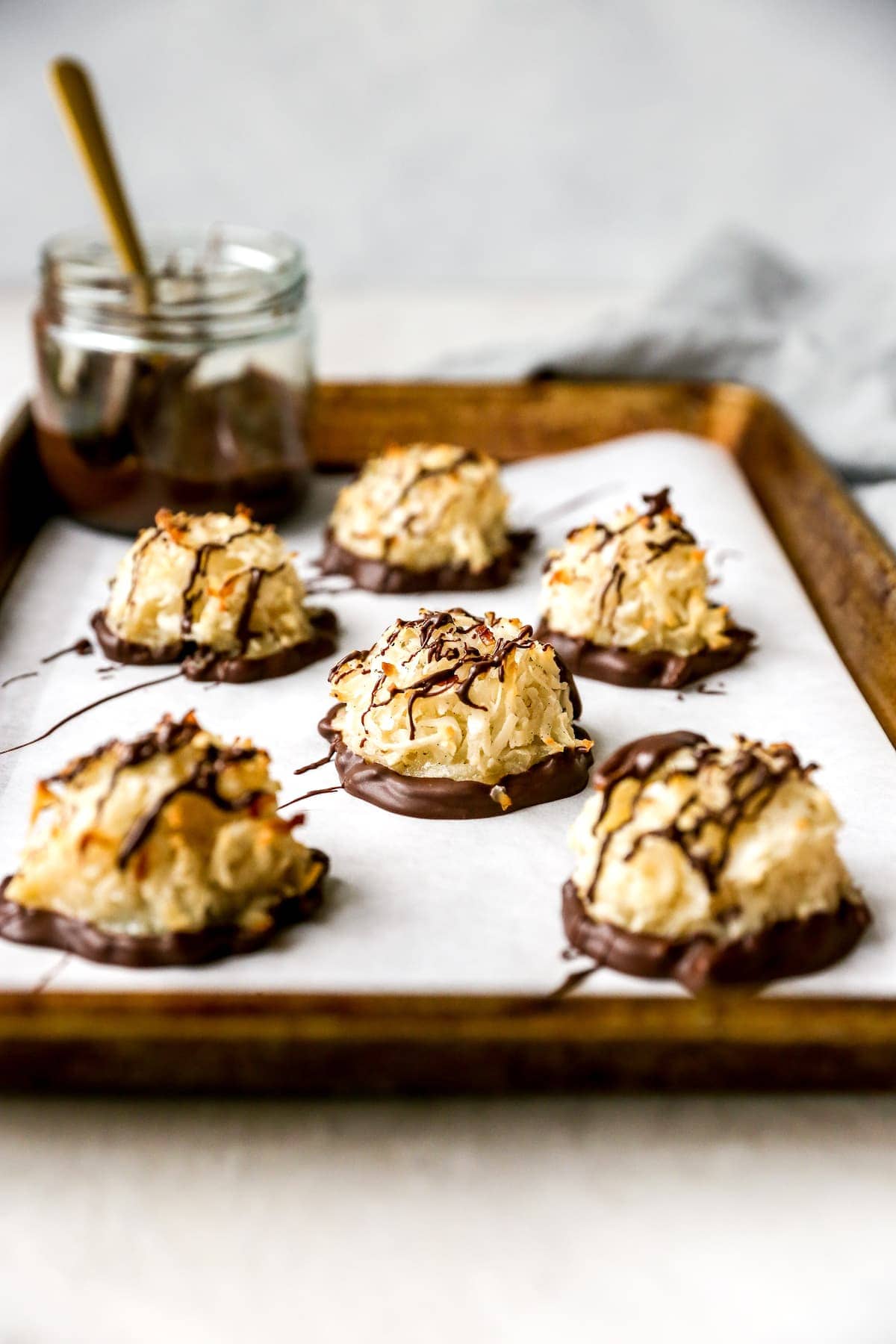 FAQ
Why are my coconut macaroons dry?
Make sure you use fresh coconut and don't over-bake the macaroons. Every oven is different so if it is your first time baking them, I recommend checking at 15 minutes to be safe.
Are coconut macaroons gluten-free?
Yes, they are a flourless cookie. If you are dipping them in chocolate, make sure you use a gluten-free chocolate.
Why did my coconut macaroons spread?
Macaroons will spread a little when baking, but not a lot. If your macaroons are spreading too much, the coconut mixture might be too warm. You can try chilling the mixture for 20-30 minutes before baking. Also, make sure you don't add too much sweetened condensed milk.
More Cookie Recipes
Find all of my cookie recipes HERE!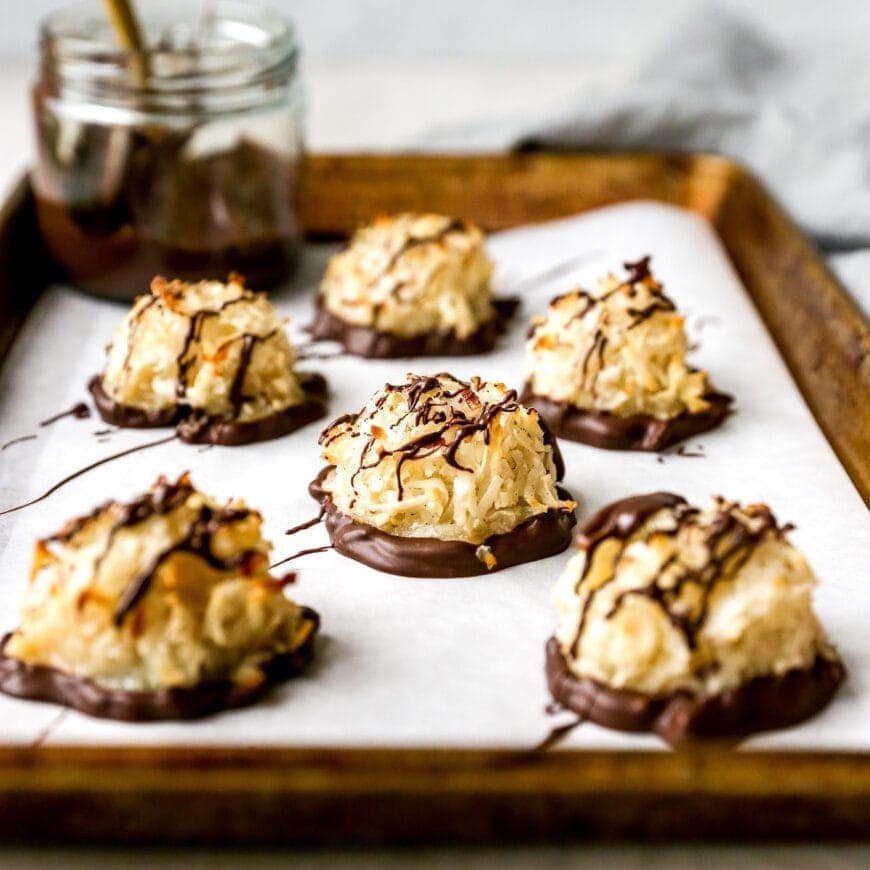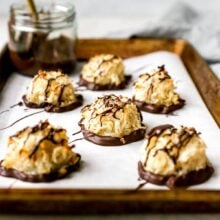 Coconut Macaroons
Chewy on the inside and slightly crisp on the outside, these macaroons are perfection! They are bursting with coconut flavor and SO good dipped in chocolate. Bonus, they are gluten-free too!
Ingredients
2/3

cup

sweetened condensed milk

1

large egg white

1 1/2

teaspoons

vanilla extract

1/8

teaspoon

salt

3 1/2

cups

sweetened coconut flakes

12

ounces

chopped chocolate,

for dipping cookies
Instructions
Preheat the oven to 325°F. Line two baking sheets with parchment paper or a Silpat mat.

In a large bowl, stir together the sweetened condensed milk, egg white, vanilla extract, and salt. Stir until combined. Add in the coconut and mix well.

With a spoon, scoop up about 2 Tablespoons of the dough and place the dough balls on the baking sheets-about 2 inches apart. Form the cookies into mounds that have a peak at the top. Use your hands-squeeze the dough together and create a point at the top. Your hands will get sticky-you may need to wash them in between forming cookies.

Bake cookies one sheet at a time for 15 to 20 minutes. The cookies will turn golden brown and will set up. You want the coconut to be toasted on the top and bottom.

Cool the cookies on the baking sheets for about 5 minutes or until they are firm and set. Remove with a spatula onto a cooling rack.

Melt chocolate in a microwave safe bowl. Make sure you keep stirring the chocolate every 20 seconds or so until chocolate is melted and smooth. You can also use a double broiler on the stove to melt the chocolate.

Lay out a large piece of parchment paper. Dip the cookies into the chocolate-just so the bottoms are covered in chocolates. Set dipped cookies on the paper to dry. Dip all of the cookies. If you have extra chocolate drizzle the tops with chocolate, if desired.

Let the cookies sit until the chocolate is set. Enjoy!
Nutrition
Calories:
223
kcal
,
Carbohydrates:
25
g
,
Protein:
3
g
,
Fat:
13
g
,
Saturated Fat:
9
g
,
Cholesterol:
5
mg
,
Sodium:
82
mg
,
Potassium:
212
mg
,
Fiber:
3
g
,
Sugar:
19
g
,
Vitamin A:
40
IU
,
Vitamin C:
1
mg
,
Calcium:
46
mg
,
Iron:
1
mg
Have you tried this recipe?
Leave a comment below and share a photo on Instagram. Tag @twopeasandpod and hashtag it with #twopeasandtheirpod