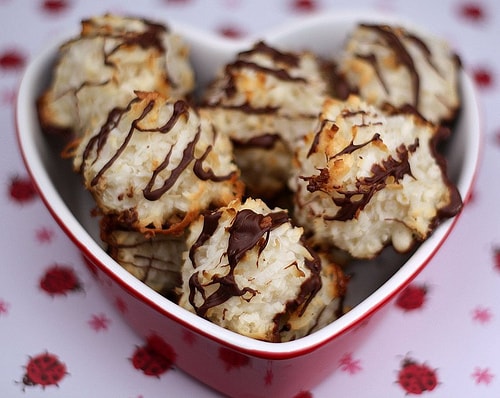 I often get asked if Josh really helps in the kitchen, YES, he does. We are a great team and love cooking/baking together. I couldn't do this blog without him.
To show off Josh's culinary skills, I am posting HIS coconut macaroons today. I had nothing to do with these cookies-well I ate them, but that was all the help he got from me. He baked these all by his lonesome and they were fabulous!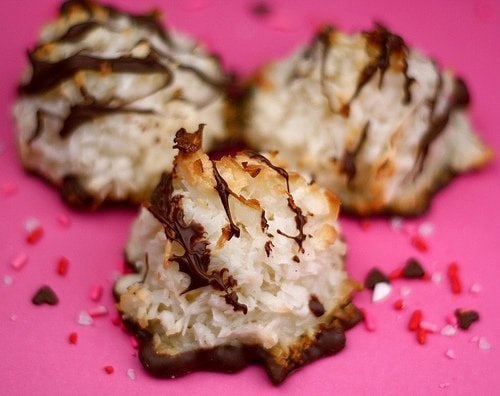 Josh didn't need the Kitchen Aid mixer for this recipe. He whipped up everything in a bowl-the old fashion way. The cookies came together in no time. He had fun getting his hands dirty with this recipe. The coconut dough is a sticky mess, but a fun one!
After the cookies cooled, he dipped them in chocolate. I would recommend using a higher quality of chocolate for dipping. If you like milk chocolate you can go that route, we prefer things a little darker though:) He had extra chocolate after dipping, so he drizzled the cookies with chocolate too.
The coconut cookies were sweet and chewy and the chocolate made them even better. They were pretty too:) I think you should hint to your sweetheart to make these cookies for you on Valentine's Day. I know I am going to ask Josh to make them again:)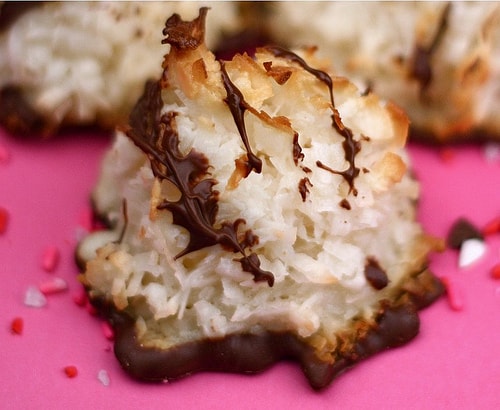 Coconut Macaroons Dipped in Chocolate
These easy coconut macaroons get dipped in chocolate! They are a fun cookie to make and eat!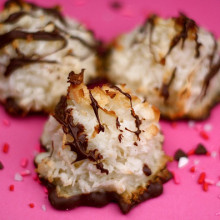 Prep Time

5

minutes
Total Time

25

minutes
Servings

18 macaroons
Ingredients
2/3

cup

sweetened condensed milk

1

large egg white

1 ½

teaspoons

vanilla extract

1/8

teaspoon

salt

3 ½

cups

sweetened coconut

10

ounces

chopped chocolate

for dipping cookies
Instructions
Preheat the oven to 325°F. Line two baking sheets with parchment paper or a Silpat mat.

In a large bowl, stir together the sweetened condensed milk, egg white, vanilla extract, and salt. Stir until combined. Add in the coconut and mix well.

With a spoon, scoop up about 2 Tablespoons of the dough and place the dough balls on the baking sheets-about 2 inches apart. Form the cookies into mounds that have a peak at the top. Use your hands-squeeze the dough together and create a point at the top. Your hands will get sticky-you may need to wash them in between forming cookies.

Bake cookies one sheet at a time for 15 to 20 minutes. The cookies will turn golden brown.

Cool the cookies on the baking sheets for about 5 minutes or until they are firm and set. Remove with a spatula onto a cooling rack.

Melt chocolate in a microwave safe bowl. Make sure you keep stirring the chocolate every 20 seconds or so until chocolate is melted and smooth. You can melt the chocolate in a bowl over a pan of boiling water if you wish. Josh did it in the microwave though.

Lay out a large piece of parchment paper. Dip the cookies into the chocolate-just so the bottoms are covered in chocolates. Set dipped cookies on the paper to dry. Dip all of the cookies. If you have extra chocolate drizzle the tops with chocolate for fun:)

Let the cookies sit until the chocolate has dried. Enjoy!
If you like these cookies, you might also like:
Coconut Oatmeal Chocolate Chip Cookies from Two Peas and Their Pod
Coconut Chocolate Blondies from Two Peas and Their Pod
Coconut, Pecan, Chocolate Chip Cookies from My Baking Addiction
No Bake Chocolate, Chocolate and Coconut Cookies from For the Love of Cooking