Creamy Tomato Tortellini Soup
Creamy Tomato Tortellini Soup – we love this simple and delicious tortellini soup! A classic tomato soup turned up a notch by adding delicious cheese tortellini and served with crusty bread.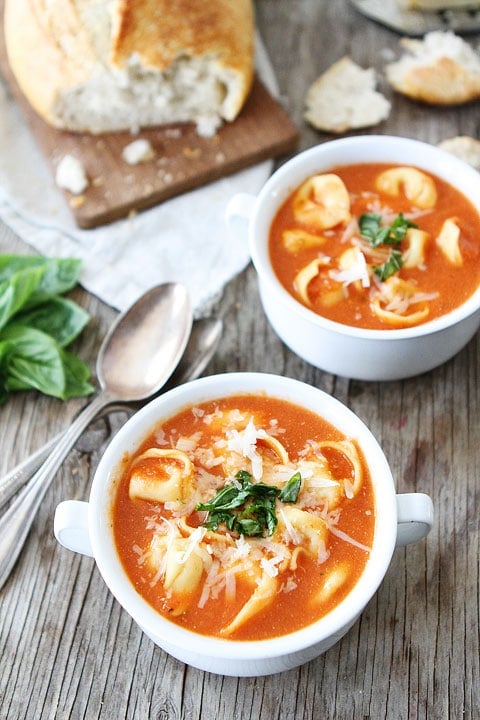 Tortellini Soup Turns up the Heat for V-Day
Yesterday Josh asked me if I wanted to go out to dinner on Valentine's Day. I think he knew the answer before he even asked. I occasionally like going out to dinner with my husband but NOT on Valentine's Day. I would rather stay home in my pj's. I know Josh would rather stay home too, so it was sweet of him to ask. It's the thought that counts:)
Instead of going out for Valentine's Day, we are going to enjoy dinner at home, as a family. Josh offered to make dinner…and I will let him do that:) He suggested Creamy Tomato Tortellini Soup and Caprese Garlic Bread. He knows I am all about carbs these day so his menu sounded perfect! And I know Caleb will approve too. He loves our Creamy Tomato Tortellini Soup.

OTHER RECIPES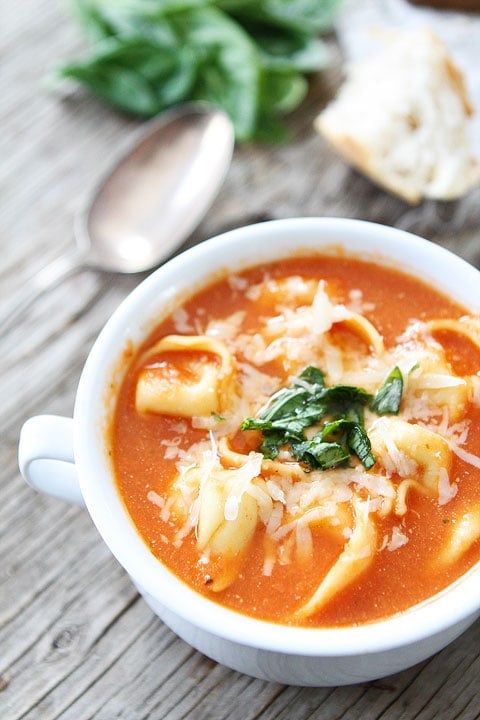 Tomato soup has always been my favorite. You can't go wrong with a classic. We kicked the classic tomato soup up a notch by adding cheese tortellini! We love tortellini soup and the cheese tortellini goes perfectly with the creamy tomato soup!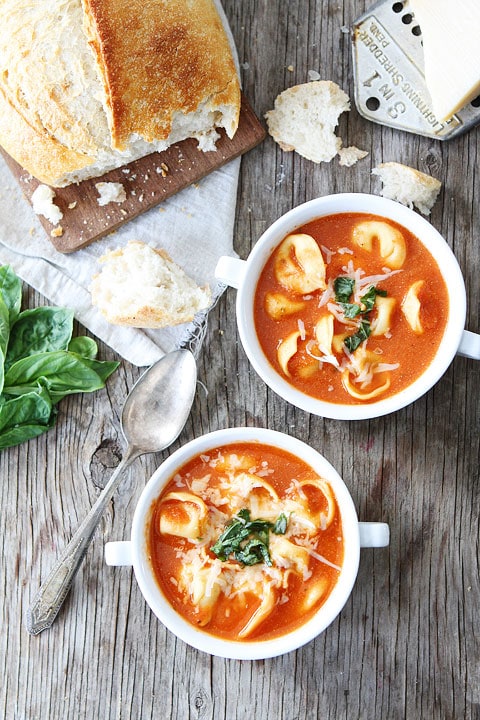 Creamy Tortellini Soup without the Cream
You will think this soup is loaded with heavy cream because it is so creamy and so good, but Greek yogurt is the secret ingredient to this creamy tortellini soup. The Greek yogurt makes the soup super creamy without adding all of the fat and calories!
I like to add fresh basil and shredded Parmesan cheese to my bowl of warm tortellini soup! They are the perfect finishing touches to this easy soup!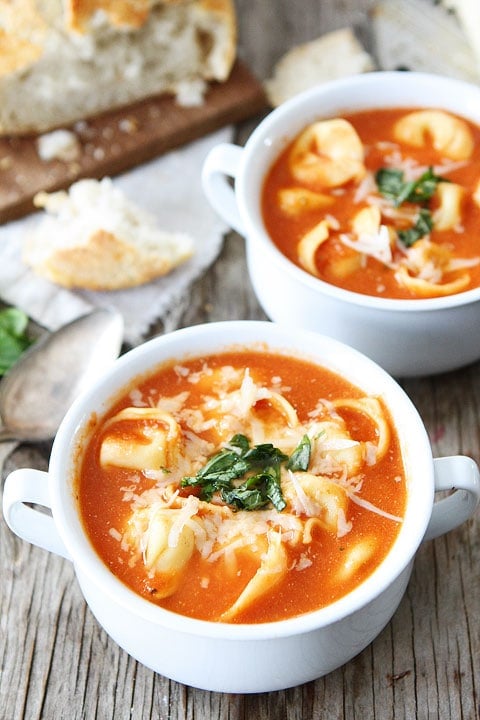 Easy Tortellini Soup
This Creamy Tomato Tortellini Soup is super simple to make and a hit with our entire family. I am craving this soup now, I don't know if I can wait until Valentine's Day! Hurry up Friday!
Our Valentine's Day won't be fancy, but we will enjoy our special dinner at home as a family! And there will be dessert involved too. I am trying to decide if I want my favorite Chocolate Sour Cream Bundt Cake or Flourless Chocolate Cookies. Decisions, decisions:)
If you are having Valentine's dinner at home, make Creamy Tomato Tortellini Soup. You will be glad you stayed home!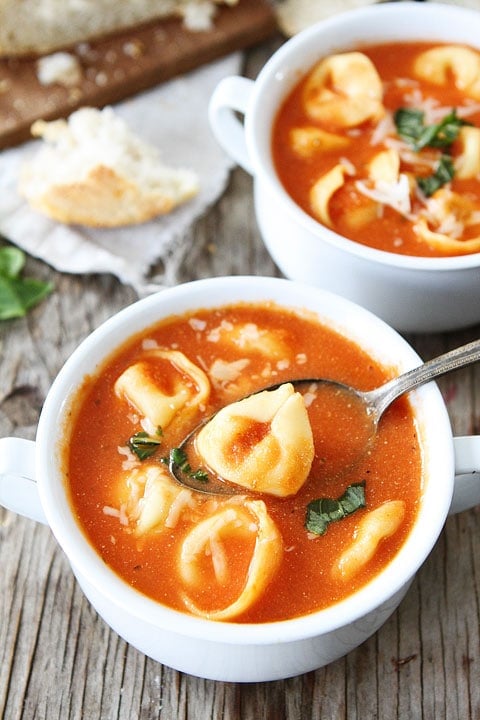 Creamy Tomato Tortellini Soup
Creamy tomato soup with cheese tortellini! You will think this soup is made with heavy cream, but the secret is Greek yogurt! We love this simple soup!
Yield: Serves 6-8
Prep Time: 5 minutes
Cook Time: 30 minutes
Total Time: 35 minutes
Ingredients:
1 tablespoon olive oil
1/2 cup chopped onion
3 cloves garlic, minced
2 bay leaves
Dash of crushed red pepper flakes
2 (28 oz) cans diced tomatoes
1 (32 oz) container vegetable broth
1/4 cup chopped fresh basil
Salt and freshly ground black pepper, to taste
1/2 cup plain Greek yogurt, at room temperature
2 (9 oz) packages fresh or frozen cheese tortellini
Grated Parmesan cheese and fresh basil, for garnish, optional
Directions:
In a large pot, heat the olive oil over medium heat. Add the onion and garlic and cook until tender, about 5 minutes. Stir in the bay leaves and crushed red pepper flakes.
Add the diced tomatoes and vegetable broth. Stir in fresh basil and season with salt and black pepper, to taste. Simmer on low for 15 minutes.
Remove the bay leaves from the pot. Use a hand immersion blender to blend the soup (or carefully transfer soup to a blender to blend and return to the pot). Stir in the Greek yogurt until well combined. Stir in the cheese tortellini and cook on medium-low until tortellini is cooked, about 7-8 minutes. Serve warm.
All images and text ©
.
Follow twopeasandpod on Instagram and show us what recipes you are making from our blog! Use the hashtag #twopeasandtheirpod! We want to see what you are making in your kitchen!