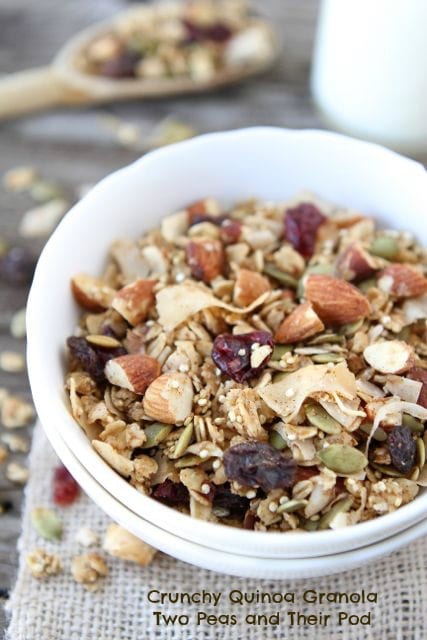 On Saturday morning Josh woke up early to play basketball with some of his neighborhood buddies. Caleb was sound asleep so I hopped on our elliptical downstairs. Caleb was still sleeping when I finished my workout, so I took advantage of the quiet house. I made a cup of tea and was going to enjoy a yogurt with granola, but our granola jar was empty. Boo!
So instead of sitting down to a peaceful breakfast, I made a batch of Crunchy Quinoa Granola. I love making homemade granola, so I wasn't too disappointed we were out. I love starting my day in the kitchen.

I am obsessed with homemade granola and love creating new recipes. A few of my favorites include: Coconut Granola, Apple Cinnamon Granola, and Pumpkin Granola. I have been on a quinoa kick lately. Ok, the kick has lasted over a year now, I never get tired of quinoa. I decided to create a quinoa granola and I am so glad I did. This Crunchy Quinoa Granola is definitely a new favorite.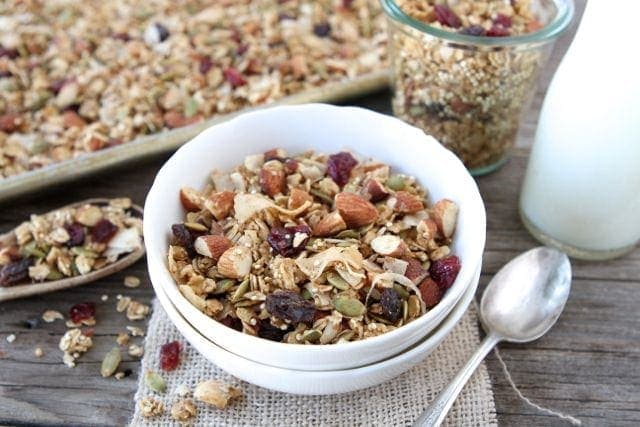 You don't have to cook the quinoa for this granola recipe, just rinse it under cold water and drain it really well. I combined the quinoa with oats, almonds, pepitas, shaved coconut, brown sugar, cinnamon and salt. In a small bowl, I whisked together applesauce, honey, coconut oil, and vanilla extract. I mixed everything together in one big bowl and spread the granola onto a large baking sheet.
I put the pan in the oven, set the timer, and heard Caleb talking in his room. I went and scooped Caleb out of his crib and fed him breakfast while my breakfast was baking.
When the granola was done baking, I tossed in dried cranberries and raisins. I let the granola cool for a few minutes and then filled my bowl. I was ready to eat. I enjoyed my granola with Chobani plain yogurt. It was SO good. I don't know why I've waited this long to make quinoa granola. I love how crunchy it is!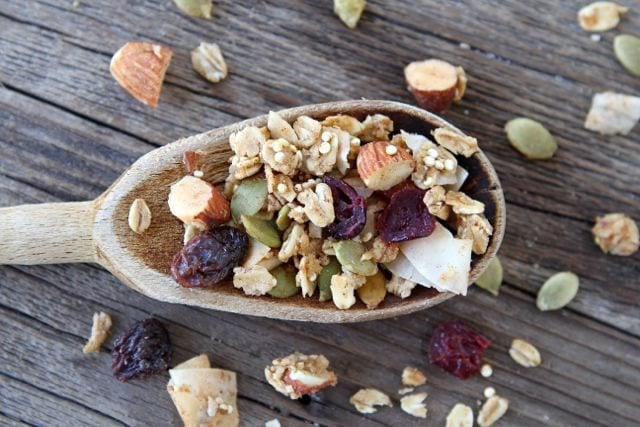 And when Josh got home he was excited because the house smelled so good. Unfortunately, I couldn't share my granola with him because he is allergic to nuts. Oops! I don't feel too bad though because he stopped at the store and bought a doughnut. The perfect post workout breakfast? I don't think so! My Crunchy Quinoa Granola is though! It is loaded with protein, fiber, and healthy fats!
I snacked on Crunchy Quinoa Granola all weekend long. I already need to make another batch. It is great with yogurt, a splash of cold milk, or eaten by the handful. Enjoy!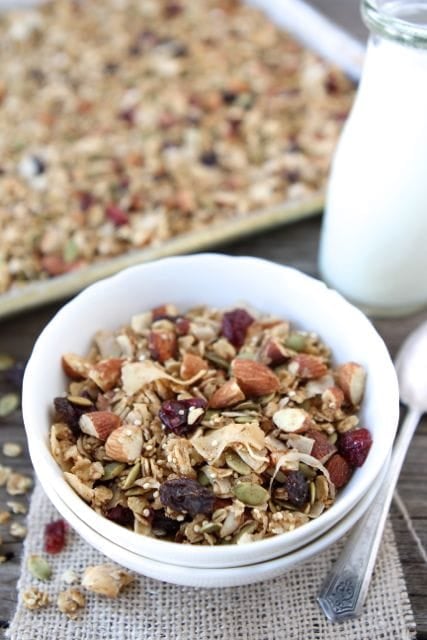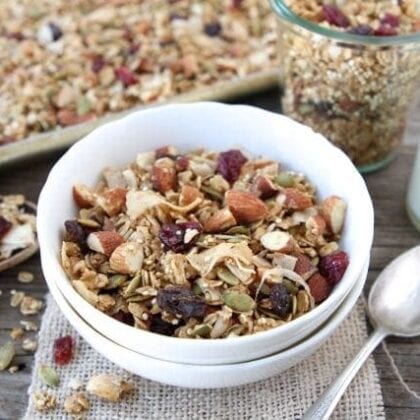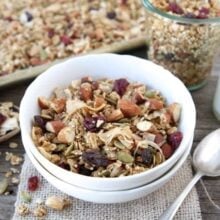 Crunchy Quinoa Granola
This healthy granola recipe is easy to make and the quinoa adds a nice crunch!
Instructions
1. Preheat the oven to 300 degrees F. Line a large baking sheet with a Silpat baking mat or parchment paper. Set aside.

2. Rinse the quinoa under cold water and drain well. In a large bowl, combine quinoa, oats, almonds, pepitas, shaved coconut, brown sugar, cinnamon, and salt.

3. In a small bowl, whisk together applesauce, honey, coconut oil, and vanilla extract. Pour the wet ingredients over the dry ingredients and stir until combined. Pour the granola onto the prepared baking sheet. Spread into an even layer. Bake for 30-40 minutes, or until granola is golden brown, stirring every 10 minutes or so.

4. Stir in the dried cranberries and raisins. Let granola cool completely. Store in an air-tight container for up to one month.

Note-to make the granola gluten-free, use gluten-free oats. To make the granola vegan, use agave instead of honey.
Have you tried this recipe?
Leave a comment below and share a photo on Instagram. Tag @twopeasandpod and hashtag it with #twopeasandtheirpod