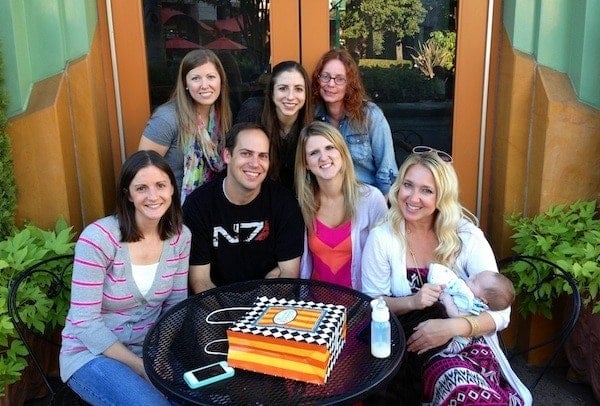 Last week we went to Disneyland for the first Banana Summit hosted by Dole Foods. We stayed at the Grand Californian Hotel, which is located right by Disneyland and Disney California Adventure Park.
Before the event started, we walked around Downtown Disney with Kevin and Amanda, Jenny and cute little Paxton, Lauren, Shaina, and Shari. We always love spending time with our blogging friends!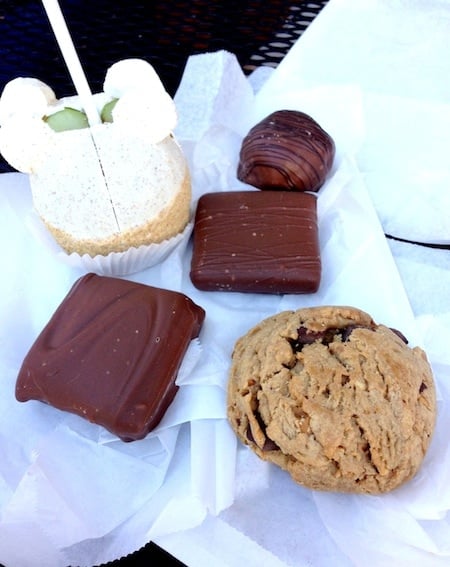 We knew we were going to be eating a lot of healthy bananas so of course we had to find some sweet treats at Disneyland:) Don't you love the Mickey Mouse caramel apple? Too cute! I loved the Chocolate Peanut Butter Graham Sandwich! Jenny has recreated Disney's favorite treat, check out her recipe! I know I will be making them soon!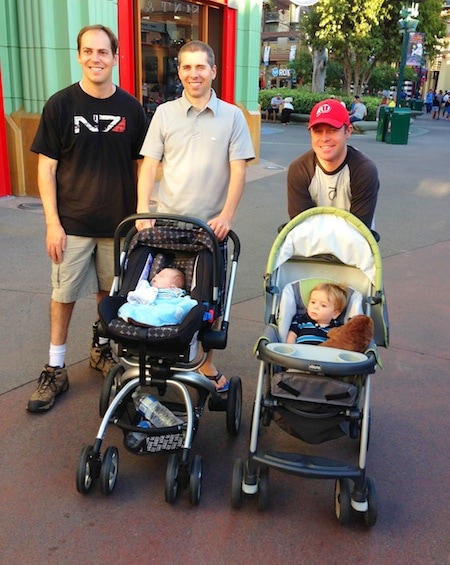 We are glad our husbands and little guys had a chance to hangout! Caleb and Paxton are buddies already:)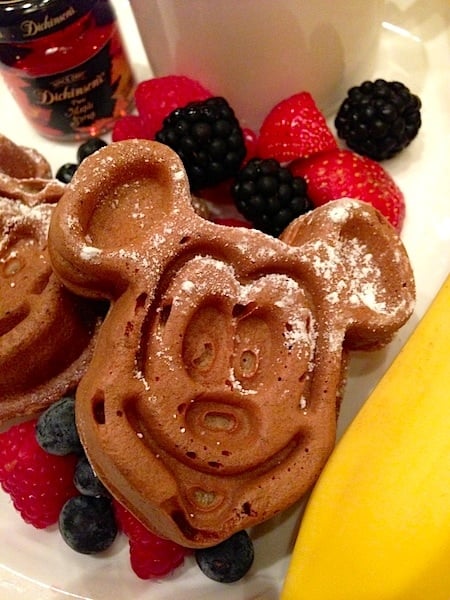 For breakfast, we had Banana Ginger Mickey waffles! Our Brown Butter Banana Waffles are one of our favorite waffle recipes, but I am going to try and recreate these Banana Ginger waffles soon. Although, I don't think they will taste as good since I don't have a Mickey Mouse waffle iron:)
We learned a lot about bananas at the Banana Summit. Did you know you can polish your shoes with a banana peel? Did you know it easier to peel a banana from the bottom up? That is how the monkeys do it! Just a few fun banana facts for you! Bananas are also the perfect energy snack for on the go! I always pack a banana in the diaper bag for Caleb and one for me! You never know when you will need a banana pick me up!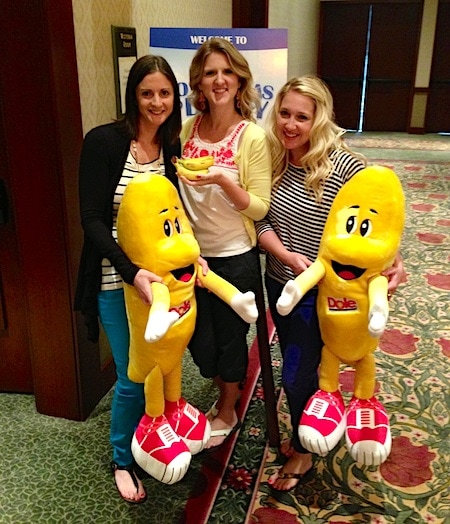 Dole gave each of us a big stuffed "Bobby Banana." Caleb had so much fun wrestling Bobby in our room. Bobby is his new best friend. And look at those cute little bananas Amanda is holding! They are the perfect size for Caleb. We also got to try mini raspberry bananas. They are sweet with a hint of raspberry. They are so good! I am going to hunt them down this week.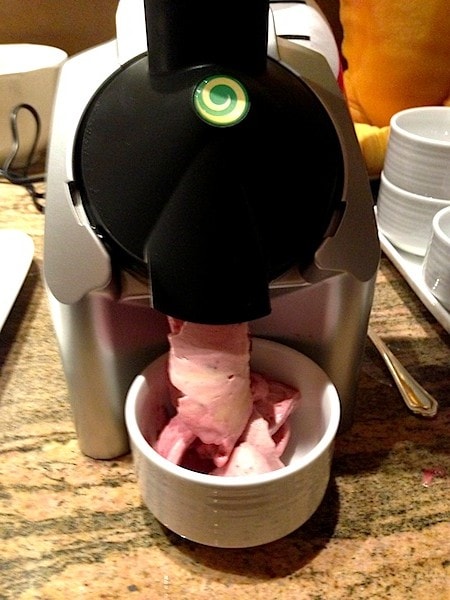 After lunch, we got make our own Yonanas treat! Have you seen a Yonanas machine? They are so cool and so easy to use. All you have to do is put frozen bananas, or any other frozen fruit you want, into the machine and it will make a creamy and dreamy frozen treat in minutes. I love that you don't have to add any sugar, eggs, or cream…but it tastes just like soft serve ice cream! I could easily eat a scoop of creamy frozen fruit every night for dessert! And Caleb loved it too! I gave him a bite:) Watch a Yonanas video here!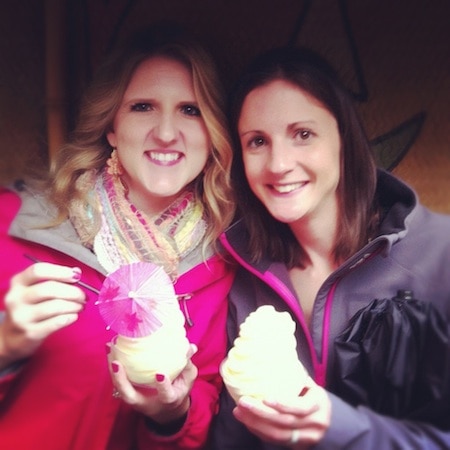 We also got the chance to try a famous Dole Whip and we went to the Enchanted Tiki Room! Caleb LOVED the Tiki Room! He went crazy for the talking birds.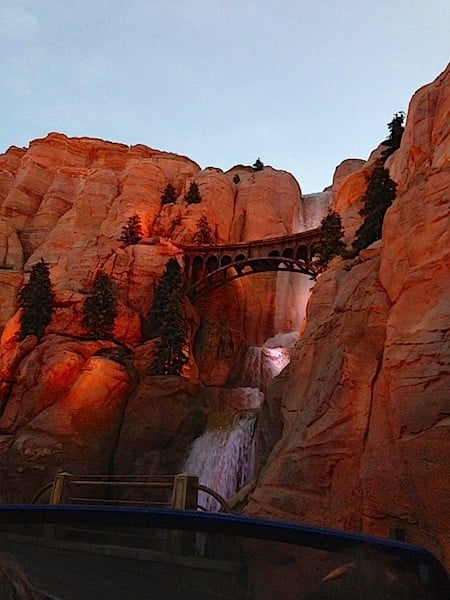 After the Tiki Room, we went on a special tour of the new Cars Land at Disneyland. It is amazing! I felt like we were all characters in the movie walking around the town.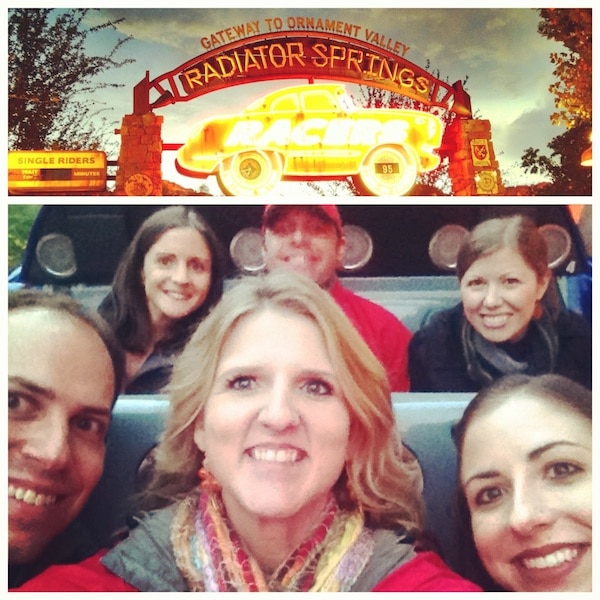 We also got to ride the Cars ride. It was so fun! Kevin, Amanda, and Shaina were in the front! Josh, Lauren and I held on tight in the back! Weeeeee!
We ended the event with a wonderful dinner at Carthay Circle Restaurant. The Carthay Circle Restaurant is located on the second floor of the iconic reproduction of the Cathay Circle Theatre. The atmosphere and food were fabulous! It was a fun night!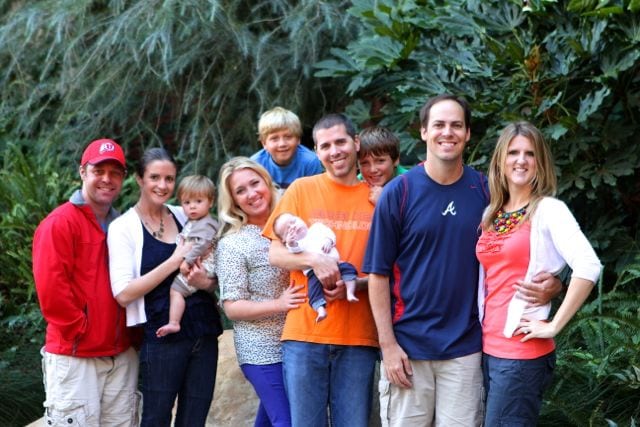 Before we left Disneyland, Amanda made sure we got a "family" photo! Thanks Amanda! We are one big happy family! Now, we all just need to live in the same state:)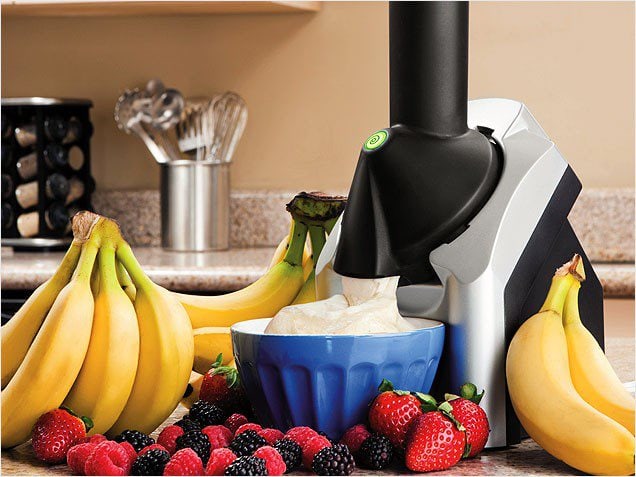 This giveaway is now closed! The winner is Ali (#86). Thanks to everyone who entered!
And now for a fun giveaway! Dole sent us home with our own Yonanas machine and good news, they also gave us one to giveaway to our readers! Yahoo!
To enter to win a Yonanas machine, leave a comment on this post telling us, "What is your favorite way to eat a banana?" Plain, in your cereal, banana bread, banana cookies, banana smoothie?
The giveaway is open until Friday, October 19th at 11:59 p.m. MST. The giveaway is only open to U.S. residents. Be sure a valid email address is included with your comment(s). Winner will be chosen randomly and announced on this post. We will email the winner and if the winner doesn't respond in 48 hours, a new winner will be chosen. Good luck!
Disclaimer: Dole paid for our travel and accommodations and is providing the Yonanas giveaway. All opinions expressed our own.