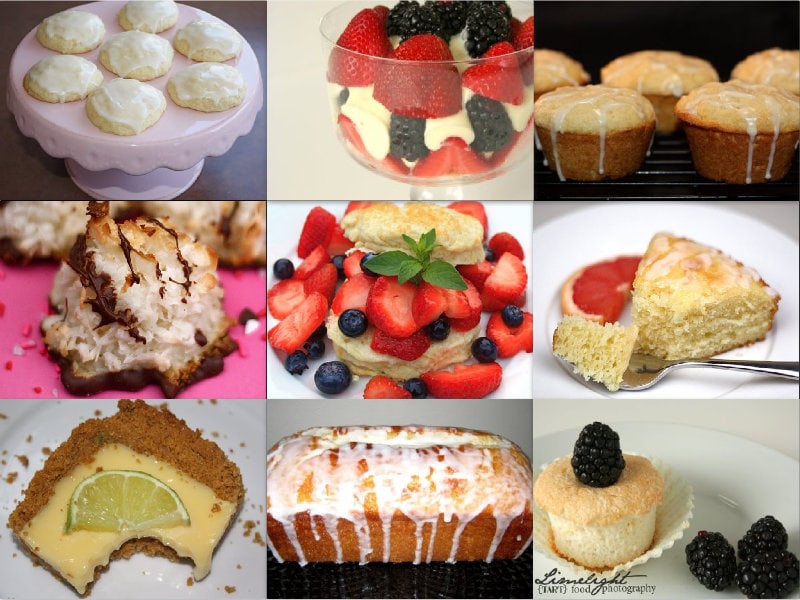 I am looking forward to Easter weekend, even though it is still cold in Utah. It snowed this week and not a light dusting either. I am talking thick, heavy snow. We had to shovel and scrape our cars…ok, Josh did all of the dirty work, but still. I was not happy. I am ready for SPRING! I hope it warms up soon.
We are talking Spring desserts today at Two Peas and Their Pod. If I can't have sunshine, I can at least enjoy spring sweets to help brighten my mood. If you are looking for an Easter or Spring dessert to WOW your family and friends with, here are a few suggestions:
(Starting at top left)
Lemon Buttermilk Cookies
Berry Trifle with Lemon Mousse
Lemon Ricotta Biscuits
Coconut Macaroons Dipped in Chocolate
Lemon Buttermilk Shortcakes with Berries
Pink Grapefruit Yogurt Cake
Lime Bars
Lemon Loaf Cake
Lemon Angel Food Cupcakes
I love them all! Josh requested the Lemon Loaf Cake for our Easter dessert. We are making Lemon Cottage Cheese Pancakes with Strawberries for brunch, so we will be on lemon overload, but I am ok with that:)
What dessert are you making this weekend?
Happy Easter to all who celebrate! I hope the sun is shining wherever you are.