Falafel, a popular middle Eastern Food, is easy to make at home and is so good served in fresh pita bread with pickled red onions and tahini sauce! You are going to Love this Easy Baked Falafel Recipe!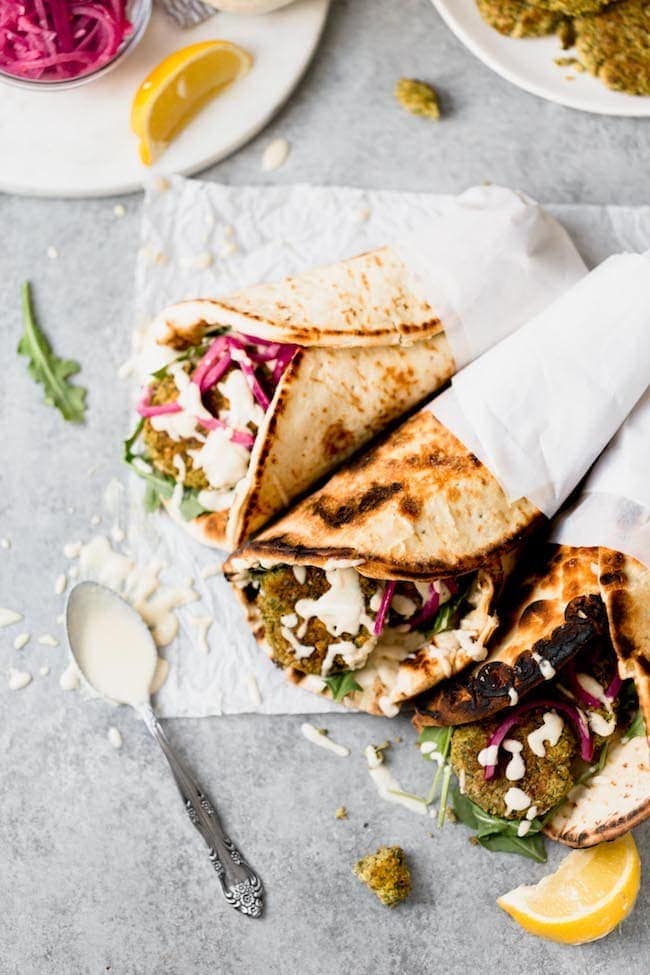 Falafel, go ahead and laugh, it is a funny word. Every time I order falafel at a restaurant my boys crack up, Josh included. Boys will be boys! But that doesn't stop me from ordering falafel when we go out to eat at a Middle Eastern restaurant. It is my favorite and I always order it because I was too intimidated to make it at home…until now!!
My friend Melissa just came out with a cookbook, The Minimalist Kitchen, and when I saw the falafel recipe in the book, I knew I had to try it. Melissa's falafel recipe is easy to make at home and her shortcuts don't affect the final result. The falafel is still perfection! YES!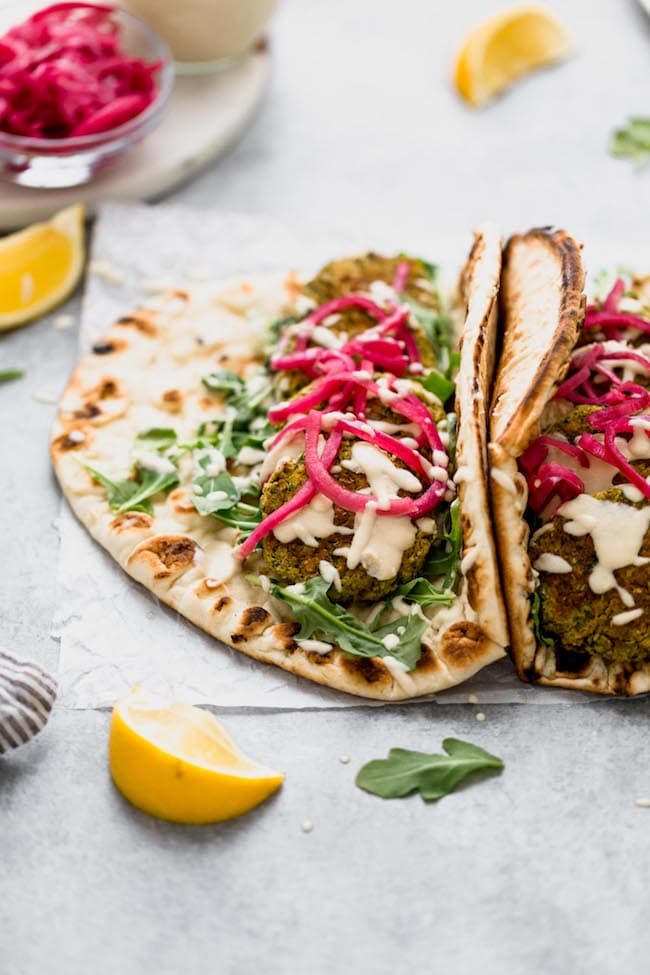 What is Falafel?
So let's talk about falafel, in case you haven't had it before. Falafel is a traditional Middle Eastern food that is made of ground chickpeas, herbs, garlic, and spices. You can also make falafel with ground fava beans, but I prefer the chickpea variety. Yes, the falafel balls are kind of green, but don't be scared. The herbs make them green and that is a good thing because they have a ton of flavor.
Falafel balls or patties are traditionally fried in oil, but this falafel is baked! Don't you worry, the falafel balls are still soft on the inside and crispy on the outside, I promise! I love that I don't have to smell like fried food or mess with splattering oil to make falafel. Plus, it's much healthier. It's a win-win!
How to Make Falafel
Chickpeas- Falafel is traditionally made with chickpeas that have been soaked and cooked, but I love this falafel recipe because it is made with canned chickpeas. We always have canned chickpeas in our pantry and the texture and flavor is still amazing with the canned chickpeas.
Herbs- Parsley is a MUST for falafel! This recipe also has cilantro, which I love. The fresh herbs give the falafel fantastic flavor.
Spices-The falafel patties are spiced with cumin, coriander, and cayenne pepper.
Garlic-Bring on the garlic! Garlic is a necessity for falafel.
Blend-You need a blender or food processor to make falafel. First, blend the oats until it is the consistency of flour. If you need the falafel to be gluten-free, use gluten-free oats. After the flour is blended, you can blend the chickpeas with the onion, garlic, and herbs. Combine with the oat flour and spices until you have a moist chickpe mixture.
Scoop-Use a 2 teaspoon-sized spring release scoop to form the patties. You an make the falafel mixture in advance and chill the mixture before scooping and baking.
Oil-Make sure you spray the patties generously with cooking oil spray so they crisp up in the oven.
Bake-Bake the falafel until crispy on the outside and still soft and moist on the inside.
Falafel will keep in the refrigerator for a few days, so this is a great recipe to meal prep. You can can also freeze uncooked falafel for up to two months. To freeze, place the patties on a baking sheet in the freezer for about 30 minutes or until hardened. Store in a freezer-safe ziplock bag. I like to freeze them unbaked so when you are ready to bake they are still super fresh! They bake up beautifully right from the freezer.
Falafel Video
How to Serve Falafel
You can enjoy falafel for lunch, dinner, as an appetizer or snack. Falafel is very satisfying and good served several ways.
Falafel is commonly served in pita bread, creating a sandwich. Top the falafel with mixed greens, pickled red onions, and tahini sauce. You can also add tzatziki sauce, which is SO good!
You can also make a falafel salad. Place the falafel on top of a bed of greens and add all of the toppings!
You can also serve falafel balls as an appetizer or snack. They are great with hummus, veggies, and pita bread.
I am so excited about this easy falafel recipe! I am going to make it all of the time! You should try it at home, I promise it is easy!
Make sure you check out The Minimalist Kitchen for more amazing recipes!
If you like this falafel recipe, you might also like: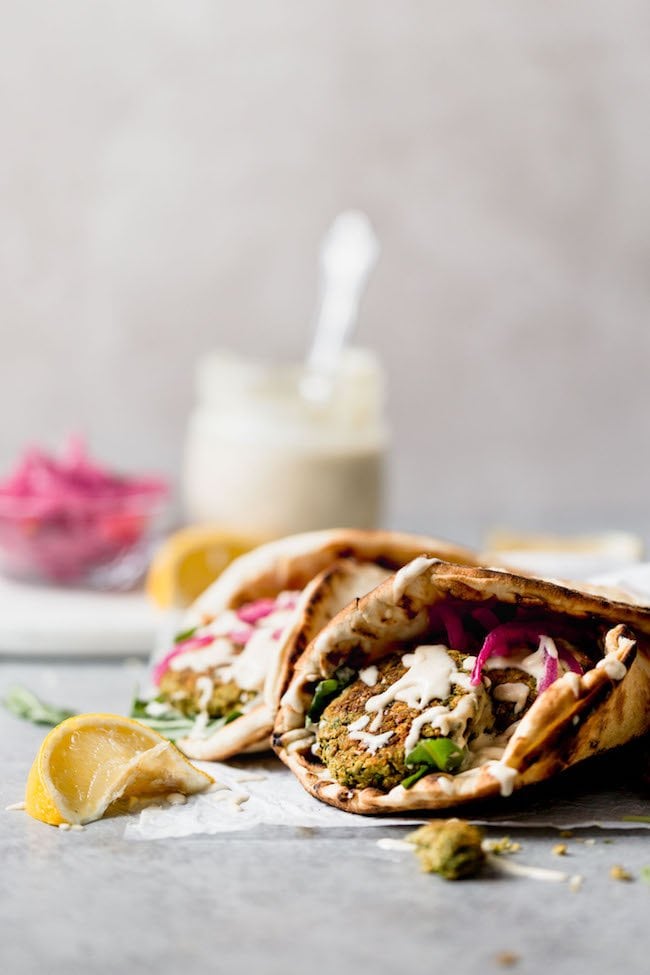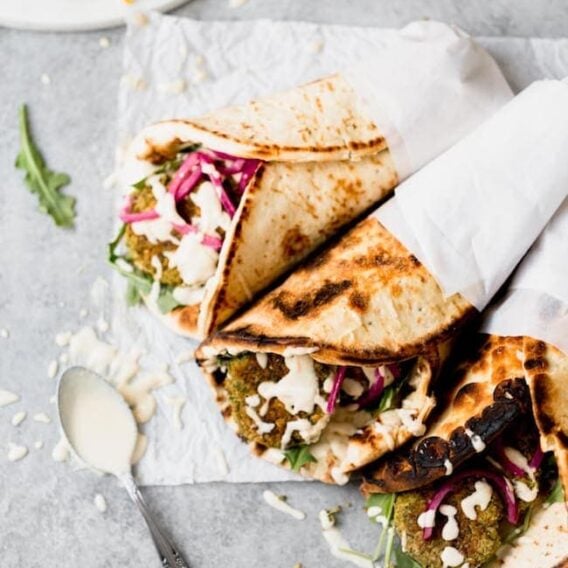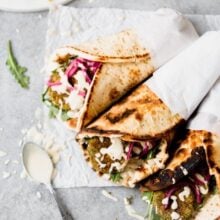 Baked Falafel
This easy baked falafel recipe is the BEST! Enjoy the falafel stuffed in a pita, on top of a salad, or as an appetizer.
Ingredients
For the pickled red onions:
3/4

cup

water

1/2

cup

white distilled vinegar

2

teaspoons

granulated sugar

1

teaspoon

kosher salt

1/8

teaspoon

peppercorns

3/4

cup

thinly sliced red onions
For the falafel:
2

15 oz cans chickpeas

1/4

cup

old-fashioned oats

can use gluten-free oats

1

teaspoon

cumin

1

teaspoon

coriander

Heaping ¾ teaspoon kosher salt

1/4

teaspoon

baking soda

1/4

teaspoon

cayenne pepper

1/2

cup

packed fresh cilantro leaves

1/2

cup

packed parsley leaves

1/4

cup

roughly chopped sweet onion

4

cloves

garlic

smashed

Neutral oil cooking spray
For serving:
3

6-inch fluffy pitas, cut in half, or 6 pieces naan

4

cups

mixed greens
Instructions
First, make the pickled red onions, bring the water to a boil in a small saucepan. In small bowl, add the vinegar, sugar, salt, and peppercorns. Add the boiling water to the vinegar mixture. Stir until the salt and sugar have dissolved. Submerge the sliced onion in the pickling solution and let sit for 30 minutes. You can make the pickled onions in advance and keep covered in the refrigerator for up to 3 weeks.

To make the falafel, preheat the oven to 425 degrees F and line a large baking sheet with parchment paper. Rinse the chickpeas in a strainer, shaking off as much water as possible. Set aside.

In a high powered blender or food processor, blend the oats until they are a fine powder, flour consistency. Pour into a medium bowl. Stir in the cumin, coriander, salt, baking soda, and cayenne, and set aside. In the blender, combine the cilantro, parsley, onion, and garlic. Pulse to coarsely chop. Add the chickpeas and pulse on low until a chunky mixture forms (not as smooth as hummus), stopping to scrape down the sides every so often. Add the chickpea mixture to the oat mixture in the bowl, and stir until evenly combined. Using a 2 teaspoon-sized spring release scoop, scoop two balls and shape into a 2-inch patty, making about 18-20 patties. Place on the prepared baking sheet.  Just before placing in the oven, liberally spray both sides of the patties with cooking spray. Bake for 12 minutes on each side.

While the falafel is baking, make the tahini sauce. Whisk together all of the sauce ingredients until smooth.

To assemble the pitas, place the pitas directly over a gas flame to char the edges. Cover to steam. You can also heat the pitas in a pan on the stovetop, cover to steam. Layer each pita evenly with greens, 3 to 4 falafel, quick-pickled onions, and a drizzle of tahini sauce. Serve immediately.

Notes-Uncooked, shaped patties freeze well. To freeze, place the patties on a baking sheet in the freezer for about 30 minutes or until hardened. Store in a freezer-safe ziplock bag with as much air removed as possible for up to 2 months. Before baking, spray patties liberally with cooking spray. Bake at 425 degress F for 15 minutes on each side. The tahini sauce will keep in the fridge for up to 2 weeks and the onions will keep covered in the fridge for 3 weeks.
Have you tried this recipe?
Leave a comment below and share a photo on Instagram. Tag @twopeasandpod and hashtag it with #twopeasandtheirpod
Photos by Jess Larson