Use leftover Halloween candy to make these decadent cookies filled with chopped up candy bars! Combine all of your favorites, anything goes!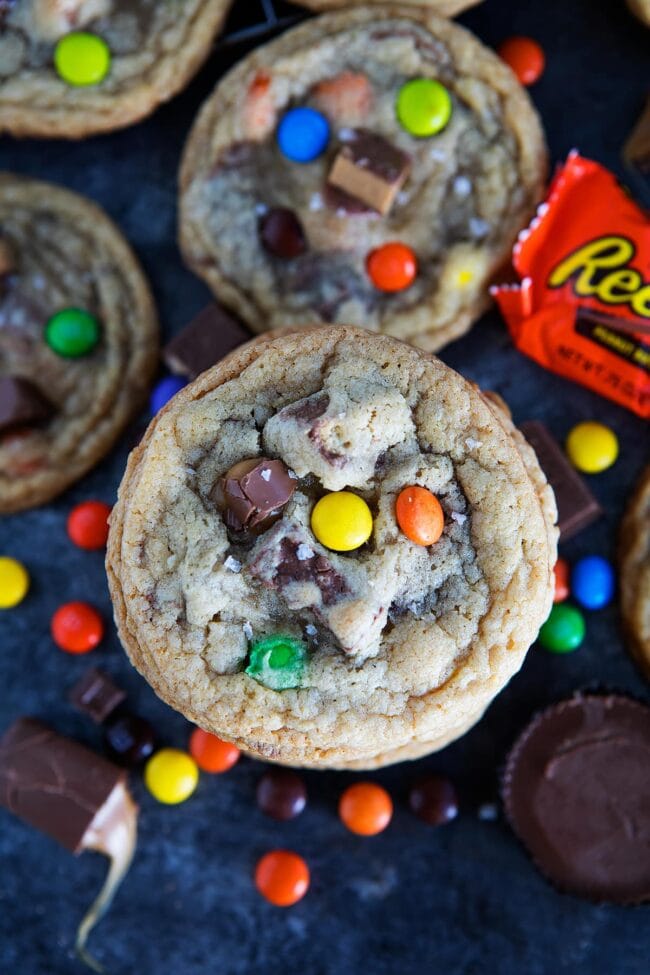 I loved trick or treating as a kid, it was the thrill of the hunt. How much candy could I get and what candy would I get? I would run as fast as I could through our neighborhood trying to collect as much candy as possible.
At the end of the night, I would bring home a hefty pillowcase (pro tip-take a pillow case because it won't rip like most bags) and dump my candy out on the floor. I would ooh and aah over all of the shiny candy wrappers and organize them into piles. Next, I would check out my brother and sister's piles to see what they got. Then we would trade candy. I always tried to get rid of Smarties, Three Musketeers, Almond Joys, and Dots. I wanted Reese's, Twix, Snickers, M&M's and Heath bars. The good stuff!
I still love trick or treating with my boys, but they come home with way too much candy. I let them organize, trade, and eat a few pieces, but then the candy goes up. Up on a high shelf in the pantry where only I can reach it, I don't even tell Josh where it is, ha! I give the boys a few treats here and there, but that doesn't even make a dent in the stash.
Since I don't like to waste food, I put the candy to good use and make Leftover Halloween Candy Cookies! They are so fun and the candy tastes even better in cookies, I promise!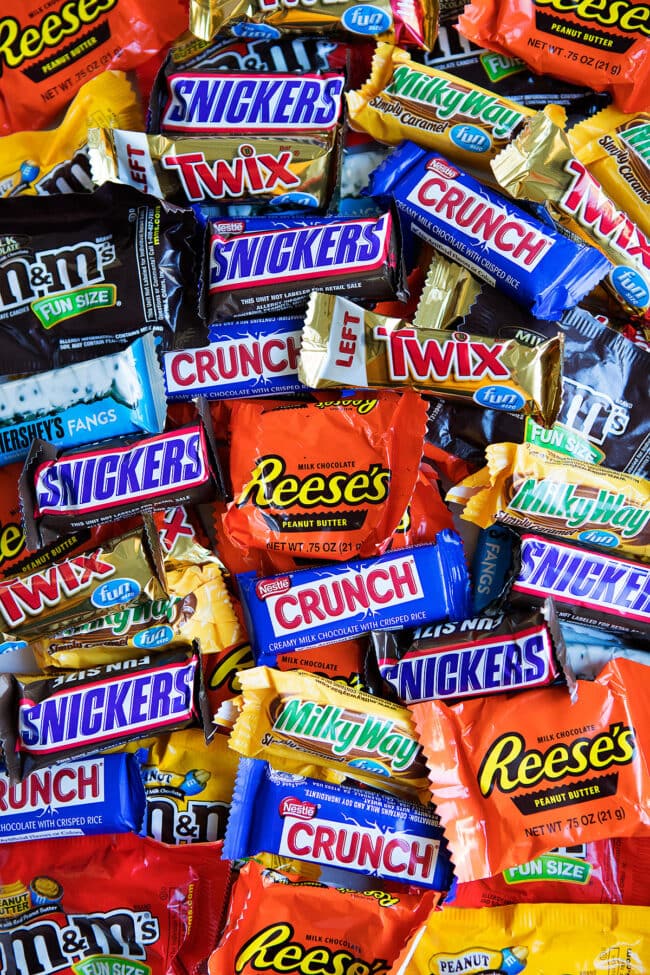 Halloween Candy
So what Halloween candy do I use in my cookies? Any and all! Ok, well maybe not all. You don't want to put fruity, gummy, sour, or chewy candy into cookies. Put the Skittles, Starburst, and Sour Patch Kids aside. Get out all of the chocolate options!
A few of my favorite candy bars to use are:
Twix
Reese's Peanut Butter Cups
Snickers
Kit Kat
Crunch
Milky Way
Hershey's
M&M's
Heath
Whoppers
Butterfinger
Use what you have and what you like! Having a variety is FUN and so delicious!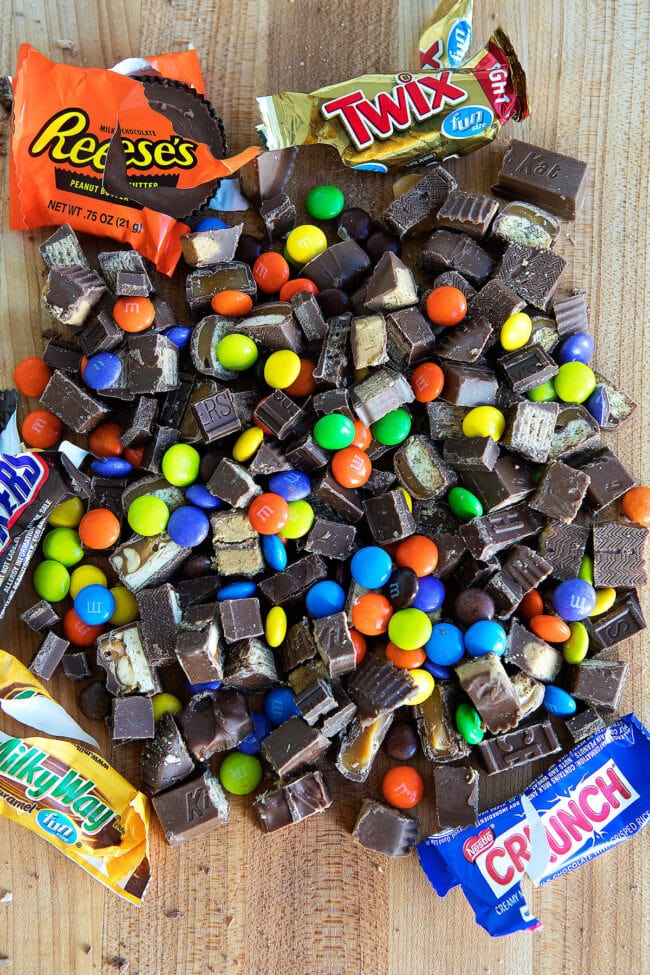 Favorite Flavor Combos
You can use a mix of any candy bars. I like the different flavors and textures. It makes for one GOOD cookie! But if you want to be strategic about what kind of Halloween candy cookies you make, you can narrow it down. Here are few winning combos!
Peanut Butter– use Reese's peanut butter cups, Reese's Pieces, and Butterfinger
Caramel– use Milky Way and Twix
Nut Lover's– use Snickers, Baby Ruth, and Peanut M&M's
Coconut– use Almond Joy's and Mounds
Crunchy– use Crunch, Kit Kat, and Heath
White chocolate– use Hershey's Cookies 'n Cream, white chocolate Kit Kat, and white chocolate Reese's
But again, feel free to invite all of the candy bars to the cookie party! I promise, they will get along! And if you don't have Halloween candy, no worries, you can gather up any candy you do have or go buy some candy bars. These cookies are good year round!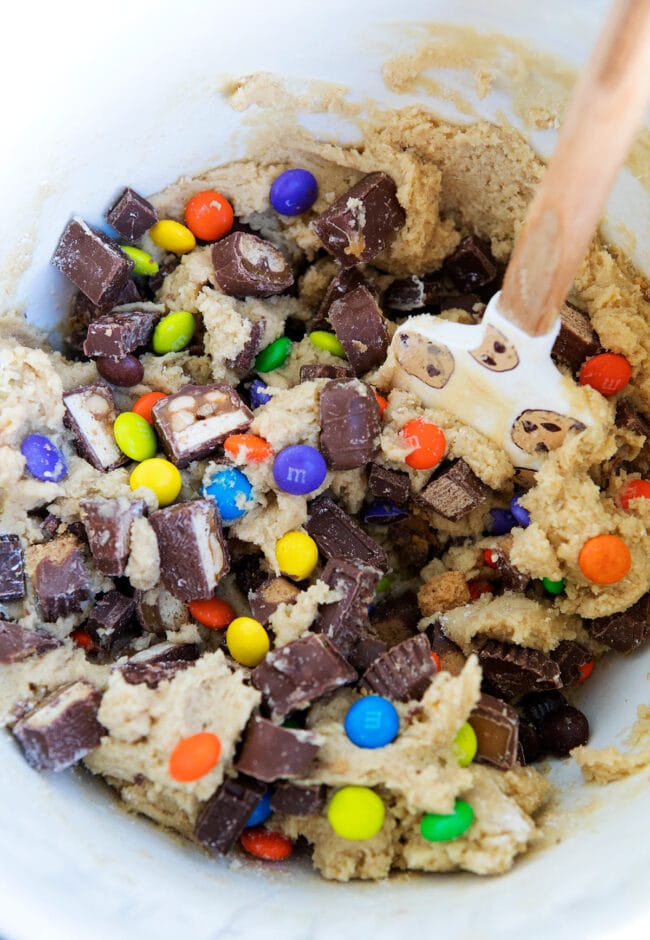 How to Make Halloween Candy Cookies
The cookies are SO fun to make! My boys love helping pick out the candy…and of course sampling a little along the way:)
You will need two cups of chopped candy bars. Chop them up into smaller pieces that will fit nicely into a cookie.
Line a large baking sheet with parchment paper or a Silpat baking mat.
Don't pack your flour when measuring. Fluff, spoon the flour into the cup, and level off with a knife.
Make sure your butter is at room temperature, but not too soft or melted. If the butter is too soft, your cookies will spread.
Cream the butter and sugars together until creamy and smooth.
Use pure vanilla extract for the best flavor!
Once you add the dry ingredients, don't over mix. Mix until just combined, it is fine if you see a few flour streaks.
Stir in the chopped candy!
Form the cookie dough into cookie balls, about 2 tablespoons per cookie. You can use a cookie scoop or just roll by hand.
If you are using candy bars with caramel, make sure the dough is completely covering the caramel so it doesn't ooze out.
Bake until slightly golden around the edges and the centers are still soft. Don't over bake. The cookies will set up as they cool on the baking sheet.
I like to have a little extra chopped candy so I can gently press some candy onto the tops of the cookies when they are done baking. It makes the cookies extra pretty! I also add a sprinkle of flaky sea salt.
How to Store
You can keep the cookies in an airtight container on the counter for up to four days. You can also freeze the baked cookies. Place cooled cookies in a freezer container or freezer bag and freeze for up to two months. Eat frozen or defrost before enjoying.
You can also freeze the cookie dough! So if you are all candied out from Halloween and want to put the cookie dough away for another time, go for it!
Roll the cookie dough into balls and on a baking sheet, in a single layer. Freeze for 30 minutes. Then transfer frozen dough balls to a freezer container or bag and freeze for up to three months. When ready to bake, remove from the freezer, and bake. Don't defrost, just add a few minutes to the baking time.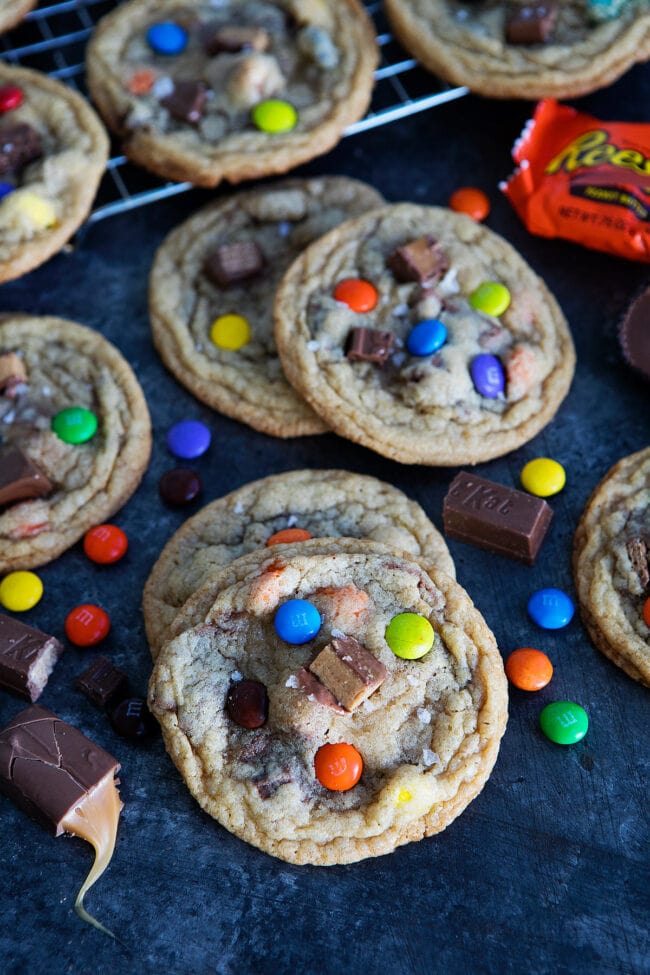 More Candy Cookie Recipes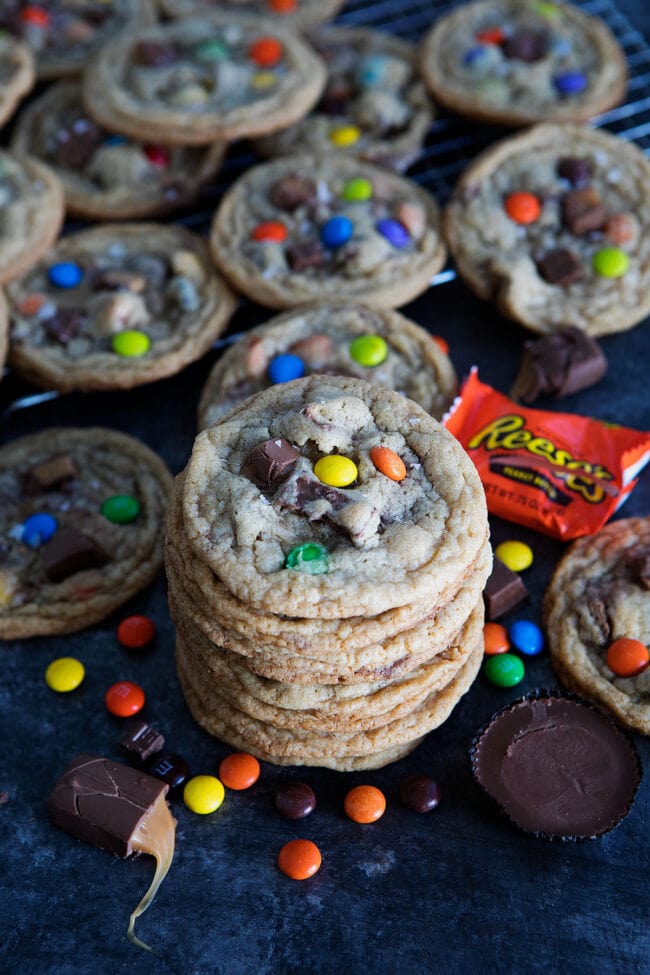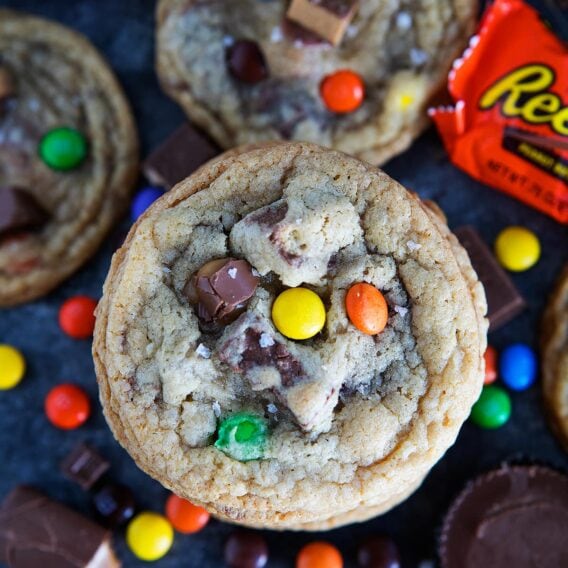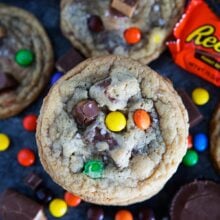 Halloween Candy Cookies
Use all of your leftover Halloween candy to make COOKIES! So fun and delicious!
Instructions
Preheat oven to 350 degrees F. Line a large baking sheet with parchment paper or a Silpat baking mat and set aside.

In a medium bowl, whisk together the flour, baking soda, baking powder, and salt. Set aside.

In the bowl of a stand mixer or with a hand mixer, beat the butter and sugars together until creamy and smooth, scraping down the sides of the bowl with a spatula, if necessary. Beat in eggs and vanilla until combined.

With the mixer off, add the dry ingredients. Mix on low until just combined. Don't over mix.

Stir in the chopped candy bars.

Roll 2 to 3 tablespoons of the dough into balls and place them on your prepared baking sheets, about 2 inches apart.

Bake for 10 to 12 minutes or until the edges barely start to brown. Let the cookies sit on the baking sheet for 3 to 5 minutes. You can gently press additional pieces of candy onto the tops of the cookies for looks. Sprinkle with sea salt.

Transfer the cookies to a cooling rack and cool completely.
Nutrition
Calories:
215
kcal
,
Carbohydrates:
27
g
,
Protein:
2
g
,
Fat:
11
g
,
Saturated Fat:
6
g
,
Cholesterol:
26
mg
,
Sodium:
117
mg
,
Potassium:
123
mg
,
Fiber:
2
g
,
Sugar:
16
g
,
Vitamin A:
196
IU
,
Calcium:
27
mg
,
Iron:
2
mg
Have you tried this recipe?
Leave a comment below and share a photo on Instagram. Tag @twopeasandpod and hashtag it with #twopeasandtheirpod