Homemade Flour Tortillas are very easy to make at home and taste so much better than store-bought tortillas! Serve with any Mexican meal or make them as a snack; you can't go wrong with homemade tortillas!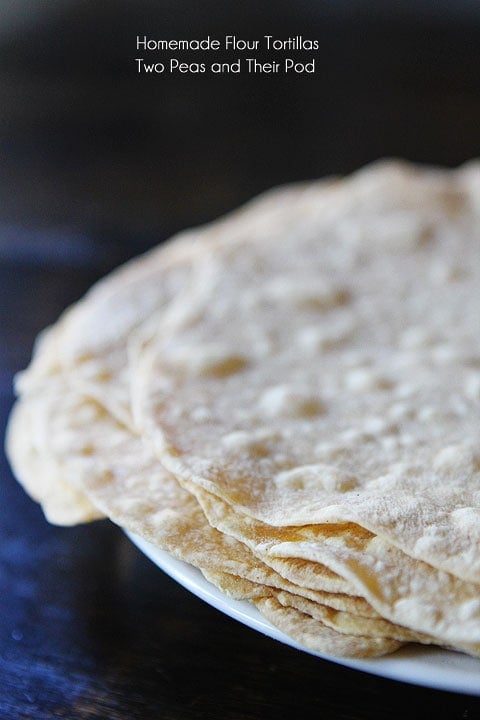 Fresh, Homemade Flour Tortillas
Is there anything better than fresh, homemade tortillas? Well, maybe freshly baked cookies, but homemade tortillas are a close second:) I love homemade tortillas! We used to go to Cafe Rio to get our fresh tortilla fix, but last summer we made Homemade Flour Tortillas in our own kitchen and have been hooked ever since. I can get my homemade tortillas whenever I want! And since I have been craving Mexican food like mad, Josh has been making these homemade flour tortillas on a regular basis. Make them once and you will crave them too. Pregnant or not!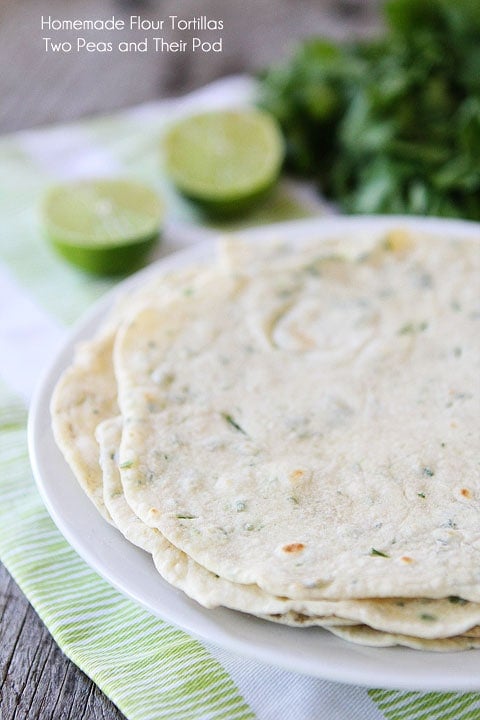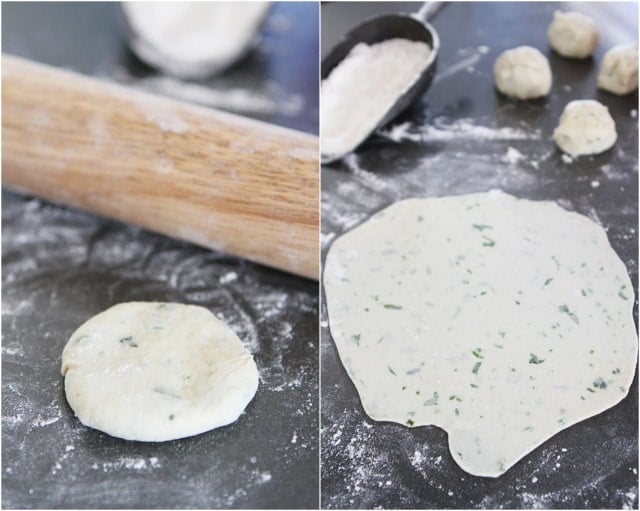 How to Make Flour Tortillas
I promise homemade flour tortillas are super easy to make and you probably have all of the ingredients in our kitchen right now!
Mix and Create
Flour tortilla ingredients are simple: flour, salt, baking powder, shortening, and water. Mix these up, and even add flavors you like. Sometimes we like to go all out and make flavored flour tortillas. I love our Cilantro Lime Flour Tortillas. That is why you see green things in our homemade tortillas:) We add a little cilantro and lime zest for extra flavor – feel free to get creative!
Rest and Roll
The hardest part is letting the dough rest for 30 minutes. It isn't super long, but make sure you plan ahead. After the dough rests, you roll out the tortillas with a rolling pin. If you have a tortilla press you can use it, but we just use a rolling pin. Our tortillas aren't perfectly shaped, but that doesn't bug me one bit.
Cook and Flip
Cook the tortillas until they start to bubble up. Flip and cook the other side! Caleb loves watching the tortillas grow bubbles:)
Eat and Store
Homemade flour tortillas will keep in the fridge for up to 3-4 days if you have the willpower to wait or have leftovers. I never wait or have leftovers. 🙂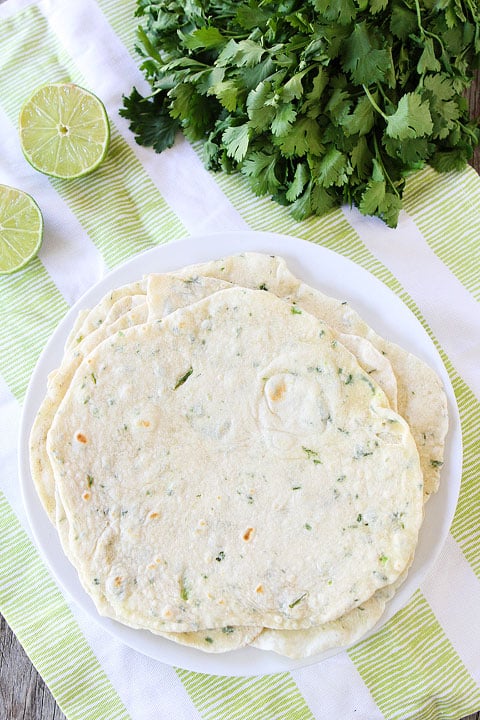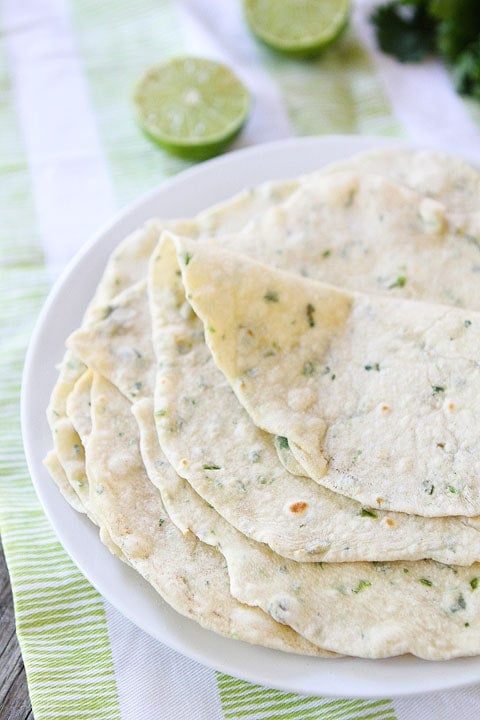 Endless Reasons for Homemade Flour Tortillas
The flour tortillas are good plain or you can use them in your favorite Mexican recipes. You can make quesadillas, burritos, tacos, fajitas, enchiladas, wraps, etc. The choices are endless! But make sure you eat at least one fresh tortilla, hot off the griddle. They are SO good!
Plain or jazzed up, Homemade Flour Tortillas are all kinds of awesome! Plus, you will get major Martha Stewart points for making your own tortillas at home…even though they are super easy to make. You can impress your family and friends!
And look at that little stinker trying to snatch my fresh tortillas. He is a smart kiddo! Fresh tortillas are made to be eaten right away.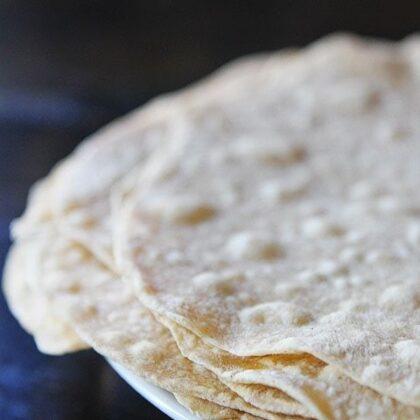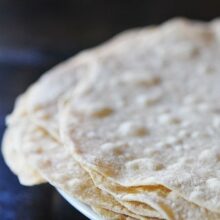 Homemade Flour Tortillas
Homemade Flour Tortillas are so easy to make and home! You will never buy store bought tortillas again!
Ingredients
For Cilantro Lime Tortillas:
2

tablespoons

chopped cilantro

Zest of 1 small lime
Instructions
In a medium bowl, whisk together flour, salt, and baking powder. Add shortening and mix with a fork until mixture resembles coarse crumbs.

Make a well in the center of the mixture and add the water. If you are making Cilantro Lime Tortillas, add the cilantro and lime zest. Mix until dough starts to form.

Place dough on a clean floured surface and knead until dough is smooth. This will take 3-4 minutes.

Place the dough in a bowl and cover. Let sit for 30 minutes.

With a dough knife, divide the dough into quarters. Next, divide each quarter into thirds. You should have 12 equal dough portions. Using a rolling pin, roll out each dough portion into a circle, about 6-7 inches in diameter.

Heat a skillet or a griddle pan to medium-high heat. Cook the tortillas until they start to puff up and are lightly browned, about 2 minutes. Flip and cook until lightly browned on the other side. Place tortillas on a plate and cover with a towel to keep warm while you make the rest of the tortillas. Serve!

Note-these tortillas are great eaten plain or you can make tacos, quesadillas, enchiladas, burritos, wraps, etc. They will keep in the fridge for up to 3-4 days. Reheat before eating!
Have you tried this recipe?
Leave a comment below and share a photo on Instagram. Tag @twopeasandpod and hashtag it with #twopeasandtheirpod