Cauliflower Tacos – roasted Cauliflower and Chickpeas with Lime Crema – make tonight a taco night because these healthy tacos are easy to make and SO good!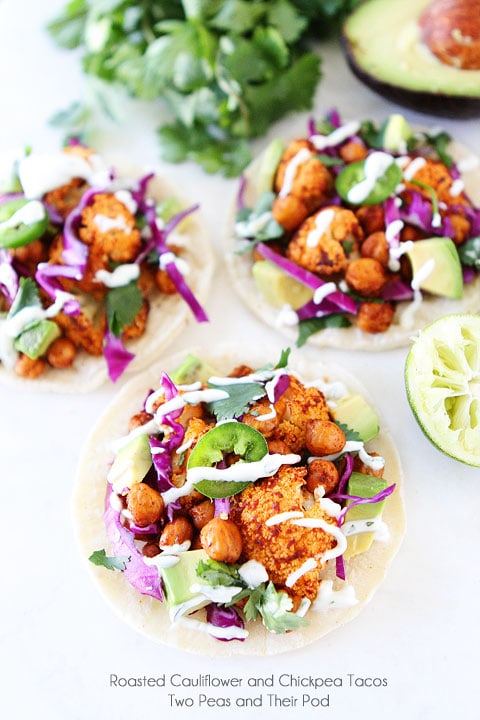 Taco Tuesday Cauliflower Tacos
I have been craving Mexican food throughout my entire pregnancy. Burritos, tostadas, enchiladas, and taco salads have been on our dinner menu A LOT! I am so glad my boys like Mexican food because if they didn't they would be going without dinner or eating cold cereal:)
This week I mixed up Mexican night by making Cauliflower tacos – a delicious concoction of roasted cauliflower, chickpeas, and lime crema. I think my boys are in trouble because we might eat these cauliflower tacos every night until the baby comes. They are my new favorite tacos and I want to eat them all day, every day!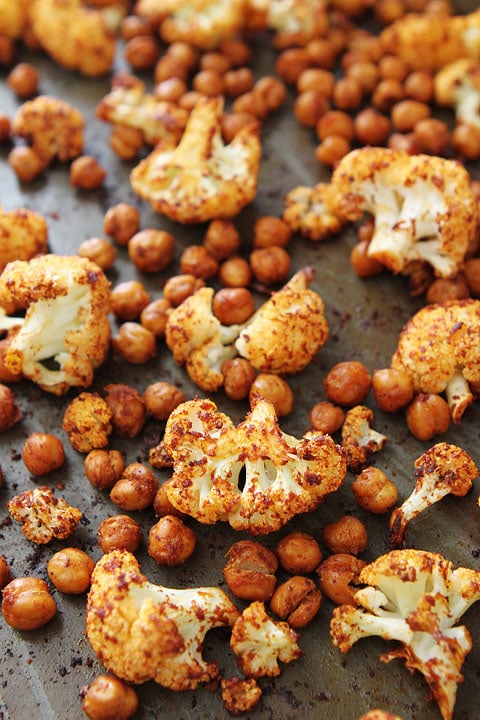 How to make Cauliflower Tacos
Roasted Chickpea Fajitas are a favorite at our house so I decided to make roasted chickpea tacos. This time I added cauliflower because it is in season and one of my favorite veggies. I am always on board for adding more veggies! Here's how I did it:
Toss the chickpeas and cauliflower in spice mixture I created that included:

chili powder, cumin, garlic powder, onion powder, and salt. I also added fresh lime juice and a little olive oil.
Roast them until the chickpeas were crunchy and the cauliflower florets are tender. I could have snacked on the chickpeas and cauliflower straight from the pan, they were so flavorful. I stopped myself because I had tacos to make!
I used small corn tortillas to make my tacos. You can use a larger size if you want, I just love mini tacos…so I can eat more:)
Top warm corn tortillas with roasted chickpeas and cauliflower.
Add chopped red cabbage, jalapeño slices, avocado, cilantro, and lime crema.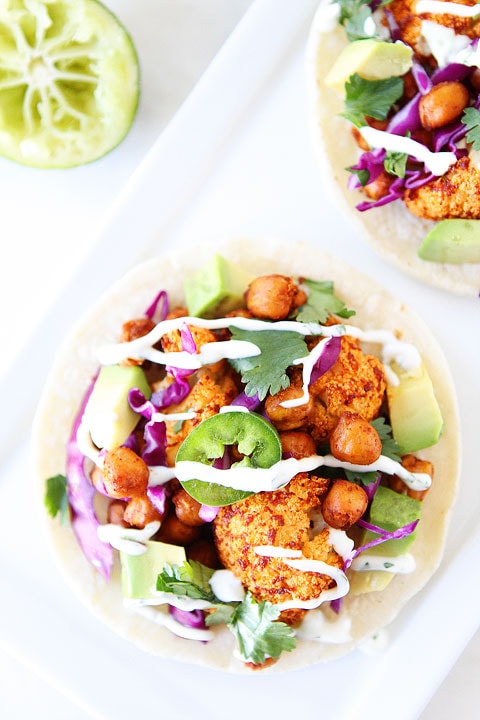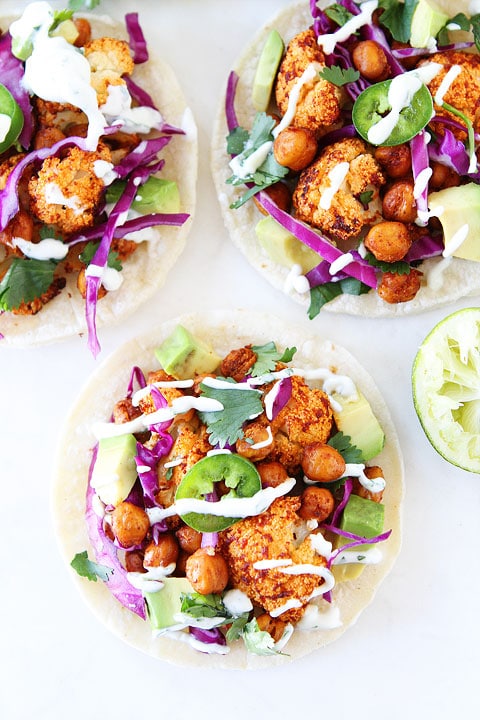 Cauliflower Taco Lime Crema
Lime crema is easy to make at home, so don't skip it! It's only 4 ingredients: Greek yogurt, lime juice, salt and pepper, and and cilantro. Just mix it up and you are good to go. It really makes these tacos shine!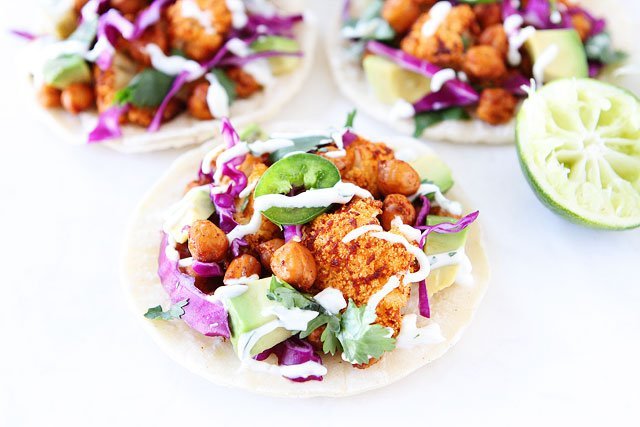 Healthy Never Tasted So Good
Roasted Cauliflower and Chickpea Tacos are my new obsession. When you are pregnant and you find a winning food, you don't let go, you hold on tight. I am going to be making these tacos on a regular basis. They are the BEST tacos I have ever eaten. They sure hit the spot! Make tonight a taco night and whip up Roasted Cauliflower and Chickpea Tacos!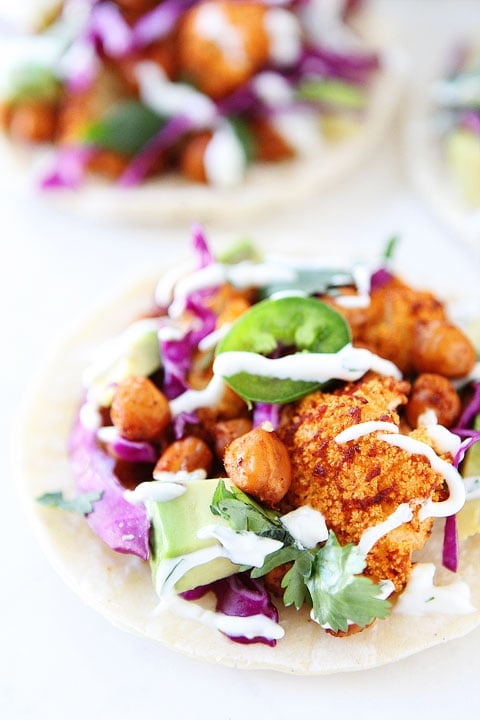 If you like these easy cauliflower tacos, you might also like:
Main Course
Roasted Cauliflower and Chickpea Tacos
My favorite tacos! Roasted Cauliflower and Chickpea Tacos are easy to make and so delicious! Healthy has never tasted so good!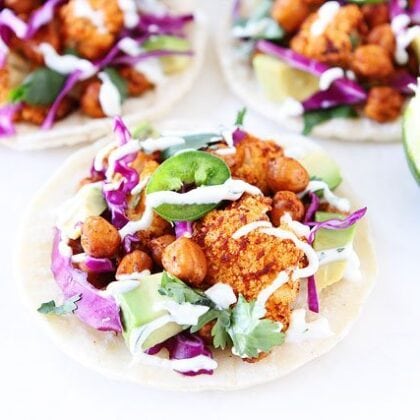 Prep Time

10

minutes
Cook Time

35

minutes
Total Time

45

minutes
Cuisine

Mexican
Servings

4
Ingredients
For the Tacos:
2

teaspoons

chili powder

1

teaspoon

ground cumin

1/4

teaspoon

garlic powder

1/4

teaspoon

onion powder

1

teaspoon

sea salt

1

tablespoon

fresh lime juice

1

tablespoon

olive oil

1

tablespoon

water

1

(15 oz) can

chickpeas, drained and rinsed

1

small head cauliflower

washed and cut into bite-size florets

Corn tortillas

1

cup

finely chopped red cabbage

1

jalapeño

sliced, seeds removed

1

large avocado

seed removed and diced

Chopped cilantro
For the Lime Crema:
1

cup

plain Greek yogurt or sour cream

1/8

cup

fresh lime juice

1/4

cup

chopped cilantro

Salt and pepper

to taste
Instructions
Preheat oven to 400 degrees. In a medium bowl, whisk together chili powder, garlic powder, onion powder, cumin, salt, lime juice, olive oil, and water. Stir in chickpeas and cauliflower florets. Place seasoned chickpeas and cauliflower on a greased baking sheet. Roast for 30-35 minutes, stirring occasionally during cooking, until chickpeas are slightly crispy and cauliflower is tender. Remove from oven and set aside.

To make the lime crema, place the Greek yogurt or sour cream in a small bowl. Add fresh lime juice and cilantro. Stir well. Season with salt and pepper, to taste.

Take a corn tortilla and place roasted cauliflower and chickpeas on top. Top with red cabbage, jalapeño slices, avocado, and cilantro. Drizzle lime crema over the tacos and serve!

Note-you can make the tacos vegan by using vegan sour cream or yogurt to make the lime crema or you can omit it...but it's really good:)
Keywords
cauliflower tacos, vegetarian tacos