Quick Summary
Key Lime Pie with Coconut Macaroon Crust-the sweet coconut macaroon crust makes this key lime pie extra special!
Today is Josh's birthday! Happy Birthday Josh! To celebrate, I made him a Key Lime Pie with Coconut Macaroon Crust. We celebrated yesterday so I could share Josh's birthday dessert with you today! I didn't have to twist his arm to eat pie a day early:)
Josh isn't a huge dessert fan, I know, what is wrong with him? 🙂 He loves lime desserts though. I am always trying to come up with new lime recipes for him. A few of his favorites include: Key Lime Pie, Key Lime Tart, Coconut Lime Cupcakes, Lime Bars, and Lime Coconut Snowballs. He is a lime lover!
I wanted to mix things up this year so I created a coconut macaroon crust to go with his favorite key lime pie filling! Josh loves coconut too so I knew he would love my twist on the traditional key lime pie. And you really can't go wrong with the coconut and lime combo! They are a match made in heaven!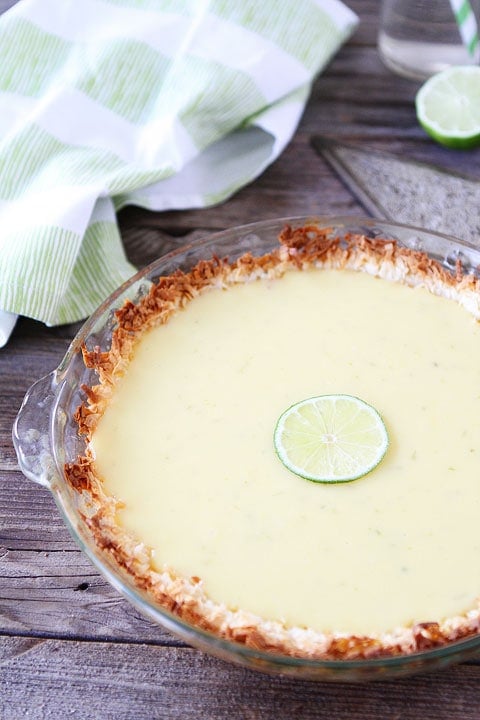 To get the pie party started, I used my favorite coconut macaroon recipe. Instead of making cookies, I pressed the coconut mixture into a pie pan! I wasn't sure it would work, but my fingers were crossed:) I partially baked the crust so it would set up a bit before putting in my filling.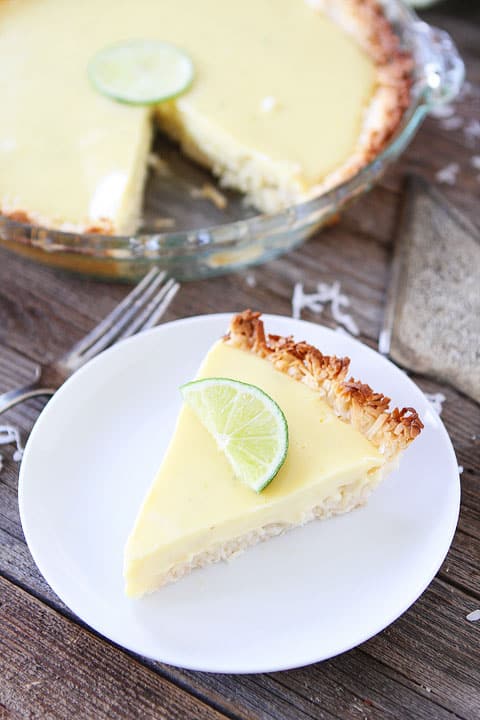 Next, I whisked up a tart key lime filling to go inside my sweet coconut macaroon crust. I baked the pie and pulled it out! It looked perfect! The crust was light golden brown and the key lime filling was smooth and set!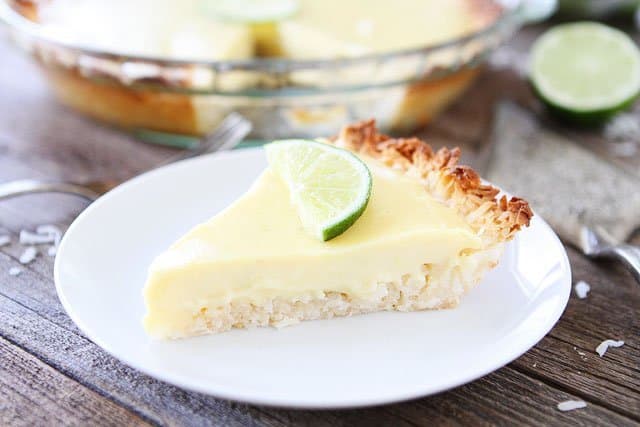 I let the pie chill in the fridge for about an hour and then it was time to slice the pie…and see if my new creation worked:) The pie sliced beautifully! I gave the first slice to the birthday boy and he didn't hesitate to dig in with his fork. He loved the pie! Yahoo! My new lime dessert was a success!
I enjoyed a piece too! I will warn you, this pie is super sweet, so cut small pieces…or enjoy a big piece and go into a sugar coma. Josh didn't seem to mind his big piece:)
Key Lime Pie with Coconut Macaroon Crust is a fun twist on the classic pie! It is fun to mix things up every once in awhile! We love this pie and I think you will too! Enjoy!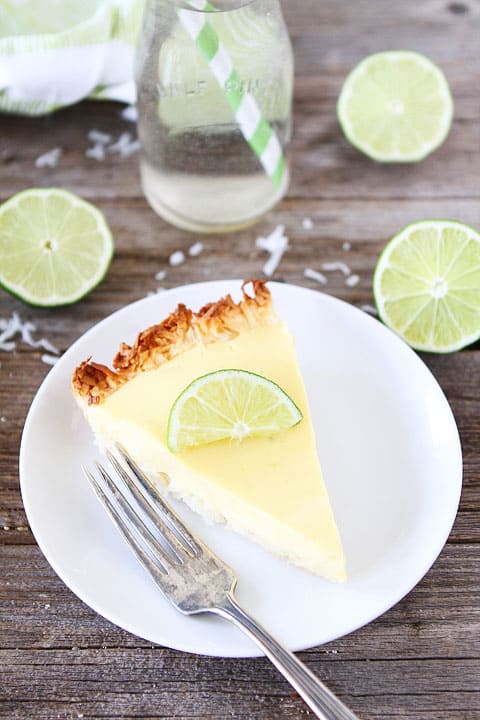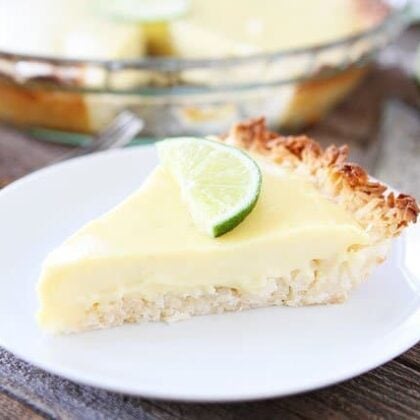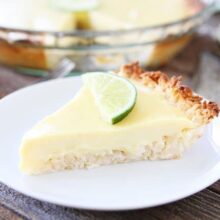 Key Lime Pie with Coconut Macaroon Crust
Key Lime Pie with a sweet coconut macaroon crust! The lime and coconut combination is a winner! We love this twist on the classic pie!
Ingredients
For the Coconut Macaroon Crust:
2/3

cup

sweetened condensed milk

1

large egg white

1 1/2

teaspoons

vanilla

1/8

teaspoon

salt

3 1/2

cups

sweetened coconut
For the Key Lime Filling:
1

14-ounce can sweetened condensed milk

4

large egg yolks

Zest of 1 large lime

1/2

cup

lime juice
Instructions
Preheat the oven to 350°F. Spray a 9-inch pie pan with non-stick cooking spray. Set aside.

First, make the crust. In a large bowl, stir together the sweetened condensed milk, egg white, vanilla extract, and salt. Stir until combined. Add in the coconut and mix well. Press coconut mixture into prepared pie pan. Make sure you press the mixture up the sides to form a nice pie crust. Bake for 10-12 minutes. Remove from oven and let cool.

To make the key lime pie filling, in a medium bowl, whisk together the sweetened condensed milk and egg yolks. Whisk until well combined. Add in the lime zest, and lime juice. Whisk until smooth. Pour filling over the coconut macaroon crust.

Bake for 15-17 minutes, or until filing is set and the coconut crust is golden brown around the edges. Remove from oven and cool on a cooling rack. When cool, chill the pie in the refrigerator. The filling will set up as it cools. Chill for at least one hour before serving.

Note-if you can't find key limes you can use regular limes for the juice. You can also use bottled key lime juice if you wish.
Have you tried this recipe?
Leave a comment below and share a photo on Instagram. Tag @twopeasandpod and hashtag it with #twopeasandtheirpod